Athens Riviera emerges as the hottest luxe dining destination
A booming culinary revolution is quietly underway quickly transforming the coastal strip from Glyfada to Varkiza into a fine-dining destination. With enviable waterfront views, golfing greens and its forever-summer vibe, some serious culinary contenders have entered the fray. After all, the food has a lot to live up to when a killer setting is its counterpart. We suggest you get in line. You will not be underwhelmed.
Gone are the days of over-priced seafood taverns dishing out mediocre fare and frozen inedibles. The culinary scene has upgraded several-fold over with on-the-ball restauranteurs redefining what it means to create a luxury dining experience. With Varoulko Seaside leading the way with its award-winning cuisine, and the affable Michelin chef Lefteris Lazarou still surprising us with exceptionally inventive dishes after 33 years in the business, the coast already boasts one of the top 5 restaurants in Athens. At Athens Insider, we predict that the next Michelin restaurants will be one among the gastronomic outposts we've listed here, on the coast between Glyfada and Varkiza.
The launch of Four Seasons Astir Palace doesn't just raise Vouliagmeni's glam quotient, it translates as elevated dining options with world-class chefs. With six dining options within the complex itself, it qualifies as an haute gastronomy zone, that you'll want to visit again and again.
Mercato makes up for a much-needed Italian trattoria in the Southern suburbs with wholesome Tuscan cuisine on the waterfront. There is something soul-warming about a carb-filled plate of pasta, cheese and cured meats. Chef Luca Piscazzi, who has just moved from London's celebrated two star Michelin Dame de Pic restaurant, knows exactly how to whisk your senses away with a unique take on comfort food! Ambitious and supremely talented, we sense a Michelin might be well within his sights in Athens too. A spritzeria for your summer quaffs, a deli counter, an outdoor pizza oven, killer views and a wine list to match – need we say more? At extremely accessible prices too.
Taverna 37 perched on the water, serves unpretentious Greek seafood treats and taverna fare with flair. The taramosalata is perfectly buttery and briny, the grilled fish, deboned and drizzled with extra virgin olive oil. Nothing speaks more to Greek cuisine as fresh, lightly seasoned vegetables and grilled fish – celebrated here in all its refined simplicity.
Helios wins hands-down for its stellar view that spills beyond its olive-lined pools to the Saronic Gulf. Add sun-kissed flavours from the Americas – drawn from the unrivalled natural pantry that extends from the Andean peaks to the Amazonian rainforest, the Atlantic and Pacific oceans – and you have a winner. For an explosive burst of flavours, try the Nikkei Tiradito – sea bass with truffle ponzu, elevated with the berry-like smoky flavour of Peruvian chilli, Aji Panca. For summer freshness, try the ceviche, tinged with just the right doses of piquancy and zest. The bar at Helios celebrates a continent that takes its cocktails seriously and the bartenders really flex their mixology chops.
Pelagos, the Four Seasons Astir's waterfront restaurant mirrors those very qualities that make hospitality a byword in Greece: simplicity, generosity and an appreciation for fresh produce, gently cooked, redolent of tradition. It is only natural that in a setting where the line between sea and sky look like it's been blended with a painter's thumb, that it is the bounties of the ocean that are celebrated in all its versatility.
Beefbar: If you've got a penchant for fine meats, seared to perfection, and you're looking to sample Kobe beef in one of the city's most jaw-dropping settings, make sure you secure a place at one of the hottest tables in town. Chef Panyiotis Retzis promises to entice you with elevated street food that sates all your meaty cravings. Not just restricted to carnivores, Beefbar's Leafbar menu is desiged to seduce vegans too.
Nobu's Matsuhisa Athens has been a bastion of gastronomy in Greece for the past 14 years. Its sublime, refined Japanese-Peruvian cuisine remains a destination of choice for Nobusan's legion of fans and its spectacular locale matches the magic on the plate.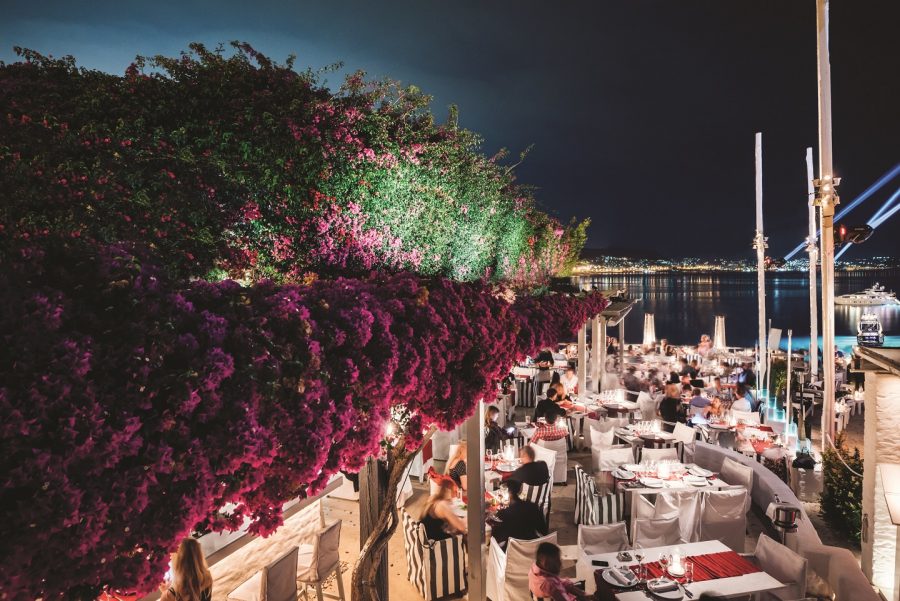 Island teeters on the edge of a dazzling bay, on its own little peninsula, on the outskirts of Vouliagmeni, frequented by celebs, models and princes with white loungers, billowing gazebos, potted palms. For clubbing, celebrity-spotting, all-night parties that rival Mykonos and Ibiza, and meals cooked by a roster of the best chefs in the city, look no further than Island. Wednesday nights throughout the summer are reserved for guest chefs, so make sure you book ahead. La Luz on Sunday nights has now been established as a weekly summer tradition where Island's flamboyant host Chryssanthos Panas is often spotted in the company of fashion designers, Hollywood A-listers and Greek rockstars.
At Astir Beach, dining options include waiter service to parasoled sunbeds by Privilege Beach Club. The newly launched Privilege Beach Club promises Mediterranean cuisine with a twist, cocktails on the water and downtempo dance music by DJs. Waiters ply light salads and drinks to keep you and your family fueled up at your sunbed or at the restaurant.
At 40Forty, succumb to the pleasures of day-to-dusk beach-side dining at Astir Beach. Now in its fifth year, 40Forty has established itself as the go-to place for accessible, gourmet meals. Revel in the barefoot luxury of watching the sun dip into the horizon while sipping a cocktail. Book ahead to access the restaurant, even after the beach is closed to the public at 8pm.
Nero, is a new addition to Vouliagmeni's dining scene at the cavernous Vouliagmeni Lake. The Il Barretto team bring their expertise to this most exquisite of settings. Dinner on the teak deck skirting the lake with the illuminated rocks is an experience unlike any other – this is the venue to declare undying love, or at the very least, to make amends for forgotten anniversaries.
Garbi, one of the oldest seafood destinations in Vouliagmeni, started life as a humble eatery for fishermen in 1924, and fast gained a reputation amongst celebrities and tourists. When the restaurant had to relocate from the current Astir Beach in the late '50s, it moved to Kavouri, where it is run today by founder Petros Garbi's three daughters and their children. With a passion for food and hospitality (the staff here uncannily remember your name and culinary preferences), Garbi attracts not just locals from the southern suburbs, but from all over Athens.
At Blue Fish, Chef George Oikonomidis reworks the magic with which he wooed tourists and locals in Naoussa on Paros and brings his unique brand of Mediterranean-Japanese seafood cuisine. Its stone walls, white tables and rustic décor sets the tone for an unhurried meal. This is the closest you can get to having a meal on the water and the food here is a delightfully engaging play on textures and flavours. Perfect for pre-or post-swim meals or indeed, in between dips.
Ithaki suspended on a cliff above Astir Beach is well worth the splurge for special occasions. The view, the service and the engagingly creative cuisine, beautifully plated, is a winning formula for celebratory times.
Moorings at the Astir Marina is a good pit stop for coffees, cocktails and gourmet meals with a side-order of yacht-envy. Work out your excesses by strolling along the harbour and taking in some serious eye-candy – no leaky fishing boats here, just gleaming, million-dollar sleek yachts.
Krabo is not just a great hang-out for an island-in-the-city vibe, it is a delightfully secluded bay, ideally designed for an all-day beach experience. Equipped with sundecks, this is where sophisticates come to play. Stay on for sundowners and thoughtfully crafted meals.
Pere Ubu: Rolling with the times, this former fine-dining establishment has split in half to re-invent itself as a Night and Day Dining proposition. Pere is now a gourmet burger bar-restaurant, while Ubu next door offers healthy breakfasts and brunches during the day.
Sea Spice: Shaped like a luxury yacht with a staircase that looks like a giant cinematic reel, this is clearly the new People-Watching HQ of Glyfada. Sea Spice, Pere Ubu's sister establishment, has just the right degree of fuss and fusion to elevate the senses without destroying the soul of comfort food. It's bar alone with its veined marble-top should be a draw, but the inventive dishes here, plus its pet-friendly credentials make it a popular local favourite with local expats and Southsiders.
Blends: Part of the wave of enthusiastic, post-financial-crisis upscale all-day café-bar-restaurants, this sprawling space spread across several floors, oozes flamboyant Miami-esque appeal. It comes equipped with a private cigar lounge, doubles up as an art gallery, serves an interesting mix of dishes to cater to eclectic tastes, and has a killer bar to boot. A giant olive tree sprouts in the middle of its sun-lit atrium, making Blends as much a winter destination as a summer one.
Colonial: Think lush, manicured golfing greens and elegant evenings with refined company, exquisite cuisine and sophisticated service. Dining at Colonial is heartfelt hospitality at its classiest. Open all day-long for brunches, lunches, dinners, coffee and cocktails, Colonial harks back to a different era and evokes the right kind of nostalgia its name suggests.
Ark: For a swish dining experience, by the water, look no further. This is where southerners convene for cocktails and spell-binding views. Acclaimed chef Yiannis Baxevannis' award-winning cuisine matches the stellar setting. Expect imaginative cocktails, curated wine-list, personalised coffee-blends to complete your waterfront fantasy.
Balux House Project and Balux Pool Seaside: Hugely popular with families for its homey, intimate vibe, Balux manages to morph from a family-friendly venue to a chilled-out tiki-style setting by night. The food is here is inventive, with eclectic influences. As is its upbeat music that sets the tone for the evening.
Drakoulis Dry and Raw: Its dark, intimidating entrance sends out a clear message: only serious epicureans need enter. This is a shrine to all things meaty. The chef-butcher here, after whom the restaurant is named, is obsessed with cuts, and Drakoulis is only one of two venues in Greece to serve Kobe beef.
Tartare: French cuisine at its most classic, this Glyfada institution has been around for at least two decades. In a cosy, bistro-like environment, this is where you head to when you crave a beef tartare or a Chateaubriand. Tartare manages to combine two rare virtues in the restaurant business: consistent quality and staying power – and perhaps proves that the two are intricately intertwined.
Coyoacan Plaza: Everything here exudes beachside indulgence. A play on Mexiterranean flavours, the décor here is distinctly bohemian. Reminiscent of a beach club in Ibiza, come here dayside for a dip and a sip, stay on for a tantalising meal and be prepared to party till the wee hours.
---