Daniel Egnéus: An Existentialist In Exile
Athens' 'in-your-face' attitude and brutalist architecture finds its way into Daniel Egnéus' wistful illustrations and sketches. The Swedish-born artist – who has worked for some of the world's mightiest brands including Chanel, BMW and Time Magazine – morphs the city's beauty, warts and all, into a contemplative, illusionary poem, says Sudha Nair-Iliades
Daniel Egnéus' ethereal, effortlessly sophisticated illustrations distill the faces, places and stray creatures he encounters everyday. They accumulate into a mellow and immersive social commentary on the quest for something profound in our urban lives.
Like his multi-layered art, Daniel Egnéus comes across as accessible yet deep, mysterious yet engaging. Perched on a bar-stool at a café on Ipitou street, Blue Bird (where he's a regular), this self-confessed daydreamer with no formal training in art, enjoys one of the liberties he wouldn't have enjoyed in his native Sweden. Smoking over a cup of coffee. An itinerant artist, Daniel is quick to dispel any notions of being a Wodehousian Bertie Wooster-like character – indolent and rich. But like Wooster, he prides himself in being an 'old-fashioned gentleman with a strong moral code'. During the course of our chat, he admits that "the lack of moral compass" in his professional dealings here in Greece, is perhaps, one of the few aspects of anarchic Athenian living that chafes against his Swedish upbringing.
Having spent the last 20 years in Prague, London, Berlin, Bologna, Rome, Milano and now Athens, Daniel claims his choice of city confounds his agents, but puts it down to him being in 'existential exile.'
A glimpse into the man behind the artist.
ABOUT YOU
It's almost impossible to believe that you've had no formal art education or training… how did you find your way to drawing?
I've always been interested in art growing up. I draw mostly real things from real life. The most trivial thing has its own poetic articulation and that's what inspires me in my drawings.
Why are you such a professional nomad.. (and would you ever consider settling in one place)? What is it about a place that draws you?
For me, a good indicator of my current happiness quotient is when I can reflect in a romantic way on the place I live. I can feel that if I was sitting in a coffee shop in Bangalore, Mumbai or Beirut and just stepped out of my apartment and walked a few blocks away, it would be like unwrapping a gift full of fascination of the unknown. As if you are being a spy or a 'guest of reality'- to quote the title of Swedish author Per Lagerkvist's book from 1925. I'm like Snoopy sitting on his doghouse daydreaming about meeting the Red Baron in a bar full of spies. Obviously these are the words of a bachelor.
Your clients include Haagen Dazs, Adidas, BMW, Pepsi Cola, Lufthansa to name a few. What was the most fun job you've done?
Chanel flew me down to Havana to illustrate the 2017 Chanel Resort Collection. Few do runway magic like Karl Lagerfeld.  It was a joy to reproduce a collection, redolent of Cuban elements at the majestically baroque Paseo del Prado.
Do you have a favourite gig?
As you get older, you realise that illustrations for ads and magazines always disappear. Books stay. And I'm a book lover. Books are the fun projects. I get to know the writer. It's a longer process and it's more artistic. Among the more rewarding jobs I've done was for Neil Gaiman (one of the 50 best-selling authors in the UK). To illustrate the 4 books from his American Gods series, I spent two months on Syros, immersed in Gaiman's world.
Which five artists and writers would you invite to your "dream dinner"?
Let's include some dead ones as well. It would easily be Evelyn Waugh, P G Wodehouse, Edward Gorey, Saul Bellow and Zadie Smith and we could probably talk about fur coats, cats and how to excuse oneself for having a horrible sense of orientation which I think I have in common (the only thing) with most of these people.
You've illustrated several children's books that have received both critical and commercial acclaim. Which children's characters marked your own childhood?
When you work for children you have to be so much more thorough. The faces and colours are especially important. I probably had very average taste in books when I was little because a lot of titles that are considered classics today I wasn't too happy about.  I didn't even like 'Where the wild things are' by Sendak. As an adult, I think it's an amazing book.
My most vivid memories are from comics. Asterix and Obelix, Tintin, Lucky Luke, Valerian and Laureline. I learned to read early and I remember thinking that children's books were a bit dull compared to what my older sister read. She had the Marvel's Fantastic Four magazines and Star Wars posters in her room (I was 6 years old in 1978) so that was way more exciting. The book that made the biggest impression though was a huge book from National Geographic Society with the latest photos of the universe and Life before Man illustrated by Zdenek Burian.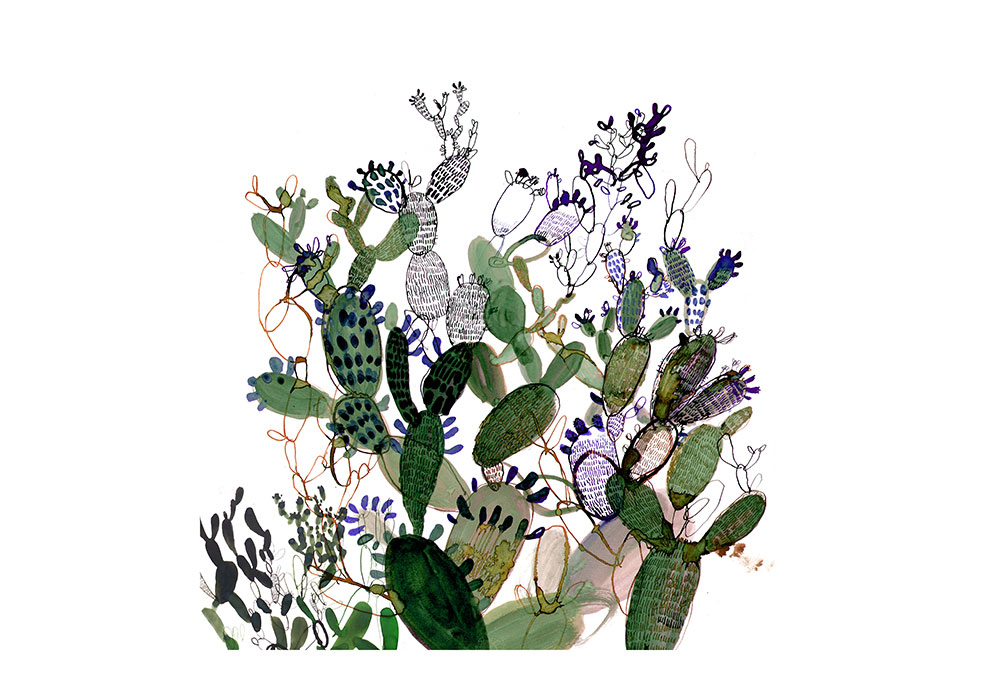 What do I wish I'd known at 21?
That life is not always happening somewhere else. Sometimes you can just be satisfied with what you have. You abandon certain things and they won't come back.
Any commissions you've done locally in Athens?
I did the 17 metre high façade for the Golden Hall depicting the four seasons. Last Christmas, I did an animation film for Megaron Mousikis together with the very talented Animation Director Effie Pappa and animator Christos Papandreopoulos. My exhibition at the Zoumboulakis Gallery a couple of years ago– 100 drawings from Athens – was a collection of sketches, illustrations and collages.
You mentioned that one of the things that would dissuade you from moving would be to pack your book collection. What would you try to salvage first in a fire?
I try to collect as many original editions as I can of the French and Anglo-Saxon Golden Age of illustration-era like Edmund Dulac, Arthur Rackham and Harry Clarke because I learned to draw from them. As well as Gustave Dore and Honore Daumier and the early Mad cartoonists like Jack Davis and Wally Wood. My Dad bought some Mad pockets in the States in the late 50's when he was a sailor (one of my main drawing references as a kid was from early Mad). In a fire, I would save my first editions of Edgar Allan Poe's Tales of Mystery and Imagination illustrated by Harry Clarke and Edmund Dulac's illustrated edition of Rubáiyát of Omar Khayyám and Don Quixote by Gustave Dore.
What books are you reading currently?
At bedtime I'm reading Philip Pullman's wonderful The Book of Dust and in daytime, Fire and Fury by Michael Wolff which is pure social pornography, toe cringing lunch reading, and yes, it is entertaining!
What hangs on your walls?
As all artists I'm sorry to say I have too many of my own paintings. I simply don't have enough art by other artists to fill my walls. I do have a lot of prints by a Greek printmaker named Manolis Angelakis (Tind Silkscreen).
ABOUT ATHENS
'O God it's wonderful
to get out of bed
and drink too much coffee
and smoke too many cigarettes
and love you so much'
Daniel Egnéus on Athens, quoting from Frank O'Hara's poem Steps
When and why did you move to Athens?
I arrived here almost 5 years ago, mostly because I was so curious. I came here for a weekend and before I knew it, I had found a storage for my things in Milan and was googling for apartments to rent in Plaka. I usually move every six years. The Universe then throws something new at me!
Your dreamy depictions of contemporary Athens emit such a positive and playful energy. How would you describe the current artistic vibe of Athens?
I love that Athens is a bit more realistic and in-your-face. The beauty here is not remote, impenetrable. And the creative scene has really started to come alive more in the past couple of years.
What is it that fascinates you about cityscapes?
Some months I'm more captivated with buildings and graffiti, other months it could be people. I find Athens' narrow little streets and the vibe around Athinas street very Balkan, very Oriental which is very different from the vibe you get in Italy or Spain. Athens is fascinating and messy! There is concrete everywhere and neoclassical buildings with patchwork fixtures next to this brutalist architecture.
Which area of Athens do you live in and what do you see from your balcony?
I must confess I live in a bubble, in Plaka, on a pedestrian street, and I see the Acropolis!
You seem to appreciate the freedom and rebellion that Athens offers. Which quality do you appreciate most about our city?
The fact that you can go to a bar and have a drink or something to eat at any hour. And the bar basically shuts when you want it to!
To buy original illustrations from Daniel Egnéus, click here.
---