Celebrating the Next Generation of Artists at the Hydra School Projects
With a notoriously good curatorial eye for spotting talent and a passion for celebrating the work of under-recognized artists, the Hydra School Project held annually since 2000 under the stewardship of Dimitris Antonitsis, showcases the work of up-and-coming Greek and international artists. His roster of artists at the Hydra School Projects 2023 are the newest crop of young artistic talent to watch out for!
Curator and artist Dimitrios Antonitsis is the creative force behind the Hydra Schools Projects, an international platform for the visual arts supporting emerging artists. Held annually since 2000, the Hydra School Project shines a light on the work of up-and-coming, Greek as well as international artists alongside those already well established. He recently curated the Brice Marden exhibition at the Museum of Cycladic Art, and his compelling photographs that explore the many faces of gender in the '90s were on display at the Cycladic Café earlier this year.
For this mechanical engineer morphed into visual artist and curator, the Hydra School Projects is "my best excuse to spend 3 months on Hydra with my dogs and artist friends. During the past 24 years, approximately 300 artists have exhibited; some of them for the first time in Greece."
Anti-Style of Art
Eugenie Livanos studied painting and fine arts at Parsons. She has exhibited internationally in group shows ("Unsafe At Any Space," Kenny Schachter, New York). Her most recent solo show was at Villa Flor in S-Schanf,  Switzerland in February 2023.
Livanos' painting focuses on expressionism but as an anti-style of art, appropriating the pictorial shorthand of (self)-advertising. As the artist states: " My self-portraits unveil the depth of my truth". Accordingly, her imagery is characterized by a focus on emotion as inspiration. The basis of her painterly gesture lies in an over dramatization with stark contrast; accurate depictions of reality and nature do not interest her.
Livanos refers to the use of clear shapes, vivid colors, and jarring contrasts to create images with emotional intensity. The lockdown canvases depicting the green juices and water or whiskey on the rocks premiering this summer at Hydra School Projects are theatrical, dramatic but not histrionic. Their self-esteem does not depend on the approval of the observer. The vulnerability of Livanos' depiction is rooted in an esoteric feeling of self-worth. Her paintings have an overwhelming desire to be noticed; of almost inappropriately getting our attention.
Kostas Lambridis (1988)
Trespassing the borders between Art and Design
Kostas Lambridis is a Greek designer based in Athens. After graduating from Design Engineering at Syros, he moved to Eindhoven, the Netherlands to work for Nacho Carbonell studio. Meanwhile, he continued his studies at the "Contextual Design" master's programme of the Design Academy Eindhoven. His graduation project "Elemental Cabinet" brought him international attention and he has since participated in several group exhibitions across Europe and the US.
In 2021 he took part in 'Rooted Flows' Residency #2 by IN Residence in Turin, Italy, which concluded in a mono-graphic publication about his practice. In 2021, he presented his debut solo show "Elemental Folds" at Carpenters Workshop Gallery in Paris and he is currently preparing his second solo exhibition which will be hosted at the New York facility of CWG in September 2023. Kostas Lambridis takes an active part in the production of his work by hand, due to his interest in materials and construction techniques, developing original theoretical research on the meaning of each operation.  To quote Lidewij Edelkoort: "Lambridis' work spans centuries of shaping and decorating, from a cavernous cave man aesthetic to baroque citations; a virtual future forged from neon writings with stained glass and a broken disco ball. As much an artist as a designer, Kostas trespasses the borders between these two domains and creates iconoclastic hybrids that bridge diverse domains, merging a hedonistic sustainability with bewildering sensationalism."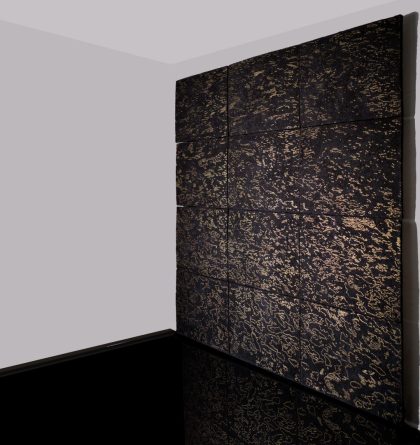 Christina Nakou  (1973)
Poetic Meditations
Christina Nakou studied painting, mosaic, and sculpture at the Athens School of Fine Arts. She has presented her work in art projects and solo/group exhibitions in Europe – among others at the Pati de les Dones, in CCCB Barcelona and at the Aby Warburg House in Hamburg. Alongside her work as a visual artist, Christina has researched the ancient mosaics across the Mediterranean region travelling in Greece, Turkey, Syria, Jordan, Lebanon, Cyprus, Egypt, Tunisia, Spain, France and Italy. Her interest focuses on the fragmentary materiality of the ancient technique while proposing an interpretation of mosaics as a handmade mapping of time. In 2021, her work "Following the route of Water" was presented at the archaeological site of Ancient Messene in the form of a dialogue with the ancient monuments and the natural environment. In June 2023 her work "Sea Reflections" will be presented in the garden of the Italian Embassy in Athens – together with Italian artists Antonello-Ghezzi – suggesting the sea as a surface of reflection of the universe.
In "Love Letters to Giordano" presented at Hydra School Projects, Christina presents two large scale mosaic pieces in which innumerable marble and bronze tesserae seem to be floating in the mortar background, creating dynamic forms that expand around multiple centers. Like giant mirrors, the pieces invite the visitor to perceive space as a reflection of the inner self and to contemplate facing the infinite. Her work draws inspiration from the philosophy of Italian poet and astronomer Giordano Bruno* who used love poetry to understand truth. "To contemplate the infinite means, in particular, to think of oneself as a tiny part of a Whole; it means to enthusiastically demonstrate the certainty that one's life too participates, in proportion, in the incessant movement of the Universe."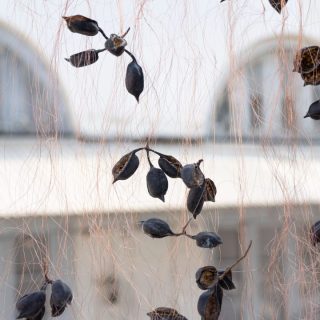 Anna Pangalou (1971)
Ministry of Sound
A performer focusing on sound, Anna Pangalou formally trained as a classical singer before she started exploring the boundaries between classical vocal practices and experimental sound. An award-winning classical singer and soloist, her focus shifted when the distinctiveness of her voice was recognized by experimental composers who requested her to perform their works (Alvin Lucier, "So you", documenta 14, 2017 / Open Day, Onassis Stegi, 2012-2020 / Dimitris Kamarotos, "Suspended", Prometheus Bound, SNFCC, 2020-2021).
In 2019, Anna started creating in situ sculpture, sound, performance, and installation works in gallery spaces. Her forays into soundscapes and acoustic ecology focusing on breath, water, and space as a 3D score, have been presented as sound landscapes.
"Letters of Wind / Wind of Letters" will premiere as a sound installation at Hydra School Projects 2023. On the top of a terrace at the former Municipal Market of Hydra, a brachychiton populneus tree is rustling in the wind, amongst chirping birds and the murmuring sound of air conditioners. (The Australian aboriginals used the bark of the tree to create nets for capturing birds). A web of copper wires and stripes engraved with wind inspired phrases link the metal net to the air conditioner and vibrate to its movement. Repurposed copper threads create a structural net, on which the strategically positioned seed pods of the brachychiton rattle in the wind. The sound sculpture is used as a 3D score for live performances that Pangalou will stage throughout the duration of the exhibition. Pangalou's voice uses wind sounds that turn into words and vice versa, while a copper tin, davas, full of brachychiton seeds, produces a sound that resembles sea waves. A recording of the performance will be interwoven with the natural soundscape and the sound of the sculpture. According to Pangalou the light reflecting copper is a metaphor for the fluid continuum between existence (seeds) and space.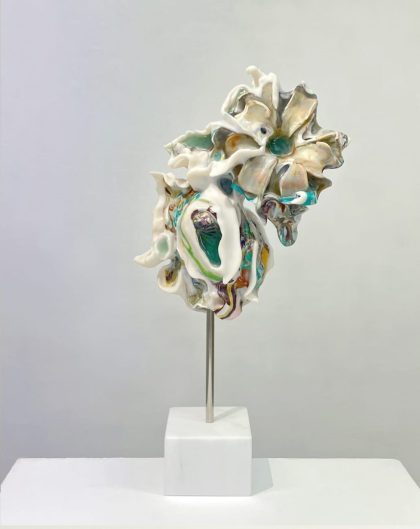 Adonis Stoantzikis (1984)
Mysterious Matters
Currently working towards his PhD , Adonis obtained a BFA (Integrated Master) in painting from the Athens School of Fine Arts in and a Master's Degree in painting from the Netherlands.
Stoantzikis has been exhibiting internationally since 2010 in institutions and galleries including Galerie Bart, Amsterdam,  Laden für Nichts, Leipzig and the Miniature Museum, Amsterdam.
While elements of landscape painting appeared in Stoantzikis' s work early on in his career, the artist began his abstract series during the pandemic, which will be exhibited at Hydra School Projects for the first time.
Coming full circle from his early painterly imagery, Adonis will show a series of haptic swirls of polymer clay and glass, translating his texture research into sculpture. His innovative methods of paint and material application gives the object the sense of "letting a thing exist, rather than creating it." In his abstract sculptures, Stoantzikis builds up cumulative layers of non-representational materials, showcasing a mysterious gradual evolution of matter. Thus, the incidental details and patterns that emerge blur the lines between illusion and reality: they oscillate between presence and absence, the seen and the unseen, suggesting both materiality and the void.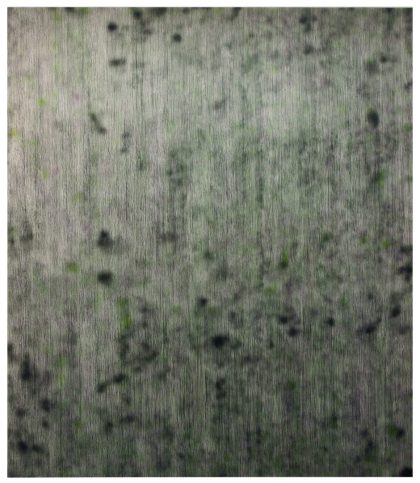 Nikos Tsikouras (1994)
Recurring Patterns
Nikos Tsikouras studied Fine Arts and Applied Arts at the Aristotle University of Thessaloniki. He has participated in various exhibitions in Greece and abroad including: Remembering the Past-Building the Future, Thessaloniki (2016), Young Artists Lab at MOMus, Thessaloniki (2016),
Physis Art Project, Berlin, Roots & Routes, Baltrum (2018) and Inhibition, Aarhus (2018).
His works Death and the video installation Speed Leads to Distance were used as stimuli by edgy experimental music bands in order to create sound. Nikos' work is focused on repetitive motives (lines, dots, layers of colour) which construct an (after)-image through a predetermined process trying to mimic the digital. Like a human printer there is no directing during the construction of the image and the errors that occur are greeted as welcome artistic events. He uses charcoal, pencils, acrylic spray, oil on paper and canvas but also, he is an expert in traditional printing methods such as etching and linocut print. The core of each artwork is directly connected with the selected material in use not only physically but also allegorically resulting in multi-layered concepts.
During the last two years his work experienced a medium transfer from canvas to directly painting on walls; covering entire rooms with oscillating patterns to create a new post- graffiti approach between viewer and space. In that sense, Tsikouras' work becomes a vehicle to experience patterns in a more esoteric, meditative way.
Lessons Learnt, Hydra School Projects @Old Market runs from June 17 to September 17, 2023.
---