Pelagos: Chef Luca exerts his creative influence on Athens' fine dining scene
Chef Luca Piscazzi's witty, playful menu at Pelagos, Four Seasons Astir's much-awaited seafood restaurant, is a Michelin shoe-in, Sudha Nair-Iliades predicts. With evocative culinary displays that tease and provoke your palate into new territory, the young Italian chef sets the creative tone that currently defines Athens' smart dining scene.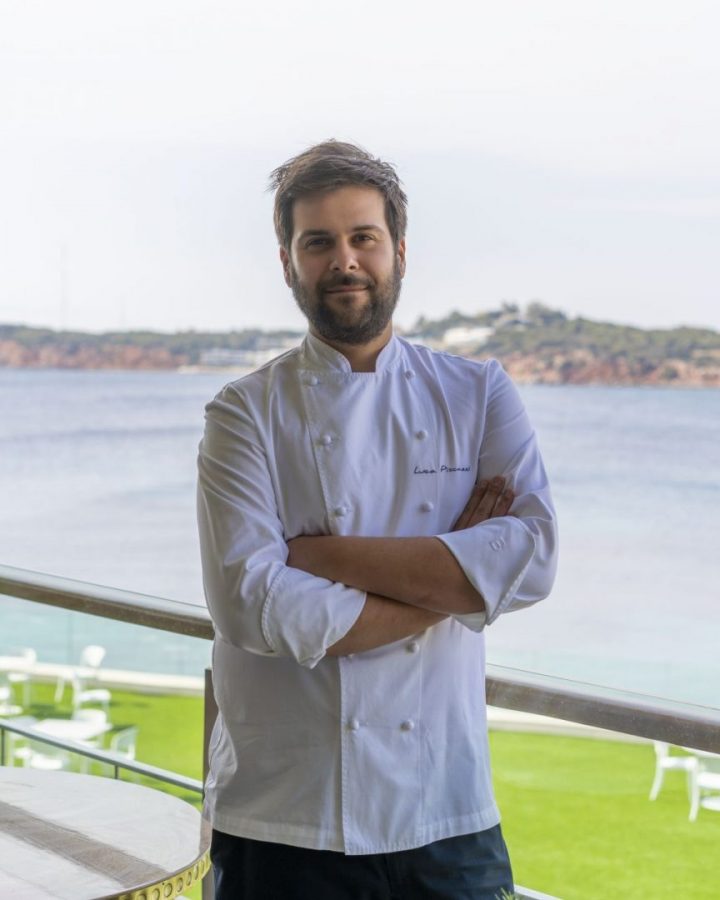 The Chef:
Gifted two-star Michelin Chef Luca Piscazzi, who moved from London's celebrated La Dame de Pic to helm the Four Seasons Astir's Pelagos, is but a prime example of the creative talent that Athens has been attracting of late.
With a 'no gimmicks, no fireworks' approach,  Chef Piscazzi crafts an inventive menu at Pelagos, bringing his unconventional interpretation of quintessential cooking techniques to each masterful dish. The result is an elevated meal that transcends the laws of food physics and flavours. 
Seafood cookery is all about using the freshest possible ingredients and, to employ the laboured expression, "letting the ingredients speak for themselves." Chef Luca's recipes are straightforward, yet beautifully conceived, and clearly show off his deft abilities with seafood. He brings this tradition-defying ethos to Pelagos, though makes it clear that he is not interested in "smoke and mirrors" gastronomy. Instead, he is invested in bringing out the rich flavours, subtle aromas and textures of seasonal raw ingredients.
Having earned his stripes at some of the world's most impressive restaurants in Rome, Hong Kong and at Mio at Four Seasons in Beijing, to assisting Chef Anne-Sophie Pic, the most celebrated female Michelin-Star chef in the world, Chef Luca's resume is striking, especially for someone so young. His presence at Pelagos, injects a whole new level of creativity and promises to definitively transform fine dining in Greece.
The setting:
Pelagos exudes the retro glamour of a luxury yacht, with its warm, intimate interior paying tribute to Greece's maritime heritage and to the resort's celebrity-studded history.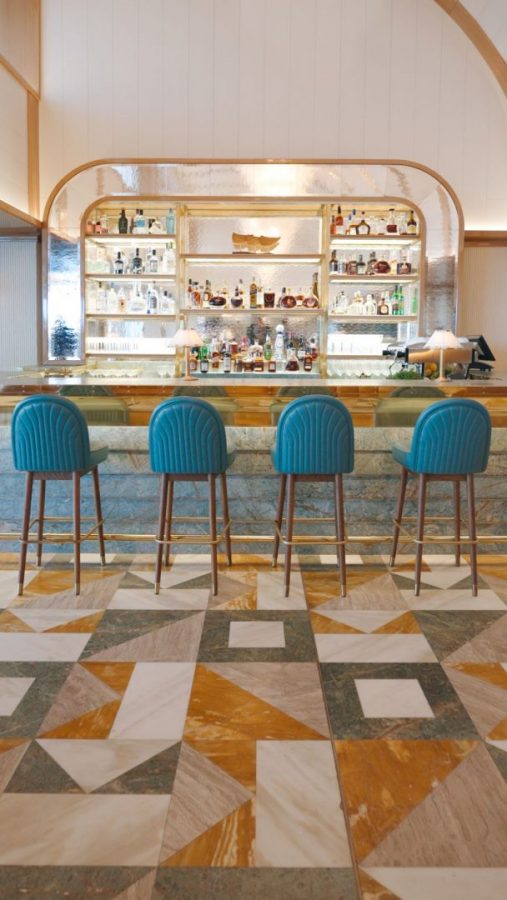 Martin Brudnizki's design team recreate the magic of an opulent cruise ship with its curved hull, high timber-panelled ceilings, vintage lamp fixtures and caramel-hued leather banquette seating. Pelagos' classic martini bar is a stylish throwback to the glamorous '60s. Earthen marble floors reference boat sails and braided white rope on the walls mimic dock lines, while wispy chandeliers lend an air of breezy sophistication. The nautical theme runs through onto Chef Luca's plating as well. 
What we tasted: 
Setting the tone of what was to follow, we were served a sublime, reconceptualized oyster as an initiation into the machinations of Chef Luca's world. He smartly reverse-engineers to simulate oyster meat in a shell, placed on bread crumbs to mimic sand. It sounds gimmicky but it was anything but. The balance of ingredients was just so: through some magical, culinary acrobatic trick, the dish shows individualism and restraint, it is perfumed, but doesn't overwhelm. The collective sigh in the room was proof that the chef's gamble had paid off brilliantly. 
For starters, we had slivers of yellowtail on a bed of heirloom tomatoes, burrata cream and fresh oregano from the resort's garden. At first glance, this might seem like a fairly simple dish. But that's where Chef Luca's wizardry comes in: the fish was tender, fresh and absolutely sublime with layer upon layer of rich, yet delicate flavours of elderflower and oregano, working with the creamy buratta to create perfect harmony on the tastebuds. An outright winner.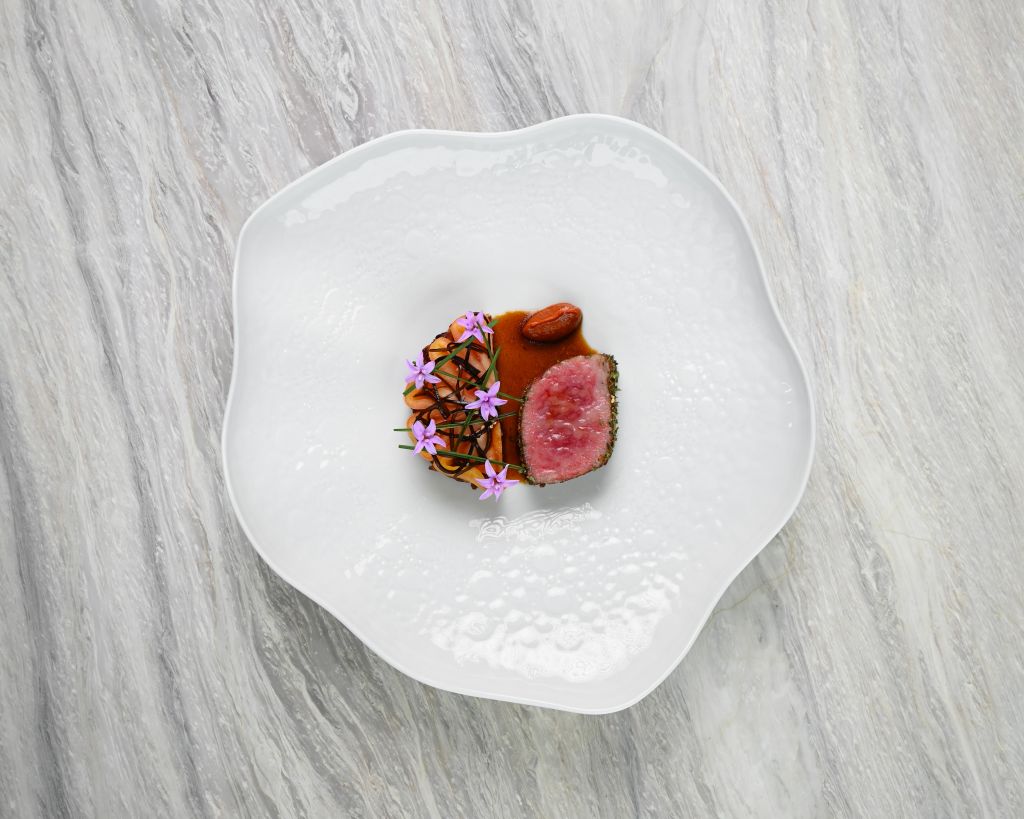 Each dish that followed – the cold mancini with caviar,  a  fragrant masterpiece;  the squid in à la royale that looks like a chocolate tart with molten lava, surprised and delighted in equal measure. Zingy, herbal and light, it delivers the briny, punch of the perfectly cooked chunks of squid with piquant slivers of radish rounding out the dish perfectly.
The mains – we had a choice of Kagoshima Wagyu or Aged Wild Sea bass with mastiha artichoke. I opted for the former, bathed in a lusciously rich reduction, topped with the unlikely trio of coeur de boeuf tomato, tsukudani potato and smoked eel. I cannot even begin to describe the awesomeness of this dish. My fellow diners who opted for the sea bass, gushed at the surprising notes of mastiha with every mouthful. Piscazzi, who says he likes "the notion of the unexpected," applies techniques usually associated with meat to seafood. "I found that the mastic resin not only imparts a sweet scent to the fish but has the effect of beautifully preserving it and making the flesh more succulent,"Piscazzi notes.
For dessert, the choice was between vanilla with timur pepper and portokalopita, or chocolate with milk pannacotta, but we were served a tangy raspberry sorbet gel as a palate cleanser and for an added pop of freshness just before our desserts. Both choices were spectacular and if the volley of positive adjectives and gushing affirmations in the room were any indication, FS Athens knows its on to a winning menu at Pelagos from start to finish.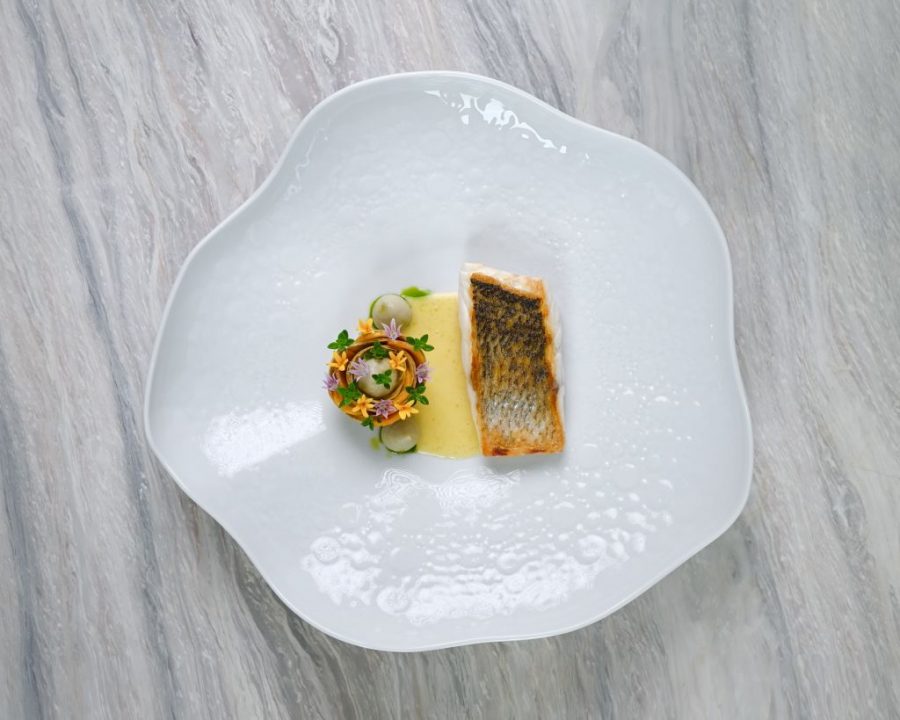 What we'd recommend: 
On a first visit, we'd highly recommend that you opt for one of the three degustation menus ranging from four to eight courses, to fully embrace Chef Luca's inventive approach. On the wine list, singular Greek vintages take precedence alongside sought-after labels from Bolgheri to Burgundy and beyond, but we'd highly recommend that you come in early and ease in to your meal after a couple of negronis at the bar.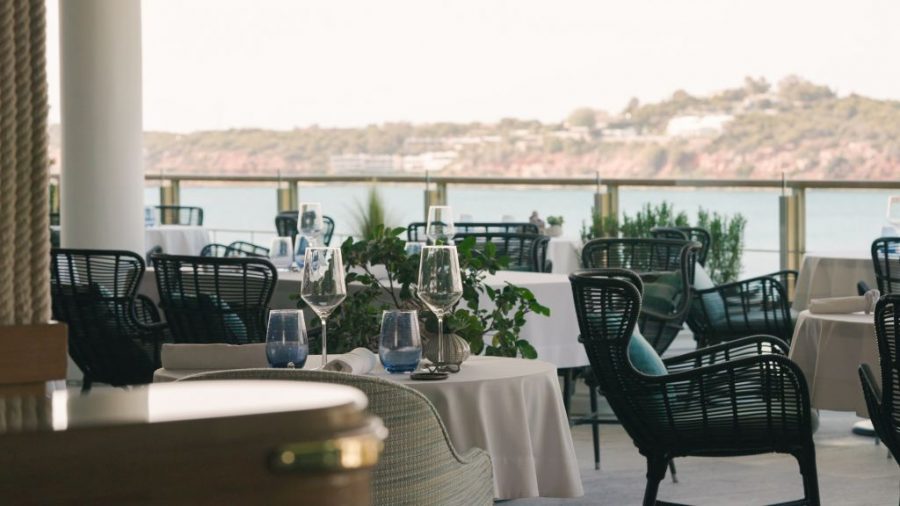 With Pelagos, FS Athens marks itself out as an upscale dining destination and we predict that this stylish restaurant will be booked-the-hell-out most Fridays and Saturdays into the future. Watch out for our Michelin prediction too!  Call +30 21 0890 1190 to book ahead.
©All images courtesy of FS Athens
---