New hotels to discover Athens from
The appetite for accommodation in the Greek capital is soaring with a fresh breed of inner-city boltholes, catering to every style, mood and budget. There are rooms that qualify as art museums, others that will feature in your instant bucket-lists: here's Athens Insider's rundown of the hottest hotel openings this year. Stop moaning about being travel-deprived, it's time you discovered the changing landscape of your city from four completely different settings.
Athens Capital M-Gallery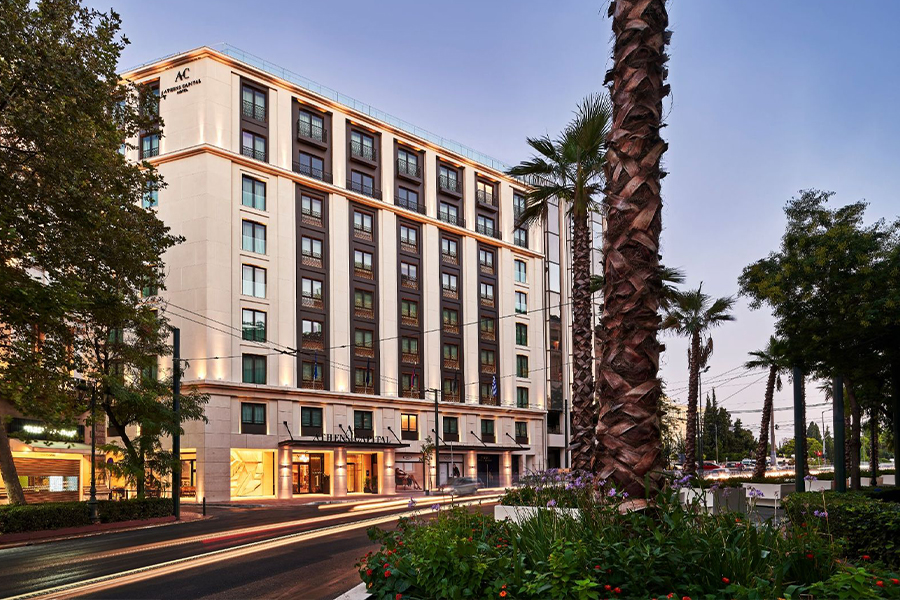 MGallery has probably been one of the most awaited openings in Athens and the hype is more than justified. Taking in the view from its 10th-floor roof-terrace feels like a quick lesson in the city's layered architectural history: right across is its sister hotel, the majestic Grande Bretagne; this is a vantage point to view reliefs and details of the Greek Parliament that get glossed over otherwise; the handsome Attica building in burnt orange (formerly known as the Army Pension Fund building) and all the stunning buildings that line Panepistimiou; the Egyptian Embassy, (the spacious, two-story building, which originally belonged to Greece's King George II, was given as a gift to Egypt's King Fuad and became the Egyptian royal residence in Athens. The deposed King Farouk stayed there briefly in 1952 en route to Italy, following the revolution and his exile from Egypt!); and of course, the two landmarks that define the city: the Acropolis and Mt. Lycabettus. With stellar views to compete with, the interior designers really had to up their game too! Running through the height of the 10 stories is the spectacular Mappemonde by the late George Lappas that traces the map of the world as a sculptural narrative and lends its name to the roof bar! The predominant colour palette is teal and duck egg blue, its chic and elegant design bringing together Hellenic marble and steel in wonderful aesthetic harmony. The lobby has an inviting bar that spills on to the street and a stunning trompe l'œil wall in mirror and metal – it is visually spectacular, though the doors to the restrooms are almost too cleverly hidden!
Mr Evripides Tzikas, General Manager at MGallery states, "A personalised stay, an introduction to the authentic side of the capital, inspired storytelling, unique artworks and the creation of memorable moments for guests are just a few elements that differentiate Athens Capital Hotel – MGallery Collection from any other hotel in the city. The Athens Capital Hotel – MGallery Collection, is the result of a strategic partnership between Lampsa Hellenic Hotels S.A. and Accor, two true leaders in the tourism industry who share the same values and adds a new sense of esteem to the Athenian culture of hospitality."
The tag line here is 'stories that stay' and it promises to deliver several of those! 
Athens Capital M-Gallery
Eleftheriou Venizelou Av. 4 &  Kriezotou 2 str. Syntagma Square
Tel: +30.214.444.2000
The Gem Society Hotel
Right in the hub of Athens' 'historic triangle' on Aristeidou, that once housed handsome banks and imposing powerhouses (literally, as most Greeks know the street as the HQ for the national utility company) is the beautifully restored, mint-green Gem Society. A very welcome addition to the bustling business district, The Gem Society is a perfect convergence of haute design, hipster cool and epicurean elements. Every vase here has a story, each item in the hotel's lobby boutique has been thoughtfully curated and the rooms have the look and feel of a stylish home rather than a soulless cube. The hotel's Muse bistro masterfully plays on flavours (their truffle-infused potato fries are sinfully addictive) and has been drawing a string of regulars to savour its eclectic cuisine. Everything from the large black-and-white photograph that dominates the lobby to the plateware exude understated elegance.
Wellness fans please note, the hotel also houses a spa, designed to salve those weary bones after a night in town. A perfect base for you to discover Athens' architecture and inter-war history!
Shila Athens
If it were to use one word to describe this hotel particulier, it would be 'transporting'. Picture a Tuscan retreat with old-world rustic Mediterranean design elements, wrought-iron and distressed wood. Shila-Athens, tucked away on the seductively charming Mantzarou street, is an ethereal 1920's résidence that exudes both mystique and a deep sense of calm. With not a false note in place, it is hard to fathom that this beautiful building is wedged between the bustling Skoufa and Solonos streets. There is a library to retire to for drinks, two garden suites that open onto an inviting, verdant courtyard, and four other suites all distinctly different, exquisitely done up in shades of mint, ochre and sienna. Each room is like a mystery flight: beds seem to float, there's even a swing in one of the bathrooms!  The decor ranges from blown-up black-and-white photographs to original artworks by Athens-based creatives. That sense of alluring intrigue follows on to the roof-terrace too – there are exotic banana trees and bamboo shoots, marble basins and showers, a shaded drinks area, inviting rattan furniture. Even as we write about it, there's a part of us that wants to preserve Shila as a little insider secret that only the very few should be privy to.
Shila Athens

Mantzarou 10 Kolonaki
Brown Acropol
The flagship hotel of Tel Aviv-based Brown Hotels in Greece, the Brown Acropol sits pretty on the newly refurbished Omonoia square, lending a much-needed air of retro sophistication and hipster cool to Athens' commercial district. The '60s bohemian vibe comes through in the earthy, colour palettes and an overriding sense of 'accessible hospitality.' The building itself, designed by the legendary architect Emmanuel Vourekas is testimony to an oft-overlooked period in Athens' urban history. Channelling that post-war era narrative into a contemporary aesthetic is what K-Studio was aspiring to, and they do so effortlessly, marrying vintage furniture and bespoke pieces to Greek marble and oak with wit and flair. This 165-bed hôtel, we hope, will preserve that bustling, edgy, cosmopolitan character that Omonoia has always stood for and elevate it further. 
---