Where to find the best slice of pizza in Athens
Gooey and comforting, quick and easy … there are times when only a pizza fix will do. From authentic Italian to Greek spins and vegetarian delights, Athens Insider selflessly scoured the streets to scout the city's best 5 pizza places.  You're welcome!
Etien Pizza Bar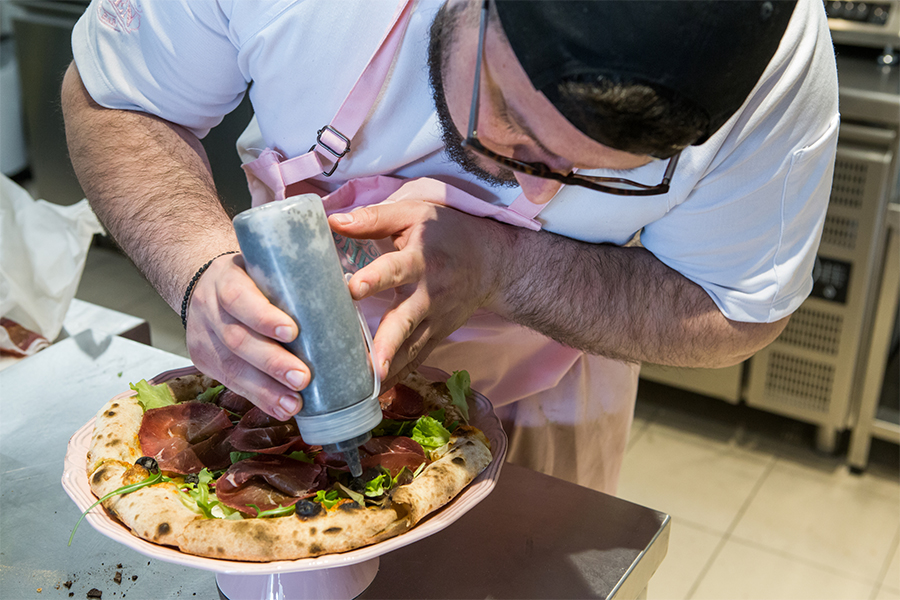 From its retro decor in hues of dusty pink offset by sunny yellows to the carefully thought-out packaging detail, you know this tiny pizzeria off Kifissias Ave takes its pizzas seriously. Sink your teeth into a slice (the secret lies in giving the dough a well-deserved rest, we're informed by master pizza technician Spyros Dimopoulos) and you'd have travelled beyond Napoli and Rome to uncharted flavours your palate has yet to discover. The purist obsession comes through with every bite: from stone-ground wheat to prosciutto from San Daniele, and tomato paste from San Marzano, the ingredients are top-notch and therein lies all the difference! Etien changes its menu regularly to reflect seasonal specialities but our all-time favourites remain the Speck & Brie with the ever-so-subtle flavours of caramelised lemon shavings, and the piquant Nduja & Salsiccia pizza.
Etien Pizza Bar, Solomou 1, Neo Psichiko, Book a table now: +30.210.677.7783, Fb: Etien Pizza Bar
Cupola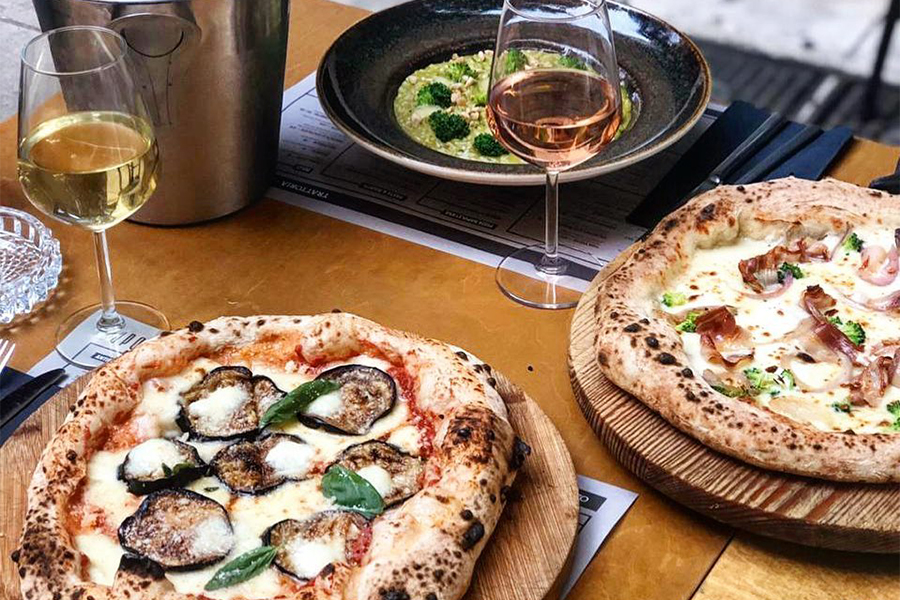 This traditional Italian, just off the bustling Eratosthenous street, on a cosy, pedestrian street in Pangrati, is helmed by the affable Chef Stefano Rossi whose home-made pasta and pizza have earned him a loyal following. It's easy to understand the restaurant's appeal with young Athenians and the hordes of young American students on study abroad programmes who've claimed Cupola as their own: the pizzas here are the optimal mix of crunchy and stretchy, and the sommelier always recommends affordable wines elevating a pizza night-out to a more refined dining experience.
Napul'è Italian Comfort Food & Wine
Just off the Vari-Koropi road, Napule surprises with its flavour-packed Napolitan fare. This is one of those places that despite its liliputian size and streetside location, has managed to seduce southsiders with consistently good value-for-money! Run by Napoli-native Francesco Granata and his lovely wife Maggi Tamvakaki, the menu here changes often, surprising regulars with even more palate-pleasing choices. In October, the specials include Salsiccia e friarielli (a typical napolitana dish with seasonal greens and sausages). Book early as seating is limited. You will not be disappointed!
Meno Male
This is your pizza fantasy come true! At a massive 36cms, on a super thin, ultra-crispy Italian crust, Chef Georgios Galanis entices you to give in to all your calorific desires. The pizza dough, he informs us, has been pounded and kneaded for a good 48 hours before he works his magic on it, tossing in seasonal Italian ingredients with just a hint of Greek elements. Specials here include the Tartufata (with truffle and mushrooms), the Meno Male with gorogozola and spicy salami, and the Carciofi (with artichokes!).
Tre Sorelle
Neapolitan-style pizzas charred to perfection in a wood oven and luscious pasta dishes have the hipster lot in Pangrati queueing up at this bustling pizzeria. Done up in soothing aqua and teal, the ambience here is inviting. The pizza menu includes a vegan pizza with Zea dough and for the adventurous, we'd suggest Vascheta al uova or an Eggplant pizza(it needs to be tasted to be believed!).
---