What every food-lover secretly wants for Christmas
If anything, 2020 was the year that made bakers and bartenders of us all! We've sipped, snacked, and sorted through treats that will tickle your tastebuds and whet your appetite for gift-giving. From bon-vivants to ambitious home bakers to cocktail-obsessed hosts, we've rounded up a collection of one-of-a-kind gifts for the foodies in your life. Angela Stamatiadou does the hard work of trying it all out!
From gourmet food gifts to tickle the tastebuds to your favourite food-lover's top tipple, there are plenty of gifts to choose from, so treat those you love or even yourself – why not brighten up your own kitchen cupboards? Browse our definitive guide to gifts for foodies.
Τea me away: Grande Bretagne's sublime takeaway high tea
Looking for the ultimate indulgence? Transfer your favourite winter ritual of sipping tea at the atmospheric Winter Garden with the warm melodies of Christmas carols caressing your ears at the Hotel Grande Bretagne… to the comfort of your home. It comes as a multi-layered tray full of refined savoury delights such as butter brioche with smoked salmon, cream cheese and cucumber, white tramezzone with cage-free egg and homemade mayonnaise, roast-beef sandwich on 8-grain bread and tartar sauce, King Crab on wholegrain linseed bread, scrumptious desserts and a variety of cakes and biscuits. If too much of 'Crown' has you fantasizing about freshly baked almond scones and clotted cream, we suggest you give in to your royal temptations and while you're at it, set out your finest tableware and silver tea pot to make a real event of it.
Order daily from 11am to 7pm at 210.333.0748 and pick up your order within an hour from the hotel concierge, beautifully packaged for €38 per person, or gift it to a dear friend or client – just make sure to pass on the address and cab fare. With each order, enjoy a complimentary tea box from French pastry chef Arnaud Lahrer's collection. A magical experience worth the luxury indulgence – and the calories!
Hotel Grande Bretagne, Syntagma. Tel: 210.333.074, www.hotelgrandebretagne.gr
From Paris: Say cheese this  Christmas
Its name may sound British, but it is not. A clever play on fromage (for cheese) while establishing its provenance, From Paris is Cyril and Sylvie Rouquette's flavour-packed fromagerie in Aghia Paraskevi. The Parisian couple set up their cheese haven a year and a half ago and it has quietly acquired a reputation for its expertise in perfect regional food pairings as well as for its extensive range of impeccably kept cheeses. When it comes to festive feasts, there's nothing like a bit of French flair to elevate your table or to make your foodie friends love you a wee bit more. Choose from a range of wonderful French cheese sourced from small producers – camembert with candied chestnuts, a rare grape Marc Tomme de Savoie, a wonderful Brillât Savarin with white Greek truffle (extremely reasonable at just 24 euros for 500 gms), or a Vacherin Mont d 'Or, melted in the oven to serve either with potatoes or cold cuts… You can stock up your natural or online basket with more festive delicacies, such as the Halle Paul Bocuse foie gras, served by the slice (approx. 70 to 80 gms for 10 euros) or a 500 gr terrine (80 euros) or for a jar of Maison Argaud's foie gras, honed by generations to perfection at 29.50 euros for 120 gms.
Order Cancale oysters from the famed Mont St Michel Bay at just 23 euros per kilo and indulge in the essence of the sea in the most elegant way possible. And of course, there is a whole range of French wines and champagnes to choose from (expect your French festive bubbly to range from 23 to 48 euros). You can either customize your luxury gourmet gift hamper with a specific budget or order pre-prepared gift hampers through www.from-paris.fr. Free delivery for orders over € 30 throughout Greece.
Kleisthenous 35, Agia Paraskevi. Tel. 210.601.8468 & 6973.908.159
Betty's Βakery: Loaves of love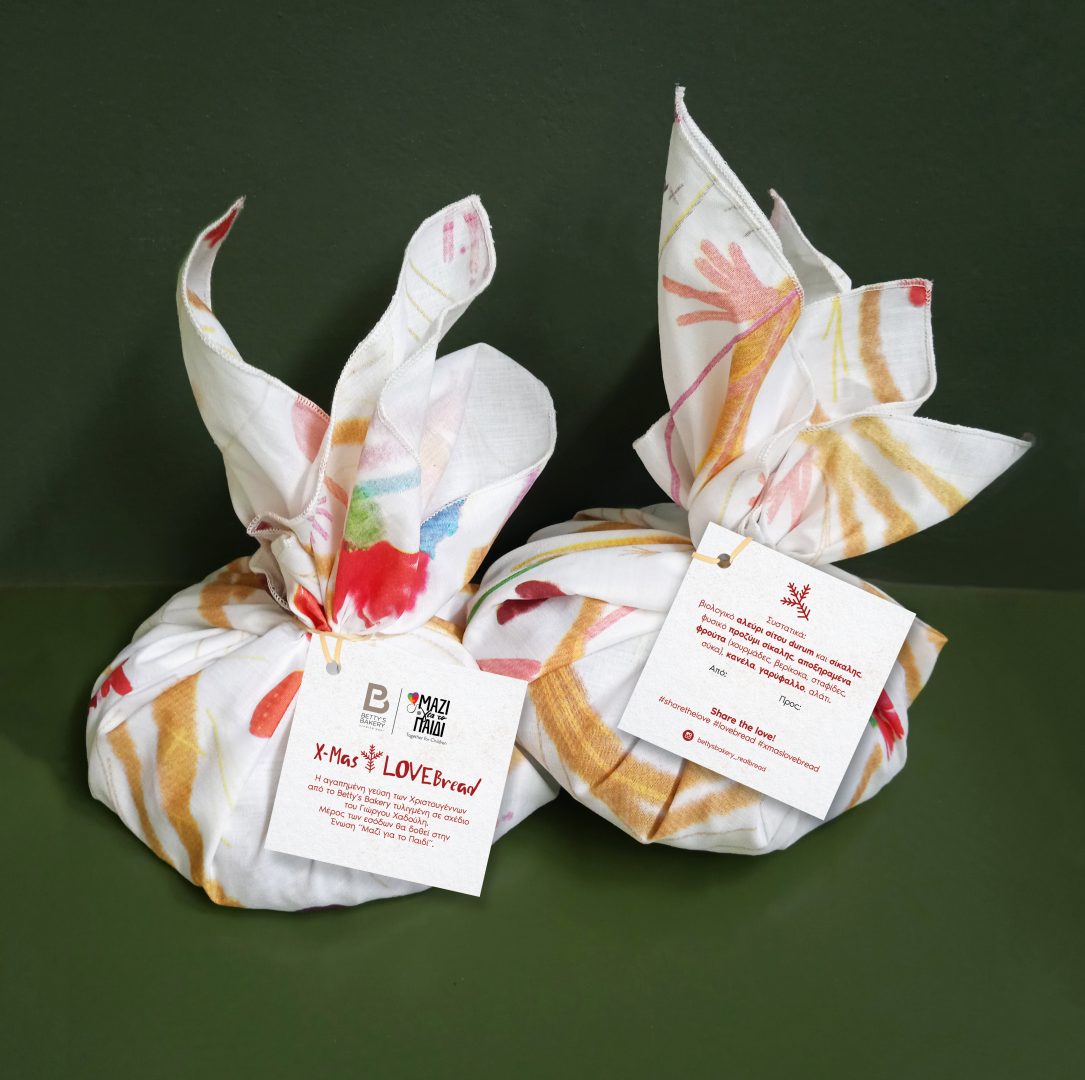 Every year, this little bakery in Votanikos churns out festive breads, but this year,  they propose a bread kneaded in the spirit of Christmas: Betty's Bakery's X-mas LOVEbread is a loaf of organic pre-baked rye bread with cinnamon, cloves and dried apricots, dates, raisins, figs. Fragrant and delicious, it pairs beautifully with cheese and wine or alternately as a terrific breakfast option. At just 10 euros, Betty's Bakery's X-mas LOVEbread comes wrapped in a hand-painted cotton pouch (that can be reused as a kitchen towel, scarf or framed!) painted by artist George Hadoulis, and it supports the charity "Mazi yia to Paidi".
To order or send it as a gift,  send an email to: xmaslovebread@gmail.com or call Betty's Bakery at 210 342.4832 and 6944.600.896.
Trikalinos Bottarga: a very special treat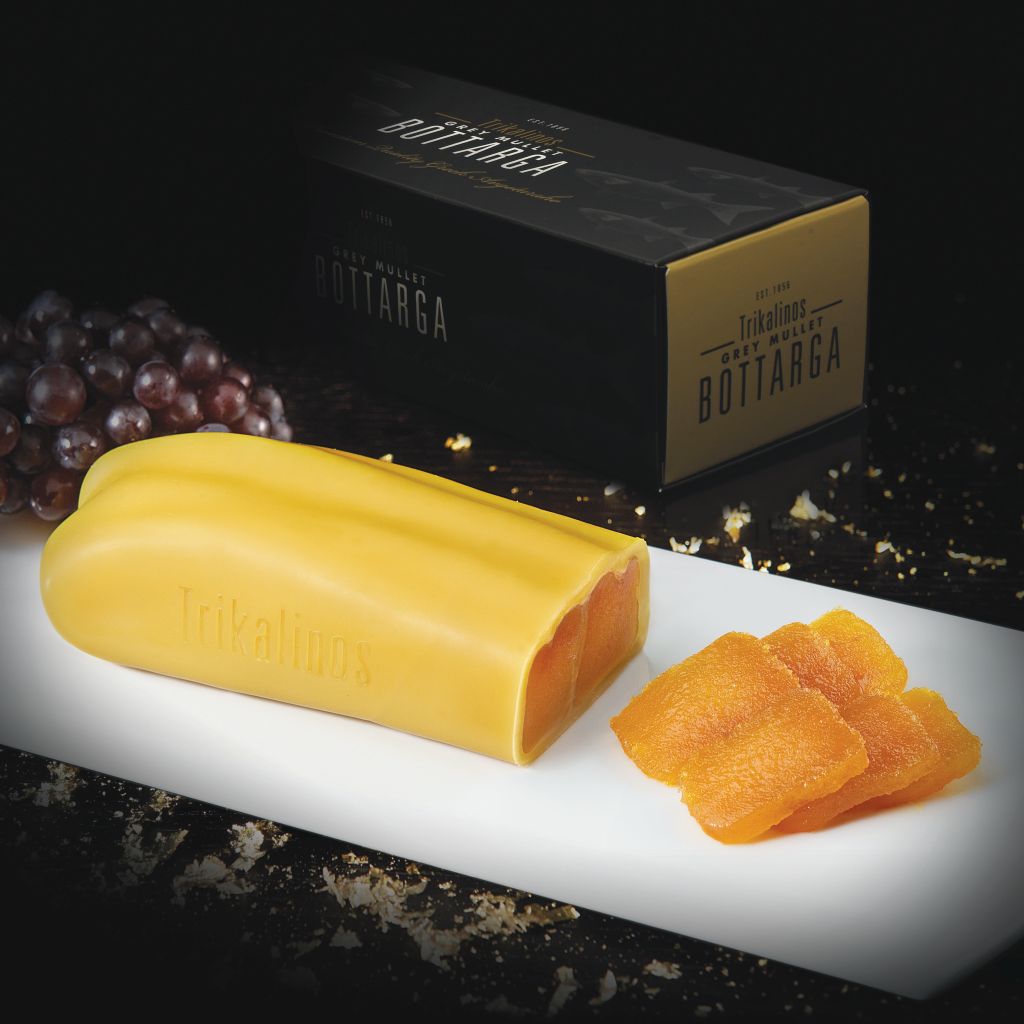 Zafeiris Trikalinos' bottarga is a quintessentially Greek product that has been repeatedly awarded in world competitions and has charmed famous culinary stars of the international gastronomic scene like Ferran Andria and the Rocca brothers. It is a cultivated taste, but just a few slivers with a sip of champagne or chilled white wine, vodka or smoked malt,  is what breaking the taste frontier is all about! The extraordinarily fresh Trikalinos grey mullet bottarga, at 40-45 euros, wrapped in a thin film of natural beeswax, makes for a subtly different festive addition. It pairs wonderfully with oysters and enhances the flavour profile of risotto and spaghetti. And of course, there is the roe powder, which can also be used in inventive ways: we suggest you sprinkle a little to your humble eggs to transform them into an elevated dish for a festive brunch.
Trikalinos products can be found at Degustation (Koumbari 5, Kolonaki, Tel: 210.362.7744), Yoleni's (Solonos 9, tel. 212.222.3623), Cibo et Vino (Kapsali 10, Kolonaki, Tel. 211.405.9707) and at many more select stores and delicatessens. www.trikalinos.gr
Cellier: I'm dreaming of a wine Xmas
Cellier has been offering us liquid courage to deal with 2020 and they really step up their game for the festive season. Guaranteed to please everyone, wine nerd or novice, Cellier's highly experienced staff will assist you in choosing the best bubblies and wines, both in-store and by phone, with their wine gift compositions starting from 48 euros to 1500 euros, depending on how indulgent you want to be! Almost as intoxicating as the champagnes and fine wines from Greek and international vineyards, is the packaging. In uplifting, bold, retro print boxes, elegant baskets and wooden caskets, there is a sense of opening a very special box of surprises. If you'd like to go large with an extra dose of festive cheer, opt for an impressive magnum, (Cellier stocks 56 varieties of 3-litre magnum goodness to choose from!) or a double magnum (expect to shell out around 800 to 860 euros for a 6 litre Moet et Chandon or Veuve Cliquot double magnum). Free delivery for orders for over 50 euros in the Athens area.
Stores: Kriezotou 1D, Syntagma, Tel.210 3610040/369; Kifissias Ave. 369, Kifissia, Tel: 210 8018756/320; Syggrou Ave., Kallithea, Tel: 210 4533551/156, Kifissias Ave. 156, Neo Psychiko, Tel: 2106701015, online orders at: www.cellier.gr 
Sweet Alchemy by Stelios Parliaros: Signature creations
As you cross the threshold of Stelios Parliaros' Sweet Alchemy, into a land of temptation and sin, it's hard not to succumb to the famous pastry chef's handiwork! Trance-like, you're led into a magical sweet kingdom. There are chocolates, festive specialities,  but also everything you or your aspiring baker friends might need, to recreate some of the Parliaros fantasies at home. Take your pick of fine chocolates, almond paste, candied chestnuts, glazed fruit to recipe books, moulds, cake trays, thermometers and silicone spatulas! Order Christmas treats – wonderful panettone starting at 16 euros, 800 grams of melomakarona for just 18 euros, jams, chocolate chip cookies, cookies in wooden boxes or jars (chocolate sable with 70% cocoa for 7.50 euros), Christmas chocolates with spices. A tempting choice of gift hampers awaits too. Delivery through Wolt.
Herodotou 24, Kolonaki, tel. 210 724.0205. www.steliosparliaros.gr
Story on a plate: Turning a great dish into an artwork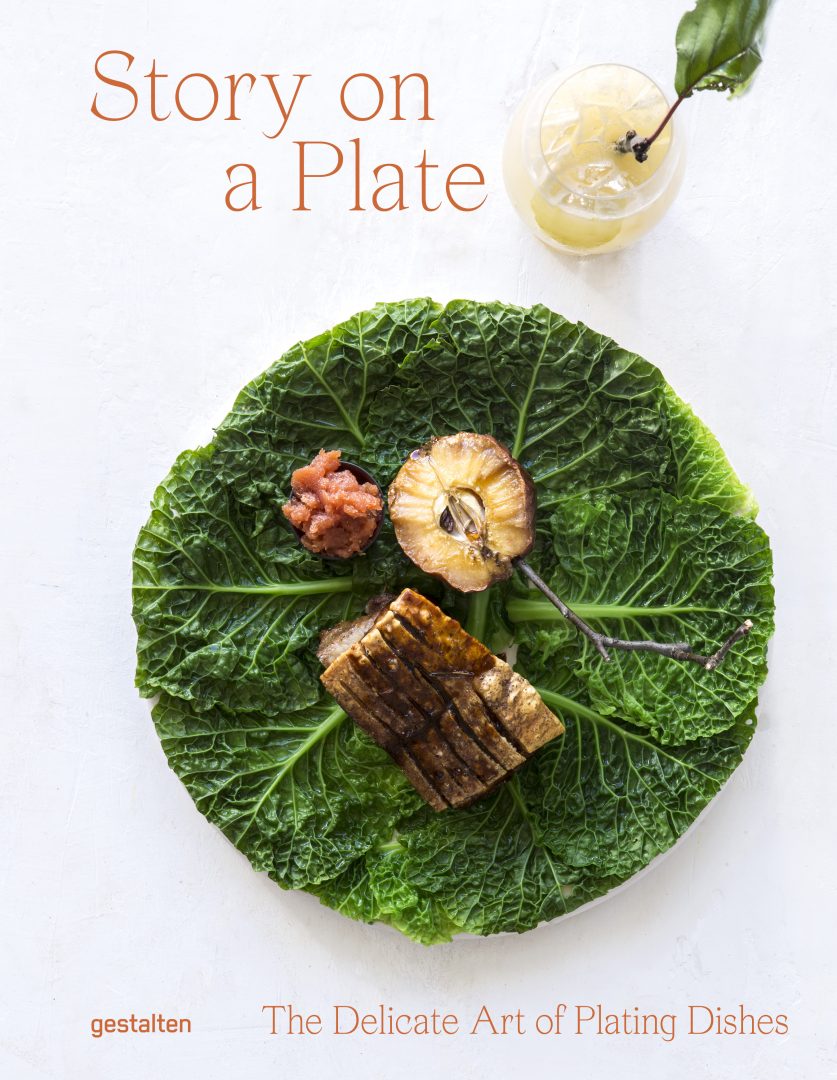 Our previous favourite book by Gestalten was the Visual Feast, an album with the best moments of modern food photography, a visual … orgy. Now, we are hooked on another version of it, Story on a Plate: The Delicate Art of Plating Dishes, which explores the sublime process of setting the dishes. In its pages, chefs and food stylists hold their own with exciting and inviting compositions, which intricately combine inspiration, art and technique. Loaded with ideas on how to elevate your dishes by playing off colours, shapes, textures and aromas to their appealing best, the book at just € 39.90 is sure to earn you some goodwill with your foodie friends. Beware of the Gestalten website, it is a rabbit hole lined with enticing temptations.
Junto carafe: bringing warmth to the table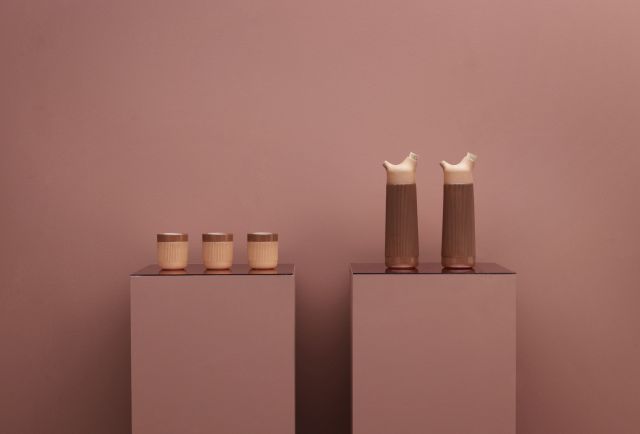 For aesthetes and gourmets alike, the Junto carafe, designed by Simon Legald for Normann Copenhagen, inspired by the traditional Spanish botijo, is a winner both for its practicality as for its sleek design. A traditional porous clay container that keeps water fresh, it is made of fired terracotta, with two spouts (one for filling, one for pouring). Its hewn texture and earthy tone lends itself to mixing and matching with your existing porcelain. Paraphernalia stocks it for € 35. Pair it with other Scandi-Medi utensils such as oil and vinegar holders, salt and pepper shakers, large salad bowls, matching cups or gift it on its own.
Paraphernalia, www.paraphernalia.gr
When Metaxa has a date with chocolate…
Metaxa, the emblematic Greek spirit with a rich, 132 years of history, synonymous with refined evenings. Chocolate is an excellent pairing to this spirit, which blends aromatic Muscat wines from Samos and fine wine spirits that mature separately in oak barrels. This Christmas, Sophia Dendrinou and Evdokia Liakou, the two chocolatières who founded Ésophy, along with Metaxa Master Konstantinos Raptis, create four distinct bespoke chocolates, inspired by the singular character of two different Metaxa varieties. For the Metaxa 12 Star, they create a bar of special chocolate with Orange and Basil, and another, charmingly spicy, with Cardamom and Fig. For the Metaxa Private Reserve, the chocolate is laced with winter spices, hints of cinnamon and clove for a delicate smoky note, and another one with spicy apricot, with wonderfully bitter hints and a fresh, fruity aftertaste. These uniquely inventive chocolates are great for pairings after a meal and make for a terrific gift idea for your connoisseur friends as well.
For sale at select cavas, as well as at the Ésophy store, 10 Agiou Tryfonos, Kifissia. Tel: 210 6230230,  www.esophychocolates.gr
---