Astra Suites Santorini
Welcome to Astra Suites, Your personal Santorini escape.
Overview
Santorini, Greece
As you walk into Astra Suites and take in the mesmerizing views of the caldera and Santorini's famed sunset, you will have a sense on contentment wash over you. There is something humbling about Santorini's beauty. With stunning views and our award-winning service, your stay at Astra Suites echoes the quiet luxury and distinctiveness that our guests have come to expect of us.
Location
Amenities
Santorini Suites Sensual Style. Quiet Luxury. Our sprawling suites and villa reflect Santorini's sophisticated simplicity and natural charms. All the suites at Astra seamlessly transition from indoors to outdoors with mesmerizing views of Skaros and of Santorini's iconic caldera.
Pool The cliff-side infinity pool at Astra Suites guarantees a front row seat to endless vistas of rock and sea blurring the lines between the deep blue of the Aegean and the alluring turquoise of the pool.By day, sip a chilled glass of white wine and soak up the warm Mediterranean sun.At sundown, revel in Santorini's celebrated ritual of sunset viewing from Astra's poolside as the sky is drenched in rich hues of vermillion, pinks and purples contrasting against the stark black of Santorini's volcano and the blinding white of its domed houses. The magic continues through the night, as the low summer moon seductively caresses the dark blue waters of the Aegean Sea. Transporting!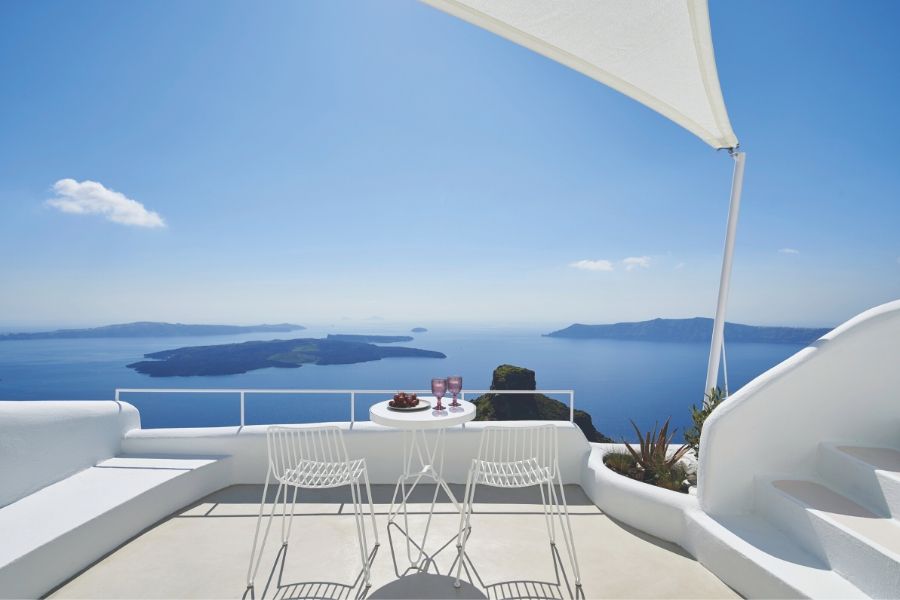 Food and Drink
The restaurant at Astra is not just a fine dining destination, it is a feast for each of the senses.
The unfettered view of the caldera from the restaurant's vantage point is a visual treat, the exquisite plating is sheer poetry as are the vivid hues of Santorini's famed sunsets.
The happy chatter of your fellow guests, the tinkling of wine glasses to toast life and the sizzling on your plate is a celebration of Santorini's own playlist of joyous sounds.
The heady summer scents of jasmine, the whiffs of wild rosemary from Imerovigli's slopes, the aromas wafting from a simple, refined Mediterranean dish, all designed to elevate your sensory experience.
Feel the different textures played out on your plate as in the beauty around you. Crisp white wines accentuate the succulence of sun-kissed tomatoes, the briny freshness of sea urchins, creamy fava and seared fish.
The sun, sea and soil in Santorini collude to create wines and produce so distinct, your palate will be tickled by its sophisticated simplicity.
5 Senses draws from the island's rich culinary tradition and gives it a refined touch to create the magic lifelong memories are made of.
---