In Love Again: Go ahead, eat your cocktail!
Thanos Prunarus nails it with the perfect antidote to all our decadent cravings at In Love Again – sinfully seductive sweets laced with cocktails, all in one tasty mouthful, crafted to perfection by Michalis Nourloglou. We've fallen head over heels in love with this inviting 'coffee meets cocktail-inspired sweets and plants corner.' As will you, predicts Angela Stamatiadou. 
Adventurous but also laid back, this playful café and pastry shop values creativity and connectivity. There is much to like here. If you didn't know In Love Again was Baba au Rum's sibling, you would probably have guessed it midway through a biteful. A few steps away from his cocktail bar, that has earned itself a regular spot on The World's 50 Best Bars' list for its imaginative, perfectly executed cocktails and its top-end rum collection, Thanos Prunarus combines, as the name suggests, things he loves. Café, pâtisserie and plant shop, this interesting newcomer with a handful of tables on the pedestrian Klitiou street, is inviting, with a holistic vibe of its own.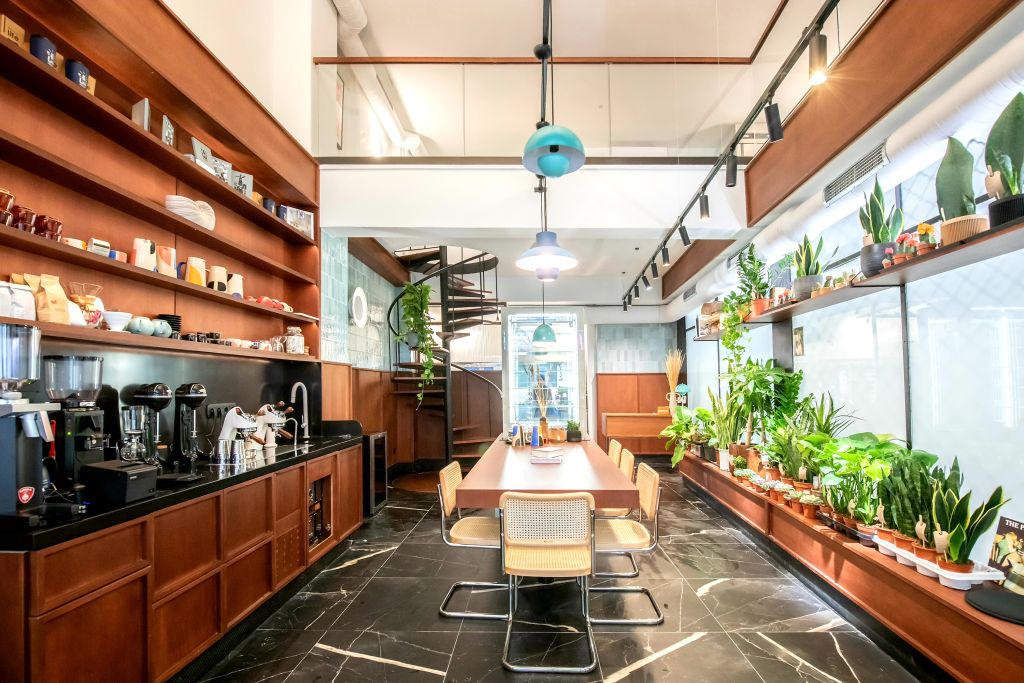 The menu has been painstakingly crafted by talented chef Michalis Nourloglou, ingeniously transforming cocktails into desserts. Try the exquisite Pina Colada cheesecake, covered with coconut flakes; beautifully balanced, it has a lovely exotic finesse. There's also a Mai Tai tart, a Zombie profiterole and of course baba au rum, in two different versions, soaked in a light, fruity syrup. Vegans can indulge in the chef's take on the traditional Greek bougatsa, made with oat milk, or the non-dairy rizogalo (rice pudding) made with organic coconut milk. Other than an array of picture-perfect sweet pick-me ups attracting lustful gazes from passers-by, In Love Again also has some savouries. Perhaps to incite you into an sweet-salty-sweet spin cycle. The list isn't huge, but there's a nice meat pie served with stracciatela and a hint of lime, vegan salad bowls, eggs kagiana and a couple of sandwiches for those looking for a light lunch or a snack.
Locals come in solo or with groups of friends from early on for their caffeine fix. Do try their single origin specialty coffee from Kenya and the freshly-made juices. Later in the evening, we'd suggest you try one of their coffee cocktails, such as the Coffee Negroni or the Espresso Martini. If you are in the mood for some shopping, check out their handmade ceramic mugs specially designed for In Love Again and the small collection of indoor plants and pots neatly lined up on shelves.
In Fall Love Again, 3, Klitiou street, Athens
---