Greek Michelin Chef Asimakis Chaniotis works his magic abroad
When his award-winning restaurant Pied à Terre in London's tony Fitzrovia neighbourhood closed temporarily for the lockdown, Michelin chef Asimakis Chaniotis has been in Athens with his family and has been tantalising his legion of Instagram followers with his ostensibly easy, masterfully-crafted dishes. He speaks to Elena Panayides on experimentation, creativity, and showcasing Greek gastronomy around the world.
Do you believe that Greece, and especially Greek gastronomy, is finally having a moment?
Greece and its traditional cuisine is magnificent. The flavours, the ingredients that grow on Hellenic soil are unique even if it sounds clichéd. The problem here though is that we stuck to traditions for a very very long time without trying to modernise them and experiment with them whereas France did and hence it's a glorious trajectory in gastronomy. I think Greek gastronomy is very strong right now because chefs travel more, go abroad to expand their knowledge in food and from experimenting, you get more insight into creating a future recipe or concept. We just need more chefs going out there learning new techniques, getting more skills, and applying them to our traditional cuisine to make Greece a gastronomic destination.
How challenging has it been to promote Greek cuisine beyond moussaka and gyros to Haute gastronomy?
I wouldn't say that I am promoting Greek cuisine but that I am using  Greece's amazing produce and my memories to create something bespoke. Something unique. I was born and raised in Athens I was spending a month every year in Kefallonia and I have a lot of memories from both places, I do not think that moussaka and gyros are Greek cuisine but for me, it would be Stifado and Fricassee which are dishes that I can turn into something amazing. They are dishes with deep roots in our tradition whereas the others are influences from the Ottoman empire.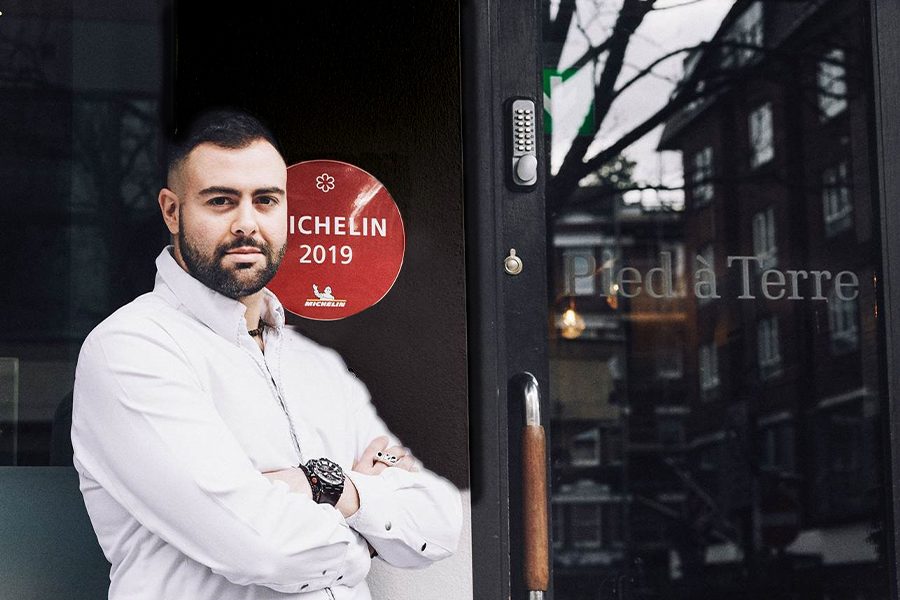 How would you describe your approach to Greek cuisine?
I would say that what I am doing right now is modern French cuisine with Greek influences. I am using a variety of Greek ingredients and turning family recipes into something different. Dishes that my mom used to cook made in a way that they do not look alike at all but they are delicious. Its current memories and memories from the past that stand out and make their way into my menu.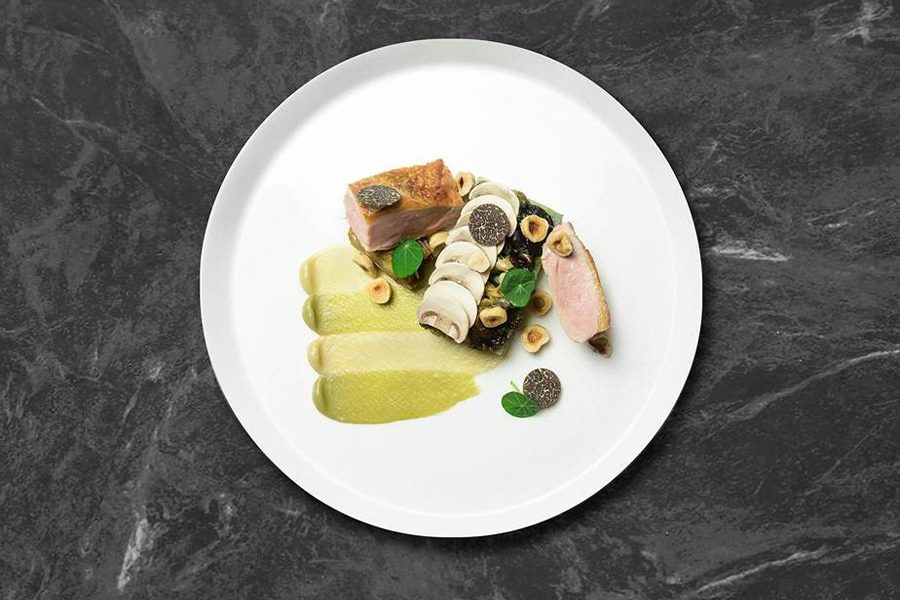 What can one expect when one walks into Pied à Terre?
When I cook at Pied à Terre, my aim is that when you taste my palate, a sense of nostalgia will kick in and that is exactly what I'm looking for, to trigger emotions through my food. Obviously that will not happen with all the dishes but by making an emotional connection, it will make you dinner memorable. One of my goals for the next decade is to open a restaurant in Athens and to go back to where it all started.
Signature dishes:
Olive tree smoked quail/celeriac rose/63 degree olive oil confit egg yolk/Piedmont hazelnuts/24 month aged parmesan/black winter truffle
Carrot velouté/seared Foie gras/trahana/pickled celery/toasted oats/crystalised ginger
Cold smoked trout mousse/mango/nage/cucumber/royal osetra caviar/burned lemon puree and lobster oil.
---