Coronavirus: A Parallel Pandemic
London-born, Nottingham-based award-winning documentary and travel photographer, Dan Giannopoulos' work has often focussed on individuals and communities on the fringes of contemporary society whether by their own volition or through circumstances out of their control. In this compelling photo-essay, he documents the debris left behind by the pandemic. Gloves and masks discarded at public places.
In the early days of Lockdown in the UK I had spent a lot of time thinking of ways to document this significant moment in global history. As a working photographer who often travels on assignment, being unable to leave the confines of my home for more than an hour or so a day forced me to think more about the ways that I could stay motivated, engaged with current world events and maintain my creativity and sanity.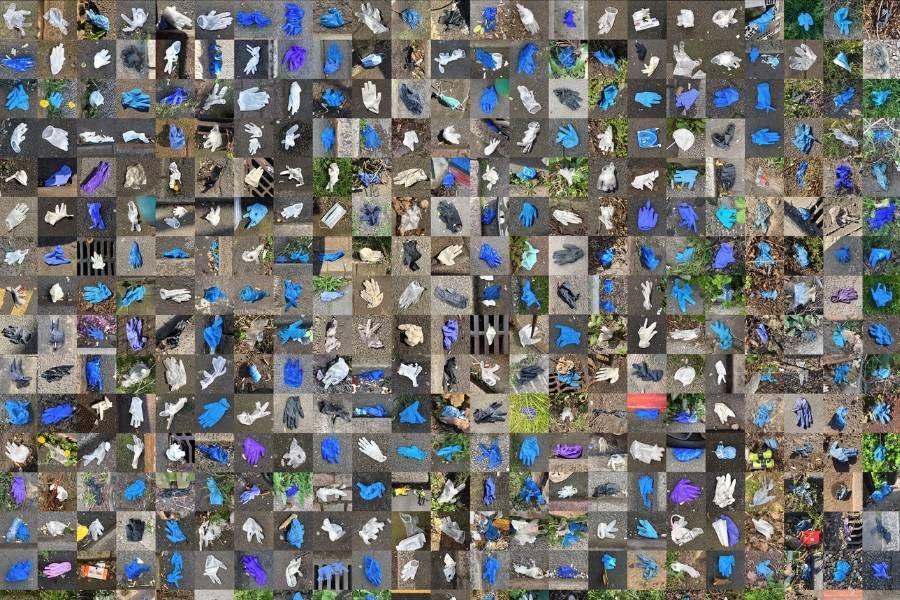 Gloves and masks had been discarded everywhere. I couldn't walk more than a few metres without finding one; in gutters, on doorsteps, hanging from bins, forced through fences, strewn in front gardens.
The first time I left my house after a number of days of social distancing I was instantly struck by the amount of discarded PPE (Personal Protective Equipment) in my neighbourhood in Nottingham, England. I immediately began photographing them, zig zagging the streets near my home.During the course of the next 3 days I continued to venture out and photograph all within a 1 mile radius of home. I photographed a total of 373 pieces of abandoned PPE.
To me these artefacts illustrated multiple issues at play at this time. They highlighted the sheer scale of panic and paranoia over the threat of this invisible killer, but they also highlighted our own virulent, damaging nature.
If my small neighbourhood is an example of every 1mile square urban area in the UK (and globally) then there are likely hundreds of thousands if not millions of these potentially contaminated items discarded in public places.
What does this mean for our environment? What does this mean for controlling the virus? How should they be disposed of? And what does it say about our blindness to the fact that we are an exponentially more destructive force than COVID19?
Dan Giannopoulos is a documentary and travel photographer whose work has featured widely in publications such as National Geographic, TIME, Smithsonian, The New York Times, Washington Post, BBC, CNN, Wired and The Guardian among many others. He has exhibited internationally and has been recognised with numerous photographic awards. Website
---