Pets at Work: Who let the dogs in!
Far from getting you fired, taking your pet to work may actually put a smile on your boss's face, says Purina, a fierce advocate for the health benefits of the Pets @ Work movement. Life is better with Pets, reads their tag line and we couldn't agree more!
Sushi at Athens Insider is the perfect work colleague. She's punctual. Enthusiastic. Doesn't chatter. Has great people skills. And never nicks the last of the milk from the fridge.
Everyone can feel their spirits lift of a morning when Sushi rushes through the door. No wonder she's so popular! And even though she does however have a tendency to nap while on the job – no-one would ever suggest docking her pay.
Sushi is a very amiable cross Maltese Griffon mix, who joins the Insider team at our Vouliagmeni office most days.
Little did we realize that here at Insider, we were part of a sweeping global trend, known as P@W (or Pets at Work). It seems that more and more companies are now recognizing that the myriad benefits of allowing employees to bring their pets to work include everything from boosting staff morale and reducing stress to improving overall health. It costs the company nothing and staff often say that it's their favourite perk of the job, according to recent research.
Global Pet specialist Purina – a staunch advocate for Pets @ Work – lists the following 8 benefits of turning your office into a pet-positive space:
Reduce stress
A recent study has shown that employees who bring their pets to work tend to have a lower stress level by the end of the day. Interacting with their pets lowered the levels of cortisol, a stress-related hormone that can lead to high cholesterol levels, hypertension and depression.
Increased productivity!
When employees feel good, they can be happier and more productive!
Positive Vibes
A New Scientist Magazine study found that humans who interacted with pets for only a few minutes a day saw dramatic increases in hormones like oxytocin, dopamine and serotonin – chemicals associated with happiness and well-being. Elevated levels of positivity often leads to more creativity in the workplace also.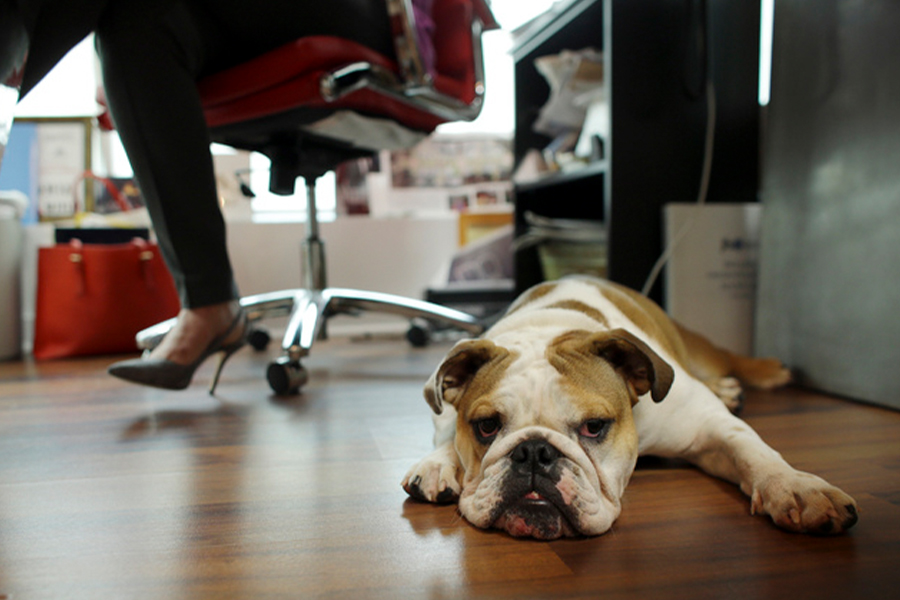 Lower blood pressure
Having pets close by can reduce your blood pressure, in addition to decreasing loneliness, lowering cholesterol levels and encouraging physical activity.
Increase job satisfaction
At Purina, research on employee surveys reveal that the Pets at Work program is a big benefit, and Human Resources believes it helps with retention.
Encourage co-worker interaction.
Pets add another layer of interaction between co-workers, and otherwise quiet employees can become more engaged when talking to a co-worker about their pets.
Promote healthy break time
Dog owners spend their breaks walking and caring for their dogs, making them more active. Even just taking a few minutes to play with a pet can provide a mental break and lower stress.
Project a healthy work-life balance
For many people, pets are a huge part of their lives. Companies that encourage pets in the workplace show that they care about their employees and the balance between work and home.
On the occasion of World Animal Day, PURINA® offers additional 30,000 free meals for our beloved four-legged friends by supporting animal welfare associations throughout Greece. In the last 3    years, with your support, we have already given more than 150,000 meals to animal welfare organizations. At Purina, we love pets and passionately believe in the benefits that pet ownership    brings to an individual and society as a whole. Find out more about PURINA®'s commitments for a better society with pets at www.purina.gr.

---