What to do and see in Athens this September
From concerts at epic venues, retrospectives on contemporary art, sculptural installations, new gallery openings, ceramic exhibitions, collectible design, tango, theatre and more, Athens Insider rounds up the must-see events for the next two weeks. Kick off the cultural scene this September in style.
Monica Bellucci in "Maria Callas: Letters and Memories"
WHAT: French actress Monica Bellucci  celebrates her birthday on stage in style at an epic venue, portraying Maria Callas, the legendary Greek soprano, in a monologue based on her unpublished letters, unknown and hidden from the public. During the 80 minutes of the play, Monica Bellucci will take us across Maria Callas's life, from her childhood to the peak and slumps of her career, while also talking about her legions of lovers and admirers. The show is directed by Tom Wolf, who also directed "Maria by Callas" and collected more than 350 of Maria Callas's unpublished letters.
WHEN: September 28, 29 and 30
WHERE: Odeon of Herodes Atticus, Dionysiou Areopagitou
Gagosian Gallery launches the Brice Marden exhibition at its new home in Athens
WHAT: In 1981, while summering in his home on Hydra, Greece, Marden began painting on small slabs of white marble from local quarries. The resulting compositions, continuing over two decades, feature bars and fields of subtle color that tint and accentuate each stone's dimensions, edges, unique veining and inherent textural variations. Also on view will be a group of ink drawings by Marden that employ gridded compositions and calligraphic approaches to mark making, and relate closely to the marble works.
WHEN: From September 24 Until December 19
WHERE: Gagosian Gallery: Anapiron Polemou Str. Athens, Tel: +30.210.364.0215
Costas Tsoclis: Painting. Limits and Transgressions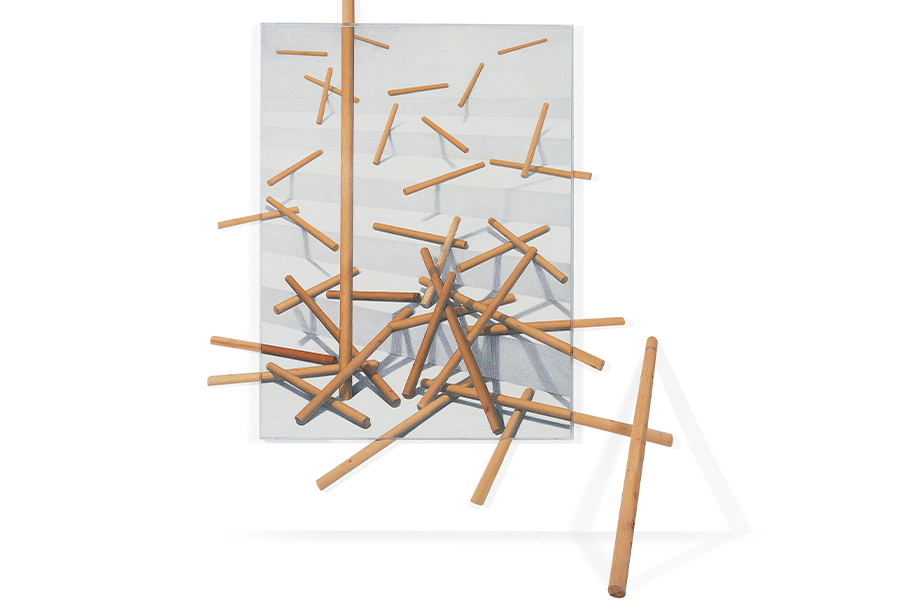 WHAT: In early September, The B. & M. Theocharakis Foundation inaugurated its new visual arts period with the retrospective exhibition of the renowned creator Costas Tsoclis, in view of the artist's 90th birthday. Takis Mavrotas, the curator of the exhibition, considers Costas Tsoclis as amongst the leading conceptual artists of his time. From about 1955 to this date, his profound insight leads him to the transformation of the real into the imaginary, and of the invisible into the visible, for he relentlessly attempts to master a personal expression of plasticity imbued by poetical tension and philosophical power. He is at once bold and brave, as he struggles with the principles and the limits of painting to complete a multifaceted oeuvre that reflects his perceptive spirit. He is unique with regard to art and unique in terms of the emotions it triggers in the viewer. Hence, Tsoclis has earned his place amongst the pioneers of contemporary art, with an immense set of semantic tension through paintings, installations, structures, performances, assemblages and video projections that corroborate his words: "Art is not meant to render the human being unhappier, but to redeem him."
WHEN: Until November 8
WHERE: B & M Theocharakis Foundation, Vas. Sofias 9 & Merlin 1, Tel: +30.210.361.1206, thf.gr
Artist Zoe Paul's Needle Fish at The Intermission
WHAT: In Greece and Turkey, there's a long, silver, needle-like fish, whose back-bone glows aqua-green in the water, called a Zargana. However, in popular culture or slang, to refer to a woman as a Zargana is a coy, salacious reference; a flirtation. Η Ζαργάνα Μου, in the possessive form, becomes even more seedy – a libidinous flirt, a soft wolf-whistle or an affectionate tease. Man has long associated women with fish; in the face of the Siren, the Gorgona, or Medusa, men cast their nets and get swayed off course. A wide beaded curtain, made from thousands of hand-rolled ceramic beads, hang from the ceiling, casting its shadow over a space populated with anthropomorphic 'Breathing Pot' vessels through which water leaks into the marble basins they rest. It drips into their openings from the creaking wooden ceiling, a remnant of the old warehouse that today hosts The Intermission.
At the back of the gallery, a cavern is formed. A large ceramic-tiled sculpture produced in Serres (a city in the North of Greece), fills the entire back wall. Paul has used raw oxides and minerals to create the image of two Σπάθες (ribbonfish) entwined; while eels, the scavengers of dead flesh, circle below with the tentacles of an octopus writhing around them. The image is as abstract as the iron-heavy, black clay they are painted on producing a startling effect. It's as if the figures are emerging out of watery depths.
The London born Zoë Paul, was raised by South African parents between the Greek island of Kithira and Oxford, England. Her tri-cultural upbringing informs her investigation of the boundaries between the private and public, as well as the relationship between artist and community. A sculptor and painter, Paul uses a variety of mediums: fridge grills interlaced with thread, enormous beaded curtains, ceramics, fountains and murals. She revisits tradition via material and process – not to efface history but simply to re-examine it. She challenges prevailing ideas about 'craft' or femininity by peeling away the layers that time and convention have built. Therefore, the labor/craftsmanship (and scavenged materials) holds double meaning in that it points towards the process, but also carries a direct connection to matter and the maker.
About the Artist: Zoë Paul was born in 1987, London, she now lives and works in Athens, Greece). After finishing her undergraduate degree at Camberwell College of Art, she completed an MA in Sculpture at the Royal College of Art, London. Paul's solo exhibitions include Shadows over the Bright and Darkened Lands of the Earth, The Modern Window, Museum of Modern Art, New York (2019); Despina, La Loge, Brussels (2019); The Garden, with The Manufacture National de Sévres at FIAC, Paris (2019); Wild Wolf, Man and Fish, Hospitalfield, Arbroath, Scotland  (2018); and La Perma Perla Kraal Emporium, Spike Island, Bristol (2018.) She has an upcoming solo show at the Fiorucci Art Trust in London this October.
Her work has also been exhibited in Equilibrists organized by the New Museum, New York and the DESTE Foundation, Athens in collaboration at the Benaki Museum, Athens, curated by Gary Carrion-Murayari and Helga Christoffersen with Massimiliano Gioni (2016); Solitude and Village, The Breeder, Athens (2016); and Unorthodox at the Jewish Museum, New York, curated by Jens Hoffmann and Kelly Taxter (2015)
WHEN: Showing until Saturday 19 September
WHERE: The Intermission, Polidefkous 37A, Piraeus, Tel: +30.210.413.1504, theintermission.art 
Omer Arbel: 113 at Carwan Gallery
WHAT: Carwan Gallery launches with the uber-talented, Canadian multidisciplinary artist Omer Arbel, who masterfully manipulates copper and glass to create 70 unique, hand-crafted pieces that evoke a sense of timelessness.
Multidisciplinary artist and designer Omer Arbel will present a series of new sculptural works at Carwan Gallery in Athens. From 3 September until 7 November 2020, the exhibition 113 will showcase a display of copper sculptures that are the result of a strand of new discoveries that are part of Arbel's ongoing research into the reciprocal relationship between glass and copper.
In the creation of 113, a glass form is blown conventionally, then a liquid alloy made predominantly of copper is poured in. The chemical composition of both glass and alloy are calibrated to establish a deliberate discrepancy in the rate at which each material expands and contracts in response to temperature change. As a result, during cooling, the glass form shatters off, leaving a metallic shadow of itself. The metal, when hot, does not come in contact with oxygen on the glass side of the form, leaving an iridescent finish, contrasting with a coarse oxidized finish on the inside surface exposed to air.
The exhibition consists of 70 unique pieces which have been created by hand in Vancouver, Canada. They will be shown as a fixed constellation positioned on a display table along the central axis of the new Carwan Gallery space in Athens. The gallery promotes and produces collectible design, developing exceptional cross-cultural collaborations that call to attention a specific market – the Near East. For those unable to visit the gallery, an innovative VR experience and guided journey has been created for the exhibition.
These works demonstrate Arbel's decade old signature process, which is to let the intrinsic properties of a given material suggest its form, rather than impose an external idea of form upon the material.
Only fitting, given the gallery's own storied history and Piraeus' glorious legacy as an ancient port-city. Placed on a stark white pedestal,under the gallery's exposed, vaulted ceiling,  the resilience and fragility of the pieces are put into even sharper focus.
WHEN: Until November 7
WHERE: Carwan Gallery, Polidefkous 39, Athens, Tel: +30.210.411.4536, carwangallery.com
Opening hours: From Wednesday to Friday, 2:00 PM – 10:00 PM
Saturdays, 10:00 AM – 10:00 PM
The Love Boat / art exhibition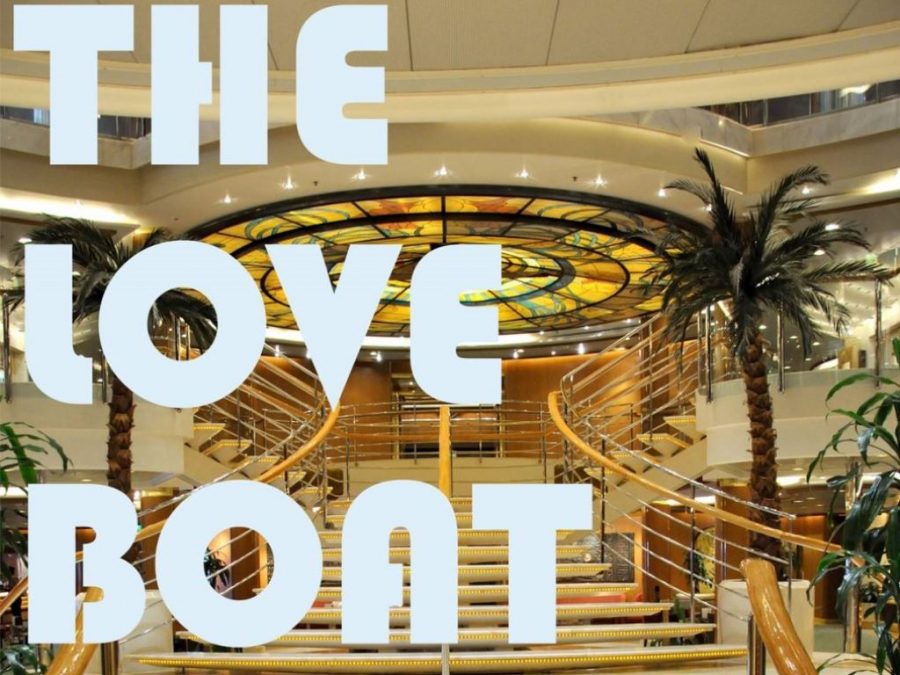 WHAT: Promoting the importance of recycling and sanitation in the public space, the City of Athens' Sanitation and Recycling department is organizing a refreshing three-day boat ride. Supported by City of Athens' Europe Direct.
We invite you for a unique onboard experience of romance, blue waters, music and sunset on the maiden voyage of "The Love Boat". Our mission is to provide our passengers with high quality services for their ultimate relaxation. Exclusively for this September's inaugural trip, our venture will be the fantastic unknown and its exotic, unexplored destinations. A three-night cruise that will make you explore and rejuvenate… Your senses will be stimulated through the wandering in the multiple levels of the hyper-modern ship and its advanced facilities. Take delight in the unique amenities of the specially designed pool area, the beauty & spa club, the ballroom, the shopping center. Enjoy unique tastes of international cuisines and delicious cocktails and leave it to our qualified staff for a journey of style, luxury and pure comfort. Departure from Pier 151 of Iera Odos Street in the center of Athens. Musical departure accompanied by the City of Athens' Philarmonic Orchestra.
Our crew wishes you in advance a pleasant stay!
WHEN: Opening: Friday 19 September 2020 @ 20.00 p.m.
Duration: 20 & 21 September 2020, 20.00 – 23.00 p.m.
WHERE: Municipality of Athens  / Municipal Garbage Trucks' Depot Iera Odos 151 (near Eleonas Metro Station)
Concept-curated by: Naira Stergiou, Eriphyli Veneri
Participating artists: Marilena Aligizaki | Margarita Bofiliou  | Campus Novel | Errands | Florent Frizet | Greece Is For Lovers | TheCallas Lakis& TheCallas Aris/ The Callas | Yorgia Karidi Eric Stephany| Naira Stergiou | Valinia Svoronou | Iris Touliatou| Kostis Velonis | Eriphyli Veneri
Yannis Michas "A non-personal consistency: the logic of overlaying"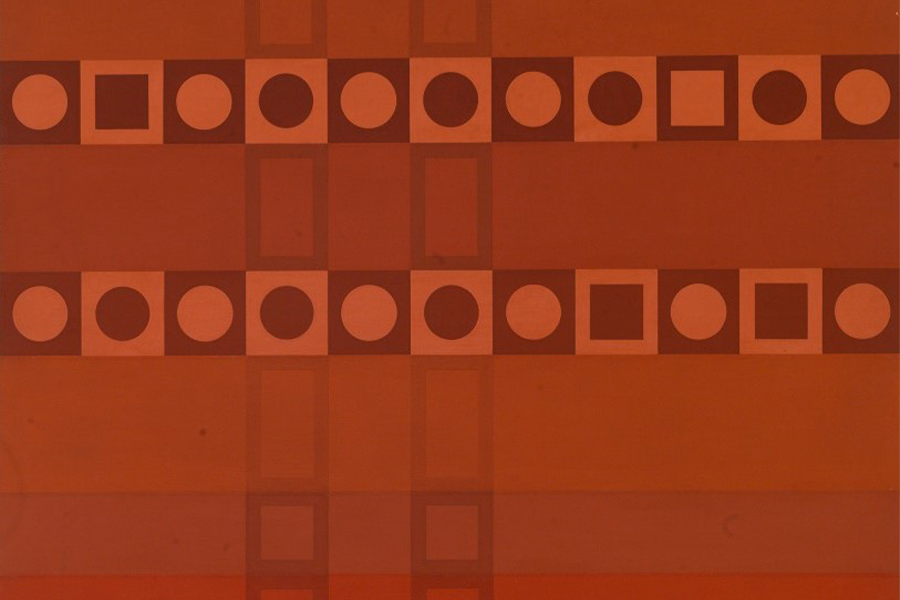 WHAT: Lately, the exhibitions of Roma Gallery feature the functionality of works that emerged in Greece from up to 50 years ago. They illuminate the historical origins of today's artistic ideas and contribute to their enrichment – at the same time supplying art theory with new data.
This indeed, is the creative role of a gallery in tune with the spirit of the times: to demonstrate what may have been the foundations of contemporary artistic thinking in Greece and marrying it with the time:-what elements of the past it may contain, what were the essential aspects of the artistic thinking of old, and how that thinking contributed or continues to contribute, socially.
Among the artists who stand out was Yannis Michas (1938-2008), a large number of whose works, well-known or some unseen, feature in Roma Gallery's exhibition depicting the emergence of art in Athens in 1976, 'Processes/Systems'.
WHEN: From Thursday, 1 October to Saturday, 14 November 2020
WHERE: Roma Gallery, 5 Roma St., Kolonaki, Tel: +30.213.035.8344, roma-gallery.com
Pavlos Samios: Café Paradise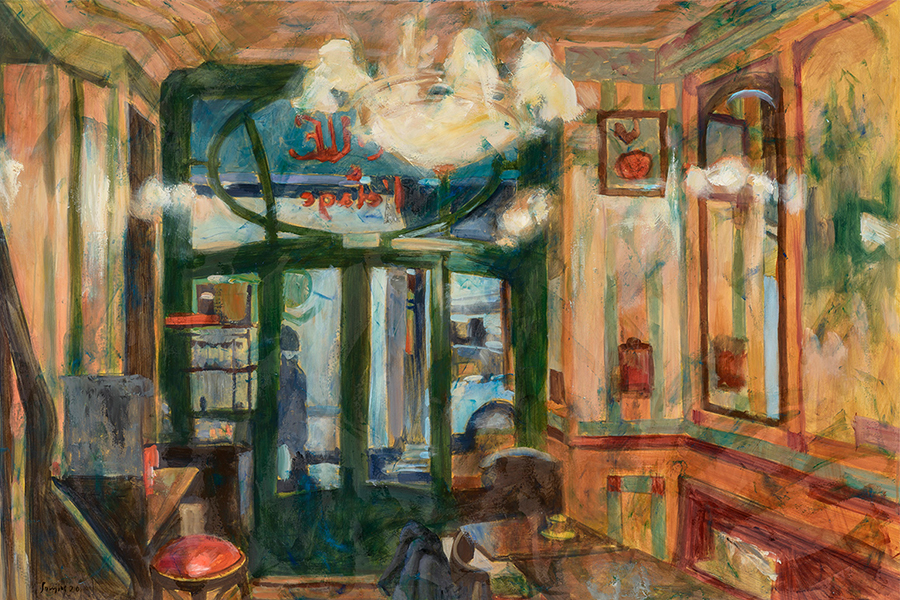 WHAT: In his latest series of paintings, Samios welcomes us to the traditional kafeneio (Greek café) with its marble-topped tables and shiny mirrors. Here, the painter has returned to a carefree time, as well as an era of personal distinction. In the early 1980s, he was introduced to the metropolis of Paris through a series of cafés, at a time, much different to now.
A new type of social behaviour has emerged in our current reality. Public interactions must, for a long and yet undefined time ahead, comply with specific rules of coexistence.
However, people will never stop seeking the physicality, the aura, gestures, or gazes of other human beings – without the mediation of a screen. The thing that reassures us when everything around us feels threatening is other people, and most of all, our 'own' people. Like a concept of a haven – a sea that you slip into, where you float on your back, with the sun on your face, threatened by nothing.
At the Skoufa Gallery, Samios sets up a place of familiarity, like those he came to know in the Athenian and Parisian cafés.
"The café was a temple", he tells me, in the context of a 'refuge', attempting to capture its sense of it being a type of 'paradise' in a painting; not irrevocably lost. The theme of the kafeneio/café draws its inspiration from a place that no longer exists.
About ten years ago at Attiki Square, near the painter's studio, there was a café called "O Paradeisos" (Paradise).
"It was the local hangout of a neighbourhood that drew very mixed crowds – labourers, old men, pimps. A crowd that, from the outside, shared nothing in common, but we all communed there. The old man who ran it died, and now there is a pharmacy in its place," the creator says. He recognises that the familiar space of the kafeneio, the 'hangout', was strangely healing for its patrons.
In that cathartic space, people connected through everyday things. From chatting about football to discussing more serious political issues, often intermingled with the sound of di rolling during an eternal game of cards, and not so audible, the "suppressed desires; neurotic dreams; confessions of the day, the night a whole lifetime… Even the sharing of silence had its meaning".
WHEN: Until Saturday, 17 October 2020
WHERE: 4 Skoufa Street, 106 73, Kolonaki, Tel: +30 210 3643025, skoufagallery.gr
Tango vs Flamenco passion
WHAT: Choreographed by Ariel Perez of Argentina and directed by Konstantinos Famis, 17 leading dancers of the original Tango and Flamenco "Compania Solea", alternate in a unique performance full of symbols, improvisation, endless lyrical figures. Famous and beloved Tangos, Flamenco & Bolleros are intertwined and come to life on stage by the unique voice of Savina Giannatou, the world-famous singer Alfredo Tejada from Granada, Spain, but also by Cuarteto Tango with Roman Gomez.

WHEN: September 13
WHERE: Odeon of Herodes Atticus, Dionysiou Areopagitou
Αncient vibes in contemporary ceramics
WHAT: The first exhibition of "Mon Coin Studio", launched by Eleonore Trenado-Finestis, a French ceramist. This exhibition of 35 artists will cross the boundary between art and craft to show the influence of the past in modern ceramics. This work takes its roots in classical antiquity, the Minoan civilization, Cycladic art or even the works of primitive communities, creating a creative dialogue between the ancient art of ceramics and the present. This exhibition is launching a series of events, in groups or solo, and workshops will also be available to introduce ceramics by allowing visitors to practice this art, not only see it.
WHEN: From September 17 to 30, 10am to 10pm
WHERE: Mon Coin Studio, Thisiou 7, Monastiraki, Tel: +30.697.680.0244, moncoinstudio.com
"indeX 2" at FokiaNou Art Space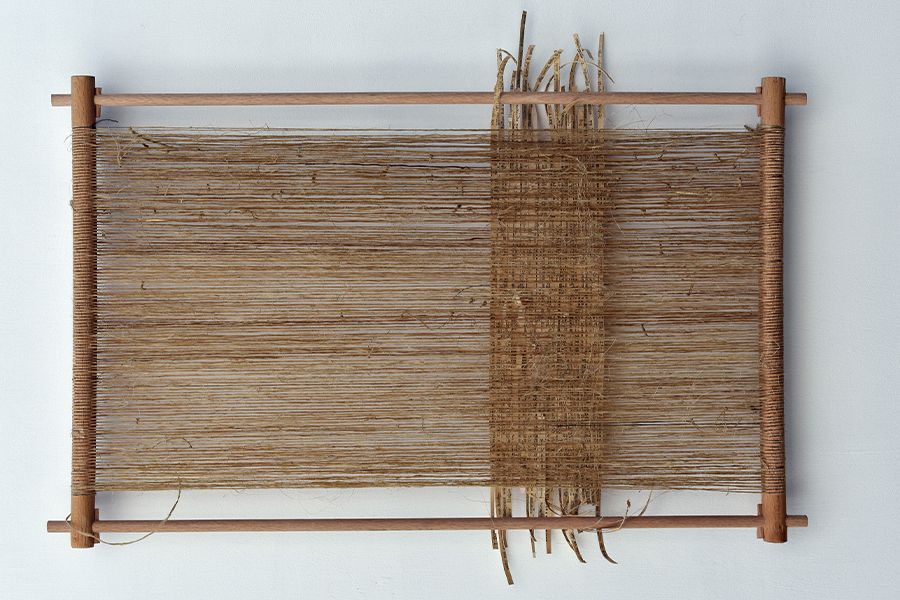 WHAT: FokiaNou Art Space is an artist-run project space in the intimacy of a small apartment in an old building in the center of Athens. The space encourages collaborative creative efforts between Greek and foreign artists, thereby promoting and supporting the local art community. The space hosts exhibitions, workshops and projects under the direction of two artists, Mary Cox and Panagiotis Voulgaris. FokiaNou Art Space is pleased to present "indeX 2", Panajotis Daramaras' second part of an ongoing trilogy investigating the symbolic and scientific dimensions of matter. In indeX 2, Daramaras creates an independent universe of sculptural compositions and installations featuring wood and books, as well as a performance by Sania Stribakou. To paraphrase independent curator Ira Papadopoulou, "In indeX 2, not only does Daramaras narrate his own relationship to the unspeakable language of objects, he also attempts to convey the inner sound of the body of matter itself, and to peel apart its surfaces and portray its primal history – a history existing prior to the palimpsest of records that has transformed matter forever." The performances will take place on the roof of Fokianou art space. Motion design: Sania Stribakou, Conception:  Panajotis Daramaras. Masks and social distancing are required in all areas of the space, including the roof, halls and elevator.
WHEN: From September 26 until October 17, Thursday to Saturday 17.00 – 20.00
WHERE: FokiaNou Art Space, Fokianou 24, 7th floor, Pagkrati, fokianou247.gr
Joy Labinjo: The Elephant In The Room
WHAT: The Breeder is pleased to present The Elephant in the Room by Joy Labinjo's – the London-based artist's first solo exhibition in Athens that marks the close of her participation in The Breeder Open Studio. The artist began this new body of work, during the pandemic lockdown in the UK as mass protests around the Black Lives Matter movement surged around the world. The show presents new paintings alongside works on paper made in Athens. The exhibition furthers the artist's explorations around existing interests which include but not limited to discourses and narratives around Blackness, identity, political voice, race, community and family.
WHEN: From September 24 until October 31
WHERE: The Breeder Gallery, Iasonos 45, Athina, Tel: +30.210.331.7527, thebreedersystem.com
Chioma Ebinama: Leave the thorns and take the rose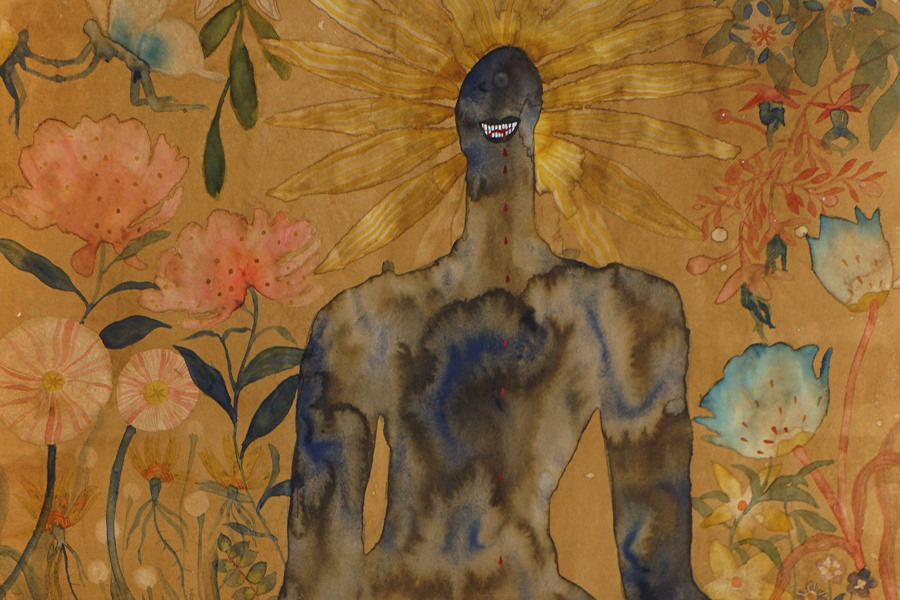 WHAT: An exhibition by Chioma Ebinama, 'living in a fishbowl in Athens,' floating between nothingness and momentous shifts, in a confusing world."In 2019, I wished that the world be put on pause. All I wanted was a moment when humanity would have no choice but to do nothing: No ambitions, no directions, no expectations. In 2020, only days after opening a solo show of drawings with titles such as "Making Out While an Empire Burns" and "The Goddess of Doing Nothing", my wish was granted. But nothingness and directionless has not been as liberating as one would expect. Letting go is difficult, even if you've asked for it, even if you have someone to make out with. These works are a simple document of a woman living in a fishbowl in Athens, Greece. They are marks recording an attempt to keep her feet on the ground as she watches the world shift. They are mantras she tells herself while trying to embrace the full roundness of earth even when the sense of "home" seems flattened into text messages, emails, and video calls. They are mandalas containing all the varying waves of feelings that arose during this time of upheaval and transition."
WHERE: The Breeder Gallery, Iasonos 45, Athina, Tel: +30.210.331.7527, thebreedersystem.com
Park your Cinema
WHAT: For the fifth summer running, Park Your Cinema brings the visitors of the SNFCC a selection of classic movies, to either discover for the first time, or enjoy anew on the big screen.
September's projections at the SNFCC Great Lawn bring this summer's programme to a close with two of the most representative films by Italian creators of massive renown and acclaim, which carry a particular kind of… "semiology". From the background of a London park (wink-wink) to the busy streets of the "good life" of Rome (both in the 60s), cinema becomes a means of escape in a time that might seem more carefree, but is loaded with existential questions that are just as apt in the present day. After a summer season of pure entertainment (that we sorely needed), Park Your Cinema turns to something a little more meaningful to keep us going until next summer…
WHEN: La Dolce Vita (1960): September 20 at 8.30pm
WHERE: SNFCC, Syggrou Ave 364, Kallithea. Tel: +30.216.809.1000, snfcc.org
Park Your Cinema Kids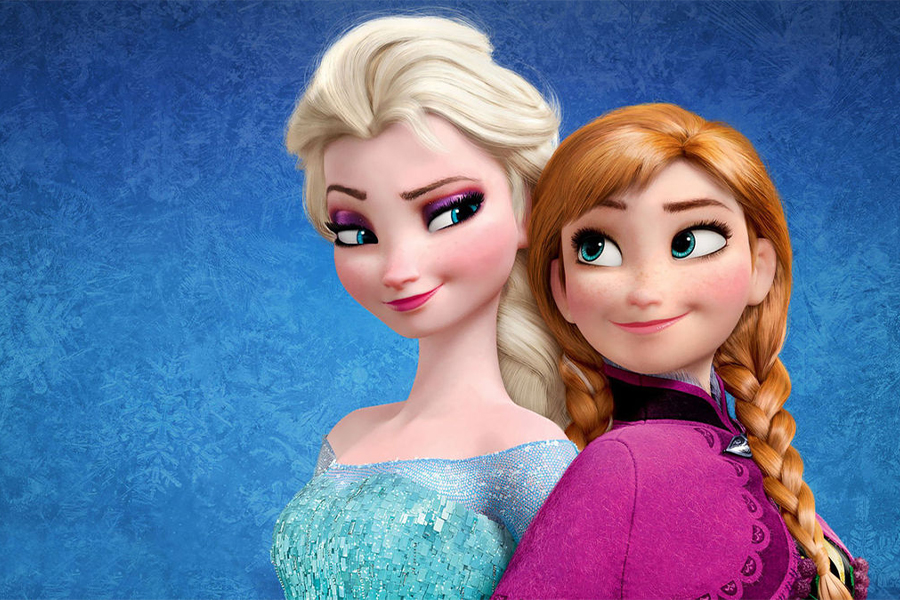 WHAT: Park Your Cinema brings a selection of classic movies for young cinephiles at SNFCC.
This summer's selections for Park Your Cinema Kids at the SNFCC's Park feature two films that has wowed young fans and critics at the Academy Awards in equal measure!
WHEN: Frozen (2013): 19 September, 20:30
WHERE: SNFCC, Syggrou Ave 364, Kallithea. Tel: +30 216.809.1000, snfcc.org
---