Up and running: Athens' best hotspots for runners
So, you're on a runners' high after the Athens Half-Marathon (or perhaps the 5km), and now have November's Athens Marathon in your sights. Congratulations! The bad news is that you'll need to train through the heat of summer, to make your mark on this gruelling course. But the good news is that with the exploding popularity of amateur running, you're spoilt for choice with shops selling state-of-the-art gear to shave seconds off your personal best (PB) time, with tempting tracks where you can really get into your stride, and pit-stops to refuel. With such an array, it's hard to narrow it down to just five, but here are Cordelia Madden-Kanellopoulou's favourite Athenian hotspots for runners.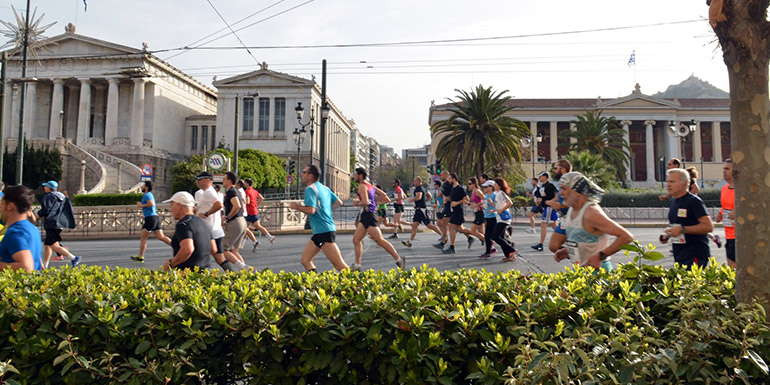 1) Municipal Leisure & Athletic Park, Kallithea. Nestled at the corner of the Stavros Niarchos Foundation Cultural Centre, this is a boon to locals but also worth crossing town for. It comprises a flat 650m running loop, on a soft and gritty surface that is easy on the knees, with wafts of lavender from the adjacent bushes to scent the air as you run. Get a membership card to enjoy a dip in the 50m open-air pool after your run.
2) Outrun, Flisvos Marina. This running shop gets gold, silver and bronze for its appealing merchandise, user-friendly hours (its marina location enables it to open 7 days a week), and running analysis system. A sort of speed-dating for runners, it involves completing a questionnaire about your running habits and goals, showing your paces on a treadmill, and then getting paired up with your perfect running shoes. I met my match in a pared-down pair of Saucony, and have been running PBs ever since. www.outrun.gr
3) Coffee Bike, Pikermi. When cranking up the mileage, it's easy to fall into unhealthy eating habits. After all, one reasons, burning so many calories, what harm can that trough of ice-cream do? But even the short-term drawbacks are palpable, while a prolonged mix of training with poor nutrition can be a recipe for disaster. Enter Coffee Bike. Conveniently placed along the Athens Marathon course, frequented not only by Marathoners on pre-race long runs but also a popular cycling route, this enterprising café stocks vitamin-packed fresh juices, energy-boosting sandwiches with sprouts and avocado, raw desserts and gluten-free muffins. www.coffeebike.net
4) Cryosauna Studio, Glyfada. It might sound like a form of torture, but being immersed in sub-zero temperature vapour can help muscle recovery, reduce injuries, boost the immune system and, as a side benefit, bump up collagen production to address the gaunt look that results when training cuts body fat to single digits. What's more, it's actually neither painful nor bone-chilling (only the very surface of the skin is cooled), and leaves you on a natural high for hours afterwards. www.cryosaunastudio.gr
5) Runner Store, Golden Hall. Headlined by Nikos Polias – Greek Olympian, Athens Marathon record-holder, editor of Runner magazine, and the man who brought timing chips to Greek races – this shop sells running clothes, shoes, energy snacks and all the gadgets to make you feel like a pro, plus (a nice touch) a small bookshop, where I picked up a manual of nutrition for the vegetarian athlete, but you can also find training bibles, biographies and more. www.runnerstore.gr
---