The whiskered stars of Syros on Netflix
Tiger King? So last Lockdown. Netflix swaps shock TV for a new feel-good documentary about the stray cats of Syros, who have found sanctuary through the extraordinary efforts of feline Samaritans Joan and Richard Bowell (they went for a holiday and ended up with a crusade!).
When Joan and Richard Bowell holidayed on Syros some summers ago, little did they realize how their lives were about to change – forever! Their cat rescue and adoption centre, God's Little People, drew attention two years ago with a job advertisement for a cat whisperer going viral. Almost 40 K candidates applied from all over the world to take care of a colony of 70 cats and the story was covered in the Washington Post, The Guardian and even on the Fiji islands! Not surprisingly, it drew the attention of Netflix, who were on Syros for last week to film a documentary on the island's whiskered mascots. Richard and Joan Bowell were instrumental in bringing the Netflix crew to Syros. Richard Bowell explained to Athens Insider how their quiet, quarantined island life is anything but, since the news of the filming spread. "We are already overwhelmed by the press interest and the trailers of the film have not even been released!"
The cats of Syros will be featured in a documentary produced by Netflix, scheduled for release early next year. Postcard images of Greek cats lolling in the sun and scrapping for crumbs at seaside tavernas are an integral part of Greece's appeal but it masks the appalling conditions of the feral population here. In Syros alone, for its 25,000 inhabitants, there are over 3,000 stray cats.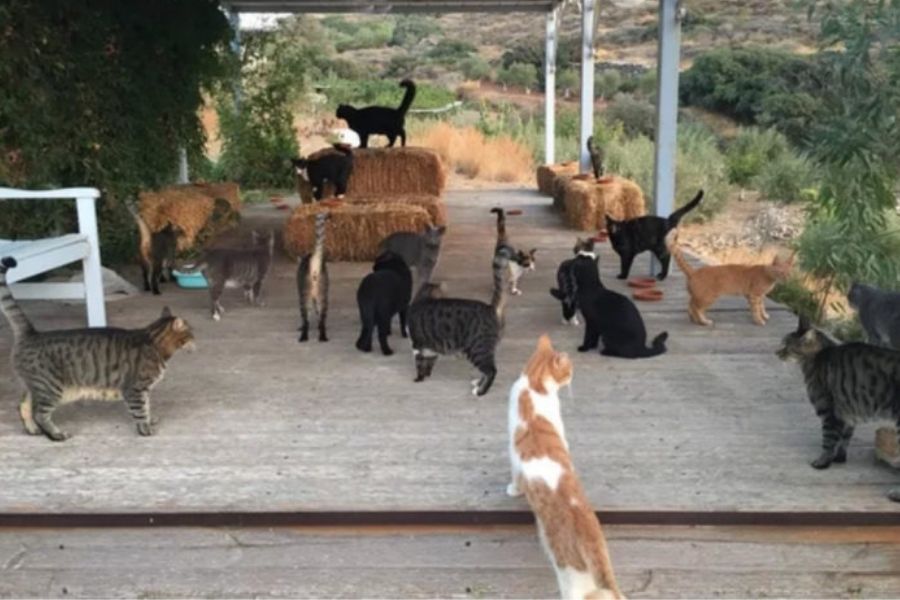 Joan, a Danish artist and her British husband Richard, spent their initial holidays feeding cats, rushing them to the vet and giving them medication. "Leaving them behind was terrible. We talked about how wonderful it would be to build our own house and help the cats." But they didn't intend to make the island their permanent home until 2011.
It was the Cat House on the Kings, a rambling riverside compound for 1,000 strays in southern California that prompted the couple to sell their house in Denmark, moved to Syros and turned a rugged parcel of land into their own haven for wild and homeless felines.
The Netflix TV crew visited the island from October 21-27, to film the cat rescue sanctuary and some of this charming Cycladic capital's various attractions.
---