Talismans and Portals, Alexandros Georgiou's dispatches from another world at Rebecca Camhi Gallery
Alexandros Georgiou's Prince in a Blue Crown at Rebecca Camhi Gallery doesn't just push boundaries, Cara Hoffman observes, 'these are dispatches from another universe; a psychic excavation, a revelation.' Georgiou is a spiritual magpie and the canvas is a tangle with the talismans he has collected; animal heads, maps, biological diagrams. 
"The drawing exists before I make it," says Alexandros Georgiou,"I'm just tracing."The smell of paint and mineral spirits hangs heavy and heady in the high-ceilinged ruin of his studio where canvasses ring the walls and light pours in from tall narrow balcony windows. He is preparing for his first solo show in Athens since returning from Manhattan, titled Prince in a Blue crown Meets the Family in his Body, which will run through February 24 at Rebecca Camhi Gallery in Metaxourgiou. 
Georgiou runs a finger across the surface of one of the hundreds of works he has drawn this year—they are filled with fluid, dreamlike-figures, expressive, ominous, playful—some of the works are spare and some crowded with the faces of creatures—near human or not quite animal. A carnival of form and colour.
Known primarily as a conceptual artist and photographer, he studied at the Athens School of Fine Arts, went on to the School of Visual Art in New York City and spent 2005 – 2017 travelling in India and Iran; documenting his pilgrimages and following mythic geographies, which were the subjects of his 2017 solo show Postgods at the Benaki Museum and the book published under the same title.  Since the birth of his son, Georgiou has returned to painting, and to a single space to work. This wasn't always easy. "If the point of art is to push consciousness farther than what we know," says Georgiou, "the work I did in India and Iran did that. I wanted the street to be my studio the bus to be my studio, swimming in the Ganges was my studio. When I was walking in India, covered in dust that was my studio."
While the romance and oddities of Postgods, and his philosophical dispatches from the road clearly pushed viewers beyond than what they knew; Prince in a Blue Crown doesn't just push boundaries. These are dispatches from another universe; a psychic excavation, a revelation. A feeling of motion is central to the work, and a haunted mythic quality. Georgiou is a spiritual magpie and the canvas is a tangle with the talismans he has collected; animal heads, maps, biological diagrams. Ghosts and angels flank the shoulders of his subjects.
The larger scale paintings have the quality of windows or portals–and one can almost feel the weather in that world–a distant wind blowing, lifting the bodies of figures as if they are dandelion seeds. In some, the figures give the sense of staring plaintively at the viewer— so that one might feel themselves and not the images, to be the object of curiosity, or delight, or accusation.
"These forms exist in a destroyed world," says Georgiou. "When I paint them, I call them to pose for me. I don't catch them in the act of living. They're not of this world they're very organic, not mechanical there is nothing technological."
This work isn't created out of whole cloth, there is a dark, Eastern European fairy tale quality to it, some pieces stand in the long shadows of James Ensor, Odilon Redon, and Chagall—others spin out into the frenetic energy of Jean Dubuffet—and carry the same Art Brut break from tradition in form and content; Oil paint applied as a wash that bleeds, subjects that reflect a studied innocence. Some of the paintings were made in Georgiou's studio in Bushwick, New York and these are darker and denser. 
"I follow my feelings when I make them," he says, "I don't have an idea of creating a figure that represents something. I am not following a trend."
Canvas, the city of Athens, and the innocence of childhood aren't the only loci of Georgiou's return. Rebecca Camhi Gallery is where he first shaped his aesthetics and discipline. Even then, Camhi—was a legend for the work she was curating and hanging. Transgressive, eschewing repressive trends and mores, she brought Nan Goldin's The Ballad of Sexual Dependency to her gallery in 1996, and has continued to represent Goldin and a host of artists whose work crosses boundaries.
Georgiou was captivated by her taste and verve."I went every day to Rebecca Camhi to look at the work and to look at her and listen to her." he said  "I thought, man, we are from the same species." Sitting in the backroom of her Gallery on Leonidou 9, sharp and poised on the night of the opening despite the crowd, the COVID restrictions, the incoming calls. Camhi acknowledges the connection to Georgiou with a smile. "When I met Alexandros in his 20s, he was extremely immature," she says "In the beginning I thought the work was redundant, loud, there were too many voices, but I followed his work. I could see that he was crazy enough to be a real artist and I could see there was something authentic there, though the work was not yet his own. And when he had a long collaboration with another gallery, I was happy for him." Last summer when Camhi visited Georgiou's studio she was overwhelmed; ready to have a different conversation. "The work was amazing," she said. "I told him I want everything. The paintings and the drawings, all of it. I pursued and asked and insisted."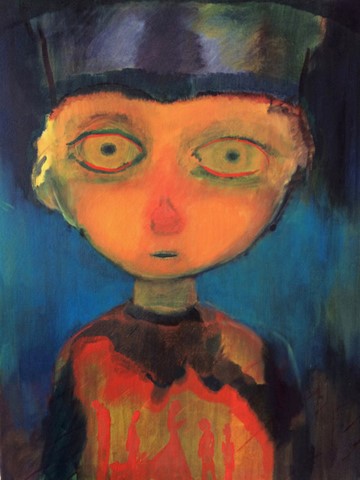 The curatorial process for Prince in a Blue Crown was complex. This is clear in the way the work is hung—one wall salon style, one blank; a panoply of mythic figures, alternating light and dark across the remaining gallery walls.
"There was so much in the drawings it was like noise." Camhi said. "I grouped them in categories, dark, empty, dense, and then I could see them. They are all beautiful, rich, complex enough to be exhibited, but grouping them made it all make sense. Everyday, I keep discovering new things in his work like opening presents. Like being let into a world that is extremely satisfying and rewarding."
The sculptor Kostis Velonis agrees. Poking his head in to greet Camhi, he says he's happy to see Georgiou's work and compares him to Paul Klee.  "Painting wasn't seen to be Alexandros's true medium," Velonis says. "But it's time we see the importance of his work in this classical medium. It's a sign of maturity."
Camhi says people must be open to the kind of channeling Georgiou does in his painting. "You need to look first—look at the work and don't try to think," she says. Then you will begin to see things."
Out in the gallery Georgiou stands among the work, still looking. "Humans want to live our moment forever," he says. "We're stuck in our bodies and our consciousness can't reconcile it. Maybe we try to escape with Instagram and social media because it doesn't have a physical aspect that's grounded in pain, and everything looks so shiny and beautiful, and there are filters, and everyone "likes" us and it's the worst. With painting you have physical materials and you create something and you break it. With painting you see death and decay. And you see light. If part of me lives in that other world, that painted world –maybe we all live in other worlds and we don't know it."
Cara Hoffman is the author of three New York Times Editors' Choice novels, the most recent, Running, will be published in Greek in Spring 2022.
---