Stray Dog Gin: a spirit that distils the essence of Greece
Is it possible to bottle the scent of the countryside of summer-time Greece? Johnny Livanos thinks it is. The Mediterranean sun, a whiff of wild sage and the scent of the sea can all be found in his Stray Dog Wild Gin – recently awarded the Gold Medal Recipient and Best Greek Gin 2020 by the NY International Spirits Competition.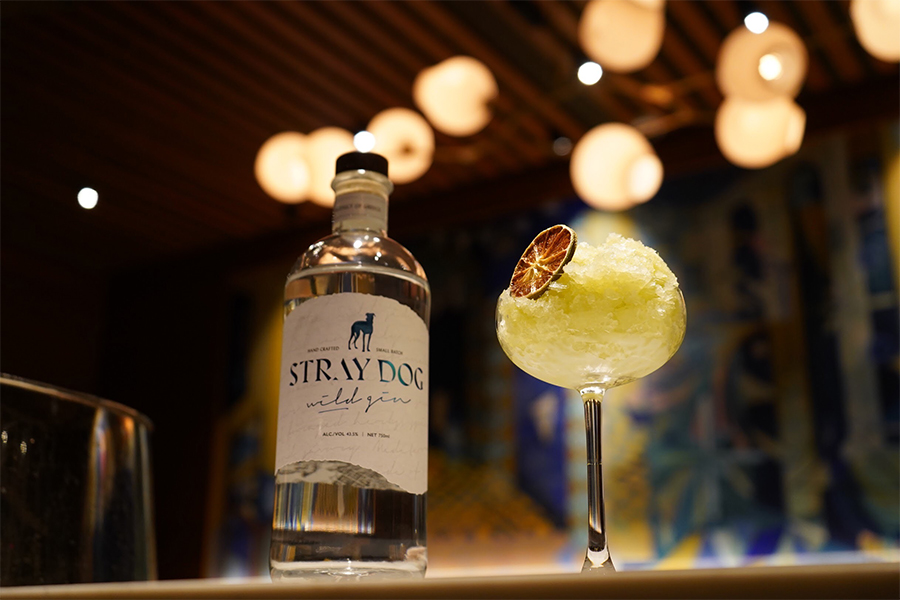 They say up to 95% of taste comes from what we smell, and Johnny Livanos was well aware of this when he created his exceptionally smooth and complex gin, Stray Dog Wild. In 2018, global consumption of gin grew faster than any other beverage alcohol category. One sniff, of Stray Dog Wild, will transport you to a Greek pine forest on a hot summer's day thick with the smell of sage and rosemary. Delicious.
Johnny Livanos, is a second-generation Greek-American from the third generation of a restaurant family and has a seasoned knowledge of Greek cuisine, wine, cocktails, and hospitality. He launched the bar programme at one of the Livanos' family restaurants in Manhattan, 'Ousia' (where his family manage one of five critically acclaimed restaurants part of the Livanos Restaurant Group).
On a trip to Greece, Johnny was hiking around a hill in Crete with some friends and a stray dog that had followed them from a nearby village. He was overwhelmed by the stunning views of the sea under the warmth of the Mediterranean sun, when the intoxicating scent of wildflowers and herbs mixed with the salty iodine in the breeze, gave him an inspired idea. He picked some herbs growing nearby and dropped a few stems into a flask of Tsipouro (traditional Greek un-aged brandy).  When he tasted it a few hours later, he was blown away by the flavor and realized the ingredients for making a superior and, unprecedented gin was growing wild and free all around him!
This moment was the start of his journey to create a high-quality gin infused with the purest grade of wild Greek botanicals; a process that took almost three years from idea to realization. Greece has a longstanding history of distilling spirits, from Ouzo to Tsipouro and Mastiha to Metaxa. Johnny wanted to create something broader than that with his traditional tipple, but that can be easily used in different cocktail recipes as well as savored neat. He was inspired by flavors often found in his yiayia's kitchen, like Faskomilo, (wild mountain sage) which is one of the top-note botanicals in Stray Dog Wild.
Other wild botanicals, herbs and citrus (all hand-foraged) used, are Juniper, Daphne (Bay Leaf), Mastiha, Rosemary, Fennel Seed, Cardamon and Coriander, as well as fresh lemon and orange peel.
After partnering with 3rd generation distiller, Demitri Melissanidis, to come up with a recipe, it took many attempts to make sure they found the perfect blend of wild herbs that balanced the delicious taste that evoked the essence of the Greek countryside. The herbs are mixed with Mediterranean citrus and pristine, crisp spring water from the Aridea Mountains, north of Thessaloniki. They are then hand-crafted in traditional small-batch copper stills, which appeal to all of us who appreciate traditional distilling methods and who have been trying to 'live clean' and organically for the last decade or so. He decided to name the gin, Stray Dog Wild after the loyal, but mysterious companion who took up with his crowd on the mountain that day in Crete.
Notably, a portion of all sales of Stray Dog Wild is donated to organizations and shelters in Greece that provide food, veterinary care, and homes for stray animals.
Athens Insider spoke to Johnny Livanos about his gin and, this is what he had to say about it!
Firstly, congratulations! Stray Dog Wild Gin won gold at the NY International Spirits Competition – Gold Medal Recipient & Best Greek Gin 2020. How did that feel?
Thank you! It feels great to be recognized for all the hard work we've put in there.  We've created such a unique and special product that we truly love – so it feels amazing to know that other people love it too.  The NY International Spirits Competition is made up of beverage industry experts who blind taste hundreds of different spirits, so the results are as unbiased as possible. This makes the award an even more special prize for us, knowing that the individuals at the top of our industry agree that Stray Dog is one of the best gins out there.
Excellent. The idea to create your own gin flavoured by hand-foraged 'wild herbs of Greece' was inspired by a walk through the hills in Crete a few years ago with some friends, a stray dog and a flask of Tsipouro. May we walk with you as to what happened next?
Yes, I went to Greece a few years ago in 2017 and was hiking in the hills above some vineyards in Crete.  We had each had a glass of Tsipouro, and while walking around, I put some herbs that I plucked from the ground into my glass.  Then we went to have some fire-roasted lamb, and I left my glass to the side for a few hours.  When I came back to the glass and tried it, the whole thing had changed! It was infused with the wild flavors of the herbs I had picked, making it this entirely new and delicious beverage.  That's when I thought to myself, why aren't more people making gin in Greece? There is such an abundance of amazing raw materials and ingredients, and us Greeks have a long history of distilling. So, I decided to combine the two and set off on a journey to try and create my own gin that embodies the wild Greek spirit and has unique flavors of Greek gastronomy.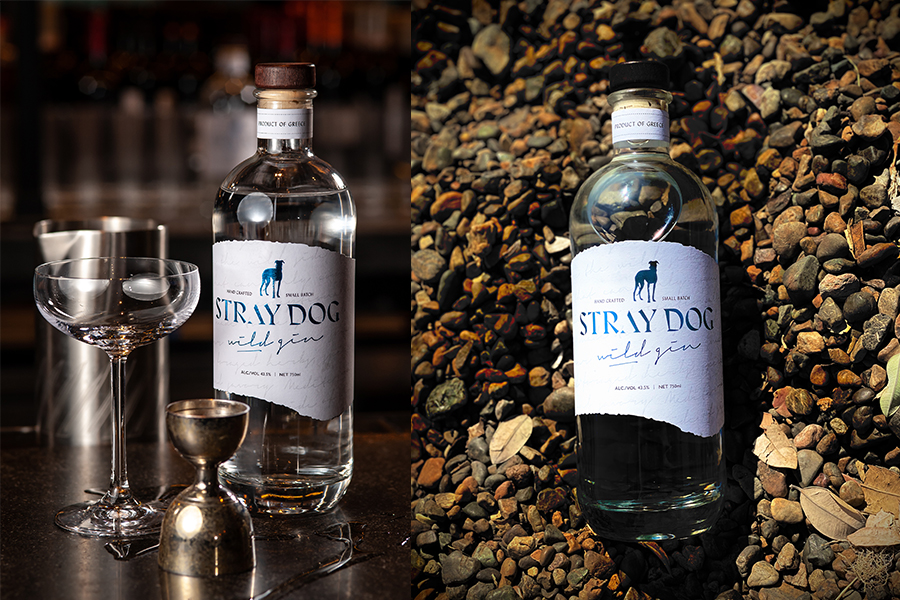 You partnered with 3rd generation distiller, Demitri Melissanidis, from Aridea, north of Thessaloniki, in an area that has an abundance of wild and raw ingredients, including pristine natural springs that supplies the water for your gin. Was going organic always appealing to you?
It is very appealing to try and use the raw materials that your country provides, and we strive to do this as much as possible.  By using the natural materials of the area, including the spring water, we are capturing the flavor of the region.  There is a term used a lot when talking about wine, and that's terroir, which is used to describe all the natural factors of the environment that impart their flavor on the finished product.  We like to use the term terroir also to describe our gin – by using these natural and raw ingredients from our surrounding area, we are capturing this specific Greek terroir.
Wonderful. How long did it take you to come up with a recipe, hand-crafted in small batches using traditional copper pot stills in Thessaloniki? In other words, how many versions of the recipe did you tweak?
It took many experiments to settle on our final recipe.  First, I used a test still to make micro-distillations of each of the specific botanicals I wanted to include in the gin.  Once we settled on botanicals, we loved the most, we experimented with making the gin on a small batch.  We made a dozen variations, each with slight additions or subtractions of particular herbs. Each time we made a batch, we tasted it neat, and in a variety of cocktails to get to a final recipe that we thought as versatile in drinks as well as smooth enough to drink on its own.
We love how you were inspired by flavours often found in your yiayia's kitchen, like Faskomilo, 'Φασκόμηλο' (wild mountain sage), but added other classic Greek herbs too. How is your wild gin different from other botanical gins on the market? Are you interested in creating another Stray Dog Wild gin? One perhaps one with floral notes?
We are very unique and the only gin that uses this specific mix of herbs and botanicals! I think the main factor that separates us from other gins is that we are definitely more savory, and more full-bodied.  We wanted to create a more robust flavor profile that embodies the savory flavors of Greek gastronomy.  When you taste it, you will notice immediately how robust and bold the gin tastes. It's delicious! We have plans to do other flavors – stay tuned via our website or social media @StrayDogGin
Looking forward to it! You're a second-generation Greek-American from the third generation of a restaurant family, the Livanos Restaurant Group in the US. Did you always want to produce your own signature alcoholic drink?
It has always been a dream of mine to create something to share.  While I love the restaurant business – it allows you to share flavors and experiences with people in front of you, there is something I love about creating a product that I can share with everyone all over the world! We can tell our story and share our Greek flavor on a much larger scale, and that really excited me.
We can imagine! We love how you work with animal shelters in Greece and donate a portion of our profits from your gin to help take care of the stray dogs in Greece. No doubt inspired by the stray that accompanied you on that fortuitous day.
Yes! On that trip in Greece, we had a local dog follow us on our journey through the mountain, so we felt like it was only right to honor our furry friends who helped us come up with the idea for our gin.  I'm an animal lover, and I want to support these amazing animals.
That is so wonderful! Bravo.  During Covid, we understand you've been offering virtual tastings, virtual cocktail classes, and sharing samples to people interested in trying something new and have had some success. Stray Dog Wild Gin is imported to the USA exclusively by Diamond Wine Importers and sold in all great bars in the US. When will it reach the United Kingdom (given their penchant for gin) and in particular, Greece?
We are working on getting our gin available in other parts of the world! First and foremost, we hope to have it available in Greece and the EU by 2021! There are different factors we need to address as each country has its own laws regulating alcohol, so as soon as we make sure we're compliant and ready, we will expand.
Some of our favourite Stray Dog recipes:
STRAY DOG WILD GIN & TONIC
Signature Serve
2oz Stray Dog wild gin
1 bottle premium tonic water
Sage leaf garnish (slapped)
Build in a goblet.
Slap the Sage! (which means, put a sage leaf in your hand and clap to release the flavor. The larger the leaf, the stronger the aroma – so make yours your own)
DIRTY DOG MARTINI
Being dirty is way more fun
3oz Stray Dog wild gin
.5oz dry vermouth
.5oz Olive brine
Shake, strain into a Martini glass
Garnish with Kalamata olive
WILD DRY MARTINI
3 oz Stray Dog Wild Gin
.5 dry vermouth
Lemon twist
Stir, strain into a chilled cocktail glass garnish with a lemon twist and 1 olive optional.
Food pairing suggestion: Oyster, pickled onions, and olives.
You can find out more, or order Stray Dog Wild at straydoggin.com and straydoggin
---