Return to Sender at the SNFCC Esplanade
This month the Stavros Niarchos Foundation welcomes two separate art installations that each add a layer of inspiration and engagement to the already sensational experience of encountering its unique architectural spaces. Under the curation of EMST artistic director Katerina Gregos, the public artwork "Return to Sender" by Nairobi-based NEST Collective arrives on SNFCC Esplanade. This outsized structure is a pavilion made from clothing bales, which usually end up in landfill in Africa. In this case, the bales come from unwanted Greek clothes and will be recycled afterwards.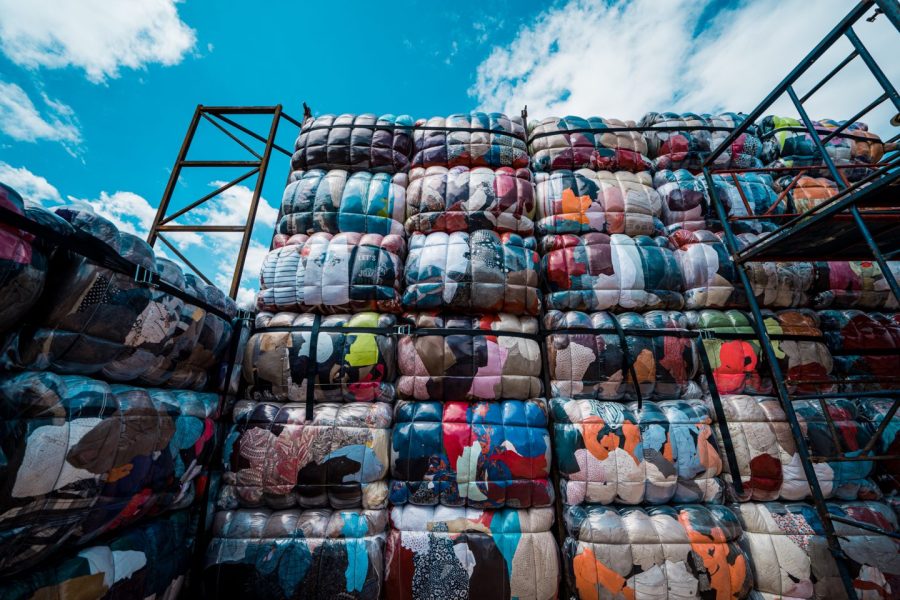 According to a rough estimate, around 150–200 tonnes of textile waste is shipped daily from the Global North to African countries. Up to 40 percent of these secondhand clothes are entirely unusable and dumped in landfills causing severe consequences for the environment and people. The installation Return to Sender by the Nairobi-based collective NEST, presented by The National Museum of Contemporary Art Athens (EMΣΤ) in collaboration with Stavros Niarchos Foundation Cultural Center (SNFCC), evokes the massive piles of waste African countries are forced to deal with on their own.
The Nest Collective, founded in 2012 in Nairobi, creates film, literature, installation, fashion, and visual arts that tackle key issues that young men and women in Kenya face. Through applied-research-based methodology, they engage their audience and initiate dialogues about African urban, contemporary, as well as post-colonial experiences. Yet they do not turn a blind eye to the significant global issues, such as the climate crisis, that have a massive influence on the country and people's lives.
About Nest's Return to Sender installation, which was first exhibited at the quinquennial contemporary art exhibition Documenta 15 in Kassel in 2022, Germany, EMΣΤ Artistic Director Katerina Gregos said: This work was proposed to raise awareness of the negative consequences of high-street or fast fashion – clothes bought, worn for a short while, and discarded quickly – and to raise awareness of the issue, specifically in Greece.
Return to Sender, displayed along SNFCC's Esplanade, features a pavilion created out of mitumba, the name for bales of used clothing in Swahili. However, unlike the bales of dystopian waste landscape in Africa that will remain there indefinitely, Return to Sender, made out of textiles and clothes collected in Greece, will be recycled entirely when the exhibition ends.
The installation illuminated the problem of the uncontrollable and increasing consumption of the Global North. While the fashion industry is concerned with the production, marketing, and selling of its products, the disposal and recycling of the waste materials is left in the hands of less industrialized nations of the Global South. NEST's installation is accompanied by a video piece entitled Return to Sender – Delivery Detail. The problem of secondhand waste and the mountains of it that have become a permanent reality in African countries like Kenya and Tanzania is explored through the viewpoints of different contributors.
According to SNFCC Managing Director Elly Andriopoulou, Return to Sender "brings into focus some of the most critical questions that concern us as an organization. What is the role of a cultural organization in the face of the imperative of sustainability?" Respectfully the exhibition will be accompanied by a rich educational program that includes guided tours, school activities, and workshops for all ages.
When: Until September 2023
Where: SNFCC Esplanade 364 Syngrou Street, 17674 Kallithea
Website: info@snfcc.org
---