Reliving Greece's stunning win 16 years ago
Who can forget that moment when Angelos Charisteas scored from the Greeks' first corner after 57 minutes, heading in an Angelis Basinas cross? Or joyous scenes of coach Otto Rehhagel being mobbed and players collapsing to the ground in tears, beating Portugal on their turf? Greek-American sportswriter George Tsitsonis revisits the ecstasy of Greece's incredible win at Euro 2004 in his new book, Achieving The Impossible -The Remarkable Story of Greece's EURO 2004 Victory.
Greece pulled off one of the biggest shocks in football history to beat Portugal in the Euro 2004 final. In its opening match for Group A, Greece, ranked outsiders from start, defeated the hosts Portugal 2–1. The final was a repeat of the opening game of the tournament and Portugal were hoping to avenge their defeat. Portugal attacked and dominated possession but once again, sturdy defending and goalkeeping from Greece kept the hosts off the scoreboard. Just before the hour mark, Greece earned a corner kick from which Angelos Charisteas scored.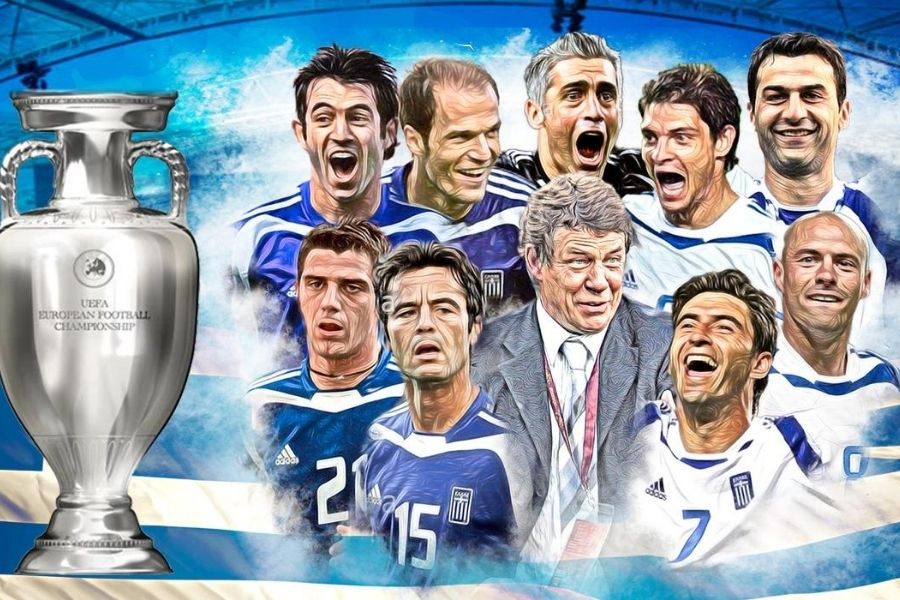 Portugal continued to press after the goal but even with five minutes of stoppage time they could not find an equaliser. Greece won the match 1–0 and were crowned European champions, a title that they were given a 150–1 chance of winning before the tournament. All of Greece's wins in the knockout stage came in an identical manner: a 1–0 win, with the goal being a header off a cross from the right wing. Portugal became the first host nation to lose in a European Championship final.
 Why I wrote Achieving The Impossible
For George Tsitsonis, it was a story worth revisiting in Achieving The Impossible -The Remarkable Story of Greece's EURO 2004 Victory. "I wanted to write this book mainly because it is the story of one of the greatest shocks in international football history, but also due to the fact that there is such scant English-coverage of this sporting miracle. My hope is that football fans and the Greek diaspora everywhere will find joy in reading a comprehensive account of this amazing feat."
Extracts from the book
"Greece regained control of the ball and threatened themselves as Giannakopoulos' chip was pushed onto the bar by Taylor. In a chaotic finale, Dellas played through severe cramping while Basinas also was in pain after picking up a knock and eventually was subbed off by Zagorakis.
After three minutes of injury-time, Batista blew the final whistle. Greece had qualified for the European Championship for the first time in 24 years. It was the country's first qualification for a major finals in a decade. And the celebrations told of a country and group of players who were overjoyed to have succeeded in this achievement.
The Greek team celebrated in the middle of the pitch as one. Rehhagel and Topalidis right in the midst of all the players. Kostas Vernikos, the Greek commentator in charge of that match seemed to accurately describe the scenes. "Rehhagel taught these players how to play like Germans and they taught him how to celebrate like a Greek," said the clearly emotional broadcaster.
Those words encapsulated a lot of what had transpired in the previous 26 months. A underachieving, but talented group of players, had been given the discipline, strategy, and structure necessary to finally find success. In the process, they gave their manager the trust and loyalty he so needed in order to be able to celebrate another great managerial achievement."
"Though there was no lack of French effort in the last ten minutes it all amounted to a lot of huffing and puffing. Les Bleus had no rhythm and even less belief it seemed. Zidane tried to take responsibility. His touches at times were magnificent along with his passes and patented pirouettes. Unfortunately, his teammates were usually not on the same page.
With five minutes left to play it was nearly 1-1, but Henry yet again flashed a chance wide. There was pressure from the French side as Saha and Lizarazu also came close. It was not to be. It was never going to be. This was a night for Greece.
When Anders Frisk blew for full-time, the celebrations inside the Estadio Jose Alvalade were ear-shattering. Greece had won. David had slayed Goliath. Rehhagel and his players were through to the semi-finals of the European Championship."
Achieving The Impossible -The Remarkable Story of Greece's EURO 2004 Victory is available on Amazon's top soccer releases lists as well as the Greek Modern History section of Bookshop.org.
George Tsitsonis is a Greek-American football writer who has been an amateur player, coach and writer. George was exposed to the game as a young boy through kickabouts with his father. That, coupled with growing up alongside football-mad friends and reading magazines such as Soccer America and World Soccer, fuelled an intense passion for the sport. After graduating from Keene State College, George became a freelance writer in 2002, and has had his work published in a variety of outlets including FourFourTwo, ESPN Soccernet, FIFA World, FIFA Magazine, Soccer International, Inside Soccer Magazine, 90 Minutes Magazine, Football Club Magazine, Greeksoccer.com, Goal.com and SoccerAge. He has been a Senior Staff Writer for AGONASport.com, the world's biggest English-language website devoted to Greek sport, since 2016. George resides in Walpole, New Hampshire, USA with his wife and two children.
---