Pop goes the world
Argentine artist Marcelo Zabellos, currently exhibiting at the Mamush Gallery, offers an exuberant, colour-drenched commentary on the quotidian.
How much of your art is informed by the aesthetics of the media powerhouses you have worked with – Disney and MTV?
Although my art incorporates strong elements of a variety of media types such as photography, movies and comics, these media giants have not directly influenced my aesthetic, since I worked with them for a particular purpose and as a member of a collective creative project. My influences are mainly hidden in literature; the power of speech to create dreamlike images and to change reality through imagination and emotion. I am interested in telling a story with my works.
There is something so uplifting and mood-altering about the pops of colour in your compositions. Colour to you is…
Colour is the ideal element that allows me to interpret the rhythm of the senses and facilitates the expression of the emotions I wish to communicate to the viewer.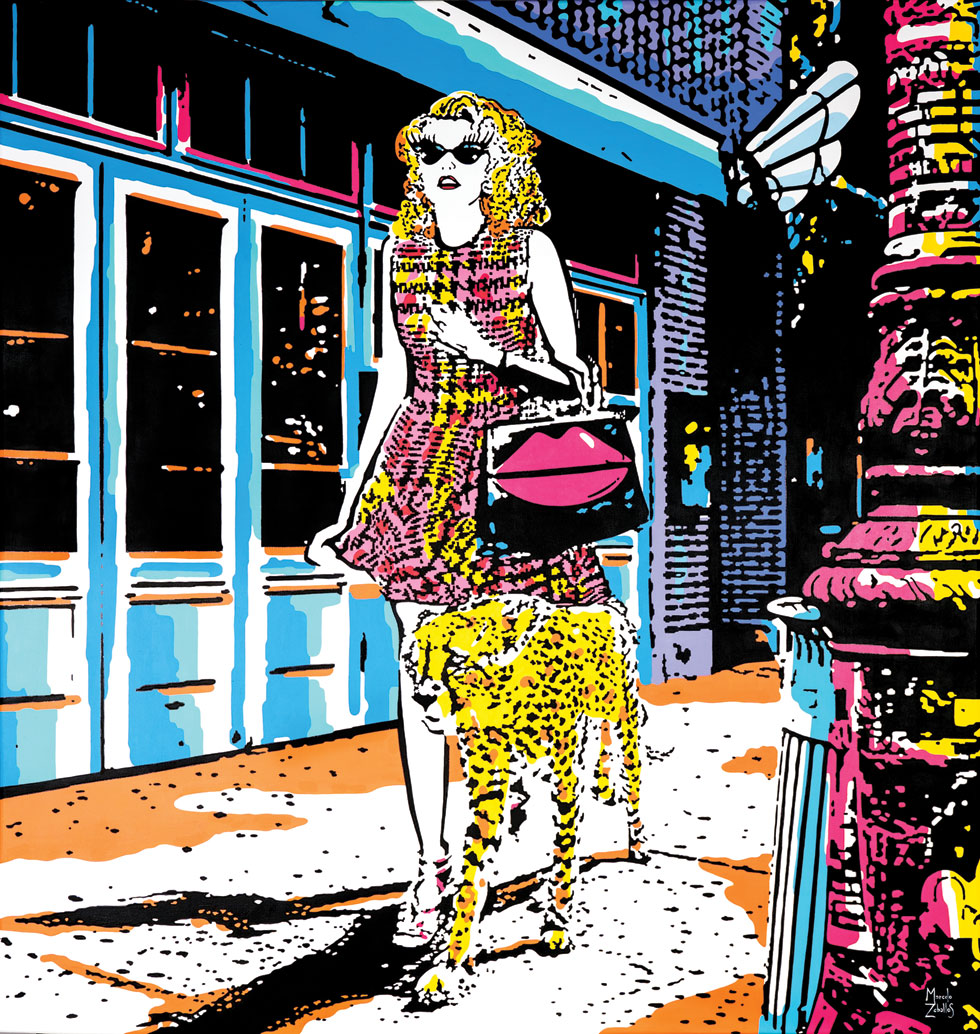 What is it about women that you find so compelling as to reproduce them repeatedly in your works?
It is not necessarily the female form that inspires me to paint, rather the female expression that is full of different interpretations and opens different worlds of 'reading' it. I suppose it evokes a certain nostalgia in me because of the way I see and 'read' the woman which lends it a more poetic expression. I tap into what I see as the expressive world of women by observing their bodies, pose, and aura that they emit. The appearance of a woman, the way she places her hands, her walk, tells us who she is.
How would you describe your artistic process?
Artistic creation can begin with an image I have already created in my mind, or with an anonymous photo telling me a story. I draw it in black and white, and add acrylic paint to the canvas.
You've been exhibiting in Athens quite a bit in recent years – what brings you to Greece so often?
From the outset, what brought me to Greece was my acquaintance with the great Greek sculptor Vassiliki. Not only did she believe in my work, but it was she who introduced me to Mamush Gallery, where I exhibited my first show. My collaboration with Mamush Gallery was on all levels more than impeccable. We have created such strong artistic links that Mamush Gallery has the exclusive representation of my works internationally. I now have strong ties with Athens and the people I have met here over time. Returning back to Argentina, I am bolstered by the inspiration from Greece. Here, art resides naturally in the quality of people's lives.
How would you describe Athens in three words?
I would say Epic, Beautiful, Historical.
Do you see any similarities at all in the artistic and social outlook of Argentinians and Greeks?
On a socio-cultural level, Argentinians are very much like the Greeks. At the artistic level they are different. It would be very challenging to appropriately compare, however, because Argentina is on a continent that does not have such a long history of art as Europe does.
Have you travelled around Greece at all – which island would you like to go back to?
My first visits to Greece were short-lived, and they did not allow me to visit places other than Athens. The Acropolis and its Museum impressed me most, of course; I was in complete awe. This year, I have already planned to visit several Greek islands like Paros, Mykonos, Santorini and Milos.
About You
What hangs on your walls?
Amadeo Modigliani and Rene Magritte's paintings and drawings, posters of the Bauhaus school's exhibits, as well as photos of historic personalities and artists.
What books are you reading currently?
Martin Heidegger's Being and Time , the stories of Jorge Luis Borges, and Fredric Brown's sci-fi stories.
When did you know you wanted to become an artist?
When I was eight years old, and I laid my hands on books on Goya, Manet, and Renoir.
The biggest influence in your life? And in your art?
Film noir and Orson Welles' films. The artists who have influenced me are Andrι Breton, David Hockney, Carlos Gorriarena and Diego Velazquez.
The song currently stuck in your head is….
That's Life by Frank Sinatra.
Mamush Gallery, Panagitsas 3, Kifissia Tel. +30 210.623.2900 | Website: mamushgallery.com
---