Move Over Freddo – Why Dalgona Coffee is the new Quarantine Fix.
Remember the good old days when your first stop was your morning coffee run? Since the coronavirus took over our lives, and our caffeine rituals, we have been reduced to playing wannabe baristas in isolation. Say hello to Dalgona, the viral (!) whipped coffee sensation inspired by a spongy toffee in South Korea that is sending the confined world to caffeinated highs. Sudha Nair-Iliades gives you the lowdown on this new quarantine quaff.
Photogenic, delicious, easy-peasy and with just three ingredients in our grocery-challenged times, its little surprise that this fluffy, iced coffee (it looks like a cappucino turned on its head) is essentially the Kim Kardashian of food porn. Its been trending on Tik Tok (a whopping 120 million views) and has become a universal phenomenon in just five short weeks.
So, when exactly did Dalgona become a shutdown sensation?
Named for the Korean honeycomb toffee it resembles) the obscenely fluffy and visually seductive dalgona popped up on social media five weeks ago, thanks to South Korean food vloggers, who came up with this revolutionary, lockdown latte trend, while in quarantine.
Here's what you need
The drink consists of equal amounts (a 1:1:1 ratio) of instant coffee, sugar, and hot water — whipped together and poured over chilled milk. Here's what you'll need to make (a single serving of) dalgona coffee:
2 tbsps Instant coffee
2 tbsps Sugar
2 tbsps Hot water
2 tbsps Hot water
A hand mixer (or a whisk or a spoon)
Milk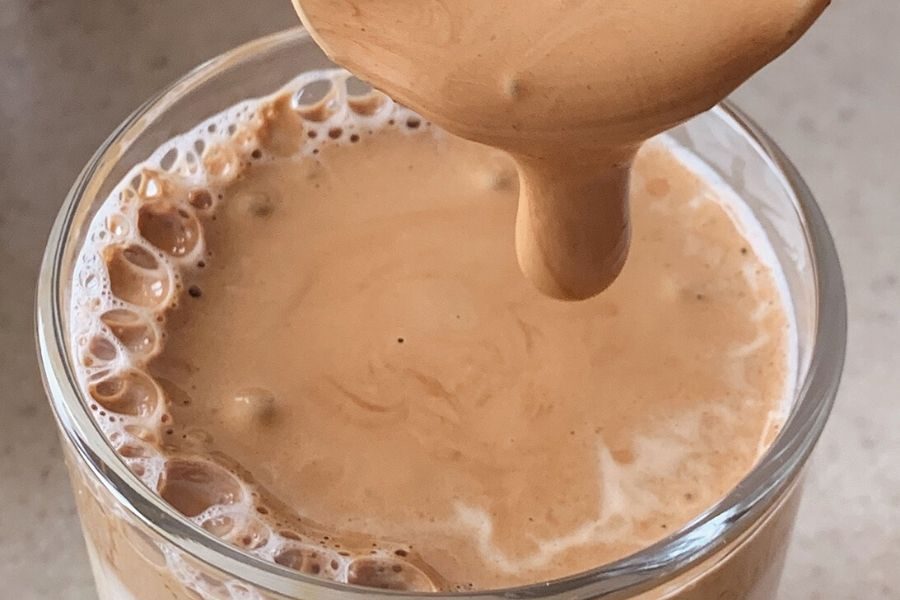 Here's How to Make It
First, measure out equal amounts of instant coffee, sugar, and hot water. (Start with two tablespoons each and scale up from there.) Then pour the ingredients into a bowl. The water needs to be hot or boiling to help the coffee and sugar dissolve.
You don't need an electric mixer or a whisk, the mix will start to thicken up after about 2 minutes of vigorous stirring with a spoon.
Pour chilled milk (or soy milk) in a separate cup over ice, filling the cup about halfway. Use a rubber spatula to spoon the coffee froth on top. For a visually stimulating drink use a glass.
Why Dalgona Coffee is the new cup of morning cheer
What's not to love about a home-made barista-quality crafted coffee especially as the end result looks as good as it tastes. Just the positive fix you need to take you through the day. An indulgent start with decadent instant coffee!
We predict that…
Even if you're a sworn non-sharer, you'll be uploading images on your favourite social media outlets.
Once you've mastered this, you'll be experimenting with the next Daglona with matcha tea or hot cocoa. You'll have all the time in the world!
---