Jeff Siger: Master of Mayhem
Crime novelist Jeff Siger – whose 'trouble in paradise' murder mysteries get under the seamy underbellies of whitewashed Greek isles, presents his 10th book in the Chief Inspector Andreas Kaldis series, Island of Secrets, set in his beloved Mykonos.
Congratulations! "The Mykonos Mob"—now available in paperback as "Island of Secrets"—is your 10th book in the Chief Inspector Andreas Kaldis series.  Did you expect Kaldis to become such an endearing, enduring protagonist?
Whatever Kaldis has become is all his doing.  I knew from the outset of my first book that the Greek police had to be involved, but I had no idea to what extent. One day, Andreas Kaldis showed up on my laptop screen and announced he was the new sheriff in town. He said it in Greek, so who was I to argue.  He's an Athenian born, second-generation cop, a politically incorrect, honest observer of his times who endures and grows, despite all that life and the powerful throw at him and his beloved country. Perhaps most significant for purposes of my stories is the unfettered access Andreas has to all levels of Greek society, be it the seamy underbelly of its most degenerate bottom rung as head of Greece's special crimes unit, or the glittering lifestyles of Greece's movers and shakers by reason of his marriage into one of Greece's wealthiest and most prominent families. All of that affords him—and the reader—a unique perspective on how serious issues, political and otherwise, are in reality handled behind the scenes.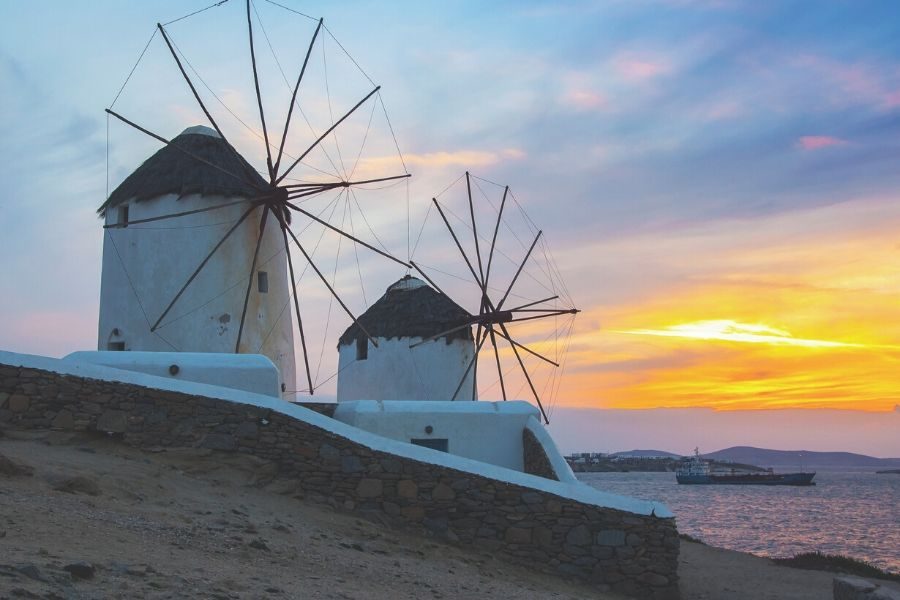 Let's start from the beginning. From being a name partner in a Manhattan law firm to crime fiction, when did the writing bug bite you? And why crime novels?
I started writing as a child, and though I abandoned it completely during high school, college and law school, in my career as a litigating lawyer I wrote every day, telling stories—based on facts.  I cannot understate how valuable that experience was, even though the way that I write today is obviously very different from those days.
As for why crime novels, I think it's a natural fit for exploring the ambiguities of a culture.  I'm not suggesting a "The Brothers Karamazov" sort of book here, but when you realize that the return of order to a broken society is the basic underpinning of virtually all mysteries, mysteries are by their nature optimistic, and bringing optimism to the world these days is a very good thing.
Your writing career has been punctuated with awards and accolades. Your proudest moment?
In truth, there are two, one distant and one recent. The first, when I learned that my debut novel, "Murder in Mykonos," was the #1 best selling English language book in Greece, and the second when The Sunday New York Times Book Review designated me on its "Thriller Map" of the World as the novelist representing Greece.
You've been coming to Greece, and to Mykonos specifically, for the past 35 years. To most of us, sun-drenched Greek isles conjure images of insouciant summers – while obviously for you, it's also murder and mayhem, and dismembering bodies!!  What prompted you to choose your holiday destination – the Greek isles – as your preferred crime setting?
For a long time I wanted to write a book that expressed just how I felt about Greece's history, culture, society, politics, and—most of all—people. But writing about flowers or tavernas is not my thing, so I decided to drop a serial killer into the middle of Mykonos' Mamma Mia-like setting, just to shake things up.  I figured that would allow me to explore how an island community puts aside its many differences to combat a critical threat to its tourist-driven prosperity. I can't say I wasn't concerned over how my book would be received, but when "Murder in Mykonos" became Greece's #1 best selling English-language book (and among the top five in Greek), I knew I was on to something.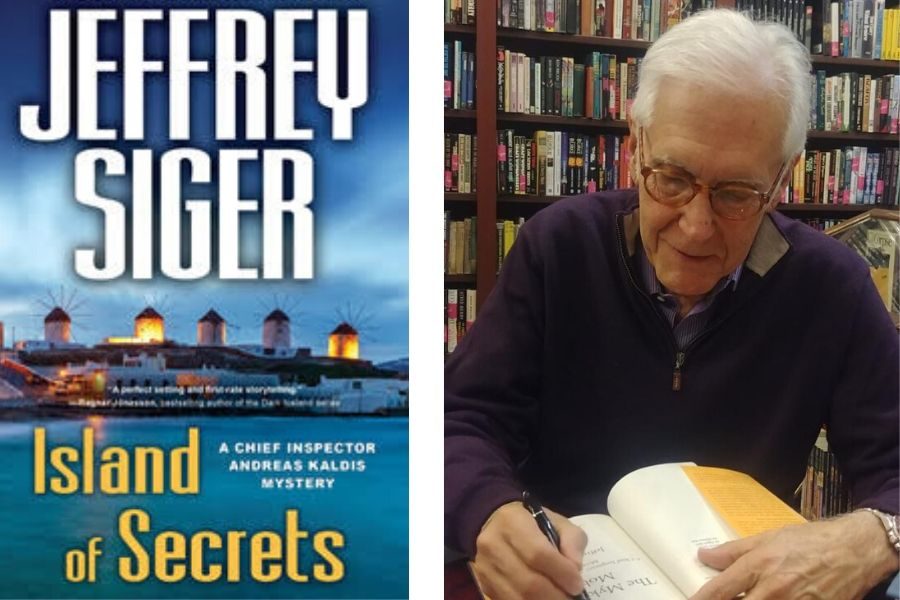 In Greece I'd found an inexhaustible source of material for the two central elements of a series: (1) a serious, modern-day issue that my characters must confront and overcome, and (2) a perspective on that issue to be found in the ancient past. Just look at a map and you'll see that no western country is closer to what challenges our planet today than Greece. It is a paradise for mystery writers.
Your more recent books have been informed by local Greek politics. In fact, The New York Times described Inspector Kaldis series as "thoughtful police procedurals set in picturesque but not untroubled Greek locales." From Greece's crippling economic crisis, to the refugee camps on Lesbos, how do you pick your plot?  Will Inspector Kaldis ever retire?
All of my books are driven by issues out there on the edge of societal change.  Of course, one must avoid writing about such tricky subjects in a preaching way, for that's a sure-fire turn-off for readers, but out on the edge is where emotions are rawest, and the drama real. For example, I'm certain my choice of topic played a significant role in Library Journal selecting my Lesbos-based book, "An Aegean April" (Kaldis #9), as one of the best books of 2018. As for Andreas retiring, not before I do, and that ain't happening.
Is it true that your next book is set on Naxos?
Yes, and Naxos is one of my favourite islands. It could be titled, "A Girl's Got to Do, What a Girl's Got to Do," but it's actual title is "A Deadly Twist." And here's why.
Greece is ground zero in a world plagued by unchecked tourism. It's also a country immersed in a deep financial crisis that holds it captive to tourist cash.  That combination makes Greece a playground for opportunists looking to enrich themselves at the expense of Greece's historic paradises and cultural traditions. It's also triggered pitched battles between those seeking to profit and those seeking to preserve. The question, is how far is each side prepared to go?
That's precisely the question Athens Reporter Nikoletta Elia was asking of locals on the Aegean island of Naxos when she vanished. It's also the overriding issue confronting Chief Inspector Andreas Kaldis as he and his crew wend their way around the island along a trail of dead bodies hoping to find her before she becomes the next one.  "A Deadly Twist" comes out in January 2021.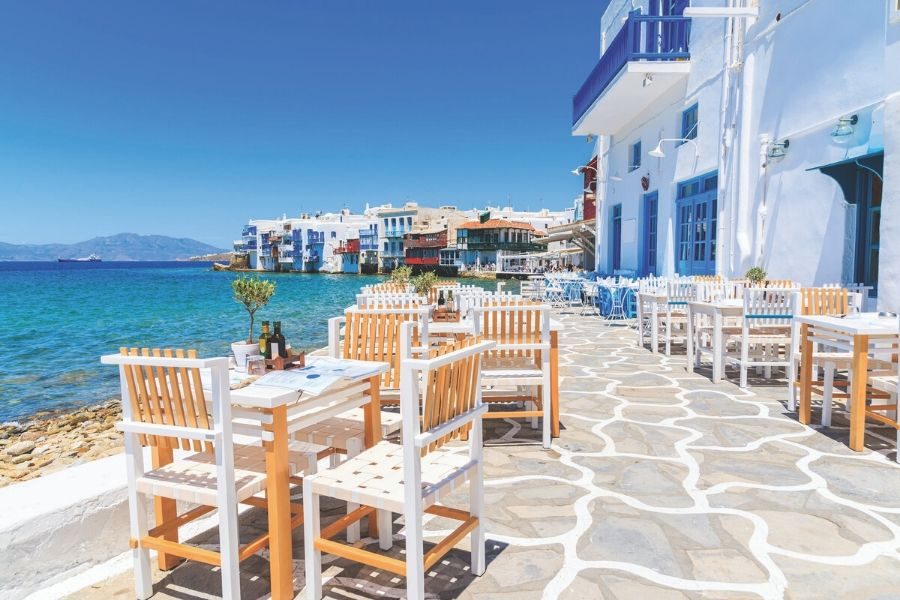 What has drawn you back to Greece and to Mykonos year after year? You've alluded to its alluring appeal being chipped away by avaricious developers in your books. What has fundamentally changed… and what has remained exactly the same as when you first stepped on the island?
Mykonos has undergone an extraordinary metamorphosis during my time on the island, and change on a cosmic level for those who remember its pre-Jackie Kennedy Onassis visit years. Going back further, it's hard for those not touched by the island's World War II-induced days of starvation and depression to imagine Mykonos as impoverished as it once was.  Today it's the world-renowned 24/7 summer-playground for the super-rich, and the long-impoverished Mykonian people are now among the wealthiest per capita in Greece. The world realizes Mykonos is a tourist goldmine, inspiring investors to keep the sun brightly shining on Mykonos while so much of the rest of Greece has struggled against financial darkness.  My latest book, "Island of Secrets" (paperback version of "The Mykonos Mob") depicts the consequences of all that's happened to the island I call home.  As for what's remained the same and keeps me coming back, that's easy. The Mykonian people. God Bless them in these tough and treacherous times.
ON GREECE AND THE PANDEMIC
Your blog heaped high praise on the Greek Government for its handling of the corona pandemic. As a writer, and an outsider privy to the Greek mindset, what factors shaped the shift from anarchic 'bad boys' to 'model citizens'.
I assume you're referring to my last Saturday's weekly post on Murder is Everywhere, a blogsite I share with ten distinguished crime writers from around the world.  In that blog, titled, "Two Very Different Greek Heroes for Their Times," I singled out two men from very different positions on the political spectrum, Greek PM Kyriakos Mitsotakis and Manolis Glezos, not as an endorsement of their politics or policies, but for how each in his particular moment in history faced an existential threat to Greece and found a way to inspire the nation to persevere.
Do you think the dystopian reality of the Corona pandemic naturally lends itself as a backdrop to a future novel?
What I wonder is what future novel will NOT have the pandemic as a backdrop. This is a crisis unlike any the world has ever endured.  Not because of the horrid disease itself, but because 24/7 global media coverage exposes the confusion, mistakes, misjudgements, and competing health, political, and economic considerations at play in governments entrusted by their citizens to defend them from such apocalyptic threats.   These are times raising issues that run to the very core of social compacts made between the governed and their leaders.
Stay tuned, you'll be hearing much more about this, from many, from everywhere, and often.
Island of Secrets by Jeffrey Siger, published by Poisoned Pen Press (7 April 2020)
When corruption lies deep beneath the surface, how can the truth come to light?
The case begins for Athens' Chief Inspector Andreas Kaldis with a literal bang when a corrupt former police colonel who runs a protection racket on Mykonos is gunned down. Suddenly, Athens' Chief Inspector Andreas Kaldis is face-to-face with Greece's top crime bosses on an island whose natural beauty and reputation as an international playground belies the corruption lurking just beneath the surface.While Andreas and his Special Crimes unit wrestle for answers, Andreas's wife, Lila, meets an American expat named Toni, a finder of stolen goods and a piano player in a gender-bending bar who has a zest for life and no apparent regard for rules. As Lila and Toni bond over a common desire to mentor young island girls trapped in an exploitative and patriarchal culture, they soon find that their efforts to improve the lives of the Greek girls they've come to care about intersect with Andreas' investigation in ways that prove to be dangerous for all involved…
---