Mama Thai: Sugar and Spice and all things Nice
Amanda Dardanis visits the new restaurant arrival that's finally broken the drought for Thai food aficionados on the southside – and encounters a novel dining concept that's not afraid to leave you a little hot under the collar.
Whenever my family and I go out for a celebratory dinner somewhere fancy, we like to play the "What would you eat for your Last Meal on Earth?" Game.  Part of the fun is the wacky and wonderful choices that my husband and two daughters concoct (chicken and chocolate soup anyone?). But my answer never wavers. Thai food. Every Time. The spicier the better.
One of the biggest downers about leaving London and moving to Athens ten years ago was having to forgo my weekly Thai fix (in fact, I could have easily eaten Thai five nights a week!).
A decade ago, there was pretty much nothing decent of Asian descent on Athens' food landscape – especially for us southsiders. Even now, the southside is still scantily served when it comes to authentic Thai and Asian venues plating up restaurant-quality fare.  Along with my fellow Thai food fiends (and believe me, our ranks are large), we've had to make do with rather pedestrian and bland street food versions, re-calibrated for a Greek palette that, traditionally, has not been very heat resistant.
Into this sad gastronomic void has finally come Mama Thai – a buzzy new Thai restaurant in Glyfada – that (hallelujah) actually knows how to pack some heat!
Tucked into the old Riva Bar space opposite the Starbucks on popular Giannitsopoulou, in just a few short weeks Mama Thai has already become a local hotspot (pun intended!).
Most Thai restaurants – even the best ones – are fairly functional affairs but Mama Thai has hit upon a winning three-way formula: A bright and breezy atmosphere that's great fun. Fabulous authentic food that's created by a real Thai chef (there actually is a "Mama Thai" behind the menu, cooking the traditional Thai dishes that her family have grown up on). And a novel spin – the restaurant co-habits with iceroll, a new-to-Glyfada concept where you can customize your fantasy ice-cream and have it served in delicate cigar-shaped rolls in a dessert glass. Just the tastebud ticket after a hot and spicy culinary encounter.
There's a safe but decent selection of Thai appetizer standards on the menu: spring rolls, chicken satay sticks, tum yum kung soup. I couldn't resist a favourite old friend, "thai moneybags" (deep fried parcels of deliciousness stuffed with shrimp, crab and chicken) that we paired with a less calorific and pleasingly-tangy mango salad (mango, carrot, cucumber, cherry tomatoes, onion, trimmed coconut and baby shrimps).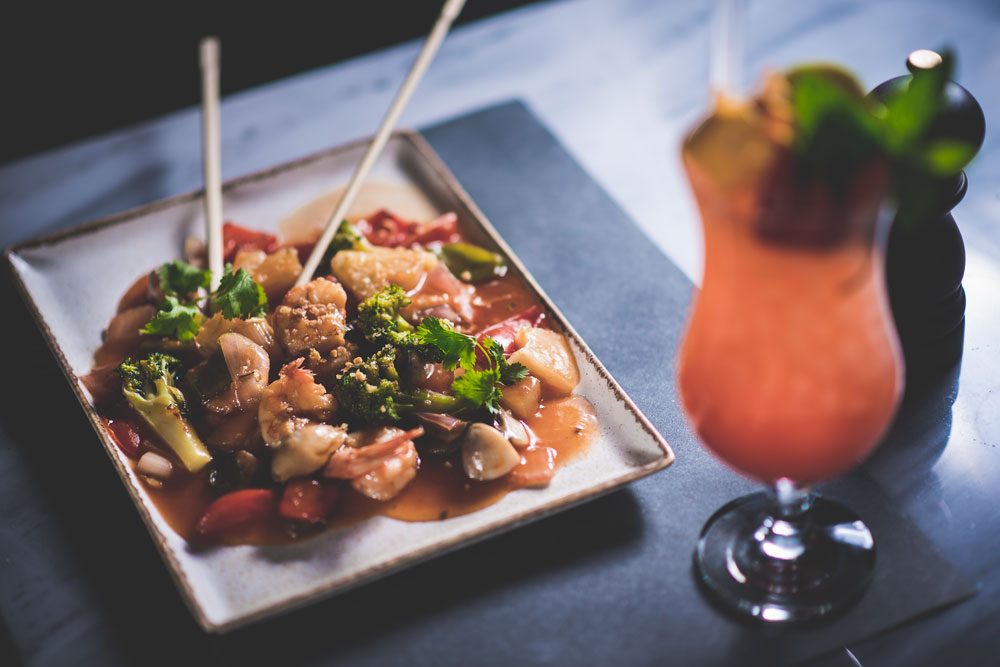 Many of the main dishes at Mama Thai, such as the beef with mushrooms and oyster sauce or the grilled pork with red spices and palm sugar, are nicely seasoned but fairly mild on the heat spectrum (no doubt to cater for the afore-mentioned Greek palette).
If you want to turn things up a little, go for one of the marvelous curries – there's a chicken or a beef option (Gaeng Kaew Wan Gai or Kaeng Panang Neua). They are the hottest dishes on the menu and in my opinion, by far the best. But I would say that.
Mama Thai is a fairly compact space, so you'll want to book ahead if possible. The "hot ticket" (so to speak) are the tables out the back in the lovely and leafy white-painted brick courtyard. The space has a great upbeat energy, especially on weekends. On the Saturday night we went, the mood music included Stevie Wonder's "Superstitious" and other feel-good tracks.
View Photos
All the dishes we ordered were prettily plated and we thought the iceroll collaboration made for a great double act. My advice is to go Full Choc (bueno chocolate with double caramel) instead of faffing about with fruit and other variables. Or ask Nikos or Pantelis to devise something wicked for you. Alternatively, you can chase your spicy meal with one of the irresistibly-named tropical cocktails that we saw people drinking all around us like the "Monkey Beach" (dark rum, banana, coconut, lime and ginger).
All in all, Mama Thai is an extremely welcome addition to Glyfada's ever-expanding foodie scene and one that delivers squarely on its menu promise. Thank goodness there's now somewhere terrific to go to satisfy those constant cravings for us Thai junkies!
Mama Thai, Giannitsopoulou 2, Glyfada, +30 210.894.5009, www.mamathai.gr | Check out their menu here
---