Food of Love: A Guide to Lockdown Seduction
Hands up who's in serious need of some next-level spoiling right now. That would be all of us. Cosy up with your beloved this wintry weekend over a champagne-fuelled gourmet feast, a decadent morning after brunch – or a seductive Valentine's Day mystery box, guaranteed to rekindle those flames.
1. Evening-before dinner and Morning-after Brunch by Hotel Grande Bretagne

If you're seduced by the idea of a ready-to-serve romantic dinner (at just 120 euros for two), expertly curated by the Hotel Grande Bretagne's culinary team, we suggest you succumb to the temptation! Get started with freshly baked blinis, smoked salmon pâté with chives and shrimp with bergamot and ginger. Show off your gourmet chops with a hearty chestnut soup laced with amaretto cream, a platter of San Daniele prosciutto, mozzarella di bufala, radicchio and roasted mango, and for mains, savour a veal tenderloin with mushroom ragout en croute, roasted root purée and seasonal steamed vegetables. A beautiful chocolate rose with bitter chocolate mousse, caramel cream and pecan brownies seals your romantic dinner. For those who'd like to indulge in the twin Cs of caviar and champagne, the GB's Executive Chef Asterios Koustoudis suggests an enriched Caviar & Champagne Valentine's Menu with TAITTINGER BRUT and ROYAL GOLD RESERVE  Caviar (for 180 euros for 2).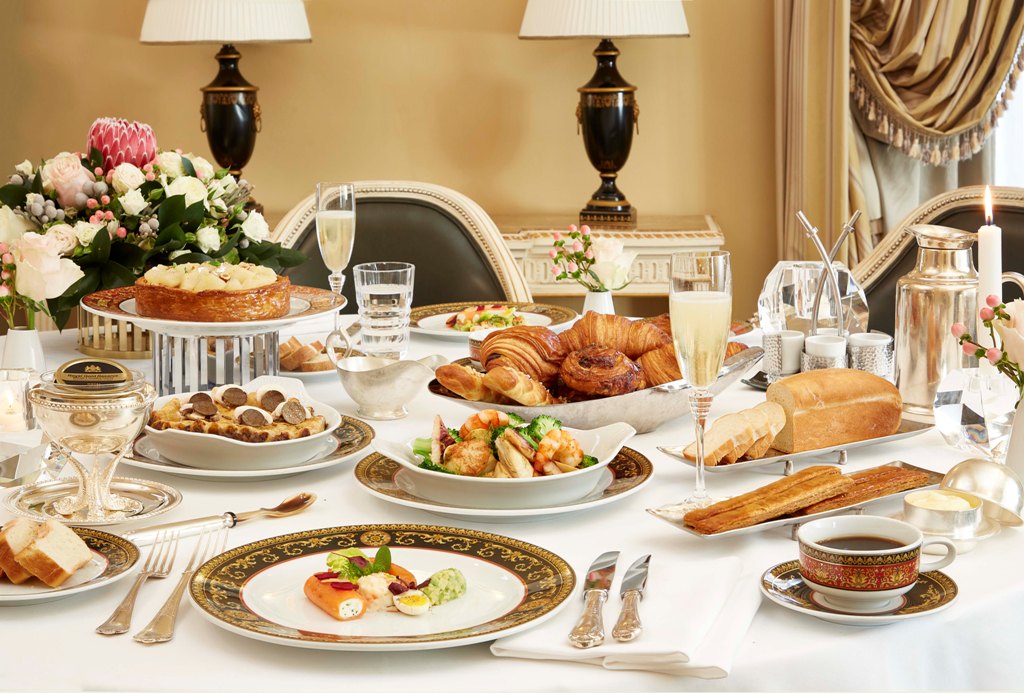 Candlelit dinners are one thing, but the ultimate test of true romance dear men, is serving breakfast in bed, in style! Order in GB's sumptuous buffet breakfast, at 160 euros for 4 servings. Picture this: Freshly baked croissants, traditional mastiha scented tsoureki brioche and caramelized puff pastry baton served with fresh local butter, pine honey and homemade forest fruit marmalade, followed by smoked salmon and balik with avocado, quail egg, king crab and crisp green salad. For mains, candele pasta filled with slow cooked beef, mushrooms, winter truffle gratinated with Cretan graviera cheese and for seafood-lovers, shrimp and scallops served with fennel and spinach, citrus and grill-smoked eel. All that goodness followed by a delicious pear tart with almond cream, hazelnut praline and lemon to end your brunch on a high note! Exquisitely presented in ovenproof porcelain tableware with authentic white linen napkins embroidered with the iconic hotel's crest. Enhance the indulgence with a Caviar & Champagne Brunch option at 220 euros for 4 pax.
HOTEL GRANDE BRETAGNE, ATHENS
ORDERS | DAILY 11.00-19.00 at 210 33 30 748. Pick up at the hotel or delivery at your doorstep for a small extra charge.
2. Ourse: A sweet mystery box for Valentine's Day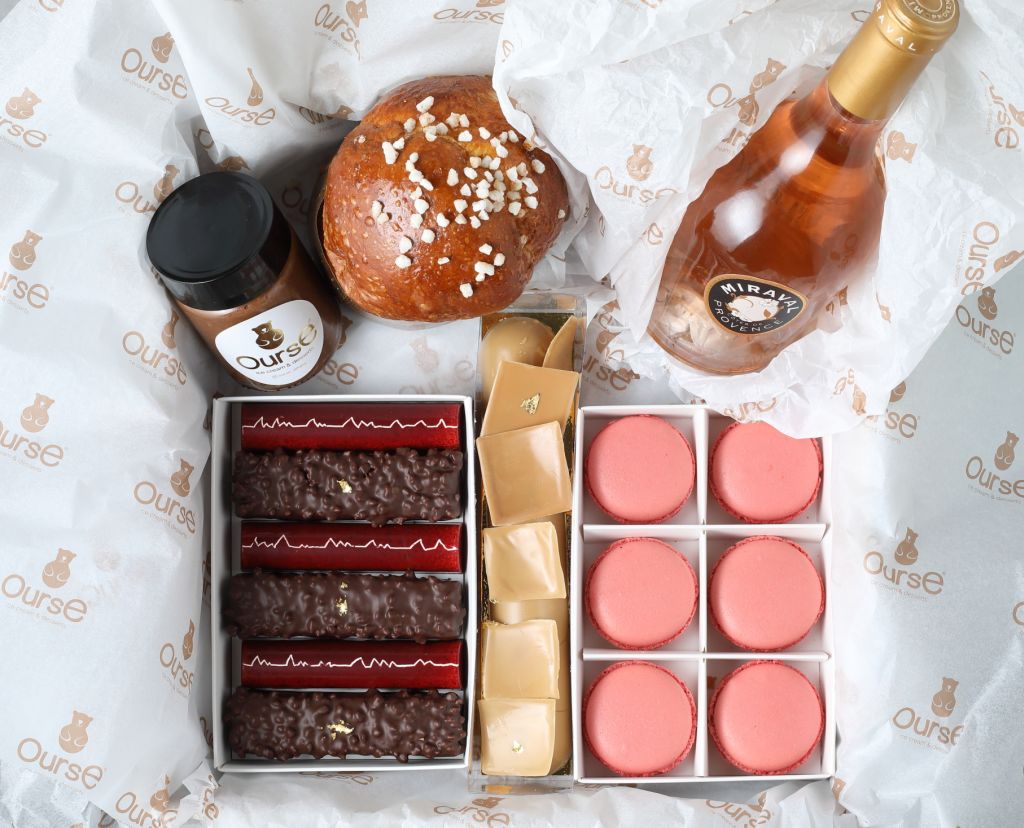 We'd already featured Ourse as an upscale patisserie designed to seduce the senses – and we're privileged to have taken a sneak peek into their mystery Valentine's box. Only 140 boxes are available, so hurry! A goody box full of chocolates with raspberry and caramel, chocolates with strawberry, pâte de fruit, macarons with red fruit and yuzu, chocolate bars with caramelized white chocolate, salted caramel, caramelized peanuts with aloe vera, brioche with giandouja chocolate and a bottle of chilled Provence Miraval rosé (375 ml). You can order them on 2121067019 and pick up on Saturday 13 or Sunday 14 February from the patisserie. Priced at 70 euros.
Ourse Mystras 39, Glyfada. Tel: 2121067019
3. Fly in Love from Le Pavillon Athens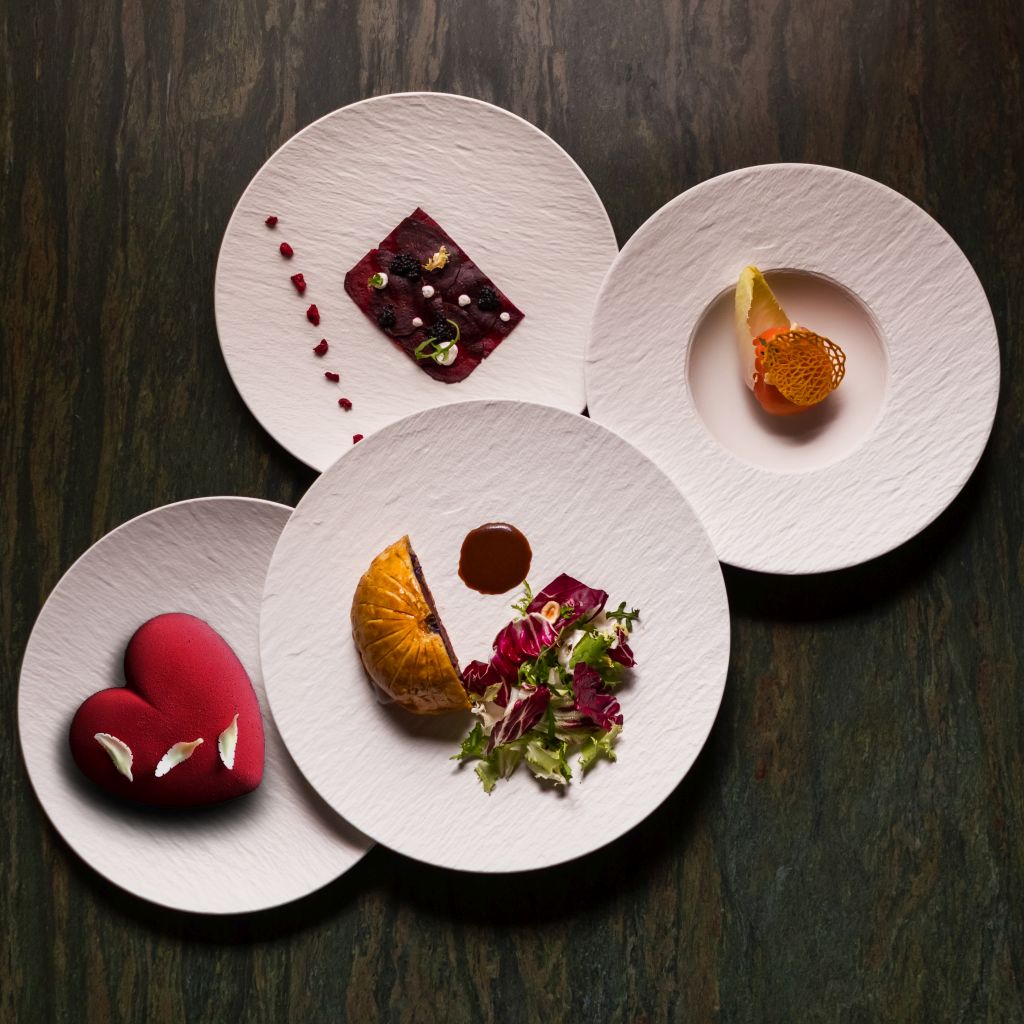 A special menu, priced at just 120 euros for 2,  prepared by the chef patron of Le Pavillon Athens, Jean-Charles Métayer!  Cuddle up to a cosy four-course dinner over this wintry weekend, paired with fine wines, available for takeaway or delivery on February 13 and 14. Beautifully presented in origami boxes, expect to woo your partner with a Valentines menu of: Smoked salmon with celery, roasted hazelnuts and curry mayonnaise, Beef fillet in puff pastry with seasonal green salad and truffle sauce, Beetroot carpaccio with cottage cheese cream and smoked caviar and Guanaja chocolate mousse with red fruits for a sweet ending!
Address: Perikleous 31, Chalandri. Tel: 2106815774
Take Away Hrs: 12:00 – 18:00, Delivery (+5€): 12:00 – 18:00          
4. EKIBEN by Birdman X Moët & Chandon  present AMOUR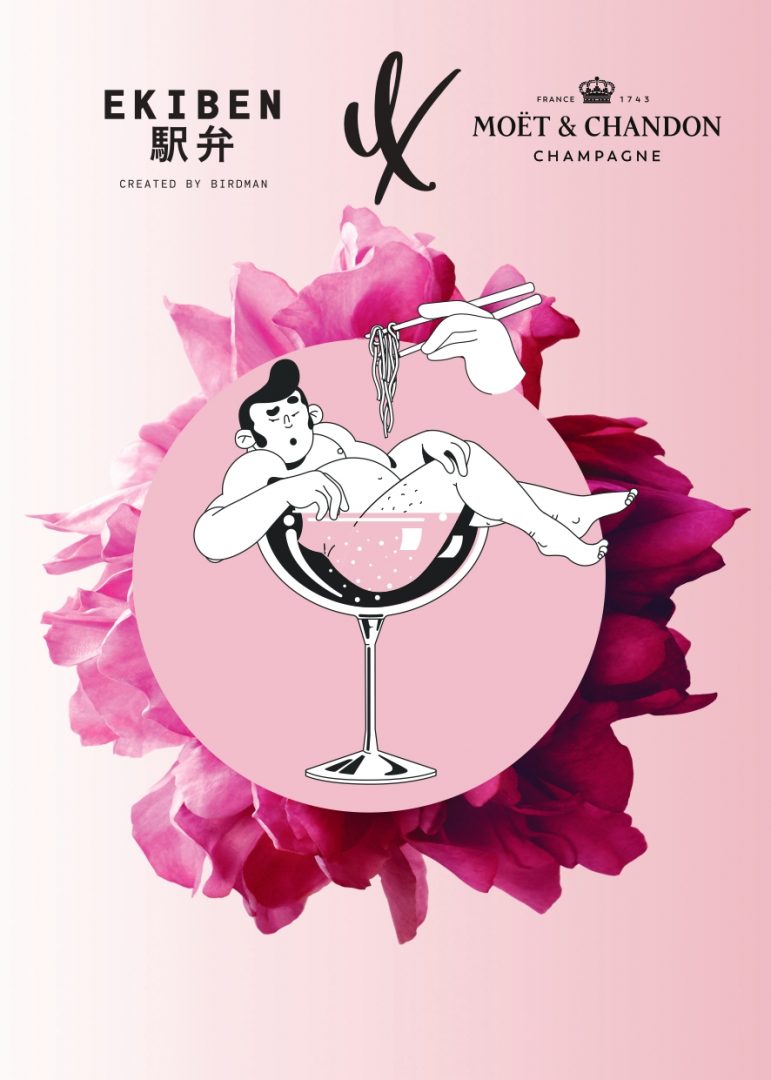 Birdman collaborates with world-renowned champagne brand Moët & Chandon to create AMOUR, a unique menu that will bring an exclusive, tailor-made experience for two right to your table. Or couch. Or bed! We like the way they think! Pre-order your menu on February 12, 13, and 14 and have it delivered to your doorstep with Moët & Chandon's premium delivery service. Late planners please note: You need to order 24 hours in advance. Priced at just 100 euros for two with a bottle of Moët Rose Imperial Champagne thrown in for good measure, we think this menu loves you snd your wallet! If you need any more convincing, here's Birdman's 'ultimate comfort romantic seduction.'
Ran Ichi with Imperia Kaluga Caviar
Torched Picanha, shibanuma soy-beef fat, jalapeno
"Surf + Turf" Mazemen
Shrimp, sea urchin, crispy wagyu beef, kampot pepper, black truffle
Birdman Smash "Truffles & Foie Gras Edition"
Aged Holstein beef double cheeseburger, American cheese birdman ketchup
Dark Chocolate Mousse
Guanaja cacao, blackeberries, sea salt, malt cracker
Birdman. Call 210 3212800, or send an email to ekiben@birdman.gr
---