DIY Greek Easter Basics
Rita Wilson famously described Greek Easter with the words, "We don't do bunnies. We don't do chocolate. We don't do pastels. We do lamb, sweet cookies, and deep red." The lamb is roasted and is not chocolate, the sweet cookies are called Koulorakia and are twisted like a braid, and our Easter eggs are dyed one colour only: blood red. Insider lets you in on the secrets of a perfect tsoureki and demystifies the whole egg-dyeing ritual in simple, you-can-do-it-too steps.
RED-DYED EGGS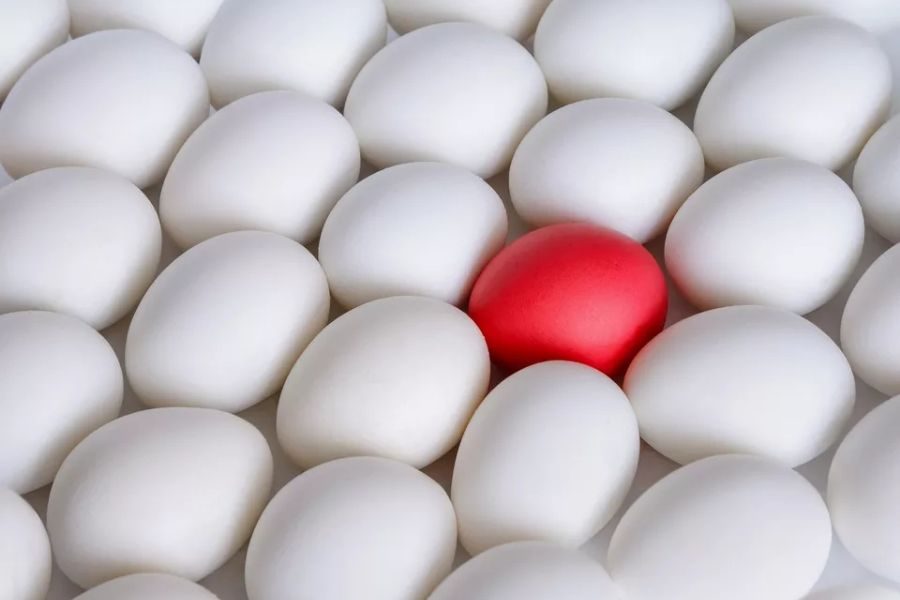 Perhaps the most vivid symbol of Easter, red eggs represent the blood of Christ, rebirth and fertility. An age-old tradition with families engaging in the ritual of dying eggs, here is a quick way to colour eggs using onion skins instead of the chemical dyes available at supermarket. Not only is it organic but the eggs in fact have a deeper, richer shade of crimson.
Here's what you need:
12 medium-sized eggs
15 yellow onions
1 tbsp white vinegar per cup of strained dye liquid
 Olive oil for glazing
8 easy steps to follow:
Wash and use 12 medium-sized eggs.
 To make the dye with onion skins: Use a stainless saucepan, place skins of 15 yellow onions and 2 tablespoons of white vinegar in 4 1/2 cups of water and bring to a boil. Simmer for 30 minutes on low heat.
Strain dye into a glass bowl, and let cool to room temperature.
In a stainless saucepan, add the cooled strained dye and eggs at room temperature. Bring to a boil over medium heat. When boiling, reduce heat to low, cover, and simmer.
Dyeing time will be affected by the colour of the eggs. Start checking for colour at 12-15 minutes. Do not simmer longer than 20 minutes.
If eggs are not a red enough colour after 20 minutes, leave in the pot and remove from heat. When the pot as cooled enough, place in refrigerator and let sit until desired color is reached.
Remove eggs with a slotted spoon and cool on racks.
When they can be handled, coat lightly with olive (or other edible) oil and polish with paper toweling. Refrigerate until time to use.
Insider Tips:
Eggs can be coloured in advance and are supposed to last for over a month!
Save onion skins in the refrigerator until ready to use.
Don't be misled into believing that red onion skins might colour better – yellow onions work just fine! For other 1 cup shredded beets per cup of water—makes pink on white eggs, maroon on brown eggs.
TSOUREKI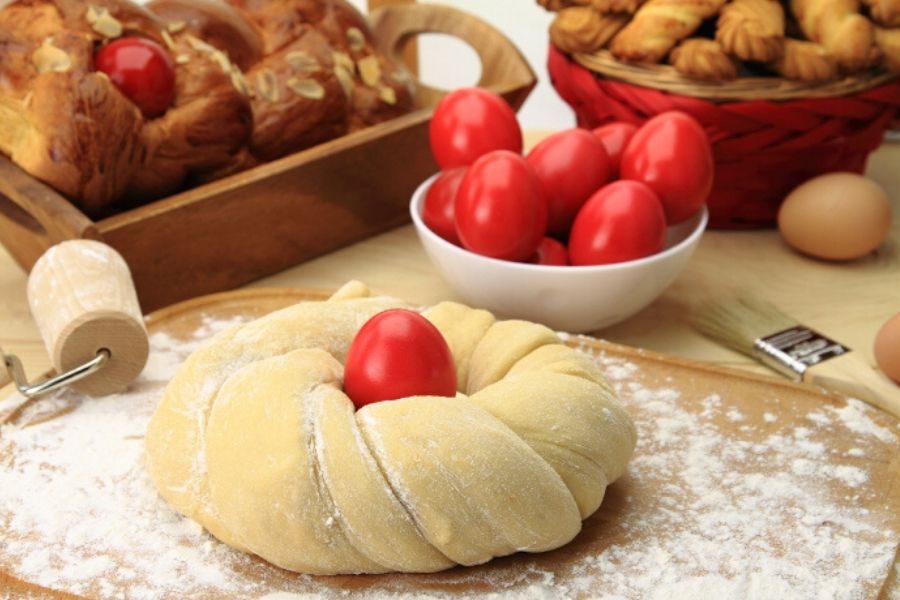 The sweet wafts of tsoureki being baked in Greek households in the run-up to Easter Sunday is a quintessential aspect of the festivities. Soft, fluffy, stringy, with a glazed crust and with a sprinkling of almond shavings, rich in flavour, the brioche-like tsoureki is an intrinsic part of the Easter table with hard-boiled red-dyed eggs nestled in the braids of the loaf – the three-strand braid symbolizes the Holy Trinity, while the eggs symbolize the blood of Christ. For a more authentic flavour, tsoureki is traditionally seasoned with mahlepi – (ground cherry seed that tastes similar to bitter almonds and tonka beans) and mastic, the sap of the mastic tree, which is dried into a resin, then ground and used as a spice.
Here's what you need:
1 cup milk
4 1 ⁄ 2 -5 1 ⁄ 2 cups flour
3 ⁄ 4 cup sugar
1 1 ⁄ 2 tablespoons yeast
3 egg
1 egg yolk
1 teaspoon salt
1 ⁄ 2 cup butter, softened
2 tablespoons orange juice
2 teaspoons orange zest
2 teaspoons vanilla extract
8 easy steps to follow:
Heat milk and whisk in 1½ cups of flour, sugar, and yeast.
Cover with plastic and let stand for around 30 minutes.
Add eggs one at a time.
Add another cup flour, orange zest, and salt. Then add butter, vanilla, and orange juice.Gradually add remaining flour, and knead until smooth.
Coat a bowl with oil and roll dough in it to coat. Cover with plastic and let rise for 1½ hour. Preheat oven to 400.
Make braids with the dough (2 loaves).
Mix egg yolk with 1 tablespoon water. Brush loaves with mixture.
Bake 15 minutes. Reduce heat to 350 and bake 20 minutes. Let stand 5 minutes.
Insider Tips:
Don't buy pre-ground mahlepi or mastica. The taste and smell can't be compared to freshly ground.
Don't braid the dough too tightly as it needs room to rise.
Make sure that the dough is not wet but is smooth and pliable. Sprinkle a bit of flour on your work-space if the dough is too sticky.
---