Discovering Athens with free bike rides
When Monique van Hulst moved from the Netherlands to Athens in 2007, bicycling was considered a death wish. A quiet cycling revolution has been underway since, and one of the positive fallouts of the lockdown has been the born-again zeal of new converts to cycling. That change in mindset, coupled with a real determination to make Athens a bike-friendly city, has meant that her cycling tours, Let's Meet In Athens, have earned a loyal following among Athenians and tourists alike. Discover your city with their Free Bike Rides every Sunday!
If Athens were to have a cycling capital, it would be Psyrri.  Just off the bustling Ermou, past antique peddlers, wedged between Psyrri's vibrant cafes and bars, is Let's meet in Athens, a bicycle shop full of Dutch-style Cortina bikes. A few blocks away are Vicious Cycles Athens and the Handlebar – confirming Psyrri's cred as a mecca for cyclists.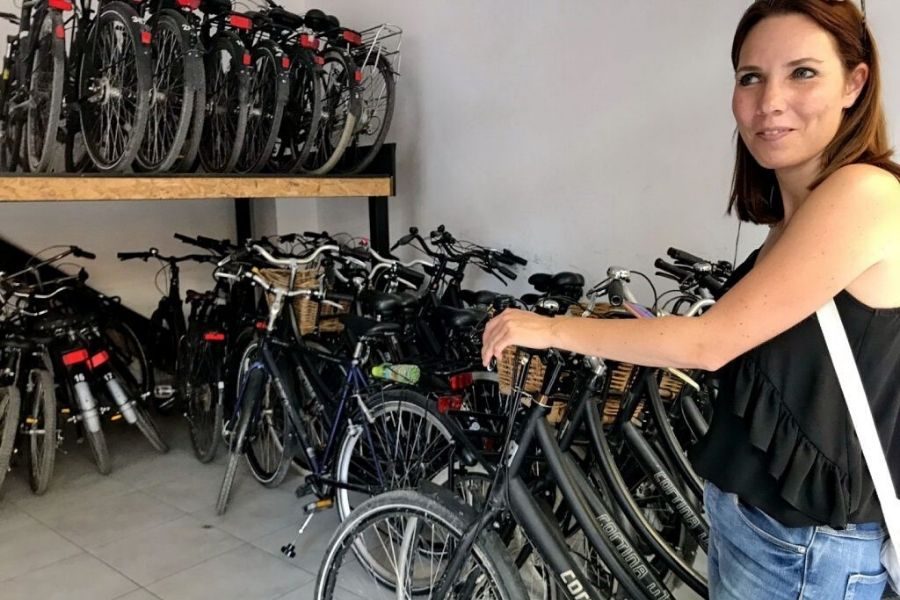 In 2014, Monique van Hulst started her bike tour travel agency with 15 bicycles in the basement of a hotel in the centre of Athens. What started small, grew in a few years into a successful company. The Dutch Cortina bikes certainly stood out in the Athenian street scene and now she's decided to give back to her sport and her city by encouraging Athenians to get on the saddle.
Free Bike Sundays
Since early May 2020, "Let´s meet in Athens" has been hosting free bike Sundays. From 5pm to 8pm, the Cortina bicycles are given away for a 3-hour ride. A great way to discover your own city in a completely different way, Monique adds, "It is fantastic to see how enthusiastic everyone is about the whole concept. The initiative is also very suitable for families. Child bikes and child seats are available."
Since the initiative has been so successful, it will continue throughout the summer. Book ahead with your family or friends or join the organized tour (for free) by sending an email to: info@meetinathens.eu.
Monique's Insider Tips:
Favourite cycling route: From Thissio to SNFCC, on the recently completed bike route.
Biker profile: Both foreigners and Greeks, lots of families with young children, young expats who've just moved into the city.
Trends in bike tourism:  More millennials are opting for custom-made travel experiences rather than mass, organized tours. More so, in our post-Covid times, the trend is towards really discovering local experiences, local cuisine and discovering the city on foot or on a bike.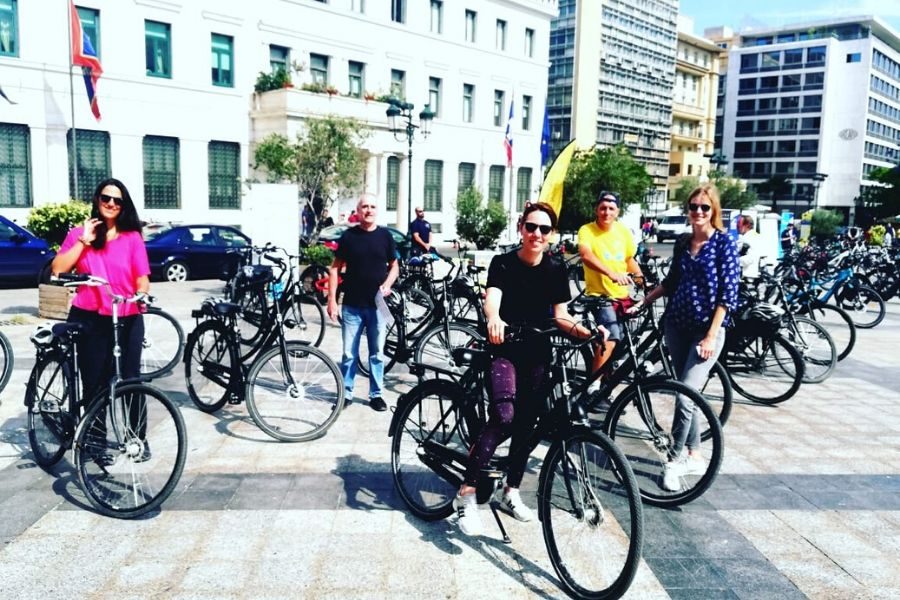 Athens as a biking destination: Not many destinations can match what Athens has to offer. You have the city's historic centre and the sea within just an 8-km distance. There is enough challenge for seasoned bikers as  Athens' steep slopes promise to take your breath away – but you can end your day on a rewarding note with a dip in the sea!
Positive changes you've witnessed in the last 5 years: The new initiatives by the Municipality to make Athens more bike-friendly are all likely to make Athens an even more enticing destination. Locals didn't cycle a lot and the Athenian streets are still full of traffic. But more people are getting on a bike, and that is good news! I'm positive that Athens can shed its 'dangerous' image and become a model, bike-friendly city. Let's do this together!
---