Athens Riviera revival: Astir leads the way
The Astir redevelopment promises to significantly elevate the local community's quality of life and mark Vouliagmeni as a luxury destination, becoming a standard-bearer for other tourism projects in Greece.
Destination upgrade
Its unique geography – pine-decked forests, long sandy beaches and mesmerising sunsets – have enthralled the international jet-set and locals alike for the past 50 years. Just 20km from the city centre, Astir, one of the most iconic summer destinations worldwide, has been emblematic of the laidback allure of the Athenian Riviera. Keen to preserve its legacy, Astir Palace Vouliagmeni SA's ambitious and visionary redevelopment plan aims to elevate the profile of the Vouliagmeni peninsula to a top-notch luxury destination with fine-dining options, cutting-edge hospitality, recreation and leisure facilities and a state-of-the-art marina to cater to the needs of its clientele seeking world-class luxury experiences.
To that end, the much-anticipated launch of Four Seasons Astir Palace Hotel Athens, the upgrade of Astir Marina and Astir Beach, the development of up to 13 high-end villas will establish Astir as an international luxury destination with high infrastructure to match. The total investment exceeds €650 million, marking it as the single most important one in the Greek tourism industry.
What you can expect at the new Astir Beach
From sepia-tinted glory to luxury seaside entertainment
Hollywood royalty and real blue-bloods, heads of state, sports stars, actors, writers, artists, business tycoons and politicians have all congregated on Astir Beach, leaving behind a trail of interesting stories while firmly establishing Astir as the playground of the glitterati. Since its opening in 1960, the beach has had an aura of timeless elegance with white changing rooms, striped beach umbrellas and large triangular sailcloth canopies. That quiet sophistication serves as inspiration for K-Studios as they recreate the iconic '60s look at Astir Beach this summer.  The design elements reconnect with Astir Beach's glamorous heritage while infusing it with a fresh, contemporary design aesthetic.
Shop till you drop
Why not shop, while reclining at the beach? Designer swimwear, Greek-themed hats and bags, rhinestone sandals, beach couture, bikinis and accessories: answers to all your tenuous wardrobe decisions right at your sandy feet.
Let the music begin
Astir Beach kicks off the 2019 summer season from May! From May to August, the beach comes alive to the sound of music with sunset concept parties hosted by world-renowned DJs who have performed at top clubs and music festivals worldwide. On Saturdays, expect afternoon parties with a live set as well as events themed around water and wellness sessions.
Eat, drink and be merry
Enjoy a sundowner at the Beach Bar or, if you're too lazy to abandon the deep recesses of your sun-bed, simply order delivery to your side-table. For guilt-free meals, take in the wholesome goodness of organic cuisine at nice n easy's laidback restaurant.
How to maximise your experience at Astir Beach
Book your corner of the beach
Want to make sure you have your secret corner locked in? Astir Beach lets you check in to your favourite spot of the beach by pre-booking a sunbed of your choice. Check the availability in real-time and reserve your slice of paradise at https://www.astir.gr/beach/sunbeds
Join the Members Club
Open from 8 am to midnight, Astir Beach offers a plethora of experiences. The Membership Card provides unlimited access to the beach and to Astir Beach's facilities all year long, free parking, access to the Exclusive Members lounge area with sun beds and towels, plus a concierge service that anticipates your every need.
Here is a facility that combines the discretion, service and amenities of a private club with leisure and fitness, in a natural setting. It's ideal for those who want to make the most of their time in a clean, friendly environment and enjoy a hassle-free day at the beach.
Throw your beach party here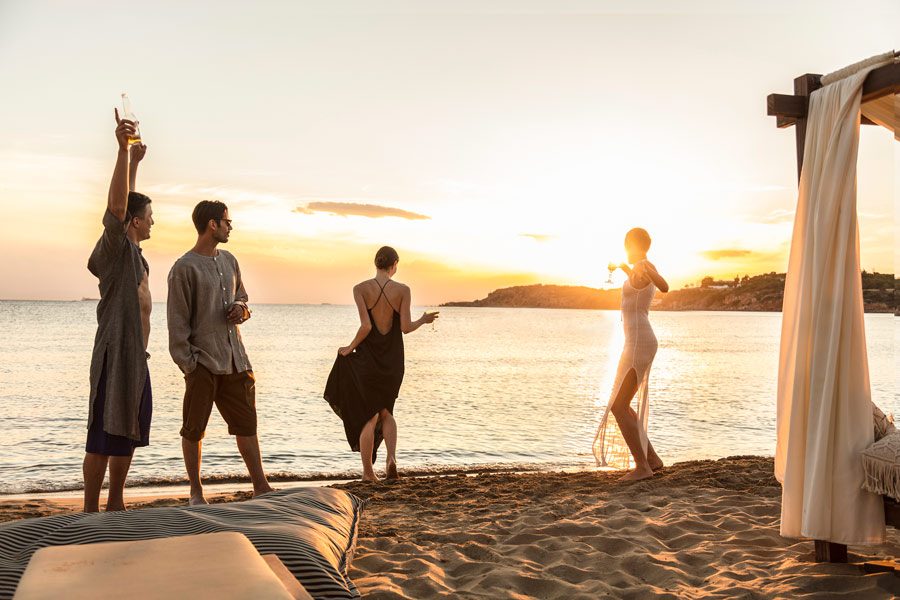 Make the sandy shores your party zone. Celebrate at the beach – whatever the occasion – from birthday parties to team building activities, product launches, corporate events and art exhibitions – this is an extraordinary setting for an unforgettable event. Booking your private cabana is highly recommended!
Matsuhisa Athens, for a sublime experience
Located within the grounds of Four Seasons Astir Palace with an enviable view of the Saronic Gulf is Matsuhisa Athens, that has brought the quiet power of Japanese culture and the charm of fusion philosophy to the gastronomic map of Athens. Nobu fans hooked on the influential chef's own brand of high-citrus, Peruvian-influenced fusion food can expect to tuck into favourites like the signature Black Cod den miso: a cut of fish from the tail marinated in miso for three days then seared to give the outside a sweet stickiness while maintaining the rich softness of the flaky flesh.
Executive Chef Anthony Vratsanos and Head Chef Loris di Santo craft a special Omakase menu, so expect to savour sublime dishes such as the perfect balanced Yellowtail jalapeno, Chilean sea bass with tosazu truffle and Squid pasta with quail egg. The new infinity bar at the restaurant's outdoor area, UMI (Japanese for 'sea'), is the very first bar with the Nobu Matsuhisa signature. International mixologists join Bar Manager Haris Georgopoulos in bringing their alchemist expertise here. Join Nobu-san on his annual pilgrimage to Greece at the Nobu Food Festival as he treats diners to recipes with a Greek twist later this summer.
---