Athens' bold new electronic scene and the best bars to enjoy it from!
Athens' underground music scene, fuelled by crisis and creativity, has lent it a unique sound, making it a top contender for the world techno capital spot, Maya Iliades argues. The indoor bar scene might be new to the city but the bars and clubs that have been instrumental in honing local experimental talent to keep that singularly edgy, rebellion-streaked Greek sound alive are many. Here is a list of 15 +bars to get your electronic and techno fix in Athens!
These techno bars might have literally gone underground now but Athens is a thriving powerhouse of techno, regularly drawing in some of the biggest names in the scene while also nurturing some of the newest talents.
If a night of raving to relentless, thudding grooves in a dimly lit room represents your idea of a banging night out, we've got the venues you need to have on your radar. Whether it's a marathon of entrancing minimal or shedload of earsplitting industrial you're after, Athens' techno scene has got it all.
Tranzistor
Tranzistor in Psyrri is a an essential fixture of Athens' clubbing scene. Set within a century old building, grand and gritty in equal parts, the atmosphere is casual and laid back. Kites hanging off the ceiling provide the ideal backdrop for some mind-bending techno. It has a versatile roster of DJs and artists,  serves lunch, dinner, coffee, drinks, ( and even organic wine!) at student-friendly prices and hearty portions of food. What's not to like?
Protogenous 10, Psiri.  Tel: 210 3228658
Astron
Astron is exactly the kind of place you want to listen to techno in: dark, stripped back and immediate. Its the ideal place to get beneath the skin of techno's up-and-comers, as well as catching rare, personal sets from some of the scene's biggest names. The sound system is great, it's roomy yet intimate – guaranteed to keep the heads bobbing and feet shuffling until sunrise!
Taki 3, Athens
DYBBUK
Dybbuk has been an Athens clubbing institution drawing in a discerning, party-ready crowd for almost a decade. You can rely on it for a eclectic selection of sounds, throwing out everything from grime to house to electro, but it's the groove-laden techno that warrants it a place on our list. That, plus it's super convenient location, right next to Syntagma.
Stadiou 7, Athens
Steam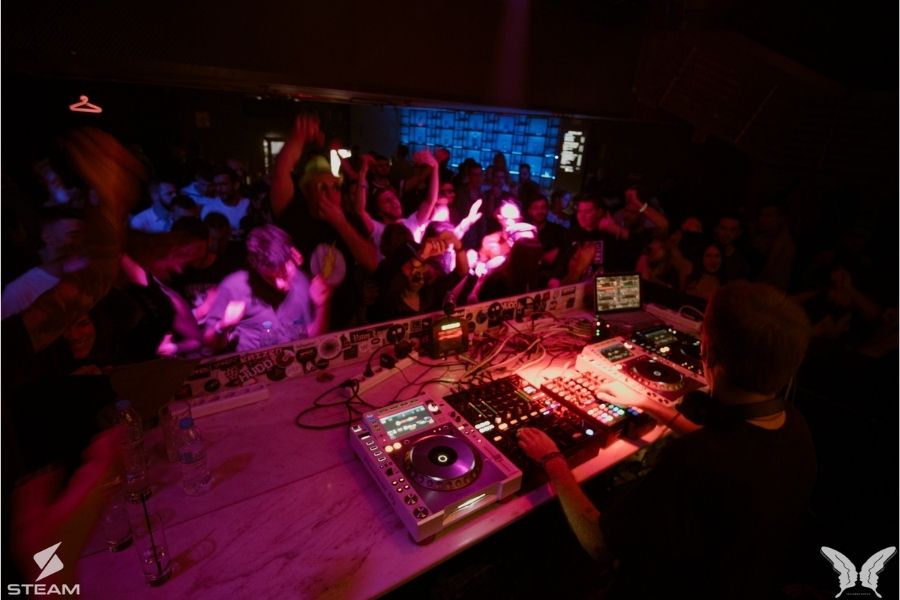 Nowhere does raves quite like Steam and it is one of Gazi's go-tos for the electronically inclined. With a tightly packed 350-strong capacity, multi-level space and a formidable soundsystem, it's the perfect location for some techno.
Eurimedontos 3, Gazi
Skullbar
Trust Exarcheia to not keep hours, rules or stick to a genre. Skullbar's bright neon signage lights up to read 'You are what you dance' and we couldn't agree more!  The music ranges from pumping techno to more drum and bass. Crowd-wise, expect both fresh-faced student revellers and wizened ravers!
13 Lambrou Katsoni, Exarcheia
01
01, with a capacity of 800 (unthinkable in our Covid times!), a sound system that delivers, a penchant for extended sets and an interesting roster of DJs, is the go-to place for young throbbing teens. There's a healthy dollop of techno but the focus here is on electronic music.
 Iraklidon 61, Athens, Greece
El Chapo (in Piraeus)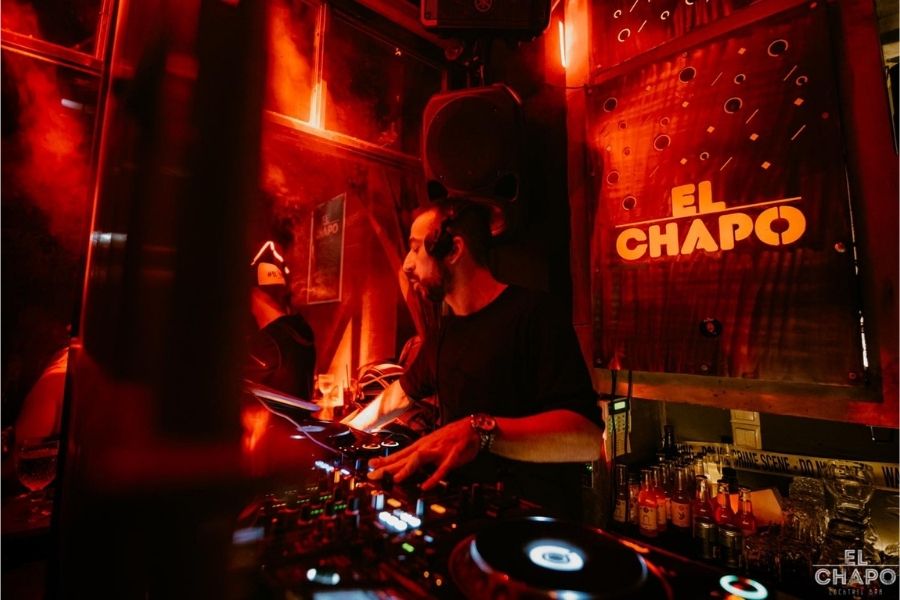 One of Piraeus' longest-running dance institutions, El Chapo hosts a variety of mainstream and underground events. Great cocktails, cheap prices and perfect for devotees of underground techno.
95 Filonos, Piraeus
Six dogs
This all day/all night bar-club-restaurant with a secret garden is undoubtedly an ever-reliable port of call for some ribcage-rattling techno. In fact, it's good for just about any type of electronic music you want to spend the night dancing to. The soundsystems are world-beating and it's easy to get lost within the humongous space for hours!
6-8 Avramiotou Street, Monastiraki
Bios
The joy of Bios is expecting the unexpected. Expect hipster parties and gigs that slip in from techno hankering to yoga classes or rooftop lounging. The bar on the first floor is called Tesla. Keep an eye out for renowned techno DJs that populate its schedule.
 Pireos 84, Athens
Romantso
By day, this is an unassuming back alley in Omonoia. The building itself and its tenants have been part of Athens' urban legend. But by night, Romantso turns into a pulsing enclave of dance music goodness. Entrance to most events is free, or a very affordable 5 euros. Romantso prides itself in drawing in some of the biggest names in the scene while also supporting new talent.
Anaxagora 3, Athens
It the place
This is hipster HQ. If you want to dance and you want to dance for a very long time, this is the place to go to. Techno fiends should head down on Friday nights to catch one of the marathons, where they'll find a diverse, welcoming crowd grooving to underground techno well into Saturday breakfast! Tickets are usually limited and entrance priced at around 3 euros (beer included!)
Crust
How clever to lure you in with the promise of pizza as you walk in and tempt you with some subterranean sounds on the level below. Crust hosts everything from open mic stand ups to techno and house. The line-up can get impressive so do your research!
13 Protogenous, Psirri
Bolivar (in the summer)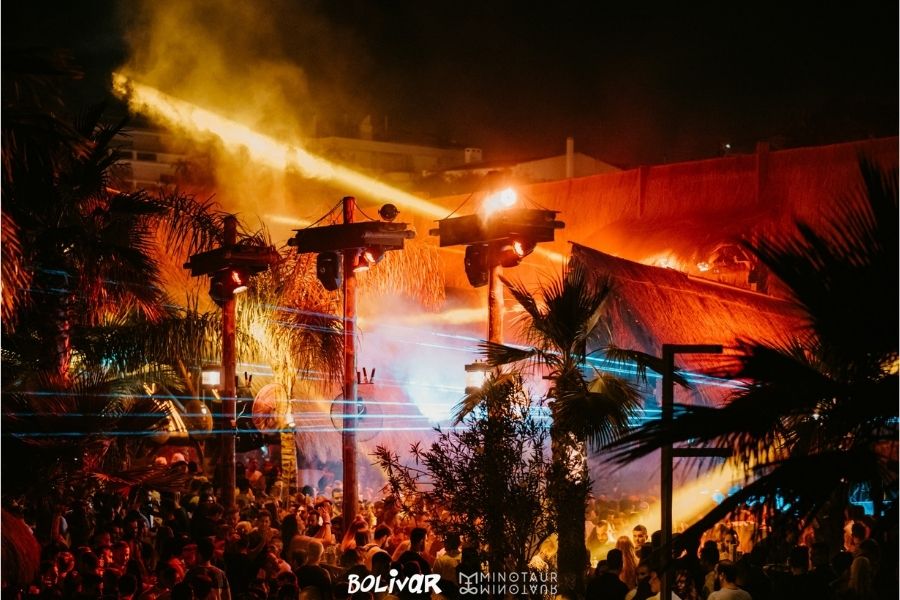 Looking to rave through the night to electro sounds? Then you've come to the right place. Bolivar regularly holds sets from international names and up-and-comers. Tropical electronic, unconventional synth and dubstep are just some of the sounds you can expect from a night at this unique summer destination: on the beach, in Athens, but with a distinct island feel. Affordable too!
Posidonos Avenue, Alimos (Akti tou Iliou)
Noah (on Thursdays)
What happens at Parko Eleftherias when the sun goes down? Noah comes into its own, bringing together the best music, sound and lighting to create an unforgettable experience for party animals, every Thursday. This urban jungle restaurant sees one of the greatest Athenian DJs, Manolaco grace its decks with deep house, electronic music.
Parko Eleftherias, Megaro Mousikis Metro Station
Temple
When it comes to memorable nights out, Temple is a true powerhouse in the clubbing scene. This black and white party spot offers a nearly unmatched level of music variety, from chart-topping artists through to big name DJs in house, techno and electronic beats, right in the heart of Athens.
Iakhou 17, Athens
Boiler
Put on your raving shoes, get the black t-shirt and black jeans out the wardrobe and head on down. Lose yourself in the music.
Vlachava 9, Athens
B-side
If clubs could humble brag, they'd sound like B-side. Named for the less important side of a vinyl record, B-Side is one of the best places for techno in Athens. A venue that entertains night owls with a range of alternative rock and house during the week before inviting DJs to play electro beats come the weekend.
Mavrokordatou 6, Athens, Greece
---