Alekos Fassianos, an artist whose fleeting figurative style captured the essence of Greece
Alekos Fassianos whose poetic approach to Greece's cultural heritage, so masterfully embodied in his instantly recognisable, faux-naif, colour-soaked paintings, has died at the age of 86. Fassianos' artistic appeal lies in the fact that his work makes one imagine a life with warm, southern sunshine, a carefree, leisurely pleasure, and the bliss of being satisfied with oneself – a painterly version of 'Zorba.'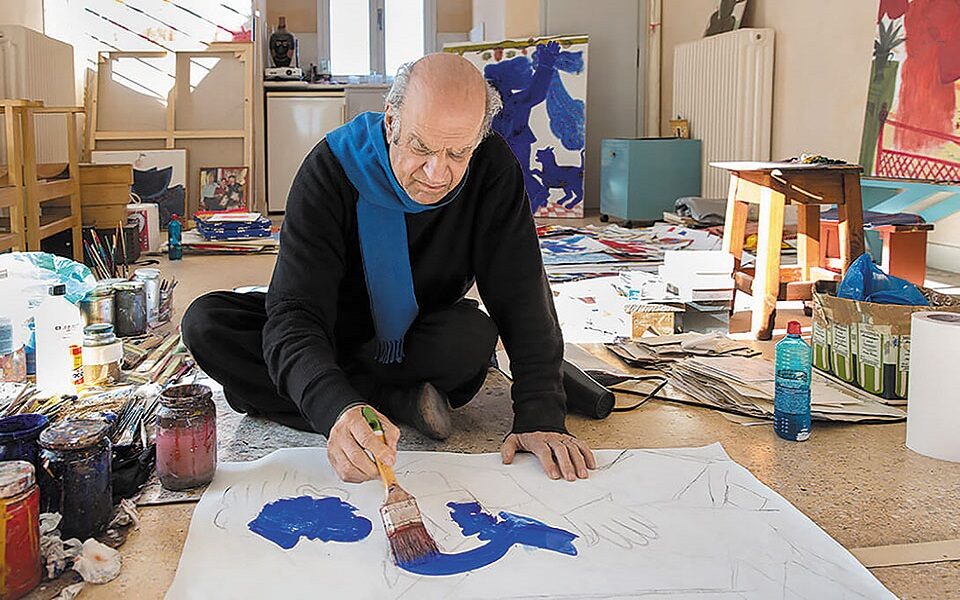 Characterized by their Hellenic motifs, Alekos Fassianos' paintings and prints served as symbols of Greek national identity in the years following World War II. Rather than emulating the European avant-garde, he looked to his Greek heritage as a source of artistic inspiration; his graphic, figurative style was inspired by ancient Greek vase painting as well as Byzantine and folk art traditions. Fassianos' flattened, faux-naïf figures—often depicted in profile—are at once contemporary and archetypal, portraying mythic characters in a Mediterranean palette of blue, ochre, and terracotta.
Fassianos' mythology was shaped by the Greek summer" as poet and art historian, E. Vakalo, once stated. More specifically, the artist displays the minor but characteristic moments of Greek summer: bees, melons, peaches, fish, steamers and everything else that reminds Greece, and in particular the Aegean; it is the time that he decides to spend his holidays on Kea, also known as Tzia, an island just a stone's throw away from Athens.
Fassianos himself has also acknowledged that the ethereal, charming and fleeting images of summer always run through his mind: "My art expresses my personal sense impression of the Greek land, where I lived and which I experienced deeply. And that's why I believe that the art of this land will reverberate around the world, not because it' s Greek but because the truth of this locality is unique and inimitable. And this is something of interest for the whole world."
His vernacular motifs, went beyond the obvious, and were often fortified with new meaning. As he noted,  referring to bees buzzing in the summer sky – that "while you travel far and wide, you must, like the bee, pick what you need to produce your own honey."
Alekos Fassianos was born in Athens in 1935. He studied violin at the Athens Conservatory and painting at the Athens School of Fine Arts under Yiannis Moralis. Shortly after his first solo show in Athens (A23 Gallery, 1960), he went to Paris on a French state scholarship and studied lithography at the Ecole des Beaux-Arts. He finally settled in the French capital, where he lived for 35 years, keeping, however, an equally close relationship with Greece.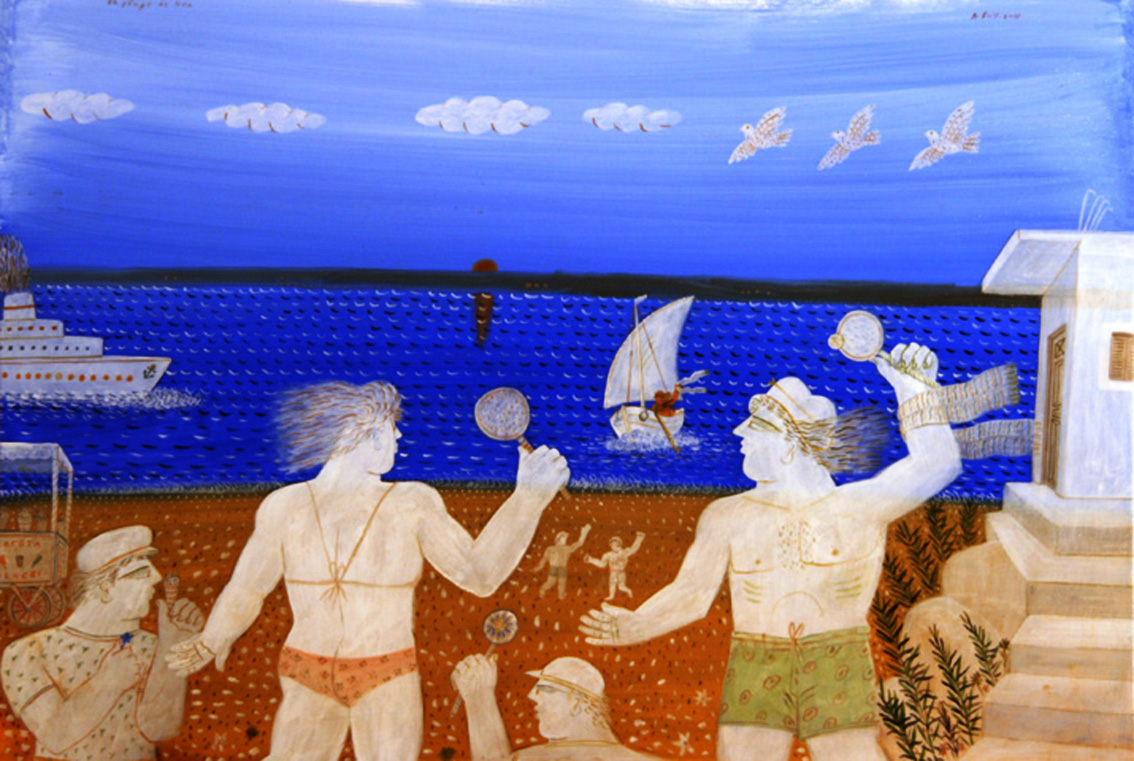 Unlike other Greek artists of his generation, Fassianos did not clearly embrace any of the European avant-garde movements of the time. He remained faithful to figurative painting and his Greek heritage, maintaining all along his respect for the lessons of the '30s Generation, his love for Greek art (ancient, byzantine, folk) and his strong ties with the true Greek environment experience. In fact, Fassianos' special -trademark- artistic style was formed in the early 1960s. The three main themes that have remained unchanged during its course are man, nature and the environment.
Art critic H. Kambouridis notes that "what makes Fassianos' work so fascinating is that he confronts us with a child's innocence and frankness, despite his well-informed background and experience. His creativity, innocence and childhood joy with which he made his first toys or sketches on the sand or a piece of paper, have remained intact; from this reservoir he draws energy and remains ever charming to our eyes and soul".
Fassianos has presented his work in more than 70 solo exhibitions in Greece and abroad, in cities such as Paris, Munich, Hamburg, Milan, Zurich, Stockholm, London and Tokyo. His last retrospective exhibition Fassianos: Mythologies of Everyday Life was held at the Athens National Art Gallery in 2004. He has also participated in several high-end international art fairs, including the Sao Paulo Biennial (1971), the Venice Biennial (1972), the Europalia Arts Festival in Brussels (1982), and the Biennial of European Graphic Art in Baden-Baden (1985). Last but not least – in recognition of his significant contribution to the development of the arts both in Greece and France – he has been awarded by the Athens Academy, and honored – among others- with the Legion of Honour medal by the French government.
---