7 awesome outdoor exercise options to get you moving this September!
There are so many superb outdoor fitness options on offer across the capital these days – from free Yoga and Pilates sessions to well-equipped workout stations – that you need never step foot inside a stuffy gym again (at least until January)! Take advantage of September's perfect conditions to start down a rejuvenating new wellness path. To get the (fitness) ball rolling, we propose some of Athens' most inspiring open-air options for working up a sweat … plus we share our best tips on banishing that post-holiday stupor and exercising again after a long break. No excuses!
Outdoor training by Holmes Place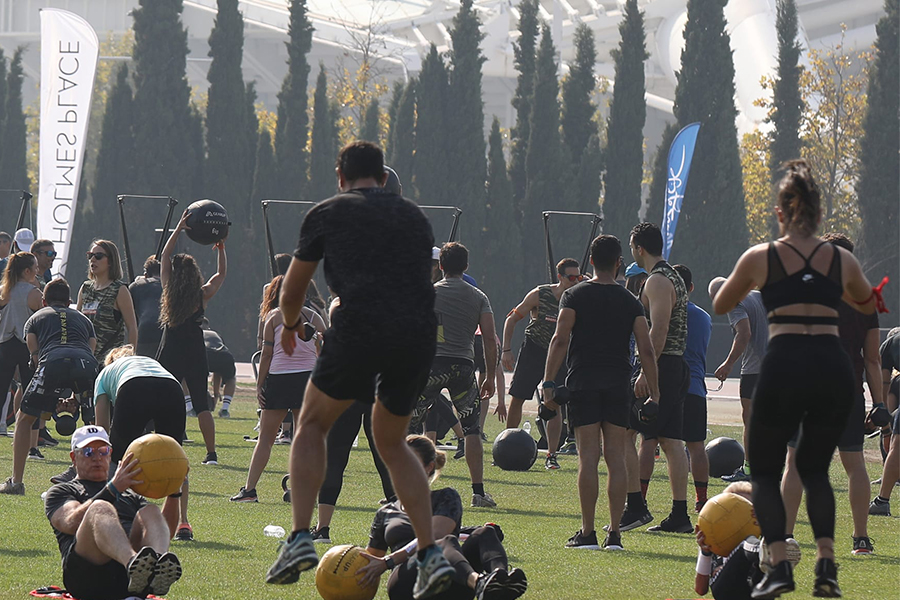 Holmes Place has listened to our needs and created new fitness programmes that match our reality. We now have more options for safe and effective exercising outdoors!
Their new outdoor training space is located at the K1 Court of the Tennis Center at Maroussi, in a large, specially designed area of ​​2,000 m2 that includes an Open Gym. It offers a wide range of workouts, including:
Cross-Training
Group Cycling
TRX
Track & Field
X-Fit
Yoga and others
What to bring
Outdoor sportswear, including a hat, etc
Water or sports drink
HP membership card
ID or passport to present at the OAKA reception
A completed COVID-19 form (a specific athlete registration form for the safe return to a sports activity available for printing HERE or directly at the OAKA Reception)
Outdoor Fitness at Stavros Niarchos Foundation Cultural Centre (SNFCC)
SNFCC has truly earned itself a gold star for being an exemplary community citizen. Since opening in 2017, the state-of-the-art cultural hub has been looking out for our body, mind and soul with its roll-out of free civic-minded activities and events.
Throughout September, you can choose from the following morning or evening exercise options in one of their fantastic outdoor spaces (and if you've never dabbled with holistic practices such as Yoga or Pilates, then it's a great opportunity to test them out, whatever your fitness level):-
Yoga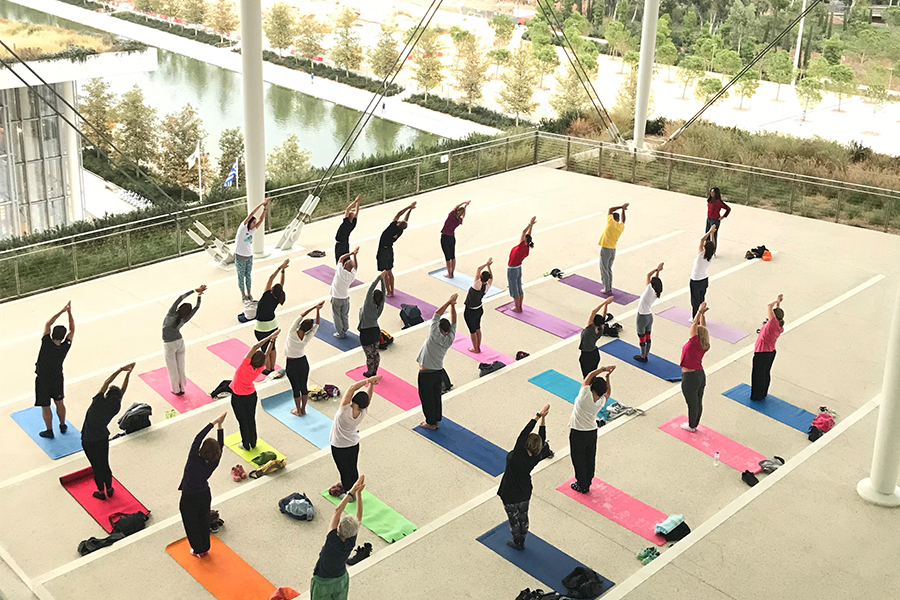 Yoga helps coordinate physical movement and mental processes through gentle practice involving breathing, asana postures, and relaxation. Participants gain peace of mind, self-control and concentration, which helps develop positive thinking. To attend, wear comfortable clothing and bring your yoga mat, as well as a small blanket to cover up during relaxation.
Mat Pilates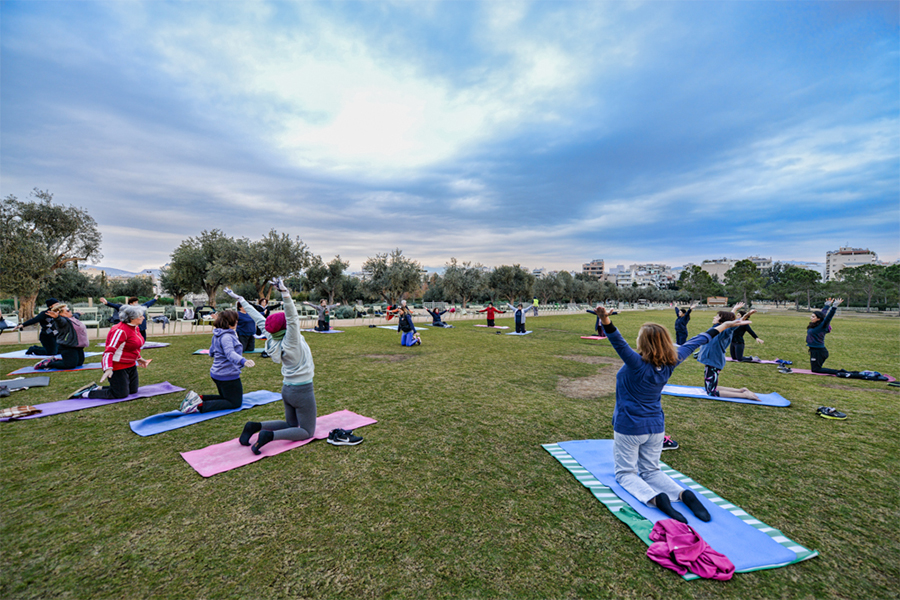 Improve your flexibility, strength, posture, elasticity and balance at these energizing outdoor Pilates sessions that are suitable for everyone of all ages and levels. Practice takes place on a mat, using props such as rings, resistance bands and balls. Like Yoga, Pilates exercises also help to improve mood, reduce fatigue symptoms and eliminate stress. To attend, wear comfortable clothing and bring your mat.
Fitness & Wellness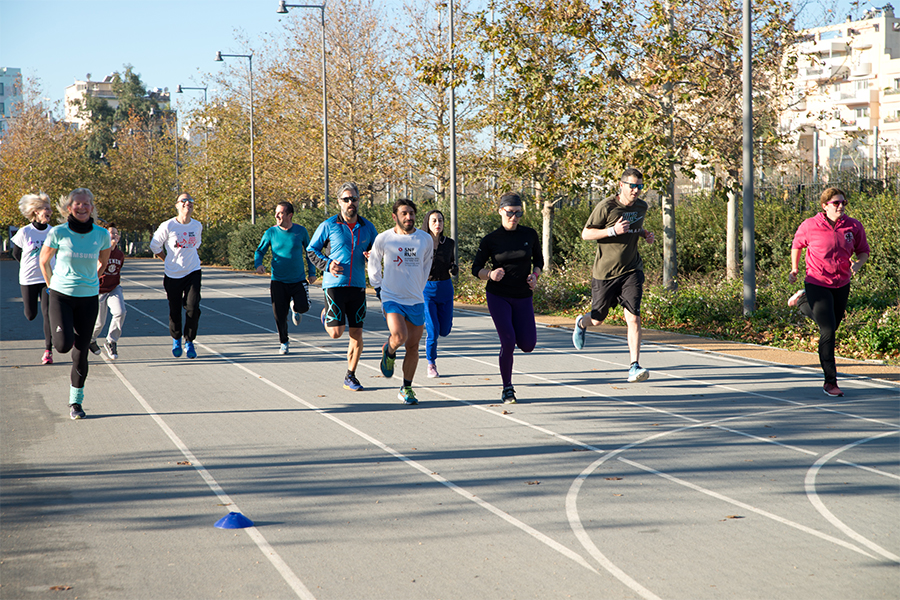 For more cardio-minded types, you can access experienced fitness instructors each morning and evening, every day at the outdoor gym. They offer advice and training recommendations and provide a personal fitness evaluation or sign up for a personalized program including aerobic exercise, muscle enhancement, flexibility exercises and rehabilitation.
SNFCC, Syggrou Ave 364, Kallithea. Tel: +30.216.809.1000, Find out more at www.snfcc.org 
Tuesday & Thursday at 18.30-20.00
Saturday at 08.30-10.00
Somayoga Athens at National Gardens, Acropolis and others
Join a private outdoor Hatha Yoga and meditation session in some of the most magical spots of Athens and Greece; the Athens National Gardens; under the Acropolis; at the Temple of Poseidon in Sounion, or even floating on a boat somewhere! It can't get better than this. What a fantastic way to combine your morning Yoga routine and the rest of your day.
Sup Yoga
Paddleboard Yoga, or SUP Yoga, is the practice of modern Yoga as exercise, and sometimes specific transitions (vinyasas) between postures (asanas) – while standing up on a paddle-board! Check it out in Vouliagmeni with True Life Sports! Combine an excursion with an alternative activity of new experiences, new sunsets, always for beginners and semi-learners! Your excursion to visit us from Attica is only 20 minutes away! Upon your arrival in our spot, a blue-green clear canvas is waiting for you, ready to embrace all beginners and semi-learners on the supsurfs of our company! The hatha yoga class is adapted through the patent system of truelifesports, in order to give you a complete experience that you had never imagined before!
Next courses: 15 -17 September at 7 pm
Yogilates by the Sea
Fan of Yoga? Fan of Pilates? Then join Petty Lala in Varkiza for Yogilates by the Sea! The feeling of stretching under a tree on the grass a few steps away from the sea is unbelievably good. The benefits to our health for doing a workout outdoors are doubled as we breathe in fresh oxygen mixed with iodine creating zen for our nervous system.
Varkiza beach near the swing park
Every Monday and Wednesday at 12 pm & Saturday at 10 am
Find out more by contacting Petty Lala on +30.694.5 58.9897
Outdoor DIY Gyms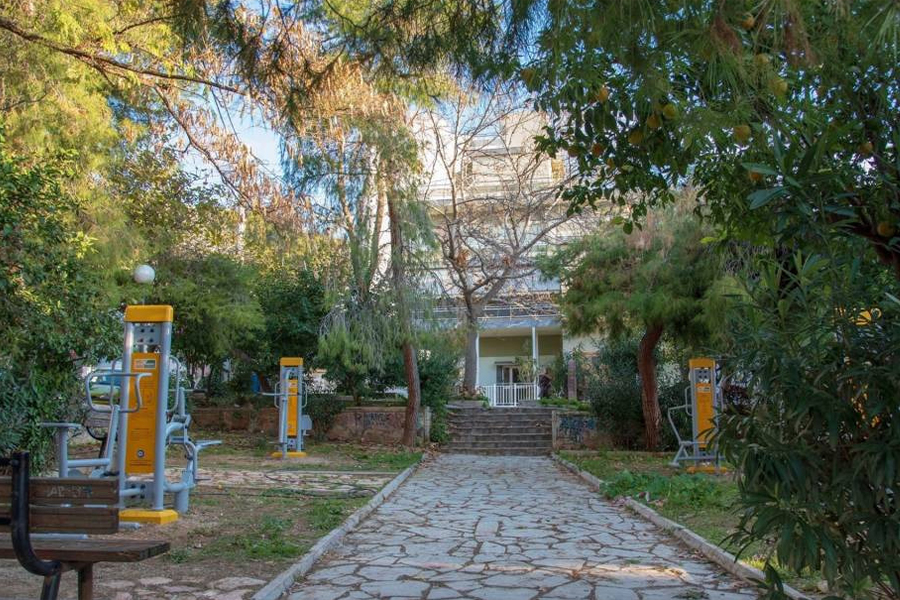 Brightly-coloured metal formations have become a welcome addition to Athens' urban landscape over the last few years. Outdoor exercise stations have sprouted in municipalities across the city, revitalizing many previously rundown parks and civic spaces.
You can now find outdoor gyms everywhere from seaside promenades to next door to children's play parks and even cemeteries! In fact, there are so many places in Greece now where you can benefit from a spontaneous or planned free workout, that there's even a website dedicated to them: http://www.gympark.gr
It helps if you're a self-motivated type and at times, you might have to give the hairy eyeball to the groups of teens who love larking around on the equipment. However, these outdoor stations are great for mobilizing those who don't feel comfortable in the fishbowl environment of an image-conscious workout class.
Street Workout Athens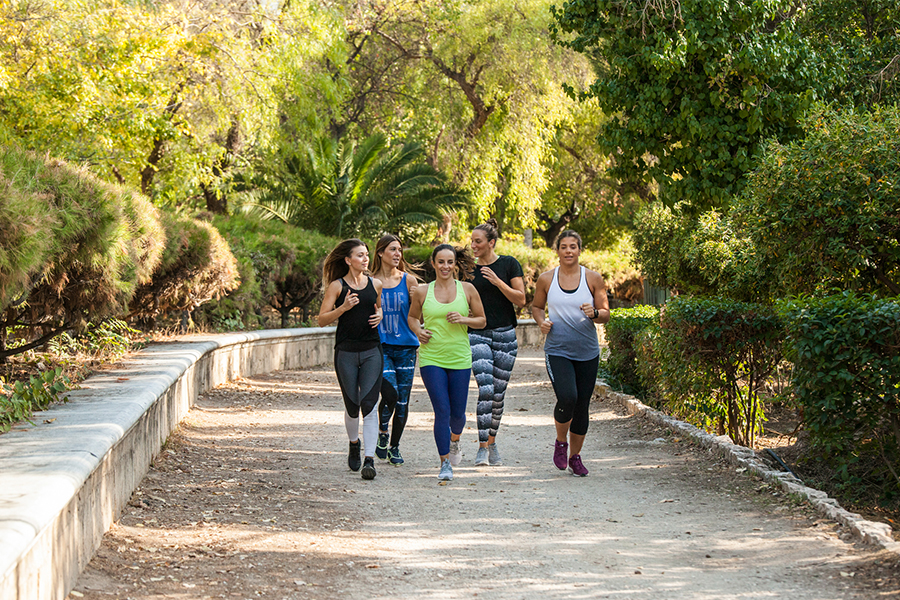 If it's motivation you lack, the dynamic duo behind Street Workout, Aggeliki and Tonia, have created a lively community of open-air exercise lovers, who participate in regular outdoor workouts run by qualified trainers. They'll keep you on your toes and stop you from getting bored with your routine (they also offer life-coaching along with a whole raft of more tailored physical activities, motivational tournaments and games).
For €10, you can join in one of their 60-minute small-group workouts (for groups of up to 12) at either of their two Street Workout bases:-
Downtown – at the Fokianos Sports Park, on Leoforos Vasilissis Olgas, (opposite the Panathenaic Stadium), which is equipped with facilities such as weightlifting racks, TRX handles, push-up bars, dip stations, medicine balls, BOSU, heavy ropes, a Pilates studio (Reformer, Wunda chair) in a peaceful setting surrounded by trees and greenery.
South – at the Sports Center, Vouliagmeni, on Αgiou Georgiou 2. Training sessions in a nature-oriented environment usually begin at 9 am.
---