6 Curated Concept Hubs in Athens
Sudha Nair-Iliades rounds up 6 addresses as creative and quirky as the city itself, stocking fashionforward, wallet-friendly, covetable objets d'art and locally designed fashion. A crossover between art galleries, stylish gift shops and Instagrammable cafes, the one common thread that connects these charming but seemingly unconnected destinations is their unmistakeably Athenian character.
Refashioning Greek Heritage: Benaki Museum Pavilion
WHY: Stumped for an anniversary gift in the southern suburbs on a Sunday afternoon? The Benaki Museum Pavilion, an outlet of the central Athens museum at the Four Seasons Astir, is your go-to place. A culture-filled contemporary concept store, it stocks carefully curated items that reflect Greece's ancient heritage and modern design sensibilities: take your pick of beautiful designer bowls in titanium, marble homeware, intricately hand-crafted jewellery, high-quality leather accessories and Greek-inspired gifts suited for all budgets and tastes. The store itself is an architectural marvel, worth ogling at!
WHAT INSIDER LOVES: Christina Skouloudi's light and summery plateware that add a pop of colour to a summer table, jewellery designer Elena Votsi's conversation pieces, Acrotect's clever designs rooted in Greek elements, Aluminati's feather-weight, colour-soaked wall fixtures to liven up a holiday home.
WHERE: Four Seasons Astir, Apollonos 40, Vouliagmeni. Tel: +30. 210.367.1034, Website
For jewellery with attitude: Eleni Marneri Galerie
WHY: Just off the pedestrianized Dionysiou Areopagitou street and within walking distance of the Acropolis Museum, El. Marneri Galerie is an immaculately beautiful space with exquisite pieces of jewellery crafted by artists. For over two decades, the gallery has been showcasing and promoting contemporary and art jewelry, and in fact is the only one of its kind in the country.
WHAT INSIDER LOVES: Intricate hand laced jewellery made with up cycled 70's silk threads and semiprecious stones crafted by Clara Poulantza of Contessina Atelier, Sculptural Earrings by Christina Kellidi, Geodis candles and diffusers, Maria Santa Nobella grooming products
WHERE: Lebessi & Ponirou St. 5-7 Makriyanni. Tel: +30.210.861.9488, Website
Travel tales: Flâneur Souvenirs and Supplies
WHY: A trip to Paris is stalled, and two wanderlusts Katerina and Yannis Chytiroglou convert their frustration into what they'd wanted to do in Paris – flâner, that untranslatable French word to just float about aimlessly absorbing the essence of the city. Flâneur is all that and more. So much more than souvenirs, it is a clever collection of all that is classy, creative and on-trend: from travel accessories to doodle books, back packs and hand-crafted soaps to beautifully illustrated posters and tees to take back home.
WHAT INSIDER LOVES: Silk-screen printed illustrations by Noni Nezi, Dreyk The Pirate, Tind!, Lila Ruby King, candle holders by ea ceramic studio in Crete, travel books, Seayousoon beach towels!
WHERE: Flessa 1 and Adrianou 110, Plaka. Tel: +30.210.322.6900, Insta: flaneur_souvenirs_supplies
For bookish delights: Lexikopoleio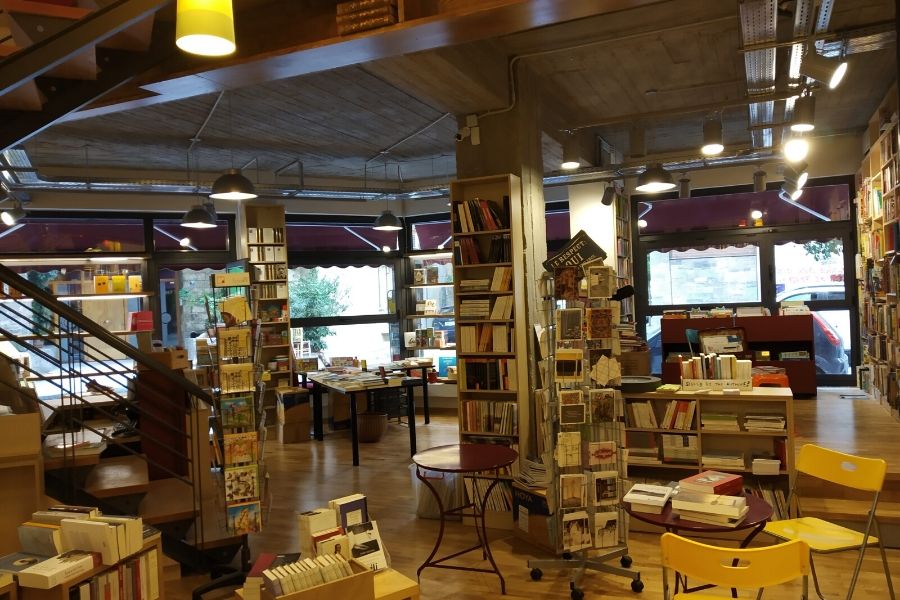 WHY: A place of discovery, escape and joy in leafy Pangrati. Walking into Lexikopoleio feels like coming home, because there's an inexplicable warmth and safety it fosters. The musky smell of the books, the vibrant colours of the covers, the texture of the pages and spine – that in itself is a draw -but when it is peopled by staff who love literature, urging you to discover a new author or revisit an old classic, it's also a sanctuary that simultaneously soothes and stimulates.
WHAT INSIDER LOVES: Interspersed among the latest bestsellers are greeting cards, literary gifts, and word games – in English, French, Greek and more! There is a small bowl of candy by the register and no one seems to care if you take more than one. Stay on for a coffee, browse for hours!
WHERE: Stasinou 13, Pangrati. Tel: +30.210.723.1201, Website
Firing up Creativity: Sealed Earth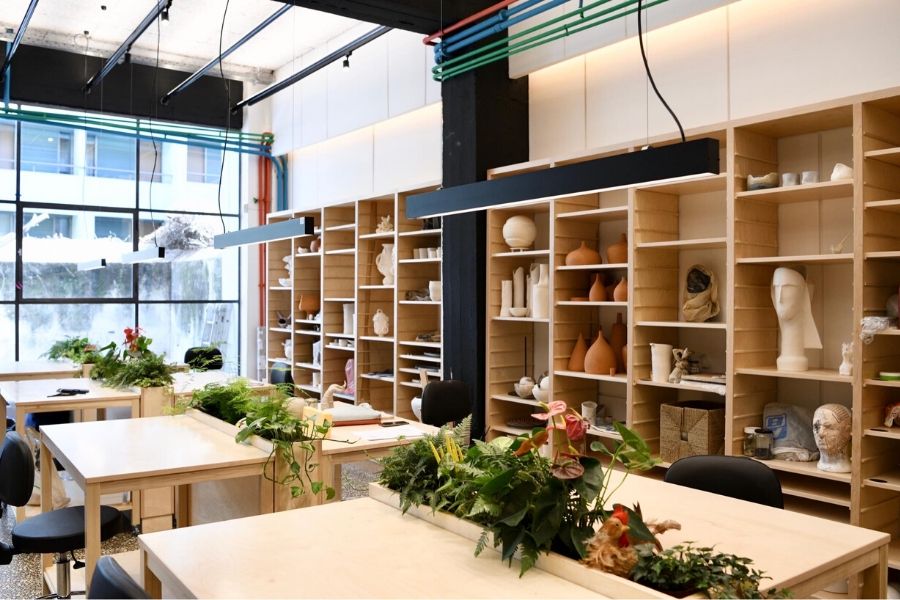 WHY: The enormously talented Loukia launched Sealed Earth earlier this year, in an area where sculptures are anchored into its very landscape, at the foothills of the Acropolis. A creative hub for ceramicists, from beginners to professional creators, this is where you want to spend your afternoons, rolling up your sleeves and getting dirty, while honing your pottery skills in the bargain! With the added bonus of being able buying what you see.
WHAT INSIDER LOVES: Almost as quickly as you step in through its doors, you sense an indescribable, palpable sense of community. Its open-air plan with planters everywhere (usually created by the student-potters themselves), vaulted ceilings with hand-crafted light fixtures, and its sun-drenched courtyard all make Sealed Earth a retreat to learn, create, admire and buy.
WHERE: Erechthiou street 22, Athens. Tel: +30.210.965.5596, Website
An urban oasis: Minu Concept Store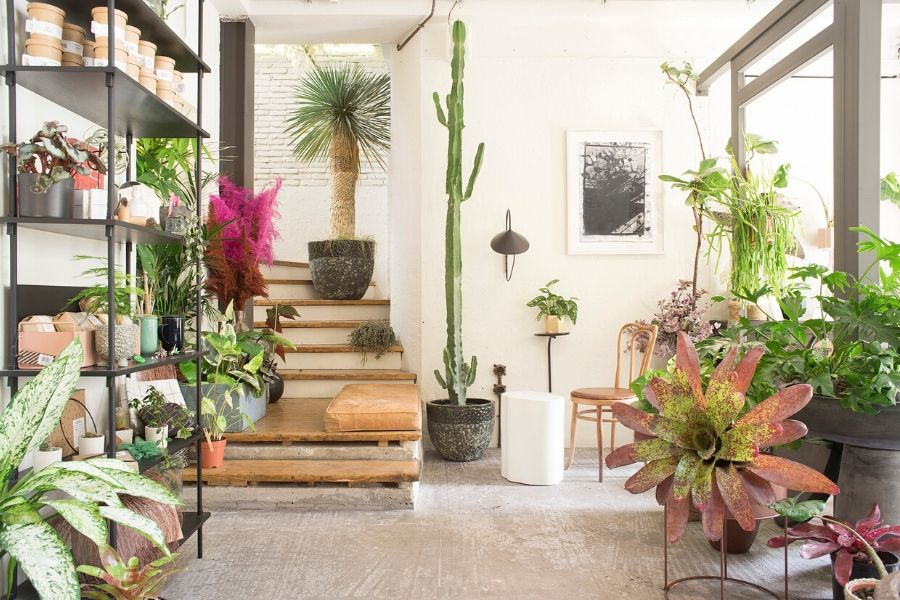 WHY: The over-riding colour here is green. With its sculptural cacti and evergreens bursting from every ceiling and corner, this 'urban jungle' is an adventure you want to embark on. There's Scandi-furniture that you can perch on (but also buy), stunning lighting, bathroom fixtures that will make you want to re-design your home, plants you'll want to take back to recreate your own little oasis. George Syrmas, whose brain-child Minu is, describes it as 'miniature cosmos of curiosities.' Come September, he plans to make room for an art gallery on the first floor and an open kitchen serving light meals.
WHAT INSIDER LOVES: The setting is so inviting – even if you're not in the mood for shopping (highly unlikely you'll walk out of here empty-handed), there's coffee all day, nutrient-laden pastries (ok, we're lying, but they're worth the calories!) and wine round the clock in their secret garden. Our fave picks include: Pikaplant terraria, Pebble sofa from Bolia, transparent Moebe frames, Normann tea pots and of course, every single plant in there (starting from 10 euros upto 2,200 euros!). Open daily from Mondays to Wednesdays until 9pm and from Thursdays to Sundays until 11pm, Minu promises to be a fashion-furniture-food experience you can't get enough of.
WHERE: Sarri 50, Psyrri. Tel: +30 210.323 2022, Instagram:
---