Gaitis exhibition at Theoharikis extended to October 2023
What: Few have captured the alienation of modern drudgery as poignantly as Yannis Gaïtis. His signature motif, the Little Man, a stylized and archetypal male figure in a jacket, tie, and hat is one of the most recognizable ideograms of modern Greek art. Using just black, white, and primary colors, he humorously critiqued the impacts of automation and global capitalism on society – and alluded cleverly to the censorship of public debate by the military dictatorship – with his caricature-like men in suits. The B & M Theocharakis Foundation celebrates the 100th anniversary of Yannis Gaitis' birth with a retrospective of the artist's works, with more than a hundred representative works generously lent to the museum by his daughter Loretta Gaitis, galleries, foundations and private collections.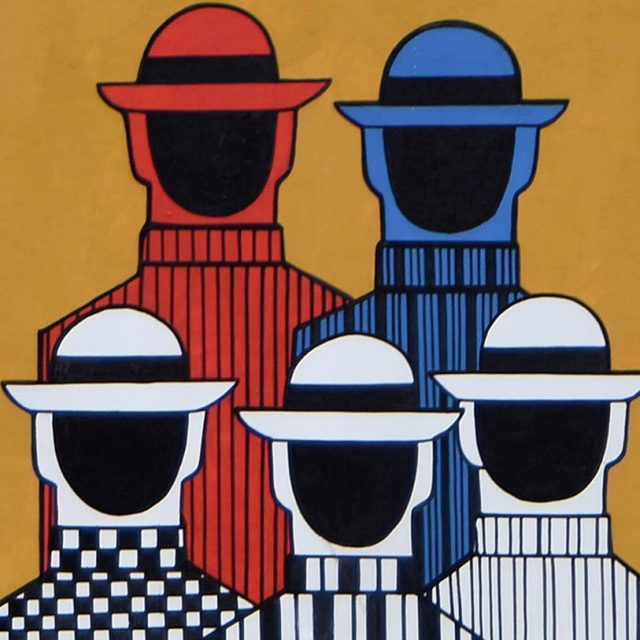 The exhibition includes representative and valuable artworks by Yannis Gaitis that cover the course of his artistic journey, from his famous Self-Portrait (1944) to portraits of his family and his wife, the sculptor Gabriella Simossi, with whom he worked in Paris. Simossi's artworks – composed using plaster, polyester and brass – are also on view alongside her enigmatic collages, in an open dialogue with Gaitis's work.
Gaitis's work is flooded with hundreds of "protagonists", who we sometimes encounter on the surface of a canvas and sometimes they come out of it. You get the feeling that he wishes to open a dialogue with his own interpretation of pop art and his own answers to the great questions of our time. His Little Little Man: the man without an identity and a wide-brimmed hat and briefcase. Expressionless and stereotypical figures, always lined up in groups, usually in plaid or striped suits, participate in our social life.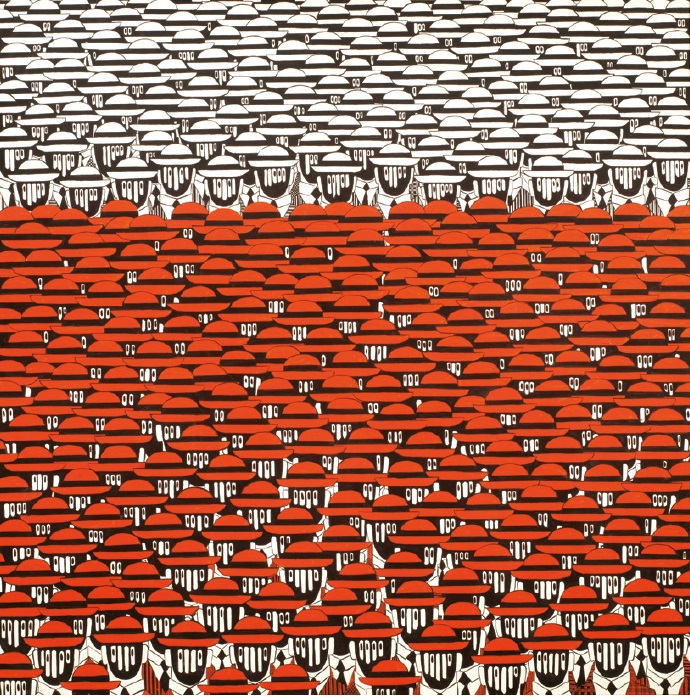 Gaitis placed these Little Men outside, on the streets, during his 1975 exhibition at the City Hall of Kokkinia, where his stylised figures interacted with civilians in front of the City Hall – a demonstration of the quiet power of the common man, a particularly poignant message when simple freedoms were at risk under the junta.
When: Until October 31, 2023, 10 am to 6 pm
Where: B&M Theocharakis Foundation for the Fine Arts and Music, Vas. Sofias 9 & Merlin 1,
+ 30 210 361 1206, thf.gr
---