Woeful, Wonderful, Pandemic Stories
Anna Roins culls two personal pandemic stories – each story radically different, peppered with the highs and lows of this transformative experience, to compile a portrait of a society in flux.
LAURA SLAUGHTER (34), Medical Aesthetician, Kifissia
Laura Slaughter is a full-time mum to her two-year-old toddler, Siena and while she's only been married a few years, she has spent much time alone. Laura's husband, 6 foot 8, professional basketballer and Euro League champion, is Marcus Slaughter (35) of AEK Athens. They arrived in Athens in August 2019, and he's either been training all day or playing all day since that time; coming home late at night and travelling every other week. Marcus's team won the Greek Basketball Cup in Crete in March of this year and were all set to shoot up to the Champions League like a comet.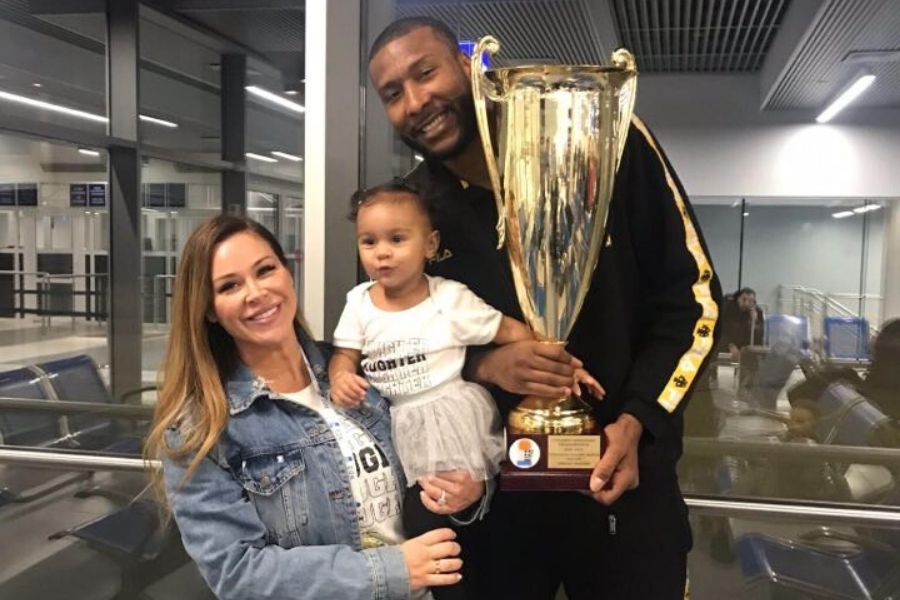 That is until the season came to an abrupt Covid19 end on Friday, 13 March 2020.
They immediately tried to book their flights back to Los Angeles, but this proved to be difficult, and even the US embassy could do little to assist. They eventually found a flight departing 5 May, but it was inexplicably cancelled. They booked with another airline for 20 May. Also cancelled. 28 May. Cancelled. One last attempt is 15 June. Laura and Marcus are taking the 'wait and see' approach.
"If this flight is also cancelled, we'll just stay here and enjoy our Greek summer," Laura laughs. Not such a bad option. "We love it here anyway. But this whole process has been stressful, to say the least." Laura worries she won't see her family before the new season starts. On the other hand, Greece has proven to be a safe haven against Covid19.
Being 'stuck' in Greece has given them something precious: Time. Marcus has had to stay home. They've witnessed a tender unfurling of a daddy and daughter relationship and other than being able to jump a metre high, Marcus has developed some pretty impressive new skill; like cutting out yellow paper flowers, or putting on a load of washing, or being in charge of lunch.
"Having Marcus at home has been just so wonderful," Laura beams. "And it gives me a breather. However, there was a period of adjustment. Now he can do supermarket shopping in record time…in the first week he'd wonder aimlessly for hours trying to find stuff off our shopping list…" she laughs.
They've also had some lifechanging family adventures in the heart-stopping countryside of Greece. Marcus, a city boy, has for the first time enjoyed hiking up mountains, discovering hidden beaches, taking long walks, and even once, rescuing a stray kitten.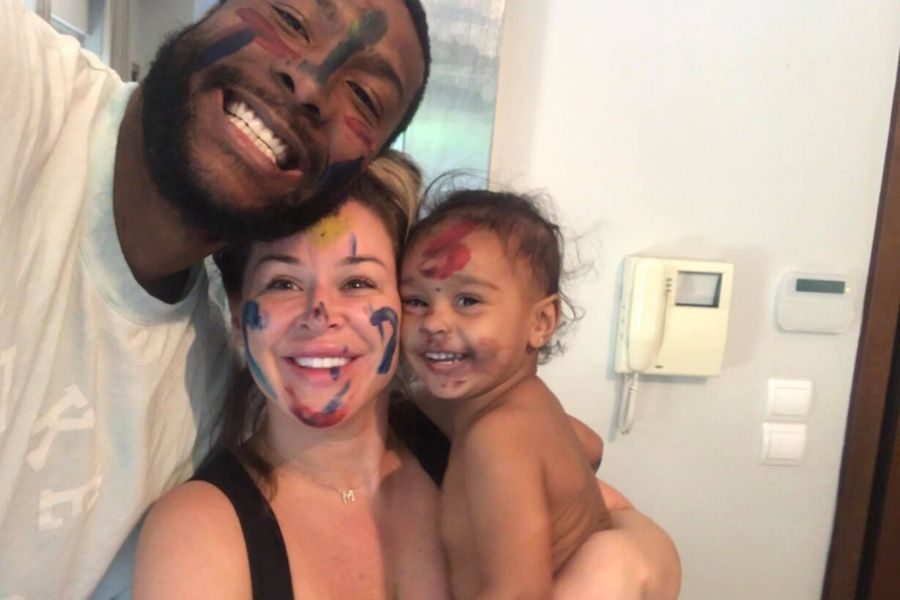 "We booked a house on a beach in Lavrio last week, which was just amazing! We'd love to go to Crete or even Evia, next." More than anything, Laura's so grateful to have Marcus home. Her family's bond has deepened under the shadow and isolation of the pandemic. While they hope their 15 June flights won't be cancelled again, on the other hand, it won't be such a bad thing.
DANAI (41), Sales & Corporate Communications Executive, Athens
Danai is an American-educated Greek national who speaks three languages. One random Sunday in 2008, a stray mixed-breed puppy walked into Danai's life out of nowhere. She scooped the pup up, named her 'Lara' and they've been inseparable ever since.
It was Lara who witnessed Danai's heartbreaks and delights over the years. It was also Lara who witnessed Danai's dance of joy in 2010 when she landed the role of a lifetime in Vienna. They packed up their Athenian lives, grabbed their passports' and moved to Austria. They were charmed by their new lifestyle after having been in crisis-ravaged Greece. Danai took Lara everywhere with her. Later they moved to France where Danai advanced her career in other fields. Everything was going well for Danai and Lara. That is until Lara became ill.
"It was hard to know how to navigate a foreign veterinary system, on top of the anguish I felt for Lara," Danai says.
Danai decided it would be best to take Lara back home to Greece. They returned to Athens last October 2019, and after Lara was given a once over by a local vet, Danai marvelled at how much the vibrant city had changed over the years and was eager to reacquaint herself with the Greek corporate culture.
By February, Danai was offered a prestigious position at a PR agency in Athens. Once again, Lara was there to witness Danai's dance of joy. However, a few days later Lara collapsed.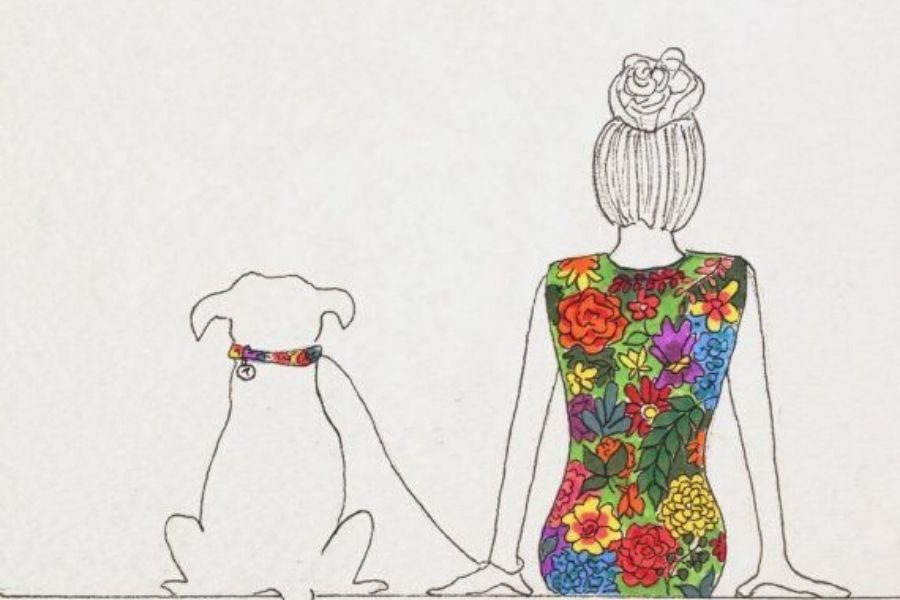 Danai, distraught, raced Lara to a 24-hour emergency vet hospital. It was suspected that she suffered from internal bleeding and chronic liver disease. Danai fretted that Lara was not going to make it through the night.
Danai started her new job the next day. She was apprehensive and upset but being the professional that she was, plastered a smile on her face and tried to shine in the new role. She worked for ten days straight, without ever betraying her turmoil about
Lara being in the hospital.
On Friday, 13 March, Danai's new employer announced that all staff had to work from home. Lockdown had begun. Two weeks later, he suspended everyone's contracts.
Danai felt her world unravel before her eyes. To make matters worse, she was prohibited from visiting Lara in the hospital because of the quarantine protocols. Still, she was grateful to be in Greece, where the people were taking isolation seriously.
When the vet called to advise Lara's health was not improving, Danai fled to the hospital and demanded that Lara be released into her care. She took Lara home to make her feel more comfortable and slept by her side. Early May, Danai's employer made her redundant. The only soul that knew of Danai's crushing news was Lara, who looked up at her with sorrowful eyes.
There are hundreds of thousands of victims of Covid19, and while Danai's struggle is real to her, she can appreciate she is one of the lucky ones. However, she won't give up and hopes to find a new position soon. If anything, Danai has noticed the kindness of strangers in the Greek and expat community. In the meantime, Lara's health turned a corner and is grateful she is in recovery. An infusion of hope.
---