Where to get into the Carnival Spirit this week in Athens
It's that time of the year again – to don your masks (and we don't mean of the Corona variety), let your hair down and get into the Dionysian spirit! The City of Athens knows how to throw a party and you are all invited!
Get ready for a week full of parades, music, colourful costumes and dancing in the streets. The City of Athens has planned fun-filled festive agenda with much revelry, dancing and festive cheer around every neighbourhood – and what's more, its free! Take your children along for face-painting sessions and kite-flying, follow the sounds of Brazilian drummers or sway to bluesy music at Monastiraki –or just join the street party outfitted in your best carnival gear.
There are so many events lined up that its impossible to list them all. But here's a brief look at some of the highlights. Please visit cityofathens.gr  for a detailed Carnival programme.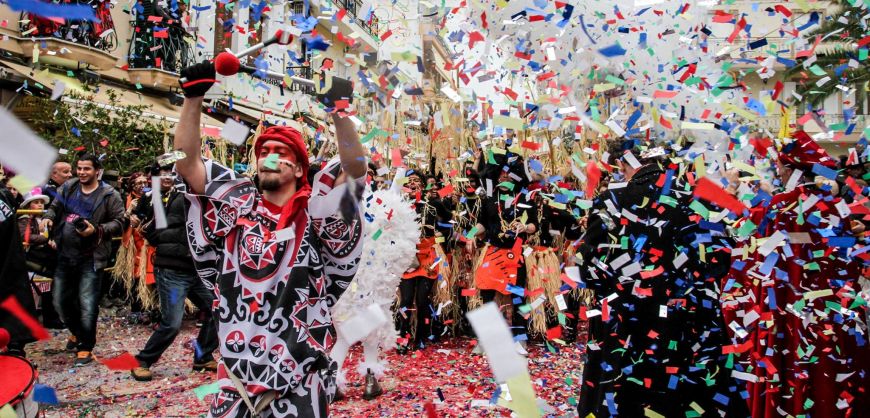 Thursday 23/02:
11.30 am: Carnival Rhythms by the City of Athens Philharmonic Orchestra at Syntagma Square
Friday 24/02:
11.30 am:  The City of Athens Philharmonic Orchestra performs Carnival Rhythms around Plaka on Kydathinaon
At 5 pm at the Children's Museum of Athens: The Carnival of the Animals. Carnival workshop for children aged 3 to 12 years.
Saturday 25/02:
10:30 am: The Arts Center of the Municipality of Athens at Parko Eleutherias hosts carnival workshop for children aged 6 to 10 years.
At 12 noon  Carnival Parade at Adrianou Str., and live Brazilian music at Philoppapou, Petralona and Mitropoleos.
At 1 pm: The Big Band, the amazing Jazz Band of the City of Athens performs at Monastiraki
Sunday 26/02:
At 1 pm: Join in the revelry and dance away at the Final Parade at Votanikos.
At 6 pm: Music from the 70s at the  Municipal Market of Kypseli with the best d DJs in the city. A unique tribute to the original Disco era in collaboration with This is Athens.
Monday 27/02
At 12 noon Kite Flying at Philopappou ring road
For more info: cityofathens.gr
---