Victoria Hislop: I yearn for the time when we can live normally again …
2020 has been a watershed year for us all. But for best-selling British author Victoria Hislop, it's been "the very worst and very best of times"; defined by extremes of pain and joy. In the wake of losing her mother, Hislop buried herself in her work to produce two new books and a televised series (mid-pandemic, no less) and also became a proud Greek citizen. It's an honour, she says, that soothes "the sting of Brexit".
Victoria, thank you so much for joining Athens Insider to discuss One August Night and your writing. 2020 has been a bitter-sweet year for you. You lost your mother earlier this year at the height of the pandemic, and then you were awarded honorary Greek citizenship by the Hellenic Republic this summer. How would you look back on this strange year and the lessons it has taught us? 
 Thank you for inviting me to join you!  I think it's been a year that none of us will ever forget.  We will, all of us, remember this strange and difficult year.  The loss of my mother and the award of honorary citizenship were the very worst and the very best moments of the year – the extremes of pain and joy. I think what I have learned most of all is that life is full of surprises, full of the unexpected, and it is how we deal with those things that can help us grow.  I will never take things for granted again – the reality is that things can be taken away from us so unexpectedly – our freedom (to leave the house, to travel, to hug our friends and family) suddenly disappeared almost overnight.  I think when we get those things back again we will be SO appreciative of them, in a way that perhaps we weren't before.
 The year has taught me to enjoy the moment – not to plan too far ahead and to seize the day a bit more.  Long-term plans are never something I have believed in, but this year has proved that we don't always have control over our lives.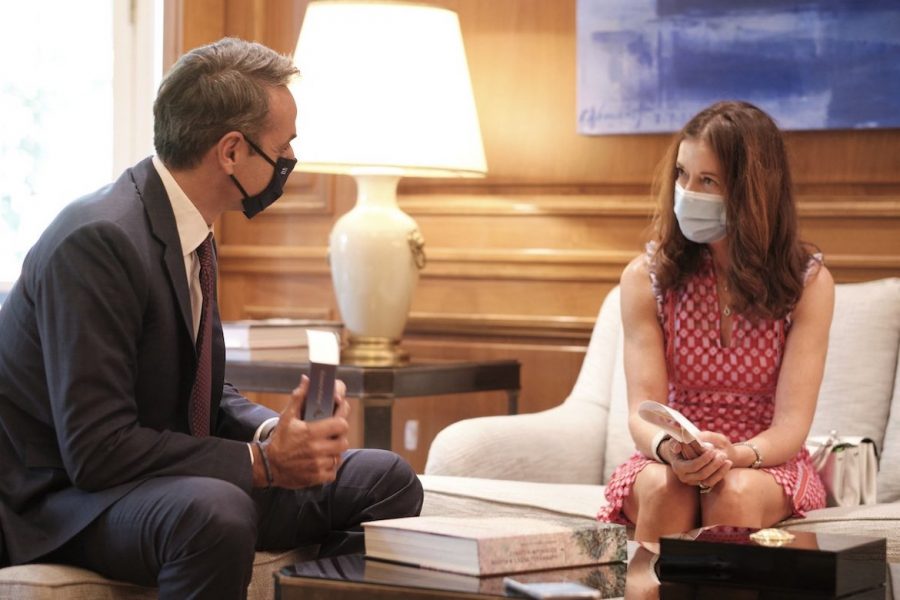 Victoria Hislop with PM Mitsotakis after receiving her Greek citizenship in July 2020
Even though you've had a deep connection with Greece for almost 45 years, and you own a home in Crete, did you ever imagine that you would become a Greek citizen one day? How does it feel? Does it alleviate the sting of Brexit (that you've vocally opposed) somewhat? 
 I had dreamed of becoming truly "Greek", but I never really imagined such a wonderful thing could happen.  So when it did, it was a fantastic surprise and a thrill (even more so because it was such a difficult year for everyone).  So actually I was really ecstatic when I heard.  And on the day that I took my oath in Athens and met the Prime Minister and the President, both of whom were extremely kind, I actually felt as if I was floating.  I experienced an almost childlike sense of excitement.  
 And there were more wonderful moments to come.  The first was when I received my identity card, and the second when I went to the police station last week in Crete to collect my shiny new passport.  Holding these things in my hand, both with a signature in Greek, made my citizenship totally real.  
I am sitting in Athens airport writing this (for a very brief stop on my way back from Crete) and I have just shown my Greek passport for the very first time. That was a big moment too!  I wanted to explain to the man who checked it that this was a huge moment!
 And yes being a  Greek citizen does relieve the sting of Brexit which is turning into something just as terrible for British citizens as I had imagined.  Boris Johnson is incapable of dealing with Brexit (even less when there is a pandemic).  I am glad I am still a European, and very happy to be Greek, but I feel sorry for those who I love in Britain who are essentially about to lose something.  To call Brexit a "catastrophe" might sound very negative but I think Britain will go into something of a dark age.  
Had you always planned on returning to the Petrakis and the Vardoulakis families one day? We understand that just before the pandemic hit, you had signed a contract for a new book that would be the sequel to The Island. Had you already started your first drafts? It almost seems eerily prescient that the world seems to be mirroring Spinalonga's fate as a leper colony. Waiting for a miracle vaccine before we can touch, hold, embrace. 
 In fact, I did not have a contract for One August Night before the lockdown.  It all happened very quickly.  My mother died in the middle of March, the following day I left London in a hurry with my family, three days after that the UK went into lockdown.  In the deep and very quiet countryside, writing was the activity I turned to for comfort in all senses.  The circumstances of the patients on Spinalonga and their relatives seemed to have so many resonances with the situation that we all suddenly found ourselves in – so I thought a lot of The Island and my characters.  
 Families could not see (and certainly couldn't embrace) their families when they were diagnosed.  People who had been well one moment were taken away the next.  I thought of Giorgos who could not be with Eleni when she died, and could not mourn her death in the normal way.  It was not so dissimilar for us with my mother.  We were not there, we could not have a funeral.  I would never have imagined such circumstances.
Was going back to your characters, Maria, Anna, Manolis and Andreas, from The Island, like visiting old family friends? How did you manage to show the evolution of their personalities in the aftermath of Spinalonga, stigma and tragedy?
The characters that I create in a novel do become like friends (or some of them are like acquaintances that you don't particularly like!), so at the end of a story, you are sometimes sorry to "lose" them.  I wanted to find some kind of catharsis for some of the characters in The Island – their stories were not finished.  Every story/novel has loose ends – and I wanted to tie some of these loose ends up. And of course, leprosy left a long "tail" of stigma for many of those affected (and related to those affected), so the years following the cure in 1957 were complicated ones.   Every character has new challenges to face.  
How long did it take you to write One August Night? Was there much research involved this time? Do you have a ritual? How many drafts did you write before you showed your first reader, Emily, your daughter? 
 The first draft took exactly three months.  With routine and discipline (which are essential for me) it was possible! I did the same thing each day. I made a pot of coffee, ate a croissant and sat down at my desk every morning at 9.  I took an hour's break for a walk at 12.30, and finished usually around 18.30. Rituals are important to me.  I have to sit in the same place for each book, use the same pencils, use the same mug to drink coffee out of and a different one for tea. This was the first book I have written when I couldn't travel to research.  I would definitely have gone to a shipyard under normal circumstances, but I had to imagine it, and read about repair techniques on the internet.  But I knew my characters well, and that was really the focus of this book, so it was not a big problem.  
 Emily sees the second draft (which is the first one I share) – she is a very early reader.  And the editing sessions are gruelling.  It is not like being with my daughter.  She becomes someone else and our relationship changes.  I listen intently to everything she says.  Sometimes we debate something but on the whole, I always make the changes she suggests.  She is eagle-eyed and I respect her intellect hugely.  She is a journalist and brilliant prose writer.
Scenes from the filming of To Nisi for Mega TV in 2010. Image courtesy of director Theo Papadoulakis


The Island was beautifully adapted in a stunning and most popular 26-episode series on Greek TV. Has there been any interest in creating a similar series with One August Night?
 Not as yet.  It would be fantastic to make this as a series – even with the same actors – but that's a dream at the moment.  Let's wait and see!
The Greek state broadcaster ERT1 will create a brand new series of 12 independent episodes based on your books, The Last Dance (2012) and Cartes Postales from Greece (2016). These will be twelve fascinating and independent stories that take place in Greece. How exciting! Have you been given any indication when it will go to air? Did you have a role to play in choosing the actors? We understand you also undertook the script of the TV adaption. How was that experience?
 We have just started work on this.  It's a big and exciting project, and will be something very different for Greek television I think. There is one central character (as there was with the original book) who travels and encounters different situations and people on a journey that is both physical and emotional.  We are setting the entire series in Crete (with some elements in London) and I am really excited about it.  I am working with a fantastic team – Nikos Apeiranthitis and Alexandra Katsarou are writing scripts,  Jorgos Papavassiliou will direct and Need a Fixer is doing production. We are at the scriptwriting and casting stage right now. We are hoping to start filming in March and it will be aired in the Autumn.  I am hoping that the pandemic won't affect these days but we will be observing all the protocols so let's hope.
The reason we love your books is that you write fascinating fictional stories and characters based around actual events.
'Those who are loved' 
is set against the backdrop of the German occupation, the Civil War, the junta. How do you choose a historical event upon which to weave a story? 
 Somehow the historical subjects I write about are just waiting there.  I don't feel I really choose them.  I just see them sitting there, almost as if they are looking at me.  And then something fires the starting gun and my personal race begins, to find out the causes of events and the results of them – and then to imagine my characters living through them.  The writing of every book is an adventure for me and I am always excited and curious during the stage of research, and very emotionally engaged during the writing period.  
How do you, as a writer, respond to 'cancel culture' and to perceived transgressions?
It's a very thorny issue – I like to feel that no subject is taboo – and that we should all have freedom of speech and freedom of expression.  I think it's very thin ice when people start silencing others – and is a power that can be exploited to the detriment of us all.  I think we know that from historical precedent.  I think open-mindedness is really important – and the value of education in this context is never greater than on this matter.
You've visited Athens almost a hundred times and are its de facto ambassador to your legions of fans. Is that a huge responsibility? Do you have a favourite special memory or inspired moment in Athens? The one thing you look forward to doing here? 
 Yes – and I love Athens. It's is a very exciting and multi-layered city! What I really look forward to in Athens is seeing friends – and being taken to somewhere new and different (usually way off the tourist track).  There always many new places to see, areas that are being regenerated – places that have a really appealing vibe.  So I don't have one single memory – I have thousands. Many of those relate to music. I was taken a while back to a taverna (somewhere in Metaxourgiou I think).  I walked in there with my friend Minos Matsas, we sat down at a huge table with lots of his friends… and a while into the evening, some musicians began to play.  And then I heard a voice (I had my back to the stage).  I had never heard such an emotionally charged voice and I shall never forget the effect it had on me. It was  Fotini Velessiotou and hearing her "live" in this simple place full of smoke and atmosphere was an experience I will never forget.  It was electrifying.
I have had lots of great experiences connected with music in Athens – and feel very lucky to have seen so many people "live" –  Dalaras, Remos, Galani, Arvanitaki, Eleonora Zouganelli, Protopsalti, Kotsiras, Hatzigiannis etc.. I am always the person who has to be dragged away at four in the morning because I want to stay until the very last note if it's a late-night event.
 And theatre is always wonderful too – after we made  The Island, I made lots of friends who are actors and if they are in a production, I always try to see them.  Right now, these things are not happening.
I yearn for the time when we can live normally again -and all my friends who are musicians or actors can work again.  It's as if the blood has stopped flowing round the veins of Athens – but I hope this will be pumping around again soon.
Which other Greek destinations are on your bucket list?
I really want to go to Samothrace!  I haven't been yet and I am very curious!  And also to Astypalaia – because it's such a remarkable shape and I am very charmed by the idea of its butterfly form.  I also want to visit Kastellorizo.
What are you working on now? Can you tell us a bit about it?
I am currently working on the production of Cartes Postales from Greece. 
One August Night is published by Headline Publishing in the UK and the Greek translation is published by Psichogios.  victoriahislop.com 
This article was made possible by contributions from Anna Roins and Vasso Sotiriou.
---