Style Counsel: Shop the Hot Design Scene of Lebanon
Olivier DeGem jewellery!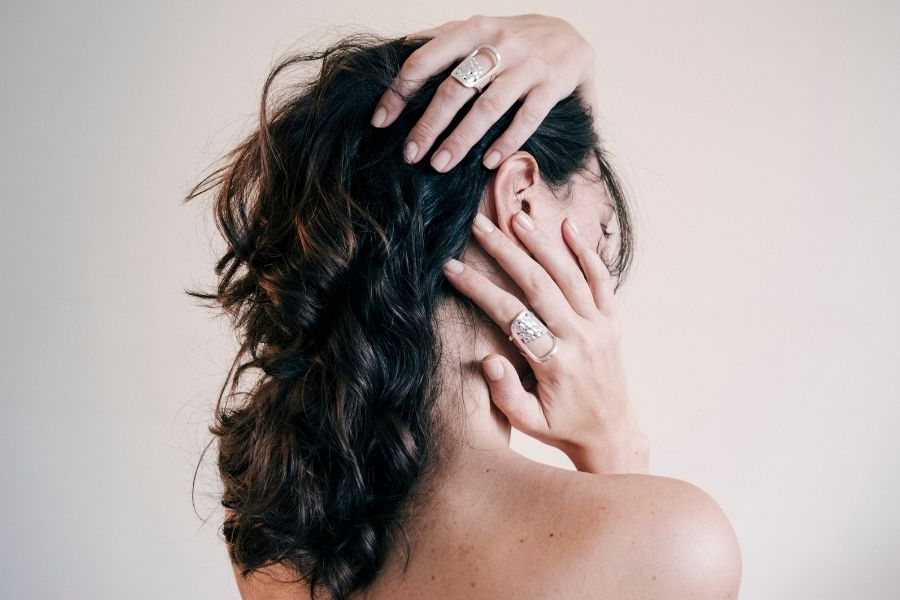 When Oliver DeGem launched his first collection "Planète" as part of Beirut Design Week in 2017, it was a direct hit! Sold out in no time, it encouraged Oliver to create more silver jewellery. Designed and produced in Lebanon with a Danish influence, every piece is different since it's handmade with silver 925. The Aurora Collection is named after the Roman goddess of sunrise whose tears turned into morning dew, announcing the arrival of the sun each dawn. Aurora represents new beginnings.
Narinee.com
The Nour Brooch: In Armenian mythology, the pomegranate symbolizes abundance, fertility, prosperity and good fortune. It is also believed that a mature pomegranate has 365 seeds – one for each day of the year. Over the years, Armenian artists have used the pomegranate as a theme to symbolize a spectrum of emotions – from pain to hope, rebirth and the survival of a nation. These pomegranate brooches reveal motifs delineated from Partzrakash's architectural stone-carved patterns, dating back to the 12th century in Dsegh, Lori province, Armenia. Each pomegranate brooch is an artisanal hand finished piece, with a slightly hammered and textured finish, in 18k gold plated brass.
Thanks to high tech innovative manufacturing techniques, their lace-like necklaces are extremely thin, soft and lightweight and yet have high tensile strength. Such a joy to wear that you might actually forget you're wearing one! A statement piece, an illusion, an eye magnet… Either way, it's going to get noticed and you'll have an interesting story to tell. This particular piece reflects Keghart's stone-carved patterns, dating back to the 10th century in Armenia.
L'atelier Nawbar
L'Atelier Nawbar was founded in 1891, in Beirut, as a jewellery brand dedicated to creating intricate and delicate designs that are worn as an expression of love, beauty, heritage, and spirit. Four generations later, this legacy of designing jewellery, that has meaning beyond what the eye meets, continues to shine, withstanding the test of time. Today, tucked away in the charming cobblestoned streets of Downtown Beirut, you will find an enchanted space where design, manufacturing and showroom merge into one. In this space, one is given the chance to experience the world of jewellery-making like no other. A marriage of true craftsmanship and sophisticated design. A brand with a universal message, each year, L'Atelier Nawbar dedicates its creativity to creating collections that tell a story stemming true to the brand and its sentimental, mystical identity.
Emme
A ladies fashion brand designed by the Mexican Marie Carmen Fallaha, for the women of today looking for beauty and comfort.
Sarah's Bag
Sarah's Bag is a Lebanese fashion house and social enterprise that creates one-of-a-kind luxury hand-crafted bags and accessories that empower both the women who make them and the women who wear them. Sarah's Bag handbags combine a colourful and sophisticated aesthetic with luxurious, meticulous craftsmanship. Each collection is both an exploration of new materials and techniques, and a revival and reinterpretation of traditional crafts such as hand beading, embroidery, sequinning, crocheting and fabric manipulation.
Nayef Francis
Nayef Francis' forte lies in his ability to merge functionality with aesthetics, endowing a space with pieces that offer a unique story. At the heart of his creative practice is simplicity. Although the intricacies and details of the final result are complex, a feeling of grace revolves around his pieces. An interior architect by education, and product designer by passion and profession, his studio specializes in interiors, furniture and lighting, exclusively hand-made in Lebanon yet mostly flat packed to travel the world. His work spans different spaces across hotels, homes, restaurants, and high-end boutiques, yet converges into one unapologetically simple and utilitarian aesthetic. His design response is intelligent in its function, innovative in its fabrication, and playfully romantic in its appeal. His contextual yet unexpected designs are in Wallpaper Magazine, Monocle, Architectural Digest and others, as well as in London, Beirut and Dubai Design Weeks, and sold in galleries from Dubai to LA. He continues to experiment and innovate with craft and creation to accentuate living spaces and create more room for life.
Senteurs d'Orient
The tradition of soap making dates back to the 8th century when the first-ever soap was born in Aleppo, Syria. The process starts with the hand-mixing of ingredients. Once the mixture cools, it is cut into individual cubes that are then stacked, left to air dry and age. The soap is delicately crafted fusing old traditional methods -including air-drying the soap- along with modern machinery; milling the soap base five times which allow us to create the finest soap base for unprecedented indulgence. Distilled by the perfume masters of Grasse, each creation captures the Orient's most treasured blossoms and flowers. Wanting to offer products of the highest sensorial experience, Senteurs d'Orient develop and distil the blossoms and flowers across the Orient with the world's most renowned perfume masters recalling the sensuous atmosphere of the Orient. The smoothest Shea butter and pure olive oil are hand mixed, with skincare-grade glycerin, vitamin E and precious essential oils, into the vegetal soap base.
Images d'Orient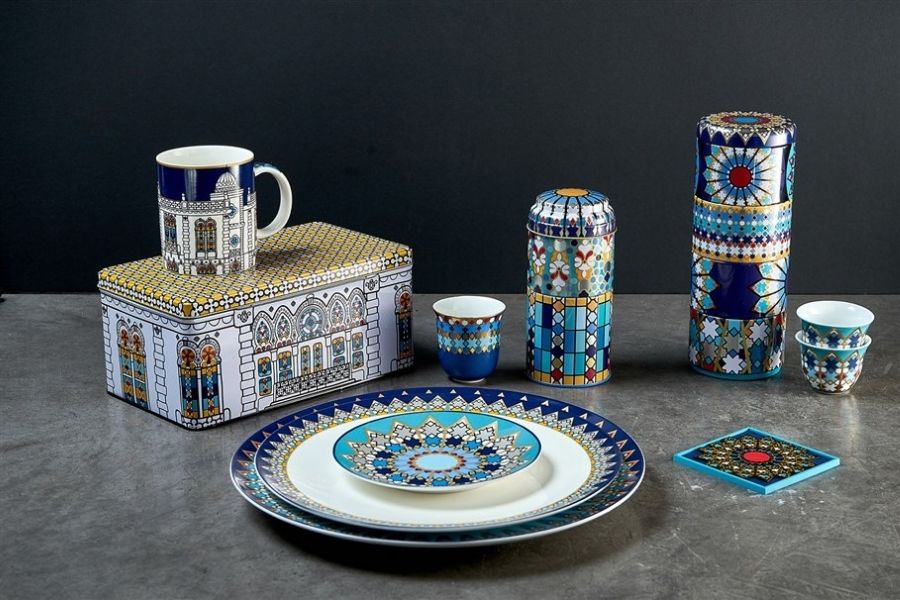 This collection by Images d'Orient is inspired by the Venetian style windows of the Nicolas Sursock Palace. This jewel of 1912 with its unique collection of modern and contemporary art was bestowed to the city of Beirut to root art in the region through exhibitions but also through new and unexpected programmes that inform and engage the public.
Potion Kitchen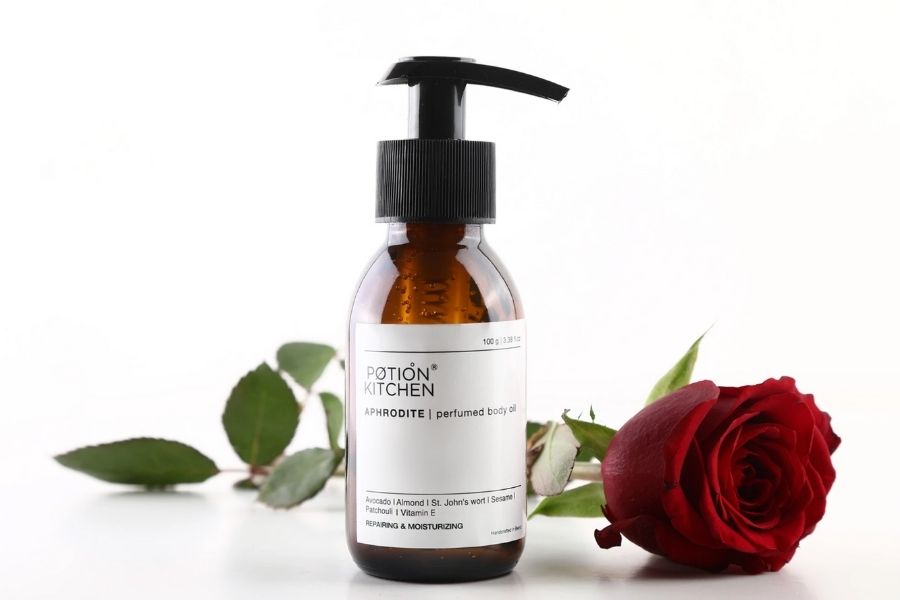 Potion Kitchen is a Lebanese clean beauty brand committed to creating conscious personal care products that help individuals feel good in their skin. Plant-based cosmetics, environment-friendly, rooted in science & affordable.
Alephya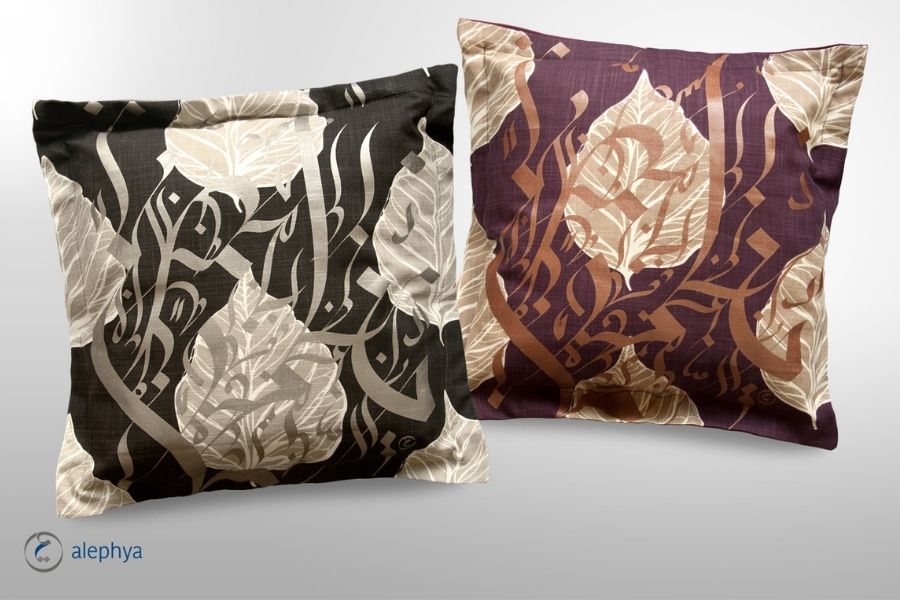 Alephya's visual realm emanates from an aesthetic that borrows from both Arabic calligraphy and oriental arabesques without being recognized or tagged as neither of them. Halfway between those two formal expressions, alephya creates a new Orient with a twist. alephya is the first brand to establish an aesthetic that borrows from both Arabic calligraphy and oriental arabesques, without being recognized or tagged as neither of them. It all started when two women undertook the initiative to liberate the Arabic letterform through extorting it from calligraphy, in order to create an infinite world of motifs and prints. The purity of its line quality, the visual poetry behind it makes of alephya a unique aesthetic realm.
Everything here is a mix of craft, storytelling and aesthetic philosophy. A lifestyle brand alephya, proposes an endless array of applications from furniture, home accessories, fashion, and linens.
Art on Pillows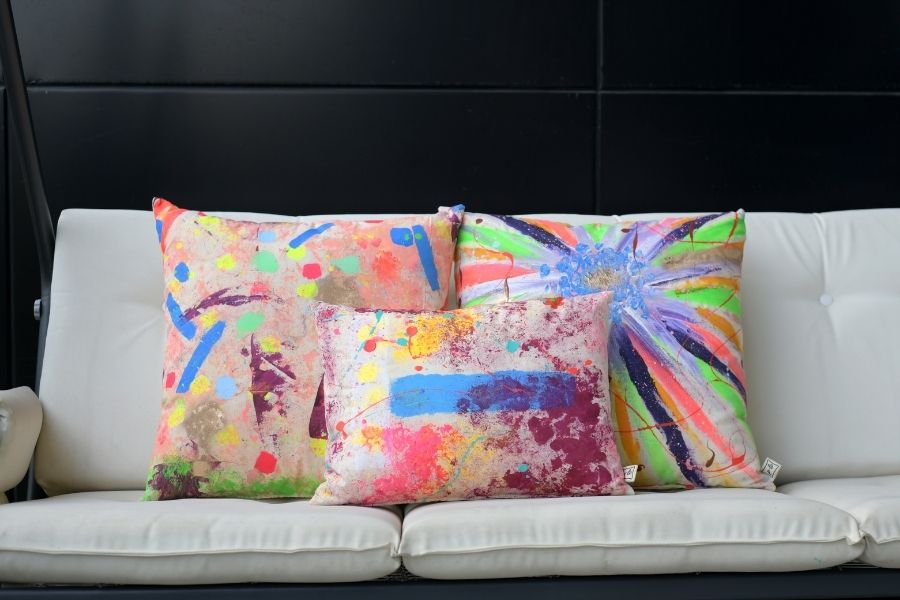 "P-lo" is more than just a pillow.
Each pillow is a unique piece – handpainted, handcrafted, and hand embroidered. Each piece differs by colour, style and texture. "Resurrection", the name of the Collection, contains unique pieces which have been created through inspiration from quotidian things; such as people, music, colours and textiles. Each pillow is unique, no two are alike. They are signed and dated for authentication as a personal prized possession for its owner.
Fouadi Jewels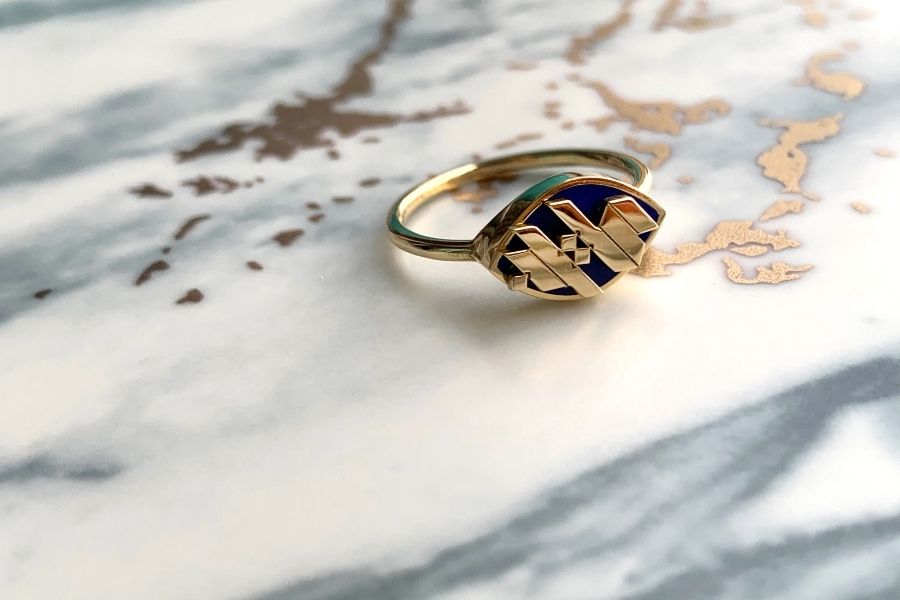 Heartfelt, unique and personalized, the pieces are inspired by meaningful words, eternalized in 18k Gold and precious stones. Wear your heart, make it yours, and pass it on.
ZDJ Ceramics
In the walls of clay forms, secrets unfold: nothing is finished & nothing is perfect. It takes a mind quiet enough to appreciate silent beauty, courage not to fear spontaneity, willingness to accept things as they are: graceful in their delicate asymmetry. It hinges upon the ability to slow down, to shift the balance from doing to being, to grasp the subtly graceful, the quietly sculptural…All is revealed as the clay peacefully flows & the muted words softly take form.
Urban Sense
The in-house label of Boutique Hub, Urban Sense is an anti-elitist and anti-fashion brand incarnate that vows to remain budget-sensitive, gender and age fluid, and inclusive of most body types. With each collection harmonizing with its predecessor, and each piece designed yet finished on its end-buyer to wear in beautifully, across times, the Beirut-based unisex clothing label is a constant work-in-progress revisiting the conventional concept of casual urban wear while incorporating firm production practices of sustainable and slow fashion.
Cluster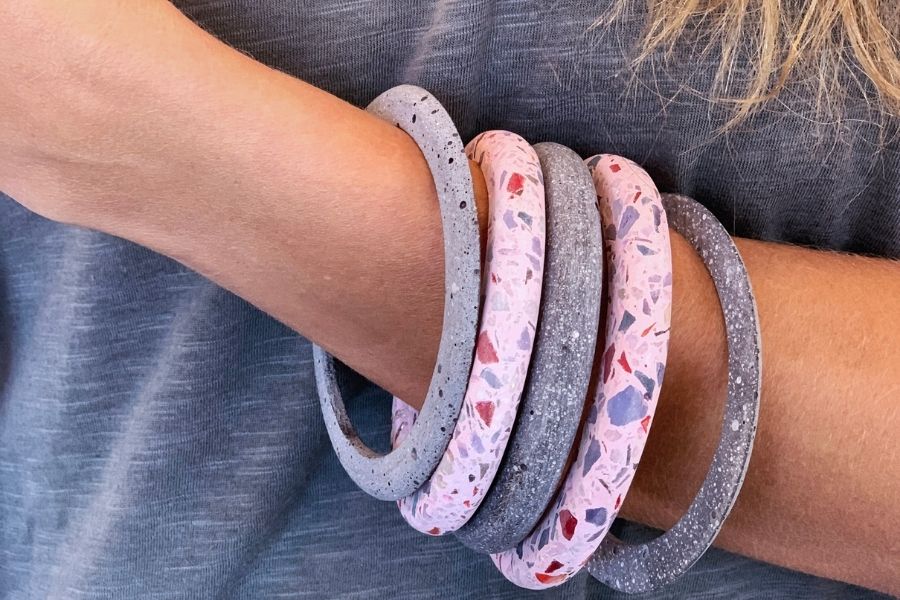 Cluster is a brand new jewellery brand by duo sisters Youmna and Nayla (@oddfishbeirut @iletaitunefoislb respectively). The collection is made of lightweight, sturdy concrete & terrazzo and is entirely produced in Lebanon.
Rana Salam Creations
After many years of her involvement in the retail and fashion world, Rana launched her own line of products selling her own creations of home collection and accessories, art and prints and one-of-a-kind objects. Sold at
Il était une fois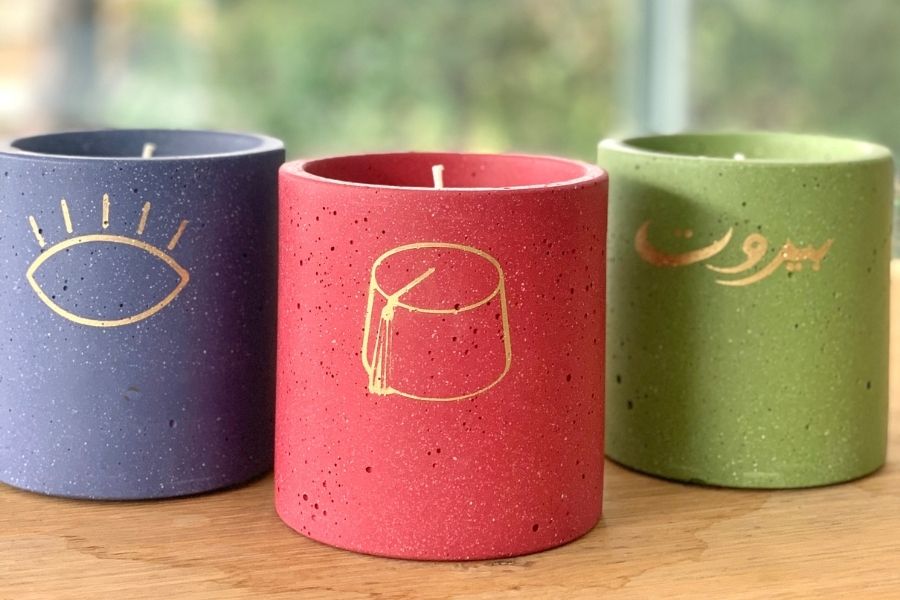 Il était une fois was born out of a personal story 5 years ago when the designer was expecting and was on the lookout for newborn design favours that would not end up forgotten in the back of a drawer. With time her little story turned into many beautiful stories, sharing the joy of her clients in so many stepping stones in life from newborn favours to baptism and weddings. Today the collection has evolved into a carefully curated selection of decorative items and seasonal accessories, with the same focus: telling a story, the story of a tiny country with outstanding craftsmanship.
Albi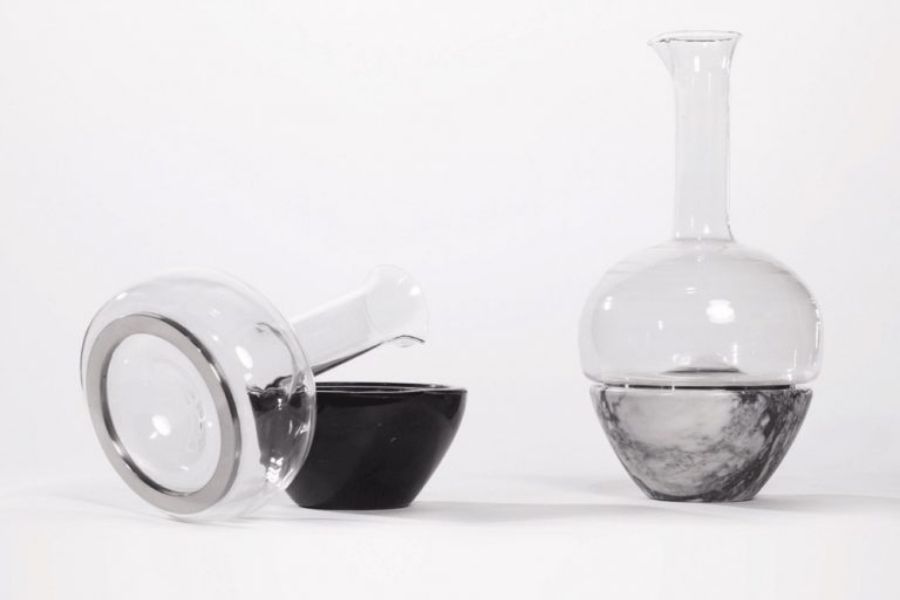 Albi is the product of four Lebanese architects who were brought together by their shared belief of sustainable living. Their backgrounds in digital prototyping, production, strategy and design led to the creation of Albi products.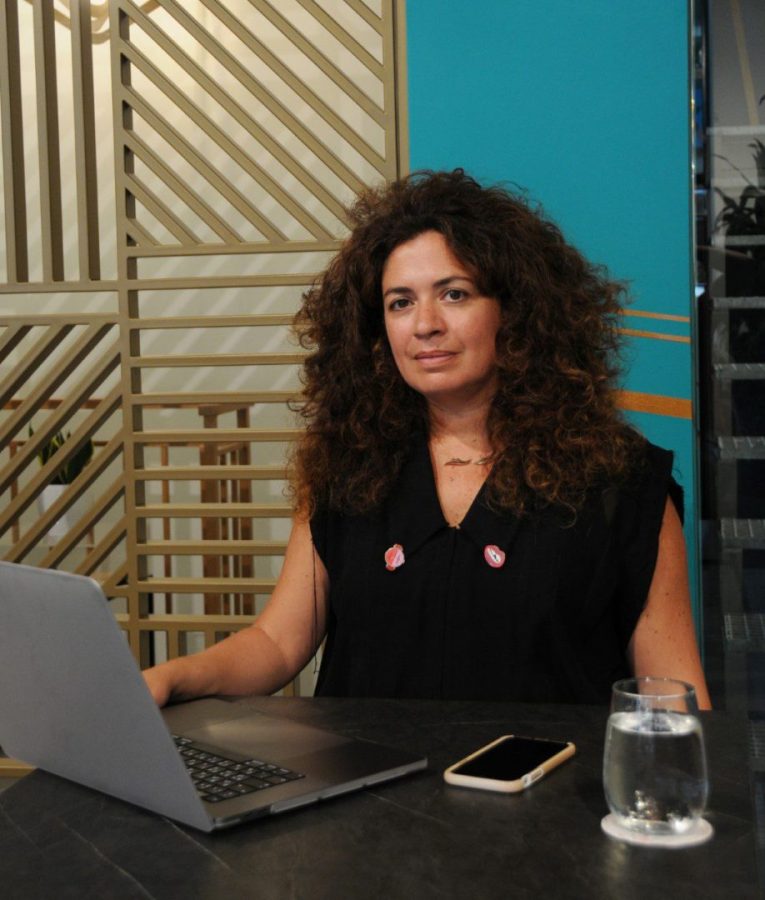 Nathalie Fallaha is the founder and catalyst behind vit-e, a branding & digital agency. A design-preneur at heart, she has been practising design for more than two decades. The British Council awarded her the Lebanese Design Entrepreneur of the Year in 2008. 
---