The Queer Archive Festival
The Queer Archive Festival is back again from 3 to 6 June 2021, hosting a great celebration of Athens' rich and vibrant queer culture, with the support of Onassis Stegi for a second consecutive year.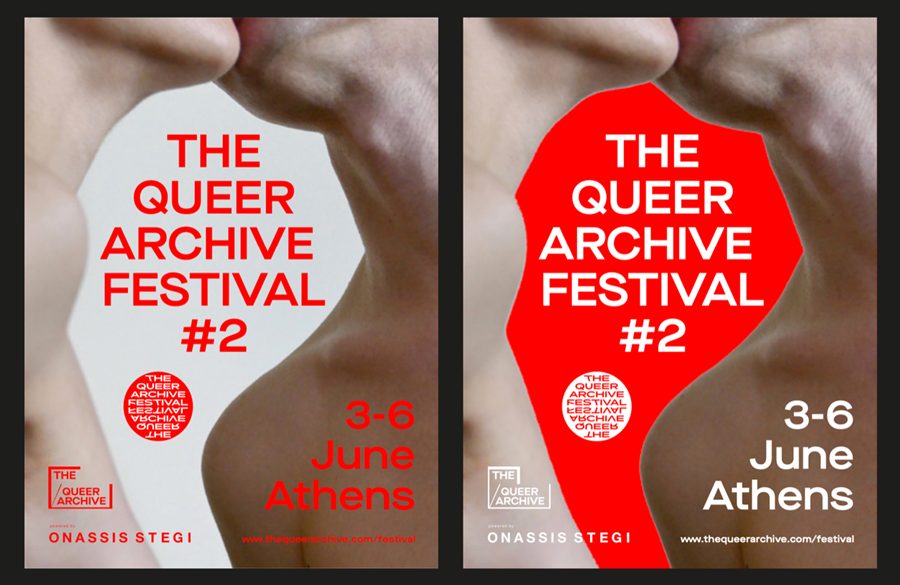 Designed to celebrate the very best of queer arts and culture, The Queer Archive Festival raises the curtain on another rich program of dazzling and provocative multimedia experiences from 3-6 June 2021. Open and accessible to all, our second festival edition remains focused on highlighting talent, encouraging creativity, promoting engaging and progressive contemporary art, which reflects modern queer culture, and ultimately creating a bustling hub that praises diversity and supports social inclusivity.
From Wolfgang Tillmans to Vassilis Kekatos, from Tamir David to Dynno Dada, from Xristina Trixa to Andy James, from a tribute to the avant-pop musician Sophie to discussions on the Greek queer art scene, Athens will resonate with artists from Greece and the world. For 4 days, The Queer Archive Festival will present video installations, exhibitions, walks, discussions, experimental artworks and performances that touch upon queered or queer-responsive approaches to human experience. The second edition of "The Queer Archive Festival" will take place in a variety of traditional and alternative spaces within Athens, from the National Garden and Pedion Areos Park to galleries and cinemas.
The festival is once again supported by the Onassis Cultural Foundation that considers culture as a meeting ground for human aspirations and freedom of expression, and supports the LGBTQI+ community's self-evident rights through its initiatives. This year, The Queer Archive Festival expands its partnership with the Onassis Foundation, as the Onassis AiR international arts research program offers hospitality and creative conversations for festival guests with the large and international family of artists who are creating through Onassis AiR research journey in the Arts.
Festival entries
For a second year in a row, The Queer Archive Festival brings together artists, curators, activists, venues, artist-run spaces and spectators in a citywide celebration. The festival's programme includes both Greek and international leading artists alongside the best emerging talent.
This year, the festival hosts the video installation "Life Guarding" by the renowned German photographer Wolfgang Tillmans; a video collage, edited by Michael Amstad, exploring fluidity through visuals of fragmented body parts, fruit and insects, and the waves of the Atlantic Ocean (Space 52). Also, "Herma", a series of drawings by Israeli artist Tamir David celebrating the on-going shifts in social values and gender representation will be presented to the Athenian art scene for the first time (Haus N Athen). This year, moreover, in collaboration with Shamonette, we invite you to hop on a fun, feisty and fabulous "Drag Bus Tour" around Athens and enjoy live performances by local drag queens or, to pay a tribute to the acclaimed avant-garde pop artist and recently deceased music visionary, Sophie. At the same time, commissioned by The Queer Archive Festival, the celebrated young Greek director Vasilis Kekatos creates the photographic series "Rooftop lovers" with LGBTQIA+ couples showing us what it is like to love and be loved above the harsh landscape of Athens (Misc).
Participations continue with the voyeuristic video art "Tethered" by Venezuelan multimedia artist Daniel Pinheiro, the site specific performance "The Thinker performs live"  by Dynno Dada, the three-sectional sculptural work "Comfort Zone" by Andy James, the selection of video works "To be willing to march into Hell for a Heavenly Cause" curated by Marina Doritis, Xristina Trixa's playfully interactive performance "Bird Watching", George Striftaris' photographic project "Dialogues", as well as Nikos Menoudarakos' photography slideshow and live photo shoot sessions "Comfortably Wild", the site-based installation "Kartophilia" by Ermina&Vassiliki Apostolaki and Filia Milidaki, and a discussion around the subject of the queer art scene in Greece today conducted by journalist and activist Thodoris Antonopoulos with local artists and curators as guests.
Ultimately, this festival edition is complemented by the first issue of KAVLA zine, an independent publication of The Queer Archive Festival which will host works by LGBTQI+ artists across the board and, thus, yearns to ignite a fresh and meaningful conversation around queer aesthetics and experiences in modern art and culture.
OPENINGS, EVENTS, PERFORMANCES & PARTIES
THURSDAY 3/6
Group Exhibition Opening: Daniel Pinheiro, Andy James, Tamir David, Ermina Apostolaki-Vasiliki Apostolaki-Filia Milidaki / HAUS N ΑΤΗΕΝ
Performance: Dynno Dada / HAUS N ΑΤΗΕΝ
Exhibition Opening: Wolfgang Tillmans / SPACE 52
Exhibition Opening: George Striftaris / EIGHT
The Queer Archive Festival Soirée: Roman & Saradis / HOLLYWOOD PUB
FRIDAY 4/6
Exhibition Opening: Vasilis Kekatos / MISC
Exhibition Opening: Marina Doritis / KICK GALLERY
Panel discussion: Greek queer art today / TRIANON CINEMA
The Queer Archive Festival Soirée: Dodo / HOLLYWOOD PUB
SATURDAY 5/6
Interactive Walk: Xristina Trixa / NATIONAL PARK
Exhibition Opening: Nikos Menoudarakos / FOKIANOU ART SPACE
Drag Tour Bus: Aria Di Vine, Helena Hudson, Marianah Grindr & Shamonette, TOUR BUS/SHAMONETTE
The Queer Archive Festival Soirée: K.atou & Jacob of Capadoccia, HOLLYWOOD PUB
SUNDAY 6/6
Sophie Tribute, Christos Tzovaras, Christos Karoutis, Electra Vossou, Eleftheria Sotirchou, Athanasia Koutzouha, George Dereskos, Mary Giannoula, Irini Moraitelli, Iliana Kakarantza, Marina Kladi, Marianna Tsikmanli, Maria Kambanou, Natalia Kalogeropoulou, Evini Pantelaki / PEDION AREOS PARK
The Queer Archive Festival Soirée: Clubkid & Pepper Levain performance, HOLLYWOOD PUB
HAUS N ATHEN
https://www.haus-n.gr/
MISC 
https://www.instagram.com/misc.athens/
SPACE 52
https://www.space52.gr/
EIGHT
https://8athens.wordpress.com/
FOKIANOU ART SPACE
https://www.fokianou247.gr/
KICK GALLERY
https://web.facebook.com/kick.athens26
TRIANON CINEMA
http://www.trianon.gr/v1/
The Queer Archive
The Queer Archive is a production house supporting and bolstering up the development of all forms of queer arts and culture, promoting diverse artistic practices emanating from different issues and aspects of queer life and existence, created by both, local or international, emerging and already established artists. Our art projects are often supported by special events, such as lectures, workshops or Q+A's with artists and curators or special guests.
Besides planning, organizing and curating exhibitions, as well as various ingenious art events, we put up a wide range of film production and co-production services, including creative concepts, production and execution.
Since 2020, we produce and curate The Queer Archive Festival which takes place in the city of Athens with the support of Stegi- Onassis Foundation. The Queer Archive Festival has grown into a sheer cultural meeting point for arts stakeholders to get to know each other, exchange ideas and, ultimately, work together.
Last, but not least, we host amazing parties, gigs and immersive experiences in collaboration with brands, clubs and organizations creating a platform for our family of performers, musicians, DJs to meet their audience.
Onassis Stegi – Onassis Foundation
Every year, Onassis Stegi supports artistic initiatives that challenge stereotypes and open up discussions about the obvious that should be taken for granted, as it wishes not only to produce culture, but also to change people's culture. Part of its mission is respect for diversity, practical support for the demands of the LGBTQIA+ community and the continuous fight for democracy, equality and justice. For the Onassis Foundation, culture is all about democracy; it is all about equal rights.
---