Sculptural Poetry: Tom von Kaenel's uplifting creations in Naxian marble 
From Pheidias to Michaelangelo, few materials signal high art more than marble—the medium of sculptors. And for Swiss sculptor Tom von Kaenel, it was his quest to work with antiquity's most prized marble that led him to Naxos, where his sublime and sinuous creations honour the pure lines of the earliest Cycladic sculptors.
The Naxian marble that drew Tom von Kaenel to move to Naxos five years ago, was used for the roof tiles of the Acropolis in Athens and for the statues that line the sanctuaries of the Greeks in antiquity. The coarse crystalline structure of this marble allows the light to shine through, lending it an airy, almost ethereal quality. At his studio on Naxos, he chisels vessels, objects and sculptures influenced by the simple lines of early Cycladic craftsmanship, the whimsies of baroque and the functional aesthetic of 20th-century ceramics, reinterpreted or reassembled to lend each of his creations their individuality and powerful character.
For Swiss-born, Naxos-based Tom von Kaenel, the challenge lies in exploring marble's possibilities, despite the weight of its history. Tom's airy objects and sculptures in Naxian marble exude craftsmanship, liveliness and timeless beauty. Combining his training as a draughtsman and an art teacher, he is drawn by the oppositions inherent in the medium—its strength and its delicacy. As he pushes marble sculpting into new territory, he speaks effusively of living in Naxos, surrounded by a noble material that continues to surprise with its spectrum of colours, and its ability to resemble both flesh and rock, often within the same work.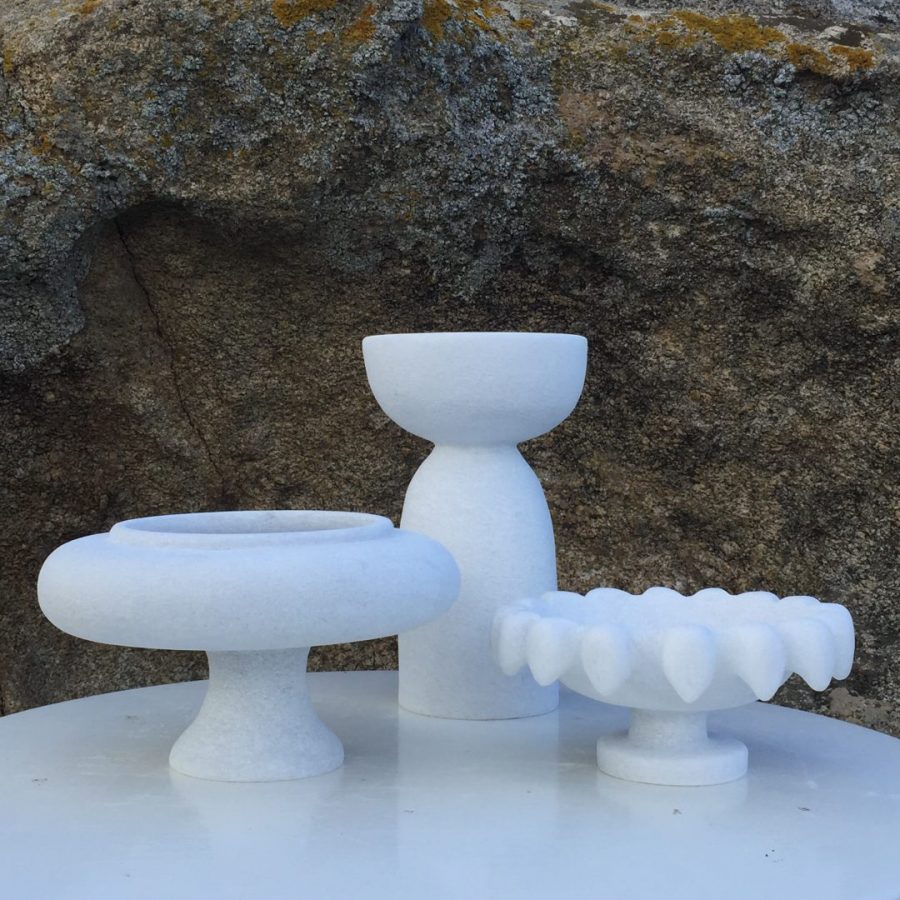 Tom, you've grown up in Switzerland and moved to Naxos to pursue your life as a marble sculptor. As a contemporary master of a time-honoured craft, what is it about marble – an unforgiving medium – that fascinated you as an artist? Where did you train to work with marble?
I started to paint when I was very young. Later, after I turned 24, I made my first work with stone. It would have been possible to find marble from Carrara, but for a long time, marble was too permanent for me, so I used mixed media materials for my work. Since I am in Naxos, the marble is coming to me in a natural way. It lies right in front of my door! The Naxian marble fascinates me. I never went to an art school, I taught myself everything. Nevertheless, I taught art for 20 years. I find that everything I need to learn will come to me on its own if I just trust my hand.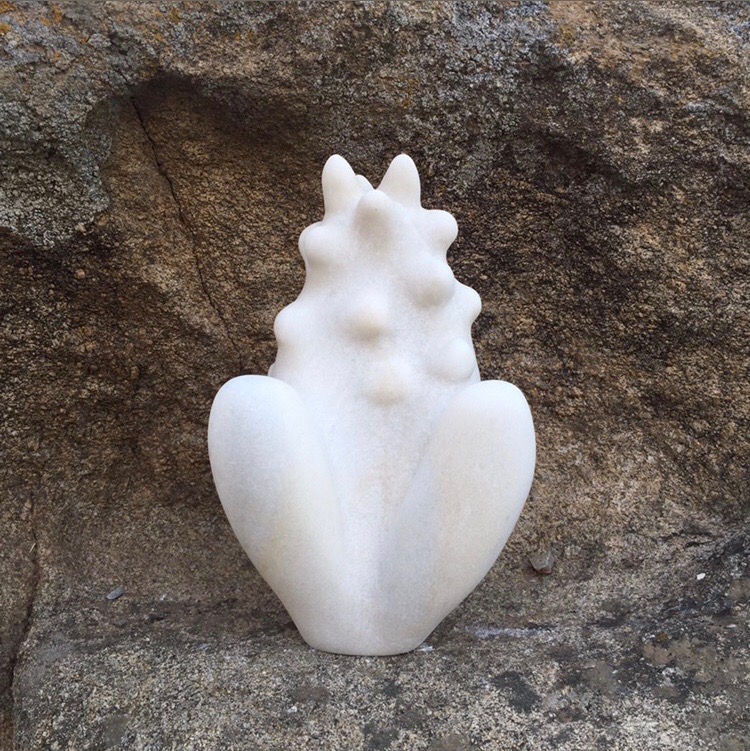 Your sculptures are a departure from traditional associations with marble – of busts on public squares and mermaids in water fountains. How difficult was it to establish your own brand of marble sculpting, creating tangible works of art, that are contemporary in their appeal?
My wife and I founded Kalodromo, a marble design brand, 5 years ago. We have a small production of vessels and objects, made with hand tools. I can produce around 100 vessels a year. The beginning was quite hard. It wasn't easy to find good shops and Galleries to work with. Now, after 5 years, we work with museums, galleries and shops in Greece, Europe, USA and Canada. It's still hard work to find the right shops to collaborate with. To establish my brand of marble sculptures is no question to me- I do it because I have to. Even if the viewer does not recognize it today and the feedback does not come in a big wave.
Your partner Priska moved with you to Naxos five years ago. What role does she play in the artistic and business process of Kalodromo?
Priska, my wife, is a part of everything. It is hard to describe, but she is in some way a part of everything I do! She also manages all the social media, the administrative work and customer care- which I could not do.
What is the thing people most underestimate about your art? What is the most challenging aspect of your artistic process? What is the most rewarding?
Most people can't see the difference between unique handcrafted marblework and one that is made in mass by a machine. It's a pity, but also represents the world today. Of course, the price is then a matter. But, on the other hand, I remember a few years ago a young art student told me that he adored an object but that he couldn't afford it. In moments such as those, I am really touched.
How has living on Naxos changed your life and influenced your work?
In Switzerland, I was always inside for my work. In Naxos, I am permanently outside. This means strong and cold winds in the winter and very hot weather in the summer! To depend on Nature and to be surrounded by it taught me to look differently and lead me to a more open path. The archaic beauty of this island gives me a lot – nearly everything I have needed to become the sculptor I am today. I am very grateful to live here.
Your website states: "The basis for these ideas is the study of the ancient and pre-antique world of forms and walking through the landscape in which the individual forms themselves form a contribution to the later design." Could you explain this process?
I have always been touched by simplicity in art. On the other hand, I experienced that myths are still alive- in every tree, plant or creek is sitting a god or goddess and they are whispering to us. Maybe this sounds a little bit crazy? But that's why I like to combine simplicity with mythological expression.
Marble sculpture is a hallmark of Greek culture because of its beauty and its longevity. What do you hope people take from your work hundreds of years from now?
Haha! If my work is touching people after hundreds of years, I will celebrate that- hopefully sitting on a cloud with a glass of champagne. Really – all that I put into my sculptures is goodness. If people start to see/feel this than I am heavenly satisfied.
Where can one find your creations in Greece and abroad?
In Greece: At the  Museum of Cycladic Art, Cycladic Art Shop Athens and at the CAN Christina Androulidaki Gallery in Athens. On Naxos at Fish & Olive Gallery, on Paros at Tantanis, on Antiparos at morethanthis Design Shop & Studio. on Tinos: Karybu Home&Fashion and on Andros at Waikiki Andros.
Abroad: In the UK in London, at Mouki mou. In Switzerland, at Ehrenzeller Wohnen in Luzern,  at Visite Privée in Zürich, at Lisa Feiler Intérior GmbH in Bern, at Grimsel GmbH St. in Basel and at the Blumengalerie Claudia Lischer in Moritz. At the Philia Galerie in New York, USA and at Salt by the Caza Project in Toronto, Canada and listed with  Artling.com in Asia.
Greece to you is…
Good sense and madness.
On Naxos, I like to
Eat at Taverna Axiotissa, Music Café and nearly every kafenion in the villages, swim at a hidden small bay and shop at the weekly farmers market.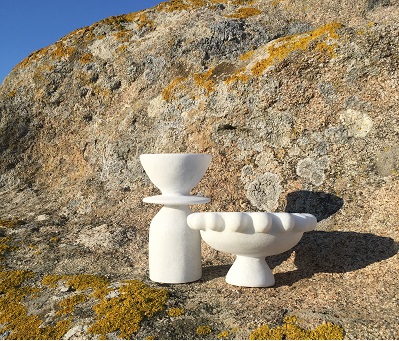 When I'm not sculpting,
I like to paint, walk through my garden, read books and meet friends.
The book next to your bedside table is …..
Oedipus, Sophocles
An insider tip you'd like to give anyone visiting Naxos:
If you come to Naxos, you should eat dinner at Petrino, the small restaurant above Abrami Beach (only with reservation). They cook an excellent meal, and the view of the sea is amazing. Below there is a small beach for a swim…. probably with a mermaid!
To contact Tom and Priska von Kaenel, visit kalodromo.ch or Instagram: kalodromonaxos
---