The New Cool: Eight Super Designer Gelato Bars
Remember the Frozen Yoghurt Invasion of a few years back? Well, now it's ice-cream that's gone all posh and seemingly multiplied on the streets of Athens of late. Insider has the scoop on the 8 most mouth-watering deluxe gelato bars to hit town. Long Live the Big Chill. What's the scoop?
Ninnolo
Despite some pretty heated (or should we say chilled) local competition, Ninnolo is a leading player in the turf war for best ice-cream artisan in Kifissia.
This popular northern suburbs cafe has forged a rep for heavenly home-made gelato using only the best ingredients on the planet  – without butter, cream or eggs! An atmospheric meet-up spot in the heart of Kifissia, now Northerners can also enjoy Ninnolo's ice- cream at home: they've just established a local delivery option.
Top Scoops:
Exotic Brazilian fruit sorbets (passion fruit, guava, acai berry); the famous nocciola with hazelnut from Piemonte of Italy; the best chocolate in the world from Africa; and the magnificent limited-edition vanilla from the Seychelles.
Details:
Address: Agiou Dimitriou 8,  tel: +30 210.801.2765.
Opening hours: 8:30 am – 01:00
Price: €20/kg
IceRoll
You know what's better than having an ice-cream? Watching it being crafted under your very nose. They score on the drool quotient, make the waiting that much sweeter and it is well worth it! IceRoll, an innovative ice cream parlour that prides itself on customizing your own ice cream, is as much a visual treat as a sensory one.  Ice-cream maestros crush your chosen ingredients together and prepare your ice cream in traditional Thai rolls with the precision and flourish of a manic sushi chef. Plus, all the ingredients are fresh and locally sourced with no additives and lurid dyes! More-ish portions, so what's not to like?
Top Scoops:
IceRoll does not limit customers to menu items. Customers can mix and match flavours to their liking. Try the chocolate overload if you're looking for something hearty and delicious or the bougatsa if you're feeling traditional.
Details:
Address: Giannitsopoulou 2, Glyfada, Tel. 210. 894.5009
Opening hours: 8 am – 2 am
Price: €6-8/serving
Le Greche
A small but perfectly formed ice cream boutique in downtown Athens which fuses Italian expertise with premium Greek raw materials. Le Greche uses superior ingredients without artificial additives and margarine or colorings, (and their dreamy concoctions contain only 8% fat!). Plus they use only seasonal fresh fruits, the finest chocolate in the land – and pack a genuine conscience about their products' nutritional value.
Top Scoops:
Try the ice-cream sandwiches topped with grilled pistachios; chocolate ice-cream with rum and prunes; ricotta with bergamot and Aperol, and mascarpone with Kalamata figs.
Details:
Address: Mitropoleos 16, Syntagma, tel: +30 216.700.6458 | Website
Opening hours: Every Day 8:30am – 02:00am
Price: €21/kg
Bufala Gelato
Billing itself as "The cream of ice-creams", Glyfada's newest and brightest gelato purveyor Bufala Gelato isn't here to pull any punches.
The Thessaloniki-launched franchise has the Unique Sales Proposition of using buffalo milk in its products, (it apparently has lower cholesterol and more calcium, iron and phosphorus than cow's milk).  But for us the real crowd puller is the Cold Stone: where you can create your own personalised ice-cream flavors from a Willy Wonka-worthy trove of ingredients (30 different choices) and see it made in front of you in an open-live show.
Top Scoops:
Pavlova (white chocolate gelato, strawberry jelly, Strawberry, meringues) and American Breakfast (Peanut Gelato, Oat Cookies, Salted Caramel, Nuts).
Details:
Address: Artemidos, Esperidon Square, Glyfada and Orfeos 2, Vouliagmeni, tel: +30 210.894.6000 | Website
Opening hours: Every day 9.00-24.00
Price:  €18/kg ("cows" ice-cream) €20/kg ("buffalo" ice-cream).
The Waffle House
With its prime Athenian Riviera locale, the Waffle House combines a delectable palette of sorbets and ice-cream with impressive Vouliagmeni Bay vistas, to deliver the "complete chill" experience. A lazy Sunday afternoon staple or after-school-treat for South-siders, this year, Waffle House celebrates 21 years of making all our ice-cream fantasies come true.
Indulge in one of the Waffle House's signature piping hot waffles and waffins (somewhere between a mini-waffle and a muffin!) at the same time as your ice-cream splurge.  It'd be rude not to.
Top Scoops:
The Ferrero Rocher, Kinder Bueno, Maltesers and Snickers balls are pure ice-cream porn for choco-philes across the land. Other irresistible new hits include: chocolate with banana cubes; lime with basilicum; and white chocolate with Baileys.
Details:
Address: Leof. Poseidonos 17, Vouliagmeni, tel: +30 210.896.1227 | Website
Opening hours: Every Day 10:00am – 02:00am
Price: €18, 50/kg
Kayak
Kayak – in pole position in central Glyfada (on the old Oscars' site) – has managed to see off much of its competition in recent years. With "boutique-styled" branches also in Mykonos, Kifissia and Costa Navarino, you know that this is prime designer ice cream territory.
Kayak keeps rolling out the hits: at last count, they have created more than 60 different ice cream flavors – but the best-sellers are: Organic Madagascar Vanilla, Mastic & Pink Pepper, Melomakarono Ice Cream and Mint Choco Chips.
Top Scoops:
Champagne with pink roses; and frozen yogurt with passion fruit.
Details
Address: Metaxa 24-26 & Zisimopoulou 9, tel: +30 210.894.9130 | Website
Opening hours: Every Day 8:00am-02:00am
Price: €21,60/kg
Zillion's
Ice cream is not just for summer at Zillion's – the new kid on the block in Kifissia that tempts the soul year round with its creative frozen delights. Like the other ice-cream purveyors on this page, Zillion's also pledges home-made authentic Italian-style products from fresh and pure ingredients. Zillion's has released 36 different ice cream flavors to date.
Top Scoops:
Fondente chocolate (chocolate with 70% cocoa); Peanut hazelnut, Pavlova, and Oreo biscuit ice cream.
Details:
Address: Dionyssou 69, Kifissia, tel: +30 210.620.1211
Opening hours: Every Day 7:30am – 01:00am
Price: €18,50 /kg
Da Vinci Artisan Gelato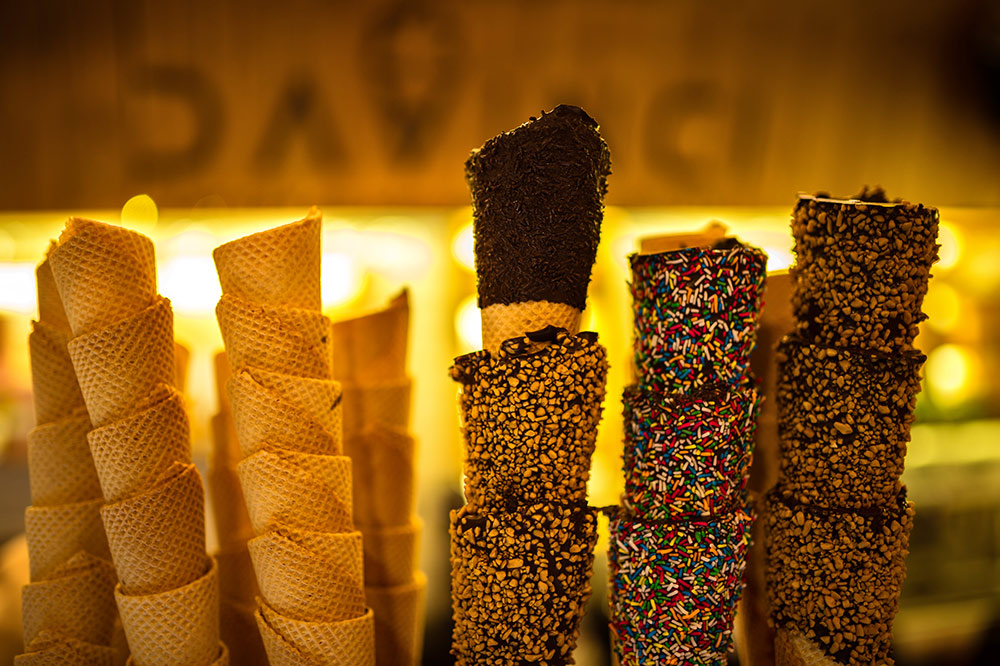 After finding its feet in Mykonos in 2012, the kind folk at Da Vinci are now spreading the joy of their divine home-made Italian-styled gelato concoctions across Athens (with stores in Monastiraki, Plaka, Varkiza and Kifissia at last count).
Best of all, the Monastiraki branch in Adrianou is open 24-7 to vanquish all your sweet cravings any time of day or night. Da Vinci's signature philosophy rests on a balance of seasonality and the absence of additives, dyes and hydrogenated fats (plus a selection of 0% fat free options to sweeten the deal!).
Top Scoops:
Ricotta with fig Millefeuille, Grandma Cookies, Mojito, Apple Pie.
Details:
Da Vinci city branches: Adrianou 50, Monastiraki, tel: +30 210.325.3893 and Selley 4, Plaka, tel: +30 210.322.6046 | Website
Opening hours: Always Open (Adrianou branch).
Price: €16/kg
Research by Krysta Fotinopoulou
---