The Darkly Familiar Greece of Leo Kanaris
John Carr reviews Leo Kanaris' gripping potboilers with private eye George Zafiris. Both Codename Xenophon and Dangerous Days are spiked with Zafiris' incisive descriptions of Athens and its resilient crisis- scarred people. Whether you opt for the beach or balcony to snuggle with these thrillers, before long, you'll be rooting for the underdog detective at every unexpected and discouraging turn.
I caught myself just in time. I was about to write something like, 'Here are a couple of good beach books for the coming summer,' but remembered that the beach this year could well be out of bounds for many of us. So instead, I'll write, "Here are a couple of great balcony books to accompany your refrigerator beer raids,' and hope I'm proved wrong.
It might not even matter, for Leo Kanaris' addictive Greece thrillers are guaranteed to take your mind off your own troubles by empathizing with someone else's, namely, George Zafiris, the intrepid Athenian private eye who'll keep you turning the pages well into the small hours. Those familiar with Codename Xenophon, the first of the George Zafiris tetralogy, will pounce on the second and third, Blood and Gold and Dangerous Days. In these two Kanaris definitely qualifies as a global- class thriller writer. Razor-wire dialogue carries you through the action at jet-ski speed, descriptions jolt us with rueful recognition, such as the Greek 'potholes that multiply as fast as the government's debts.' Or 'the pavements of Athens, with their ever-changing sea of obstacles, weirdos, beggars, lunatics, badly parked cars and rubbish bins, the shops intriguing or preposterous… all animated by that restless, chaotic Athenian energy that burns in the air and in the souls of citizens and drives them to extremes of brilliance and folly.'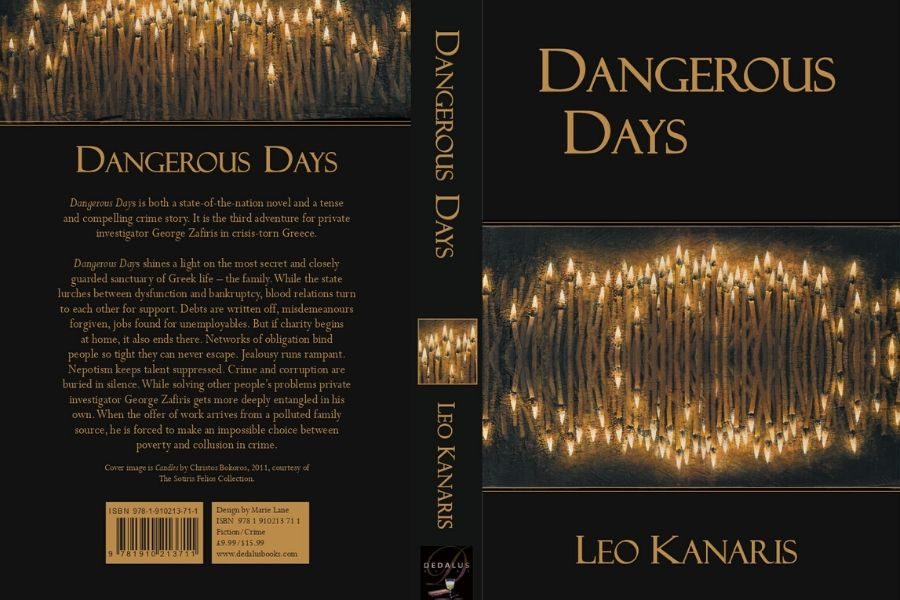 The pages also mirror how foreigners see Greece and how long- suffering Zafiris sees Greece, which makes him at times wish he were a foreigner. The second and third novels fill out Zafiris' complex character more. He is idealistic to a fault, with a tendency to depression, haunted by the prospect of personal bankruptcy in the Greek crisis and subject to withering criticism from a termagant wife who wishes he'd stayed in the comfortably corrupt establishment instead of playing Don Quixote and tilting at life-threatening windmills. To be a private eye and serve justice to the ungodly? In Greece, for Zeus' sakes? All of which does not make for a calm life. But his dogged idealism – spiked with a steely resolve – is touching, and the reader cannot help but root for him at every unexpected and discouraging turn. Beach or balcony, these are two Kanaris potboilers no-one who lives in and knows Greece ought to miss. This summer will be a difficult one. Seek comfort in Leo Kanaris. Now.
---