Shedia offers hopes and homes to Athens' most vulnerable
Shedia's vendors in their recognisable red vests are now a familiar sight at street intersections, concert halls and other high-visibility places, challenging societal perceptions, one newspaper at a time. For the vendors, it is a step towards social inclusion, of getting back their dignity, their livelihoods, their jobs and homes back. When Christos Alefantis started Shedia, Athens' version of The Big Issue in 2013, he didn't anticipate the lasting impact it would have. Housed in a heritage building, ShediaHome is not only a beautifully designed, bustling café-bar-restaurant whose chefs have been trained by Michelin chef Lefteris Lazarou, it is also a retail point for upcycled home accessories and a  workshop that empowers our fellow-citizens to re-build their lives.
Christos Alefantis, the enterprising spirit behind Shedia beams when he talks about the Greek Homeless National Football team winning the Fair Play award. As he does when he speaks animatedly about the upcoming summer project: 9 ½ weeks – a celebration of Athens, its people, music and monuments. In conversation with Athens Insider.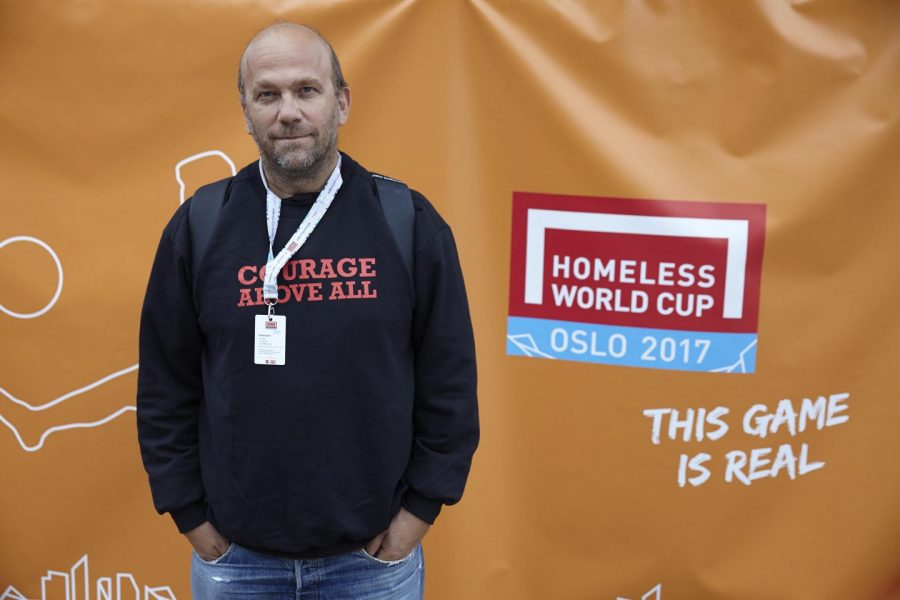 How did Shedia come about?
I used to be a keen reader and supporter of "The Big Issue Australia", in my time in Melbourne and Sydney (which is also home for me). When I moved to Greece, in 2005, I used to work in the city centre (Exarchia) for a monthly magazine. I would see people sleeping rough, homeless people roaming the streets of the Greek capital, and this is even well before the current socio-economic crisis. In 2007, we formed the "Kick Out Poverty" campaign, incorporating social football and the first-ever "Greek Homeless Football Team", which has been taking part since, in a major annual global social football tournament, the Homeless World Cup. It is a project that utilizes the great powers of the wonderful game, of social football, that is, as a way to support people to reclaim their very own lives, and not just to win some football game(s). Shedia street paper followed six years later (it hit the streets of Athens in March 2013).
Shedia was born out of our desire to support those affected the most by the current social and financial crisis support themselves. One could also say that it was also a product of our desire to stand up against the injustices so widely inflicted on the less privileged. We felt that we had to do something to support those suffering. It was our response to a big social problem.
Currently, Shedia is selling around 25,000 copies per month, which, by Greek standards, is a considerable number. It is probably the largest selling monthly magazine in Greece, if one considers that we are only distributed in Athens and Thessaloniki. But of course, the measure of our success is not the number of copies sold, but the number of the people who find refuge in Shedia. The opportunity to get energized, empowered, to stop feeling invisible, to make, in a dignified way, some income.
Apart from the street paper, we try to provide a wide range of services to our vendors (currently, we have about 150 active vendors). We try to offer to people who are experiencing social exclusion access to some of the simple things in life that you and I are blessed or lucky enough to still enjoy. Social tours, ceramics classes, creative writing, tickets/tours to theaters, we have formed a small theatre group ourselves for our vendors, photography projects, even yoga classes. Recently, we launched our very own choir in collaboration with El Sistema Greece. It is all about supporting people to support themselves, helping them to feel good about themselves again, to feel connected.
And of course, we are looking into supporting people to find stable employment as well as secure housing. Forty-seven of our vendors so far have moved out of the street and into their own little flat, through the income the make as Shedia vendors. We are absolutely delighted when things like this happen. We feel it is a collective victory. Similarly, more than 120 people have moved on to rejoin the labour market.
Homelessness as a socio-economic phenomenon is a recent one for Greece. How many homeless people do you estimate live on the streets in Athens? In Greece?
To be honest with you, I am not familiar with any reliable data on the number of homeless in Greece. I do not wish to be unfair, there may be one or even more, but it is just that I am not familiar with them. I remember a survey conducted by the Ministry for Health (I think) a couple of years ago which reported about 2000 rough sleepers within the municipalities of Athens and Piraeus. I think these figures grossly underestimate the true size of the problem. I am not even sure it takes "hidden homelessness" into account. I mean, there are hundreds of people who have been to Shedia alone.
What does a homeless person most crave for? Dignity?  Acceptance? How do you make a community pushed to the margins of society regain their sense of self-worth?
If one reads the life stories of our vendors which feature regularly on the last page of Shedia each month (one may also read them all on our website) it becomes very clear that feeling visible, useful, connected, part of society is what homeless people are yearning for. When we talk to them -which is happening every day, of course- it is not money they wish to speak about (even though, they are all in desperate need for an income to pay off for their most basic needs) but this sense of belonging, the restoration of a sense of purpose. How important it is that they wake up in the morning, they visit our offices and then move on to their pitch, to interact, to exchange a "kalimera", to sell.
At Shedia, what skills do you hope to impart to make them employable?
I think the most important thing is that people start believing in themselves again but also to start to believe in the world around them. This is crucial. We have found that many people who walk through our doors, feel so heavily burdened that they are just about to give up. Life has been so harsh that they have lost faith in themselves but also in society, in general. We sense a feeling of bitterness when they speak. So, bridging this gap and believing again in yourself I really feel is crucial. If you believe, things will happen.
As you walk into ShediaHome, the first thing that strikes you are the airy home mobiles dangling from the ceiling. Made of papier-mache and metal wire-frames, each of these homes represents a real one found for a homeless person, a collective victory.

What are your immediate projects towards empowering the homeless?
We recently launched our shediahome project in the heart of Athens which incorporates a fully accessible top-class café-bar-restaurant (a Michelin start chef has designed our menu, an award-winning bartender our cocktail list and top music producers their fantastic playlists, among other things). It is, also, an applied social innovation hub where people can have a fantastic time while – at the very same time – participate in a great social project. Is this not just fantastic? This heritage building is also the home (on 56 Kolokotroni Street, in Athens' historic centre) of our social and environmental project "Shediart". Our showroom, workshops and retail shop are all here.  It is great social project but also an amazing world waiting to be discovered.
As of July 1, we launch our first "9,5 weeks in Shediahome" fest which will feature great pop-up exhibitions, special great food & cocktail nights, guest DJs, walks, poetry reading, games, even star gazing nights. It is going to be a fun summer.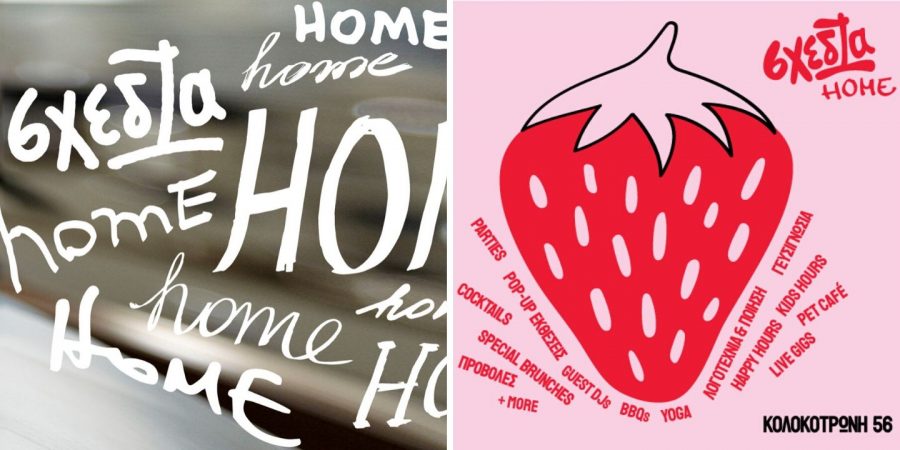 How can one get involved?
There are so many ways people can get involved, starting from enjoying a great dinner and/or cocktail in our café-bar-restaurant to volunteering in our upcycling workshops. Indeed, there are so many opportunities for people who have the time and kindness to contribute. Visiting us, I think, is a great way to start!
---
Five small things you can do that go a long way:
Play football: Kick a ball with Shedia's football team.
Join an upcycling workshop: Join Shedia's team to re-use, re-create and re-joice!
Go on an invisible tour: Who better as your city guide than someone who knows streets and their secrets more intimately than most.
Have a meal: Plan to have a warm meal or share a cocktail with friends at ShediaHome at least once a month.
Subscribe: Buy a newspaper every last Wednesday of the month or subscribe annually at shedia.gr
---
9 ½ weeks Street Fest
Loosely inspired by the Hollywood film featuring Kim Basinger and Mickey Rourke, ShediaHome organizes its first summer fest for 9 and a half weeks of summer fun, urban discovery and solidarity from July 1 to September 5.  Expect live gigs, photography and political cartoon exhibitions, bbq fests, yoga sessions, degustation, cocktail happy hours, special brunches, cycling tours in the city, pet-pampering sessions.
Enjoy the special "9,5 weeks" cocktail concocted by Shedia's mixologist and "happy hour" cocktails for 6€, from 5 pm to 9 pm, every day, till September 5 (save the date for a big party).
The restaurant is open till midnight (last order at 23:00) this summer.
The festival highlights include a  full moon night event with the National Observatory of Athens on Monday, 3 August. A telescope will be installed on the terrace and a scientist will talk to us about the sky and the stars, while we are enjoying specially prepared finger food and a cool drink.
---
Kolokotroni 56 & Nikoou 2, Athens, Tel: +30.213.023.1220
Fragon 24, Thessaloniki, Tel: +30.231.301.3605
---