A Requiem for a Master Storyteller
John Zervos pays tribute to Philip Kerr, a master of historical detective fiction, and the creator of Bernie Gunther, one of the most endearing, wisecracking detectives in crime writing. In his last book, Greeks Bearing Gifts, published a week after his death in March this year, Kerr leaves behind a compelling spy novel that moves swiftly from Germany to Greece. This is but one of the many entertaining, beautifully written books by a gifted writer who left us too soon.
Philip Kerr, was a Scottish-born writer who penned extraordinary novels featuring a Nazi-era detective named Bernie Gunther, whose egregious style and moral ambiguity resembled Philip Marlowe, Raymond Chandler's classic private eye.
By placing the sardonic Gunther in Hitler's Germany, Mr. Kerr found ample ground for years of intrigue, power plays, collective atrocities, love stories, betrayals, assassinations and human beings caught in the whirlpool of the Third Reich  "like fragments of torn-up hope". A Marlowe in a different setting.
Forced out his job at 'The Kripo', the Berlin Police Force for refusing to join the National Socialists, he becomes a 'sniffer,'a private detective, mostly looking for 'missing persons'. His observations are indicative of the status quo in Berlin.
"Behind my office, to the south-east, was Police Headquarters, and I imagined all the good hard work that was being done there to crack down on Berlin's crime. Villainies like speaking disrespectfully of the Führer, displaying a 'Sold Out' sign in your butcher's shop window, not giving the Hitler Salute, and homosexuality. That was Berlin under the National Socialist Government: a big, haunted house with dark corners, gloomy staircases, sinister cellars, locked rooms and a whole attic full of poltergeists on the loose, throwing books, banging doors, breaking glass, shouting in the night and generally scaring the owners so badly that there were times when they were ready to sell up and get out. But most of the time they just stopped up their ears, covered their blackened eyes and tried to pretend that there was nothing wrong. Cowed with fear, they spoke very little, ignoring the carpet moving underneath their feet, and their laughter was the thin, nervous kind that always accompanies the boss's little joke."
Gunther is "one of crime fiction's most satisfying and unlikely survivors: the good cop in the belly of the beast," Jane Kramer, The New Yorker's longtime European correspondent, wrote last year.
With the Munich Olympics as a backdrop, Gunther, investigated a murder that led him to the hierarchy of the Nazi party and was often 'pressed' into jobs for the propaganda minister Joseph Goebbels and Reinhard Heydrich, a principal architect of the Final Solution
A German Requiem (1991) ended a trilogy called Berlin Noir by taking events to the end of the second world war and Vienna. The One from the Other (2006) was the first in a run of 10 more Berlin Noir novels, taking him to Poland, Ukraine, Austria, Argentina, Cuba, France, Greece and other countries.
In addition to protagonist detective Gunther the books are remarkable in their historical accuracy, the details of the cities, be it Berlin or Athens, the facial gestures, the mannerisms, and the 'feeling' of each town or village.
But it is Gunther's dry observations that make the books such a pleasure to read. Entering a night club he observes, "Looking round the room I found there were so many false eyelashes flapping at me that I was beginning to feel a draught." While still a cop at the Kripo he remarks, "Being a Berlin cop in 1942 was a little like putting down mousetraps in a cage full of tigers."
All of Kerr's books are worth reading; informative, horrifying and amusing at the same time. He joins the ranks of the best historical detective novelists and rightly received the Ellis Peters Historic Crime award. He passed away a month ago just before the publication of his last book "Greeks Bearing Gifts."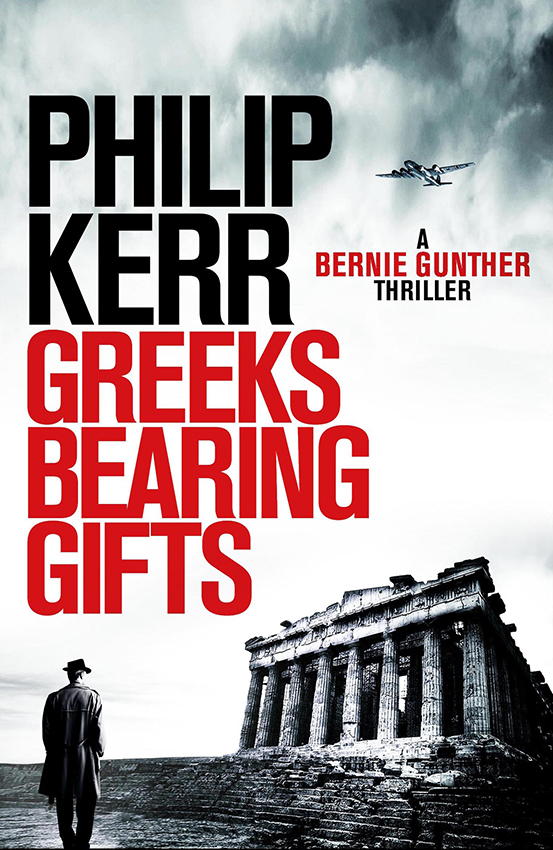 On Greeks Bearing Gifts:
1957, Munich. Bernie Gunther's latest move in a long string of varied careers sees him working for an insurance company. It makes sense: both cops and insurance companies have a vested interest in figuring out when people are lying to them, and Bernie has a lifetime of experience to call on.
Sent to Athens to investigate a claim from a fellow German for a ship that has sunk, Bernie takes an instant dislike to the claimant. When he discovers the ship in question once belonged to a Greek Jew deported to Auschwitz, he is convinced the sinking was no accident but an avenging arson attack. Then the claimant is found dead, shot through both eyes. It's a win for Bernie's employers at least: no one to pay out to even if the claim is genuine. But who is behind the murder, and why?
---