Relive the Love of Ibero-American Literature at the LEA Festival
The LEA Festival, a bridge between Ibero-American writers and its Greek public, opens on Monday, October 11, at the Benaki Museum in the presence of H. E. the President of the Hellenic Republic, Katerina Sakellaropoulou.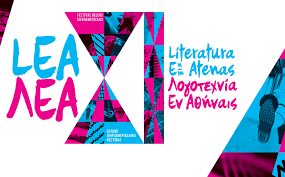 The LEA festival, now in its 13th year, offers two programmes that complement each other and allow free access to the literary and artistic activities of the Festival. The first programme, from October 11 to 29, will take place in a mixed format, which means that it will take place with a physical presence in places such as the Benaki Museum, the Stavros Niarchos Foundation Cultural Center, the Cervantes Institute of Athens and the School Abanico – complying with all applicable mandatory protection measures – but at the same time there will be the possibility of free access to it in digital form.
The second, the 13th e-LEA Festival in digital form, will take place from 2 to 18 November with the participation of guest writers from Greece and the Ibero-American world.
On Monday, October 11 at 19:30, at the Benaki Museum of Greek Culture, SA The President of the Hellenic Republic, Katerina Sakellaropoulou, will announce the opening of the 13th LEA Festival. Other personalities from the diplomatic and cultural spheres, from Iberian America and Greece, will also address the event. As part of the 13th LEA Festival, immediately after, at 20:00, the 1st LEA Literary Translation Prize will be awarded to the translator, translator or translation team that will have performed during the immediately preceding calendar year, according to the date of publication of the project and its entry in the VIVLIONET database, the best first translation or retranslation of a literary work (novel, short story collection, play, poetry collection or anthology of one or more poets) written in either Spanish, Portuguese or Catalan.
The day will end with an anthem in free dialogue. The band Los del Sur will perform songs with which it wishes to send to the public a message of brotherhood between the two countries, Greece and Peru.
For more info on the 13th LEA Festival and the e-LEA Festival, visit: https://lea-festival.com/events/
---