NEON and SNFCC bring Louise Bourgeois' Maman to Athens
Louise Bourgeois iconic giant spider — one of the works that made the artist internationally famous — will be on display at SNFCC's Esplanade for a seven-month period, with free entry to the public. The first artist to receive a commission for the  London's Tate Modern, her stainless steel, 30ft sculpture of a spider carrying marble eggs, Maman, has since become one of her most famous works.
Of Maman, Bourgeois has said, "The Spider is an ode to my mother. She was my best friend. Like a spider, my mother was a weaver. My family was in the business of tapestry restoration, and my mother was in charge of the workshop. Like spiders, my mother was very clever. Spiders are friendly presences that eat mosquitoes. We know that mosquitoes spread diseases and are therefore unwanted. So, spiders are helpful and protective, just like my mother."
A truly individual artist, Bourgeois' sculpture has always referred to her personal world, and more specifically, her childhood. Born in Paris, 1911, her family owned as tapestry workshop, where Bourgeois would work on restoring the imagery in lost or damaged sections of tapestry from the age of 12. After studying Mathematics at the Sorbonne at 15, Bourgeois studied art in various Paris schools, including the Ecole du Louvre, Académie des Beaux-Arts and Académie Julian. When she worked as an assistant at Atelier Fernand Léger, she was persuaded to switch from painting to sculpture; a defining point in her career.

In 1938, Bourgeois relocated to New York with husband, art historian Robert Goldwater. Bourgeois has since noted if she had stayed in Paris, she would not have continued being an artist. The rest, as they say, is history. In a career that spans more than seventy years, Bourgeois has worked through most of the 20th Century's great artistic movements, yet has managed to retain a steadfast uniqueness. This strength emanates from her large and impressive body of work that consistently investigates the nature of relationships, from those between men and women, families and surroundings to emotions and situations.
As Dorothy Cross noted once; "Louise goes further by including the viewer in the drama."
Like a creature escaped from a dream, or a larger-than-life embodiment of a secret childhood fear, the giant spider Maman (1999) casts a powerful physical and psychological shadow. Over 30 feet high, the mammoth sculpture is one of the most ambitious undertakings in the long career of Louse Bourgeois. Over a vast oeuvre spanning more than sixty years, Bourgeois plumbed the depths of human emotion further and more passionately than perhaps any other artist of her time.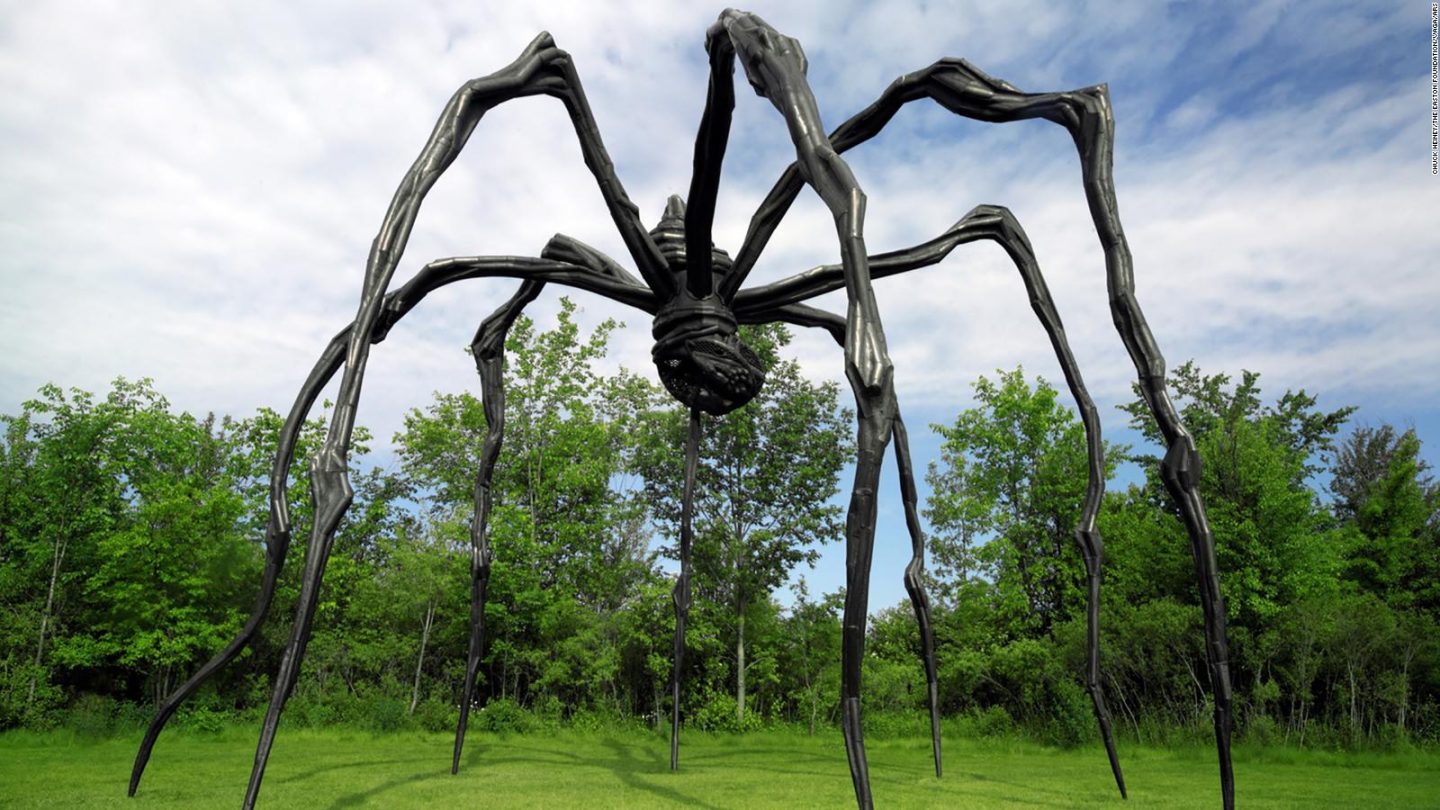 In its evocation of the psyche, her work is both universal and deeply personal, with frequent, explicit reference to painful childhood memories of an unfaithful father and a loving but complicit mother. Bourgeois first gained notice in the 1940s with her Surrealist-inspired Personnages (1945–55): thin, vertical forms in wood or stone that evoke the human body. Installed in clusters, suggesting a small crowd or perhaps a family, the Personnages were meant to symbolize figures from the artist's past. Maman, in fact, is associated with the artist's own mother. The spider, who protects her precious eggs in a steel cage-like body, provokes awe and fear, but her massive height, improbably balanced on slender legs, conveys an almost poignant vulnerability. However, the artist's relationship to motherhood was ambiguous, contradictory, and complex. Dominating its surroundings and teetering on rangy, segmented legs, Maman also evokes fear and suggests entrapment.
When: Daily from March 31 to November 6, 2022
Where: SNFCC Esplanade, snfcc.org
Free entrance
---