Mrs. Tependris, She's mine Bitch
Konstantinos Kakanias is back with Mrs. Tependris, his eccentric protagonist in a provocative socio-political exhibition, That's Mine Bitch, Don't Touch Her. Back Off! at the Rebecca Camhi Gallery and at The Kalfayan Gallery. In an interview with Athens Insider in 2012, Kakanias confessed how 'growing up as a gay boy in Greece, in the '60s and '70s was not an easy experience, with 'no support for my confusing questions and desires from a society that relentlessly promoted love and values based on stereotypical heterosexual relations. Everything around me seemed to remind me how "wrong" I was. I felt lonely, alienated.'
In light of his new exhibition, below is an excerpt of his interview in Athens Insider with Sudha Nair-Iliades.
When he breezed in at the Rebecca Camhi gallery in Metaxourgeio, his dog Renzo in tow, he fretted about getting his holiday home on the outskirts of Athens cleaned, was anxious about a set of paintings being stuck at customs four days before the opening, wondered if he could complete a commission to create ceramic plates on Paros before rushing back to LA for a show for jewellery company Vram and work on a beautiful book for Frederic Malle, published by Angelica Taschen. All this, while calculating time zones to call his boyfriend in LA in the midst of our interview. Kakanias concedes resignedly, "The thing I love and hate the most is that I do too many things … and I have no one to tell me what to do, not even Mrs. Tependris."
In return, Kakanias has an impressive body of work to show for all that restlessness and versatility. From illustrations that have been published in several magazines including the NY Times, the LA Times, The New Yorker, Interview, Vogue and Paper magazine and drawings, paintings and sculptures that have been exhibited around the world at galleries such as Paul Kasmin in New York, Jennifer Flay in Paris, Kim Light in Los Angeles, and with Rebecca Camhi at the Basel Art Fair and the Armory Show in New York and at her eponymous gallery in Athens, Kakanias has established himself as something of a cult figure. Kakanias quickly made the crossover from art to fashion by collaborating with some of the biggest names in fashion including Yves Saint Laurent and Christian Lacroix, Italian and French Vogue and iconic brands such as Tiffany & Co and Barney's NY. In 2008, he collaborated with Diane von Fürstenberg to create the comic book Be The Wonder Woman You Can Be.(DC Comics 2008) and more recently, he has created a collection for Swarovski and illustrated all of Frederic Malle's fragrances for Edition Parfumeur.
So how does the hook-nosed Mrs. Tependris fit into the scheme of things? Kakanias muses, "I invented this figure in 1996 – a woman who would appear to me in moments of creative bliss or desperate loneliness. I could have never imagined that my imaginary friend, my saviour, my muse, would eventually take real form and have a name. Or that now, after thousands of drawings, numerous exhibitions, performances, and books, that I would still be busy with her."
"Mrs. Tependris – she always goes by her married name – is a fashion-obsessed character. She is sometimes me (or sometimes I'm her), but she can be anyone (though she is not for everyone). She escapes and does not appear to me for years, but she always comes back. It is a real relationship."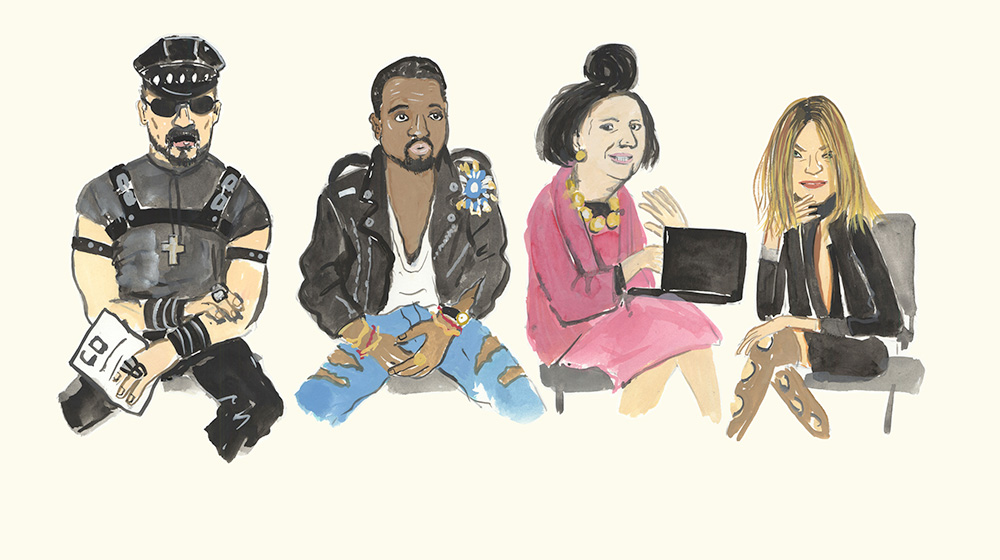 So real, that Mrs. Tependris now moves and talks animatedly in a high-pitched voice. Kakanias explains the switch from illustration to animation. "Two years ago, my good friends Stephanie Danan and Justin Kern, who have been fans of Mrs. Tependris ever since I introduced them to her, invited me over for dinner and asked if I would be interested in making an animated Tependris movie. Although intrigued and honored, I was hesitant." Kakanias expands, "She hasn't appeared to me for the last four years," I told them. "One dark January evening, Stephanie texted me, 'check your computer!' Mrs. Tependris was on the screen: moving, talking, living, and I immediately knew I had to do it. She had appeared to me again. I had no choice."
The seven minute film, created and illustrated by Kakanias over seven months, finds Mrs. Tependris on one of her famous retreats – cryogenically frozen for chic posterity – when inspiration comes calling: it's time for a fashion comeback. With her assistant Pearl, her dog Pepe, and her sly sense of humor, Mrs. Tependris must face a 20-foot spider (inspired by Kakanias' pet spider Devon) and catwalk catastrophe on her fabulous journey from ice-cube to icon while fashion veterans Anna Wintour and Karl Lagerfield watch on.
What will be the next adventure for Mrs. Tependris? Will it be another animated comeback? An opera or a circus act? "She is my creation – but there is no attachment, there is distance. I love her. I wouldn't mind what happens to her. It is an old-fashioned affair and I'd like her to live on through other creators when my time is done.." A reincarnation perhaps, I suggest. Kakanias embraces the idea. "That would be wonderful if she could live on and morph into anything she wants to be – fashion karma!"
I ask Kakanias what the single biggest influence on his art is. "The references in my work are so many that it would take many pages to list them. I love the unlimited freedom inherent in contemporary art, the fact that anything can be art. I love the wonderful sense of humour by Goya. I love the terrible visions of Erich Von Stroheim, Kenneth Anger, James Ensor, Felicien Rops, as well as the lightness of Constantin Guys and Christian Berard. I live for rococo, but deep inside me I also recognize the influence of early Byzantine art. I am very easily influenced by anything. It is a drawback of my character but since I cannot do anything about it, I try to turn it into something positive."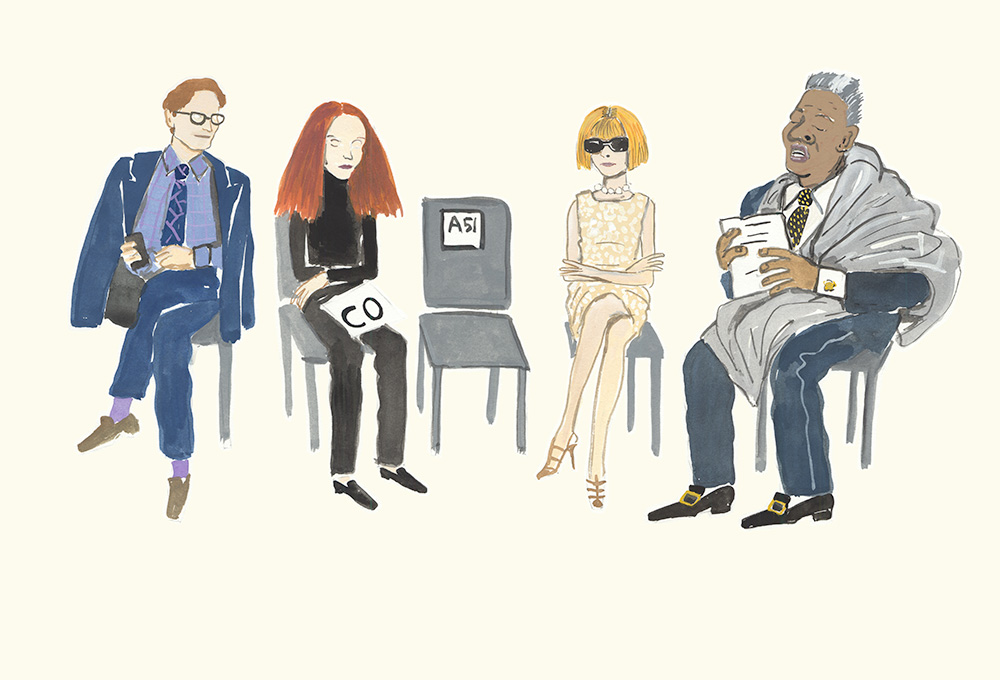 With more time spent commuting between continents, I ask him where he considers home. "With Athens, it is love and hate… in fact, Love and Hate, in capitals. There are times in the past few years that I thought that I had left my soul in a dumpster in Hollywood, but lately it seems like it has been redeemed and sent back to Paris. I went for the first time to Paris when I was eight years old, and today, I know that Paris is and will always be my real home."
And what are his dreams made of? Kakanias reminisces, "I live a lot in the past – I suffer from nostalgia, I engage in nostalgia – not kaimos. It is sweetness, not bitterness. I see a lot of my past in my dreams – dreams of people who appear in my dreams. But I've never dreamt of Mrs. Tependris. She only appears to me in the daytime."
Konstantin Kakanias' That's My Bitch, Don't Touch Her. Back Off! exhibition is currently being shown at Rebecca Camhi gallery and The Kalfayan Gallery and runs until September 15. For details, visit here .
---