Milos sets Sail
One of the world's most celebrated seafood restaurants, Milos, has taken to the seas.
In a new culinary venture that's sure to thrill Milos' more affluent fanbase, the global bastion of fine marine morsels has launched "Milos at Sea": an opportunity to savour the gastronomic philosophy of Costas Spiliadis while exploring the beautiful coast of Greece and her islands. All from the luxurious lodgings of a 113ft motor yacht.
The upscale gourmet experience, designed as a cultural journey to showcase the famous Greek mode of eating, drinking and living, can accommodate up to ten people for a minimum of seven days.
In the setting of a family meal at home (except by the sea!), guests make their own gastronomic choices from premium ingredients such as fresh sargos or tsipoura (white seabream and gilt-head bream) from Greek fishing boats, a variety of wild greens and vegetables from local farms, Santorini feta, honey from Kythera and extra virgin olive oil from Olympia, produced by Spiliadis' sister. In between meals, choose from diversions including cooking lessons, wine and cheese tasting or fishing. There's also a 16ft tender boat, wake boards and paddle boards, a two-person kayak and snorkeling equipment on offer for those eager to work off their culinary exertions.
Milos has branches in Montreal, New York, London, Miami, Las Vegas and at the Athens Hilton. For more information on Milos at Sea, visit HERE or email info@milosatsea.com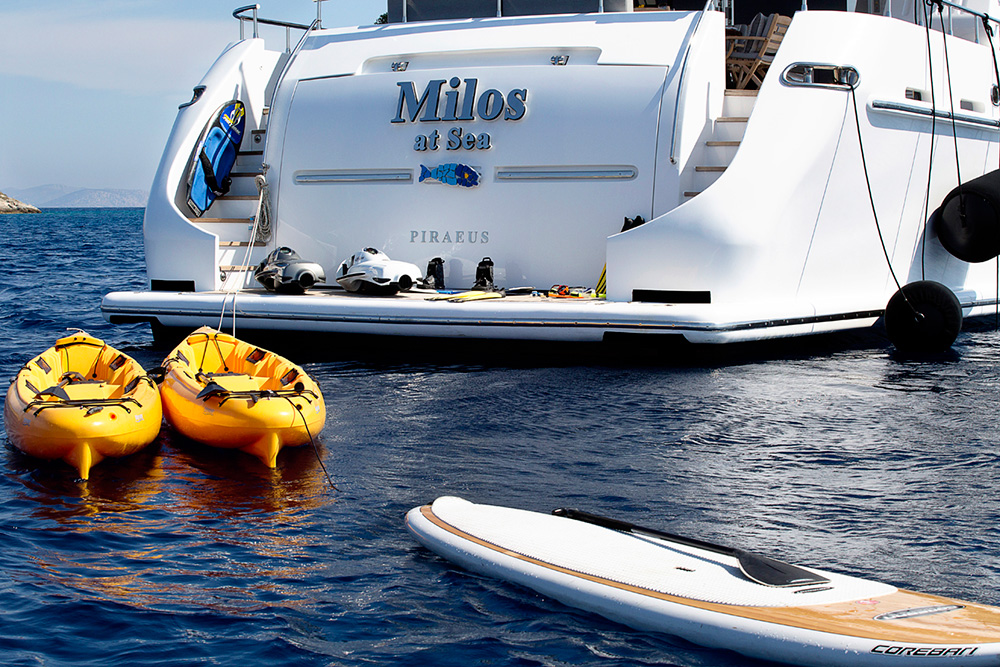 ---