Top 5 Tea Rooms in Athens
Time for Tea? It's fair to say that the much-loved Anglo-Saxon ritual of afternoon tea has never really been a "thing" here in Greece. Why would it … in a land when lunch is barely served by the time most Brits are already reaching for the kettle to brew up that first afternoon cuppa? But that doesn't mean there aren't some truly terrific tea rooms in Athens where one can indulge in this oh-so-British institution. Amanda Dardanis scouts her Fave Five.
Hotel Grande Bretagne
The clue is in the name, dearies! High tea at GB is a cherished Athens institution. Once you're sitting amongst all those potted palms and sumptuous tapestries in Grande Bretagne's Winter Garden salon and drinking in that delightful British formality – you'll feel like you've been beamed straight to Claridges or the Ritz – quicker than you can say, "Make Mine a Twinings".  Enjoy the royal treatment with GB's impressive selection of teas from all over the world, served "just-so" in posh porcelain cups (they always seem to make you sit up straighter!). Select a dainty morsel like freshly-baked cupcakes to go with your reviving pot of char. Personally, though, it always feels rude not to make a real occasion of it and indulge in the full English afternoon tea spread of scones, crabmeat, egg or cucumber sandwiches and other yummies (€36 or €45 with a glass of champagne included). If only for the fancy-pants silver stand it all comes laid out on.  Served daily from 12-8pm.
To Tsai
Located on a quiet Kolonaki street is this sleek dame that provides a more mellow Greek tea experience to a loyal fan base who come for the distinctive tea varieties, classic high-ceilings and elegant cool interior.  Top tastes are To Tsai's specialty iced-teas laced with gin and fruit, (one is never enough; two is too many!), and the seriously delicious house cheesecakes. To Tsai also hosts regular tea tastings, Chinese tea rituals and musical events.
Alexandrou Soutsou 19, Kolonaki, tel: +30 210.3388941, www.tea.gr
Peonia Herbs and Tea Room
Escape the whizz and whirl of the outside world at this gracious Japanese-style tea room, housed in an old neo-classical building in the heart of touristic Thissio (one block from Apostolou Pavlou, the road that rings the Acropolis). Peonia (Peony) Tea House plies premium brews and blends of all kinds, Japanese and Chinese included. Sweet tooths won't find satisfaction on a GB or To Tsai scale. While there are some organic sweets and healthy snacks on offer, Paionia is pretty much all about the tea. It does however do a neat sideline in both Chinese and Western herbal remedies, if that's your thing.  With its crisp soothing décor of white-on-wood, the beautiful Japanese tea accessories, and a very approachable owner, Peonia is like a tall drink of water on a muggy day: and the perfect place to take time out from your city explorations – whether you're a tourist or a local.
Poulopoulou & Amphikteinos, Thissio, tel: +30 210.341.0260,  www.peonia.gr
Petite Fleur – Halandri
The first Petite Fleur may have colonized Kolonaki back in 2001. But we must confess to preferring the atmosphere at the more spacious Halandri branch. Here, the vintage tunes and charming décor of this popular neighbourhood rendezvous will spirit you away to the romantic Paris of "belle époque". Petite Fleur's central locale (just behind Ag. Nikolaos church), lends itself perfectly to lingering at leisure over a French Kusmi tea, bio-coffee or dreamy home-made tart. Chocoholics will swoon over their Valhrona hot chocolates available in many decadent varieties. Meanwhile, non-smokers will particularly appreciate the owners' smoke-free philosophy.
Cake – Glyfada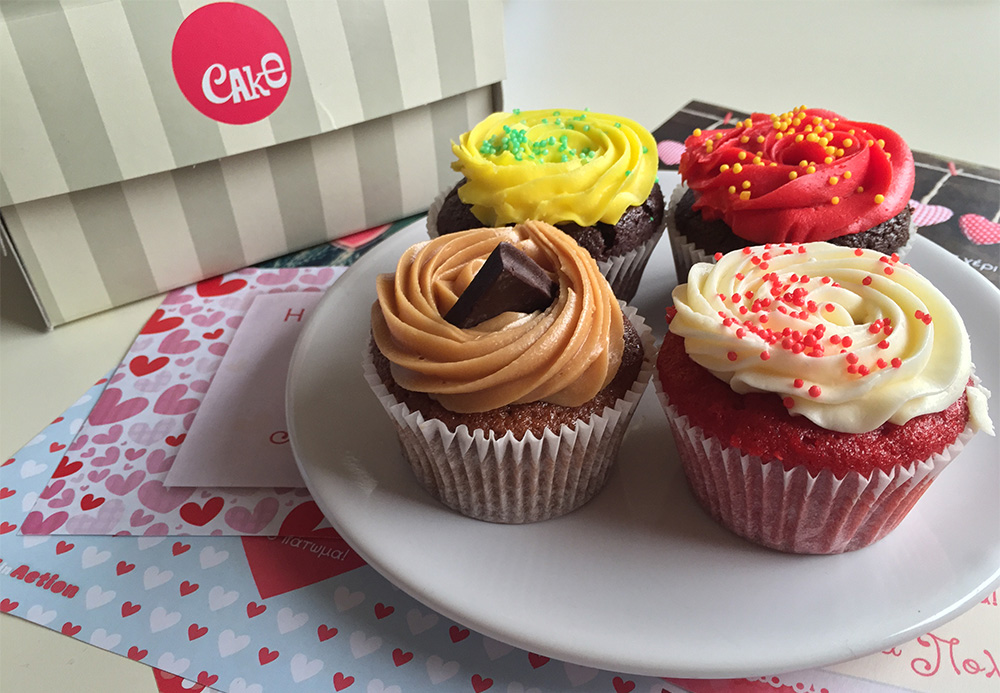 Like a 1950s Betty Crocker studio set come to life (if it weren't for all the iPads), the quaint upstairs-downstairs Glyfada branch of Cake is surely one of the jolliest franchises in this successful American-style bakery and café chain. Cake was first opened by a pair of baking-mad siblings in 2004, in time for the Olympics. They wanted to create a new (at the time) flavour experience for Athenians – and one that echoed the kitchen they had grown up cooking in. The result? A supremely cheerful space with checker-tiled floors, wooden shelves heaving with recipe books, an abundance of home-made art on the walls – and a "stay all day" vibe. Sure, their tea is great… But let's not kid ourselves. It's just an excuse to get down and dirty with the good stuff. And by that we mean: Pumpkin pie, banoffee pie, carrot cake, chocolate lacta cake, salted caramel cake, key lime pie, New York cheesecake with sour cherry topping. Need we go on?  A special shout out though has to go to our absolute favourite fix on the Cake menu: Red Velvet, Red Velvet … you had us at hello.
Best of the Rest
Chai
Tea puritans will relish all the authentic little finesses (such as attention to exact brewing times and proper crockery) at this Colonial-style Kolonaki tea-house specialising in 70+ teas from China, India, Japan and Sri Lanka. Afternoon tea is served daily at 5pm with muffins, cakes and sandwiches.
Lykavitou and Al Soutsou 19, tel: +30 210.338.8941, www.tea.gr
Strofes
A hundred tea varieties to discover at this high-temple to tea where the porcelain is always pretty, the tables are fashioned from old sewing machines, and vintage postcards add to the patina of yesteryear. Gets a bit too smoky for our liking sometimes.
Chamilton 7, Victoria, tel: +30 210.883.3625
Kimolia Art Café
You'll find a tempting range of hot, iced and botanical teas at reasonable prices at this hip Plaka hangout in a restored-1920s abode that brews up an arty and mellow vibe behind the breezy lemon-drop street awnings.
Tea to go?
Here's where you can buy a great range of specialty teas and accessories in Athens, either in-store or on-line:
Tsaina, Solonos 28, tel: +30 210.364.8355,  www.tsaina.gr
Madras House of Tea, Notara 21, Piraeus, tel: +30 210.411.8067, www.madras.gr
---