Mary Katrantzou: An exalted collection at an epic setting
Describing it as her most personal collection to date, Greek designer Mary Katrantzou's Spring-Summer 2020 collection feted her fashion brand's 10th anniversary, and raised awareness for children with cancer, in a setting truly fit for the Gods – the 2,500 year-old Temple of Poseidon suspended atop a 200-foot cliff overlooking the Aegean. As models in Katrantzou's kaleidoscopic, sculptural creations trod on the Temple of Poseidon's ancient grounds under a half moon, the experience was both humbling and awe-inspiring. Vangelis' haunting music only heightened the mystical energy and elevated her fashion show to a life affirming experience.
We catch up with Mary Katrantzou at Four Seasons Astir, a few hours before her much-anticipated show at Sounion. Watching her bask in the October sun, unflustered, she seemed to mask her anxiety remarkably well. It must have been the lull before the storm. Minutes later, the skies darkened, and an unseasonal autumnal storm threatened to wash out her show altogether. With almost as much drama and magic as her phantasmagorical creations, the clouds cleared, the sun peeped under them, infusing the sky in such rich hues of vermillion, you knew even the Gods had relented so that this phenomenal talent and delightfully humble creator could have her moment in the sun.
Your ethereal creations tying in Greek myths and symbolism to Vangelis' haunting music under a moonlit night at Sounion – was it exactly as you'd envisaged it? Why had you set your heart on this setting? Was it a homecoming of sorts for you? Describe your emotions.
I am grateful to Vangelis, for giving me the incredible gift of writing the music that allowed us all to travel back in time and into the future, on October 3, at The Temple of Poseidon, in Sounio. His music defined the spirit of this encounter between our historical past and our cultural present. Music, as Vangelis's has instilled in me, can be found everywhere and everything is music. It is my belief that the music he composed has always belonged to The Temple of Poseidon and through Vangelis's genius, it emerged that night, heightening the mystical energy of this landmark location. I am lucky to have discovered not only the many layers of his brilliance but also his generous spirit and I am blessed to be able to call him a friend. This show was a homecoming and a personal love letter to Greece, the country that formed the person I am today. It has been my intention, for some time, to do something meaningful in Greece that would allow us to send a message of culture and humanity beyond our borders. ELPIDA was founded by Marianna Vardinoyannis on these exact values and when she approached me to join forces in celebration of their 30 Years, I knew there could be no higher purpose than supporting their sacred cause. I cannot describe my emotions when ELPIDA's children and adult survivors walked down the steps in front of The Temple of Poseidon, a monument that has stood there for over 2,500 years, accompanied by the music of Vangelis. Marianna inspired me and allowed me to find a new purpose and reassess the power of creativity in bringing people together for the common good. I hope with our efforts, and with the kind support of Bulgari, Swarovski, MasterCard and the National Bank of Greece, we managed to raise awareness around ELPIDA's work far beyond our borders and sent a message of hope and humanity around the world.
Feathers, festoons, fronds, beads, maps, alphabets, Katrantzou's couture creations came in dramatic prints, shapes, shades and structures.
The anxiety of putting on a fashion show such as this one – down to getting the permits and even pleasing the fickle weather Gods- did you get the feeling that if you've done this, you can take on anything?!
It had been a dream of mine to do a show at The Temple of Poseidon and we knew from the first time we confided in Elpida's team of our intention that it wouldn't be easy. The importance of ELPIDA's cause that we were servicing and the historical nature of the location, ignited a determination in all of us to achieve what at times seemed impossible. I remember, when we managed to get the approval from the Ministry of Culture and KAS, I was in tears and vowed to Marianna that I would do my absolute best to raise awareness around her life's work at ELPIDA. At that moment, I felt the weight of responsibility after being trusted with a monument that has never been offered before for such a worthy cause. Both ELPIDA's team and our team worked tirelessly for over two months to ensure we were respectful of the Ministry's decision. On the day of the show, Athens was experiencing torrential rain and we feared the show would be cancelled. When I saw that the clouds disappeared just 1 hour before the show, literally changing direction and moving away from us, I felt that we had Poseidon on our side all along.
Reflecting the timeless elegance of the 16 Doric columns, Katrantzou's painstakingly crafted creations celebrate Classical Greece but she also thoughtfully uses this magical moment to support Elpida in giving hope to thousands of children.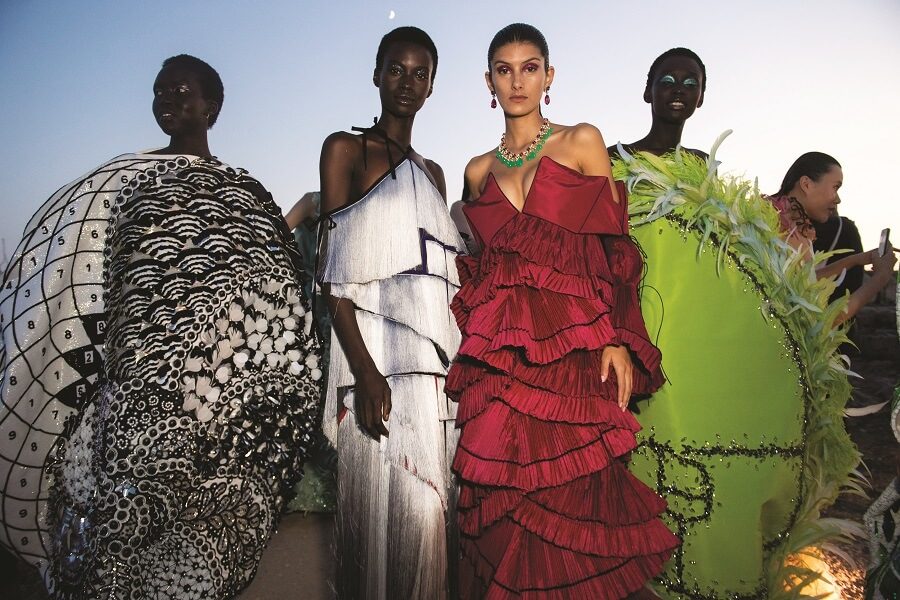 Do you think this might set a precedent for future fashion shows to be staged at iconic venues in Greece?
It is important to distinguish that this event was dedicated entirely to raising financial support and awareness for a very important cause, ELPIDA's invaluable research on child cancer. I have great respect for how protective the Greek Archaeological Council (KAS) and the Ministry of Culture are of our monuments, that is their responsibility. I equally witnessed first-hand that when the application is meant for a sacred cause and it is done with respect to the location, they are willing to support it.
You do realise that the bar has been set so high – how can you possibly top something like this next season?!
I always take time to reflect and the show at The Temple of Poseidon is still very raw in my mind. What I do know, is it has forever changed the impact I believe culture and creativity can have, when joining hands with philanthropy, to raise awareness on a global level. This show was a homecoming and a personal love letter to Greece, the country that formed the person I am today. It has been my intention, for some time, to do something meaningful in Greece that would allow us to send a message of culture and humanity beyond our borders.
The collection was also designed to highlight the values of Greek ideas that were born here, at the time the Temple of Poseidon was built because it was important to me that the clothes felt rooted in the location. Sending a message of humanity from Greece to the world, allowed us all to witness the impact of a historical landmark in communicating our values as Greeks.
What stimuli does your creativity feed on? Do you consider creativity to be inexhaustible?
I find inspiration comes from everywhere, from symbolism and applied design to art and architecture. I love to obsess over one idea, dissecting the inspiration to re-assemble a collage of contrasting references and create unexpected narrative arcs for each collection. The source of creativity is infinite.  Exploring each idea and driving it into final finished product on the runway is always the hardest part.
In a world where technology is becoming ever more dominant, how important do human factors such as inspiration and creativity remain for you as a designer?
Using digital technology opens up a huge spectrum for opportunity; it allows me to create possibility out of impossibility, surrealism out of realism and push boundaries. These digital tools enable us to explore ideas, but ultimately still require the human touch to interpret and channel ideas to bring them into the physical world. A lot of renowned fashion houses have based their collections on, or been inspired by, ancient Greece. Do you intend to incorporate more Greek influences into a future collection? I can understand why others are also drawn to the rich culture and history of Greece – the civilisation offers an incredible richness and it is wonderful to see more attention being drawn to it. For me, the source of inspiration for each collection changes every season evolving into an independent theme of its own. However, my Greek roots and upbringing will always subconsciously influence me and my aesthetic.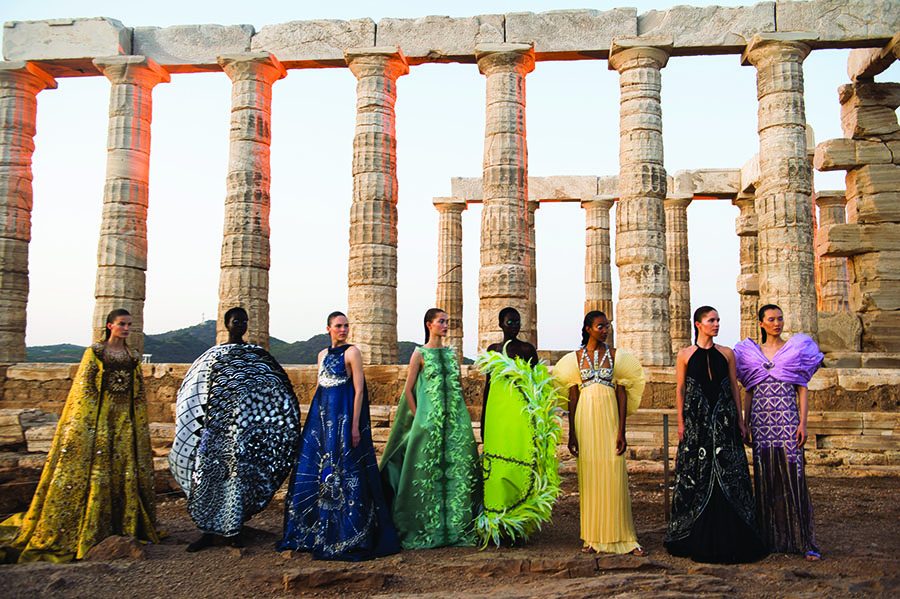 If you had to choose between developing your brand further and taking over a fashion house, what would you choose? And why?
With my own brand, I feel privileged to be in a position where I can follow my designs from an initial idea to runway and onto the shop floor. It has been an incredible journey to see the company grow and build an amazing team support to turn dreams into reality. I still have many more stories to tell and I am excited about all the possibilities that the future can bring for the brand.
Being a celebrated name, how would you deal with a run-out of ideas?
In fashion there is always a demand for fresh, innovative designs. As a designer there is never a time where I should stop pushing the boundaries and challenging myself; there is no room to become complacent, only room to develop.
What has been the most serious obstacle you had to overcome to become Mary Katrantzou as you are today?
Evolving the brand beyond its digital print roots to showcase the full scope of our creativity has been a challenge over the evolution of the brand. In seasons past, there has been a deliberate decision to explore fabrications, embellishments and texture to push the creative boundaries of possibilities. I feel we have now reached a point where the collections have achieved a harmonious balance that honours the brand DNA, tantalizes the consumer and allows room for further growth.
My Greek roots and upbringing will always subconsciously influence me and my aesthetic
If you were to host a foreigner in Greece, which are the three most memorable experiences you would wish to share?
I would love to share the rich culture and intensity of Athens, combined with the experience of relaxing island holidays in Spetses. Both locations offer breathtaking landscapes, sunsets and open-hearted people ready to share their stories.
You've managed to stay grounded after your phenomenal success – your work ethos and fashion philosophy is:
Work hard, be patient and always stay true to your values.
Mary Katrantzou's SS20 collection is a colour-soaked kaleidoscope of imaginative shapes and structure

---