Marc Newson at the Gagosian
Leading Australian designer Marc Newson's first solo exhibition in Greece at the Gagosian showcases a new series of limited edition furniture inspired by Greece's traditional colours, blue and light blue. "I have always felt close to Greece and Greek culture, and it is an honour to present these works in Athens," says Newson.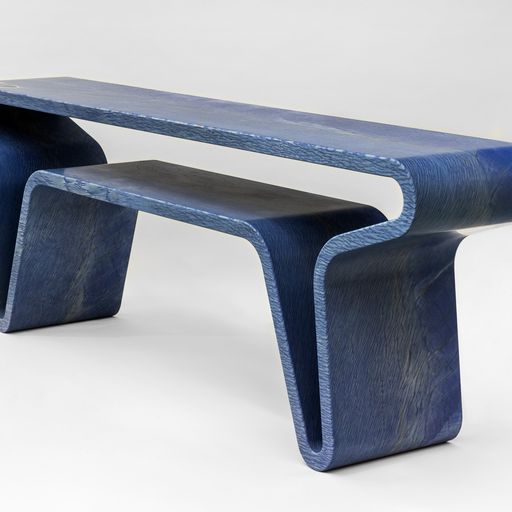 Marc Newson approaches design as an experimental exercise in structure and advanced technology, combined with a tactile and exacting exploration of materials, processes, and skills. As an industrial designer—the only one represented by Gagosian—his reach is broad and diverse, incorporating watches, footwear, luggage, and aircraft interiors. Since the outset of his career, he has also produced limited-edition furniture, including the iconic Lockheed Lounge (1988). As distinctions between art and design become increasingly blurred, Newson remains a trailblazer, having pursued parallel activities in exclusive and mass production for more than thirty years.
Born in Sydney in 1963, Newson graduated from Sydney College of the Arts in 1986. Receiving a grant from the Australian Crafts Council, he staged his first solo exhibition, Seating for Six, at Roslyn Oxley9 in Sydney, when he was just twenty-three. By the age of twenty-five, he had produced the hand-built Lockheed Lounge, a chaise lounge named after its riveted aluminum panels' resemblance to the aircraft engineered by Lockheed Martin. After living and working in Sydney, Tokyo, and Paris, he relocated to London, where his company, Marc Newson Limited, has been based since 1997. Newson has also concomitantly held senior positions at clients' companies: he was creative director of Qantas Airways from 2005 to 2015, and he has been a designer for special projects at Apple since 2014. In 2019, Marc and Sir Jonathan Ive founded the creative collective LoveFrom.
Newson is perhaps best known for applying his aesthetic vision and technical mastery to innovative items of furniture, such as Extruded Tables and Voronoi Shelf (both 2007), both carved from single blocks of Carrara and Bardiglio marble respectively. He has also produced pieces using the Chinese cloisonné technique, revealing in the process his training as a silversmith and watchmaker. Crafted by hand in Beijing, these works feature an intricate type of enameling typically used for figurines and vases yet here applied at a larger scale in all-over patterns to copper chairs, lounges, and desks.
When: October 25, 2022 to January 7, 2023
Where: Anapeiron Polemou 22, Athens, gagosian.com
---