Lessons in solidarity
Peter Poulos, Executive Director at The Hellenic Initiative harnesses his solitude in lockdown to raise funds for those hardest hit by the Covid pandemic.
Over a month ago on March 23rd Athens went into a lockdown/quarantine which required each of us to notify the government with an SMS message when we needed to leave our homes.  Numbers 1 – 6 corresponded to what we might need to do, i.e. visit the pharmacy, doctor, market, bank, walk the dog etc. We then waited for a reply to confirm we could venture out.  The number 6 corresponded to exercise and dog walking, which was the number I used the most.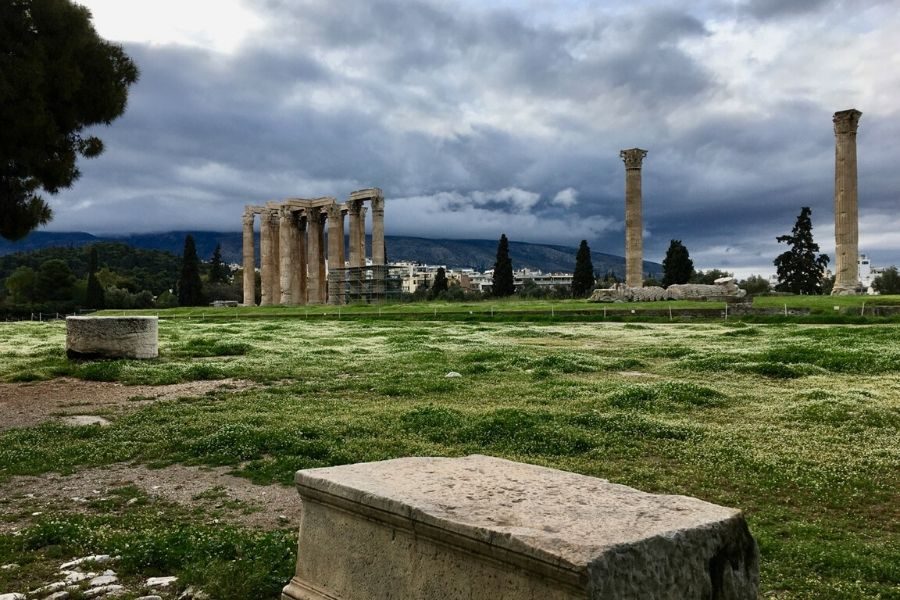 Mr. Stavros (dog), my best buddy and partner in crime, was my meal ticket out of the house 5x a day and so he and I took to exploring the neighborhoods that ring the Acropolis.
Our normal thirty-minute morning walk turned into a 2-hour-plus exploration of architecture, street art, green spaces, and ancient sites.  Normally bustling neighborhoods and streets became ghost towns and afforded us carefree strolling and observing. This was all to be repeated many more times each day.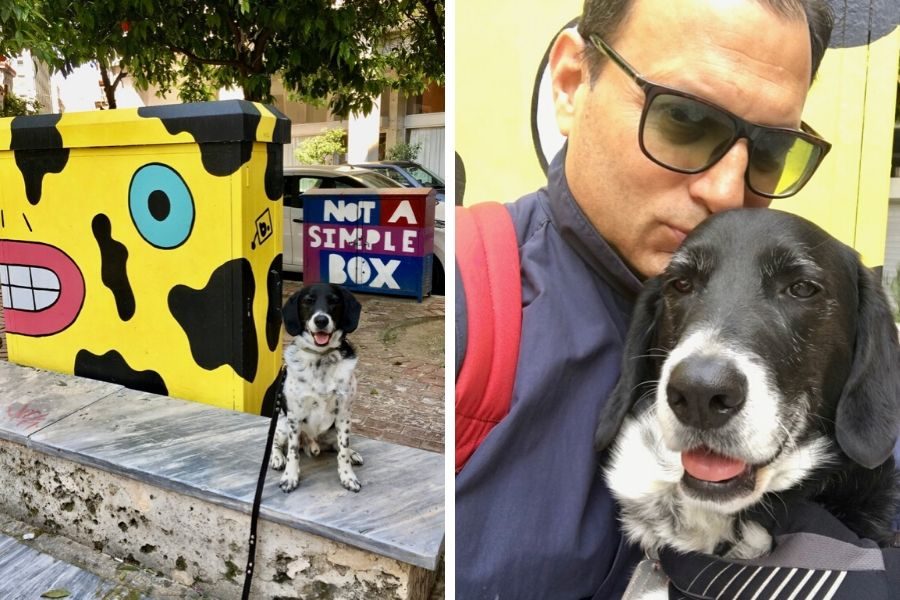 My loveable Mr. Stavros taught me many life lessons during the lockdown – the importance of greeting people and making new friends, of taking time to explore, observe, smell, and appreciate.  He also taught me the importance of having a schedule.  Most of all I gained a greater appreciation of just being present – and of the things I had stopped doing pre-COVID as I was too busy running through my hectic life.
There was no way not to notice Spring as it seemed to demand everyone's attention.
Athens is a garden of flowering trees, crawling tortoises, feral cats, Greek grandmothers collecting wild flowers, buzzing bees, swifts, swallows, and wild parrots. Many days I was overwhelmed with the smell of orange blossom while sitting on my balcony. It made me wonder if it had been like this before.  If so how had I missed it?
I feel blessed to live in a city with a mayor who initiated public works projects like road paving, side walk repair, pipe and wire laying, wheelchair ramp creation, graffiti removal, and tree planting.  All done while cars and people were absent from our streets. And I'm so proud he oversaw the opening of a huge homeless shelter to help the less fortunate. The entire country will never forget the actions Prime Minister Mitsotakis and his excellent cabinet took and are still taking to make us all feel and be safe.
In my role as the executive director of The Hellenic Initiative (THI), a Diaspora relief organization, we also felt it was our duty to respond to this new challenge. So we created the THI COVID-19 Emergency Response Fund Campaign.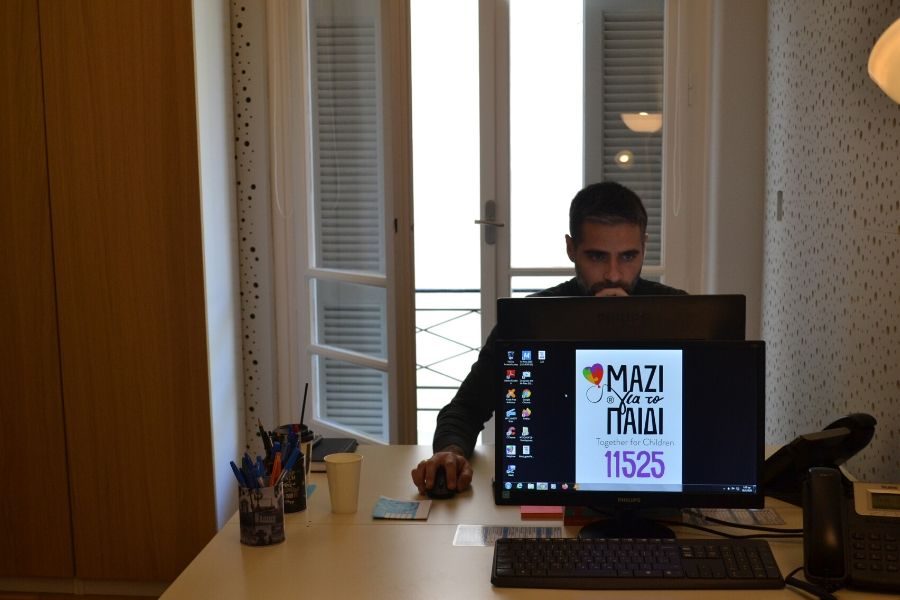 Since we launched we have received generous support from all over the globe including many contributions from people living in Greece who have come to trust and value THI's works. I cannot explain how heartwarming it is to receive a contribution from a Diaspora Greek who loves his mother country.
It felt particularly cruel for Greece that after 10 years of a prolonged financial crisis it was finally set to see the light of day only to have it darkened again by COVID-19.  And to make matters worse the one bright spot in its economy, tourism, will now take the most serious blow, worsening the economic situation for thousands of individuals and families.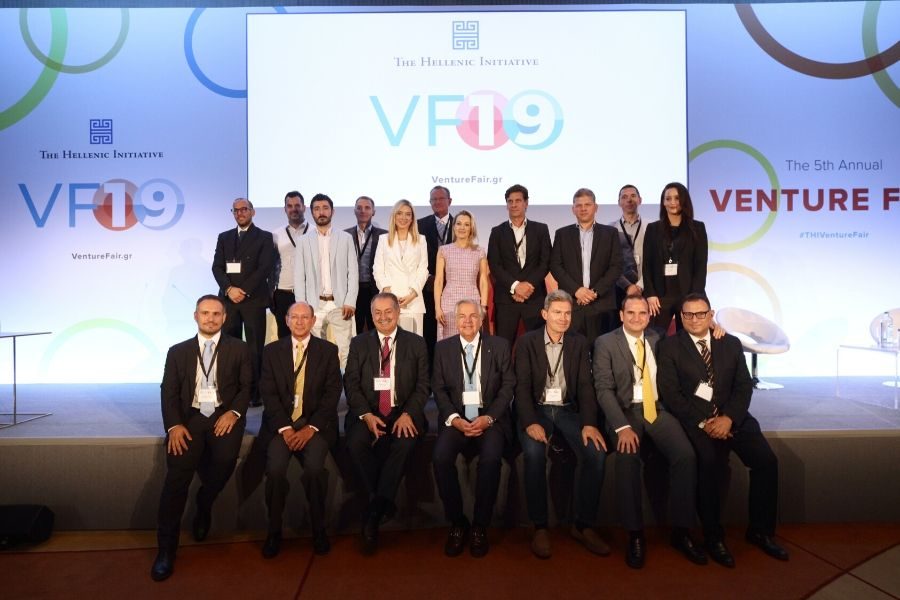 The Hellenic Initiative is committed to helping Greece and Greeks through this crisis by staying true to our mission of funding non-profits helping the less fortunate, supporting entrepreneurs, and economic development projects. Together we can make a difference, Oli Mazi.
Just like my dog taught me life lessons over the course of the quarantine, COVID also taught us lessons.  And if as we leave lock-down and return to our old way of life we can take with us the spirit of unity that prevailed all over Greece we will be a better and stronger country in the end.
---